If you're tired of paying an expensive cable bill each month, cutting the cord is a terrific way to save money. However, there are numerous live TV streaming services to consider to reduce your entertainment costs.
You can use a cable-like service such as Hulu Live, but you may find that the monthly cost is too pricey. Or, you might not need all of the features it offers.
This Sling TV review shares our analysis of the platform to see if the budget streaming service might be a good option for your needs.
What is Sling TV?
Sling TV is one of the top cable alternatives on the market. It is the no-contract arm of Dish but without the hefty cost.
What makes the platform unique versus other subscription streaming services is that it offers your favorite channels through a more á la carte experience.
Other cable replacements provide a more expansive list of channels, but that's not the case with Sling. You can customize your channel lineup to match your viewing needs.
The platform has two base plans, including Blue and Orange. You can choose one or combine the two to receive all available channels.
If you want a true cable-like experience, this may leave you wanting more. However, if you have minimal needs and want sports channels for cheap, Sling can be an excellent alternative to cable.
How Much Does Sling TV Cost?
Sling TV is one of the most affordable video streaming services available. It costs $40 per month for either Blue or Orange.
If you want to combine the two, your cost increases to $55 a month. After taxes, you will pay $42.21 for either of the two base packages or $58.03 if you opt for Blue + Orange.
| Package | Cost/Month | # of Channels | Highlighted Channels |
| --- | --- | --- | --- |
| Orange | $40 | 32 | ESPN, CNN, AMC |
| Blue | $40 | 42 | FS1, FX, USA |
| Orange + Blue | $55 | 50 | NFL Network, History Channel, ESPN, FS1 |
Choosing one of the available premium channels or add-on packages will increase your price. The company does often provide a three-day free trial to test out the service.
*For a limited time, save over $100 when you select Sling's Season Pass offer, when you prepay for five months. This gives you Sling Orange + Blue plus their Sports Extra Add-on, which includes SEC, ACC, and PAC-12 Networks, ESPNU, NFL RedZone, and more*
In comparison, Philo is the only major live TV streaming service that's cheaper, but it does not include sports. It costs $25 per month.
Read our Philo review to learn more about that service.
If neither service works for you, try our free quiz to get a personalized recommendation on what streaming service is best for you.
What Channels Does Sling TV Have?
Sling has a good mix of entertainment, lifestyle, and sports content. If you prefer sports content, the company recommends Sling Orange since it includes ESPN along with roughly 30 other popular cable networks.
If lifestyle content is what you want, they recommend Sling Blue. It has roughly 45 channels and includes Fox Sports (FS1), FOX News, and MSNBC.
When you combine the two, you receive all of the available networks.
Sling Orange Channels
Cost and channel offerings are two key parts of choosing a service to help you replace cable TV. The Sling TV packages do not disappoint.
Here are the TV channels available in the Orange plan.
The list looks meager, but it does offer numerous popular networks, including ESPN.
Sling Blue Channels
The Blue lineup is a bit more expansive than Orange. Here are the networks available in the Blue plan.
| channels | channels2 | channels3 |
| --- | --- | --- |
| A&E | Food Network | |
| AMC | FOX (select markets) | NFL Network |
| AXS TV | FOX News | |
| BBC America | Fuse | Nick Jr |
| BET | FX | SyFy |
| Bloomberg Television | FS1 | Stadium |
| Bravo | HGTV | TBS |
| Cartoon Network | History Channel | TNT |
| Cheddar | HLN | Travel Channel |
| CNN | IFC | TLC |
| Comedy Central | Investigation Discovery | truTV |
| Comet | Lifetime | USA |
| Discovery Channel | Local Now | Viceland |
| E! | MSNBC | |
| EPIX Drive In | NBC (select markets) | |
| | National Geographic | |
You will notice that some of the channels overlap between the two respective lineups, but not every channel is available in both Sling TV packages.
Remember, you can get the Orange + Blue package for $55 a month. This provides all of the channels in the two base plans.
Does Sling TV Have Local Channels?
Losing the ability to watch local networks is a big reason why people stay with cable or satellite. Some live TV streaming services offer locals, but they're expensive to carry.
Sling only includes ABC, FOX, NBC in certain markets, and you must have Blue to receive them. Here is where you can watch FOX on Sling.
The service is adding ABC as of March 1, 2023. If you live in one of the impacted cities, you will see your price increase to $45 a month.
Here is where you can watch ABC on Sling.
| City | Station |
| --- | --- |
| Chicago | WLS |
| Fresno | KSFN |
| Houston | KTRK |
| Los Angeles | KABC |
| New York | WABC |
| Philadelphia | WPVI |
| Raleigh-Durham | WTVD |
| San Francisco/Oakland/San Jose | KGO |
Here is where you can watch FOX on Sling.
| City | Station |
| --- | --- |
| New York | WNYW |
| Philadelphia | WTXF |
| Chicago | WFLD |
| Detroit | WJBK |
| Atlanta | WAGA |
| Washington, DC | WTTG |
| Houston | KRIV |
| Orlando/Daytona/Melbourne | WOFL |
| Tampa/St. Petersburg | WTVT |
| Gainesville | WOGX |
| Milwaukee | WITI |
| Minneapolis/St. Paul | KMSP |
| Dallas/Ft. Worth | KDFW |
| Austin | KTBC |
| Phoenix | KSAZ |
| Seattle | KCPQ |
| Los Angeles | KTTV |
| San Francisco/Oakland/San Jose | KTVU |
Here is where you can watch NBC on Sling.
| City | Station |
| --- | --- |
| New York | WNBC |
| Philadelphia | WCAU |
| Chicago | WMAQ |
| Boston | WBTS |
| Washington, DC | WRC-TV |
| Miami/Ft. Lauderdale | WTVJ |
| Hartford/New Haven | WVIT |
| Dallas/Ft. Worth | KXAS |
| Los Angeles | KNBC |
| San Francisco/Oakland/San Jose | KNTV |
| San Diego | KNSD |
Don't allow the inability to watch local channels without cable keep you from cutting the cord. An over-the-air antenna is a perfect tool for cord-cutters.
We use the Mohu Leaf in our home and it has always given us reliable service. You can use the code FRUGALRULES10 to receive ten percent off the purchase of a Mohu product.
After you purchase an antenna, you won't be hostage to a live TV service just because it offers local channels.
Furthermore, if you have an antenna and want to integrate locals into your Sling TV interface, that's possible with an AirTV 2 device. The device pairs with your antenna to get locals on Sling.
Sling often runs promotions giving new users an AirTV device when you prepay for service. Promotions vary, but it's typically if you prepay for a month or two of service.
Watch our below video to learn more about the device and how you can use it with Sling. Read our guide on how to get local channels without cable if you want to avoid a live TV streaming service.
Add-Ons and Premium Channels
Sling TV is a perfect streaming service for people who want to customize their viewing experience. Most cable replacements offer many live TV channels but provide little ability to tailor their channel packages.
Sling allows you to purchase add-ons to enhance your base subscription.
Here are the available add-ons you can add to your monthly plan.
| Sling TV Extra Package | Cost/Month | Channels with Orange | Channels with Blue |
| --- | --- | --- | --- |
| AMC+ | $7 | AMC+, Shudder, Sundance Now, IFC Films Unlimited | Not Offered |
| Comedy | $6 | CMT, GSN, Logo, MTV, MTV2, truTV, Paramount Network, TV Land, Revolt, FETV,Laff | CMT, GSN, Logo, MTV, MTV2, Paramount Network, Revolt, TV Land, FETV, Laff |
| Espanol (Spanish Channels) | $6 or $11 | Various | Various |
| Heartland | $6 | AHC, Cowboy, DA, Outdoor, Pixl, RFD TV, Ride TV, Sportsman, WFN, Pursuit, GAC | NGW, AHC, Cowboy, DA, Outdoor, Pixl, RFD TV, Ride TV, Sportsman, WFN, Pursuit, GAC |
| Hollywood | $6 | Reelz, H&I, Start TV, Grit, HDNet Movies, SundanceTV, Cinemoi, TCM | FXX, FXM, H&I, Reelz, Start TV, Grit, HDNet Movies, SundanceTV, Cinemoi, TCM |
| International | $6 | Globo, MBC, Sony, Welt, Willow, Zeecinemalu and more. | Same |
| Kids | $6 | BabyTV, Boomerang, DuckTV, NickToons, Teen Nick | Same |
| Lifestyle | $6 | VH1, Cooking, FYI, Hallmark(3), Lifetime Movies, Magnolia, WeTV | VH1, OXY, Cooking, DIY, FYI, Hallmark(3), Lifetime Movies, WeTV |
| Locals | Free depending on where you live. | ABC, CBS | FOX, NBC in select mkts. |
| News | $6 | BBC World News, WGN, NewsMaxTV, HLN, Weather Nation, Euronews, SCI, News18, RT, CGTN, Law & Crime | FBN, NewsNation, CNBC, BBC World News, Law & Crime, NewsMaxTV, Weather Nation, SCI, Euronews, France24, News18, NDTV24X7, RT, CGTN |
| Sports | $11 | SECN, SECN+, ACCN, ACCNX, PAC12 Network, Longhorn Network, Bein, NBA TV, MLB, MLB (SZ), U, ESPNEWS, Tennis, NHL | NFL RedZone, Big Ten Network, NBA TV, FS2, MLB, NHL, Golf, Bein, PAC12 Network, Tennis, MLB (SZ), Olympic |
To get all of the add-ons, you can pay an extra $21 a month or $27 if you have the Orange + Blue plan.
If you want premium channels, you can easily add the ones below for an extra monthly fee.
Comedy Dynamics – $5
Dox or CuriosityStream – $5
Epix (four channels) – $5
Hallmark Movies Now – $6
Pantaya – $6
Showtime (nine channels) – $10
Starz (six channels) – $9
Up Faith and Family – $5
It's easy to increase your cost, so it's essential to know the channels you truly want and stick to those to keep your overall price down.
Sports Channels
If you want to watch sports without cable, Sling TV is a fantastic option. Aside from local channels, sports networks are expensive to carry.
The platform is the cheapest way to watch ESPN without cable. You will pay at least $20 more per month to get the network on any other live TV streaming service.
Here are the sports channels you receive with the Orange plan:
Here are the sports channels you receive with the Blue plan:
Both of the Sling channel packages also include the Turner networks, which are important to March Madness and NBA fans.
If Sling isn't robust enough for your needs, and you want Turner networks for March Madness, read our guide ways to stream March Madness to learn of suitable alternatives.
**Additional tip: Love NFL football but don't know how to watch your favorite team without cable? Read our guide on the top ways to stream NFL games and still catch all the action!**
Finally, the service is a terrific option to watch college football without cable with its inclusion of ESPN and other networks.
How to Use the Service Optimizer Tool
Potential subscribers often find the Sling channel lineup a bit confusing. The á la carte approach is helpful, but it may cause some uncertainty.
Their service optimizer tool simplifies that. Just type in the channels you must have. Then, the tool will give you a custom recommendation of what plan and potential add-ons you need.
For example, when I typed in that I need ESPN, FS1, and Hallmark Drama, it came back with the recommendation to purchase the Blue + Orange plan as well as the Lifestyle Extra plan.
Look and Feel
The web and mobile interface have an intuitive look and feel. While Sling TV has improved over the years, it's still not quite as robust as other players in the space.
When you launch the platform, you see a simple home page with tabs for channels you've recently visited, shows that are trending live, popular shows, and movies.
This gives it a minimalist look and is easy to navigate.
The top of the interface has five main tabs. These include:
My TV
Guide
Sports
On Demand
Rentals (this allows you to rent movies for $5.99 for new releases)
The Sling TV guide is easy-to-use and has a grid-like channel layout. You can view listings and schedule DVR recordings up to a week in advance.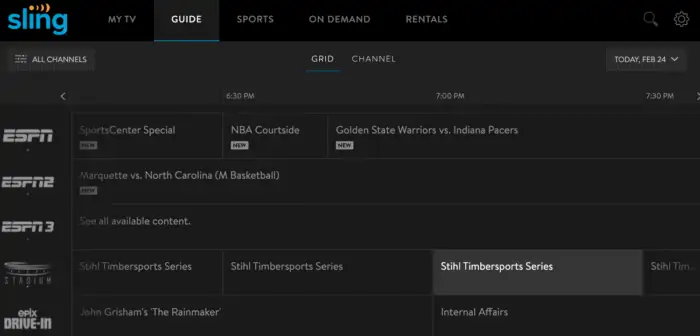 To record a show, simply click on the title and hit the "Record" button. Then it will tape.
If you want to customize the TV guide, click on the "All Channels" button in the upper left-hand corner to drill down to your favorites or view channels by category, like sports or entertainment.
Features
The live TV streaming service space has a lot of competition. Features are where companies attract more customers.
Here are a few of the features that set Sling TV apart from the crowd.
Cloud DVR
Sling offers a cloud-based DVR with 50 hours of recording capacity to all customers. This is the same number of hours Hulu Live offers.
Fortunately, Sling also allows you to rewind and fast-forward through commercials.
*Related: Can't decide between Hulu Live and Sling TV? Read our Sling TV vs. Hulu Live guide to see a side-by-side analysis.*
If 50 hours isn't enough, you can upgrade to 200 hours for $5 per month. The DVR is easy-to-use and makes it simple to access recordings.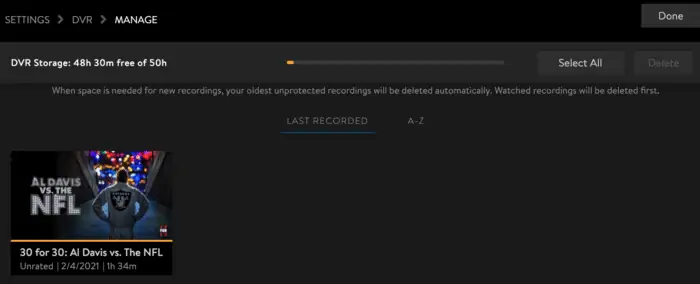 You can view and manage your recordings from the home screen. Just click the gear icon in the upper right-hand corner of the home screen, then "manage," and "manage recordings."
The oldest recordings will delete if you have a scheduled recording that pushes it over 50 hours. You can fast-forward through commercials on shows you record.
What Devices are Compatible with Sling?
The service works on a wide variety of compatible devices, including:
Android devices
Android TV
Apple TV
Chromecast
iOS devices
LG TVs
Oculus
Portal from Facebook
Samsung Smart TVs
Tivo Stream 4K
Xbox One
Web browsers – Chrome and Safari
If you have a modern streaming media player, it will likely work just fine.
However, if you have a newer smart TV, it's possible the Sling TV app is already installed, so you won't need a separate streaming device.
Simultaneous Streams
The number of simultaneous screens you receive depends on the package you choose. Orange allows one screen at a time, while Blue allows three screens at once.
If you choose Orange + Blue, you get four simultaneous streams. However, even with the expanded plans, you can only stream Orange channels on one screen at a time.
For example, if I want to watch ESPN, a family member is not able to stream another Orange channel.
Playback
Video quality is important to consider when you want to cut the cord on cable or satellite.
Sling doesn't provide a lot of detailed information on video quality, but it matches anything I've seen on other affordable live TV streaming services, which is 720p.
Some content is available in 1080p, but nothing in 4K.
Additionally, Sling supports Dolby Digital 5.1 surround sound.
If you have relatively fast internet, you should be pleased with the HD resolution on Sling and not experience any streaming issues.
Internet Speed
Live TV streaming services need a high-speed internet connection for the best viewer experience. Each platform has different requirements to watch its content to avoid buffering and pixelation.
Here is what Sling recommends for internet speed.
| Video Quality | Min. Speed |
| --- | --- |
| SD | 3 Mbps |
| HD | 5 Mbps |
| HD (2+ TVs) | 25 Mbps |
If you have multiple people viewing at once, expect to need additional speed.
Read our guide on recommended internet speed for streaming to learn what you need for other cable replacements.
Parental Controls
Not all streaming platforms offer parental controls, but Sling TV does. You can set restrictions based on content rating and purchases.
They don't let you restrict access to entire channels, but you can create a PIN to lock access to bypass settings.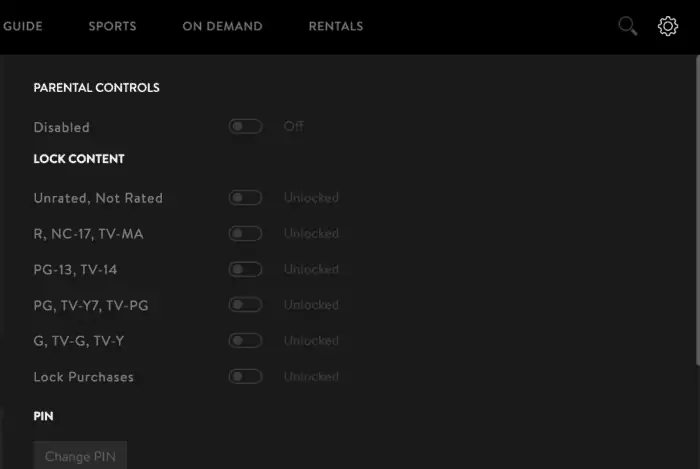 You can access parental controls by clicking the gear icon in the upper right-hand corner of the account, then "parental controls" on the far left of the screen.
The service now offers up to four user profiles, whereas YouTube TV offers six. Fortunately, the parental controls provide a good way to restrict content.
Multiple User Profiles
With its most recent price increase in the fall of 2022, Sling announced they were adding some additional features to the platform. One of those is the ability to have four individual user profiles.
It is simple to add additional profiles in the Sling platform. When you launch the app you click the profile icon in the top left of the home screen.
From there you will see an "Add Profile" plus sign. Upon clicking that a profile name box will populate with the ability to create a name for the profile as well as a color.
Each profile can create their own list of favorited channels and shows to record. It is important to note that regardless of the number of profiles you create each one shares the DVR recording capacity.
Thus, you're unable to exceed the 50 hour base limit, or the 200 hour limit, if you have that add-on.
This makes the platform a bit more competitive with services like YouTube TV that allow for six profiles.
Read our in-depth analysis of YouTube TV vs. Sling to learn how they compare.
You can watch our video below to learn more on how to add user profiles in Sling TV.
What is Sling Freestream?
Sling Freestream is a new offering the company introduced in 2021. Yes, it really is free. You don't need to provide a credit card or register to get access.
You receive over 300 live TV channels with this service, and it offers over 40,000 on-demand movies and TV shows.
It works with the same supported devices as the paid service, and you can watch on-demand content at your leisure.
The offering is similar to what you get with the Tubi app. It's free, and a terrific resource to watch older TV shows and popular movies.
Free Trial and Sign-up Offers
Sling TV typically offers a free trial for new subscribers. It's usually for three days, though they do extend that at times. The company also occasionally offers other sign-up offers.
Popular bonuses include free Roku or Fire Stick devices if you prepay for a month of service. These vary, and current offers are advertised on their home page.
If you find that the service isn't for you, read our guide on how to cancel Sling TV subscription in seconds.
Pros and Cons
There's a lot to consider when choosing a cable alternative. Here are some things to keep in mind when looking at Sling TV.
Pros:
Good selection of channels
Flexible subscription choices
Reliable streaming performance
Easy to navigate platform
Ability to rent movies
Parental controls
Cheap way to get sports without cable
Easy-to-use 7-day TV guide
Can have up to four user profiles
Cons:
Limited offering of local channels and regional sports networks
Channel distribution can be confusing
DVR space is less than other streaming services
There is a lot to like about Sling TV. It offers many of the top cable channels at a reduced price, making it one of the best YouTube TV alternatives to cut costs.
Is Sling TV Any Good?
Sling is a great service for people who like to watch live sports without spending a lot of money. The service has a good mix of sought-after entertainment, lifestyle, and news networks.
At $40 a month, it's a tough platform to beat. We rank it just behind fuboTV and YouTube TV for sports fans. If you don't need live sports, Philo ranks higher.
Read our review of Sling TV vs. Philo to see how they compare.
For people who don't need a near cable-like experience and want to save lots of money, Sling won't disappoint.
Is There Anything Better than Sling?
Sling is an excellent service to replace your television needs. It offers many good features. But, if you find it doesn't have what you want, there are other choices.
Here is how it stacks against the other alternatives.
| Service | Cost | Channels | Streams | DVR | Rating | Trial |
| --- | --- | --- | --- | --- | --- | --- |
| Hulu Live | $76.99+ | 85+ | 2 | Unlimited | 4.1/5 | Try |
| fuboTV | $74.99+ | 140+ | 10 | 1,000 hrs. | 4.2/5 | Try |
| DIRECTV STREAM | $74.99+ | 65+ | 20 | Unlimited | 3.7/5 | Try |
| Philo | $25 | 70+ | 3 | Unlimited | 4.3/5 | Try |
| Sling TV | $40+ | 30-50+ | 1-4 | 50 hrs. | 4.2/5 | Try |
| Vidgo | $69.99+ | 110+ | 3 | N/A | 4/5 | Try |
| YouTube TV | $72.99+ | 100+ | 3 | Unlimited | 4.2/5 | Try |
If you want a true cable replacement, you may be happier with fuboTV or YouTube TV. Don't forget to take advantage of free trials to find a platform that works for you.
Sling TV Review
Channel Lineup

Price

Availability

DVR Space

Ease of Use
Sling TV Review
Get live TV and near al a carte channel options for one-third of the cost of cable, and no contract!
Pros
✔️ Flexible channel options
✔️ Affordable way to watch sports without cable
✔️ Intuitive 7-day TV guide
✔️ Cheaper than other platforms
✔️ Dependable streaming performance
Cons
❌ DVR space is lacking
❌ Limited local channels
Bottom Line
Cutting the cord on cable can be scary for many people. They fear losing sports or other popular programming.
Thankfully, affordable live TV services like Sling TV let you watch your favorite shows and networks at a fraction of the price of cable.
Try their three-day free trial to test out the service to see if it meets your needs.
Do you still have cable and, if so, how much are you paying for it each month? What's one channel you feel like you can't live without?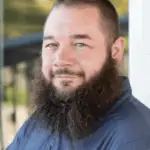 I'm John Schmoll, a former stockbroker, MBA-grad, published finance writer, and founder of Frugal Rules.
As a veteran of the financial services industry, I've worked as a mutual fund administrator, banker, and stockbroker and was Series 7 and 63-licensed, but I left all that behind in 2012 to help people learn how to manage their money.
My goal is to help you gain the knowledge you need to become financially independent with personally-tested financial tools and money-saving solutions.