Sling TV Review: Is it Worth $30 Per Month?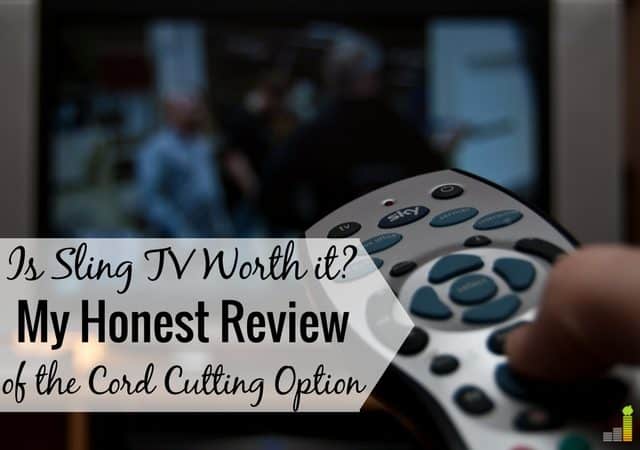 We've tried Sling TV on several occasions since cancelling our DirecTV contract three years ago and thought a review of the service would be good. We were intrigued by the idea of getting access to channels like ESPN and HGTV for $30 without a monthly contract.
I often get asked how to cut the cord on cable and many hold back out of fear that they'll miss out on sports. This only results in you spending more each month than you need to.
I used to be one of those people and was excited about getting ESPN and ESPN2 for $30 per month with the ability to cut it any time I want. We had a good overall experience, but ultimately decided not to keep it – and have come to the same conclusion with each instance we've used the service.
2021 Sling TV App Review
Do you want to cut the cord but afraid there are few options to watch your favorite shows? Below is our Sling TV review for 2021 to give a full breakdown of the service.
How Does Sling TV Work?
As mentioned, the Sling TV app is a no-contract way to get television content. Ironically, it was launched by Dish TV in 2015 though they don't have the messy contracts or high costs of the parent company.
As I've shared in the past, we now get all of our content through the Amazon Fire Stick and are more than happy with that as a replacement. Check out our guide on the Fire Stick channels list to see what you can expect from the dongle.
We also get our local channels with the Mohu Leaf which has worked great for our needs.
Sling TV is an Internet based TV service that offers just over 30 channels for $30 per month. They offer a premium tier that offers all base channels for $40 per month.
You simply download the app to get started. You can get a free 7-day trial straight from the Sling TV website and be watching TV in a few short minutes.
What Devices Support Sling TV?
Sling TV works on a variety of different devices. We only used it on our television, but you can use it from the following devices:
Nexus Player
Facebook Portal
Google Chromecast
Mac
PC
Android and iOS based devices
As you can see, there are numerous options to use Sling and their developers are always adding more platforms. The installation, at least for our television was pretty simple. I set up our account for it through the Sling TV website as they offer a free 7-day trial. After that, I downloaded it through our Amazon Fire TV Stick, and was set up in a total of maybe five minutes.
I will add that while I was setting it up on our Fire Stick there was an ad to try it free for 14 days. I chatted with their customer support area and they instantly upgraded me – so keep that in mind if you sign up.
Sling TV is a mix of live TV plus on demand shows, so it's really a marriage of Netflix and the channels you want from cable.
What Are The Sling TV Channels?
The Sling TV app offers a solid base package of content. Here is the Sling TV channels list for the base package:
ESPN TBS
ESPN2 ACC Extra
Travel Channel Epix Drive-in
AMC Adult Swim
Food Network CNN
A&E H2
History Channel Cartoon Network
TNT ABC Family
El Rey Lifetime
HGTV Galavision
IFC Bloomberg Television
Disney Channel Polaris+
Comedy Central ESPN3
BBC America FreeForm
ViceLand AxS TV
Newsy Cheddar News
Local Now FlaMa
Maker Tribeca Shortlist
Fuse Cheddar Business
Sling TV also offers eight, add-on packages for an extra $5 per month per package. Those packages are:
Sports Extra – which comes with nine channels, including ESPNews and the SEC Network.
Kids Extra – which offers five channels, including Disney Junior and Boomerang.
Best of Spanish TV – which lists 14 channels, including Univision and ESPN Deportes.
Deportes Extra – which provides seven channels, including Azteca.
Peliculas and Novelas Extra – which includes nine channels, including Uni Mas.
Hollywood Extra – which comes with six channels, including Sundance TV and TCM.
World News Extra – which offers seven extra channels, including HLN and RT.
Lifestyle Extra – which lists six channels, including DIY and the Cooking Channel.
In total, Sling TV offers access to 65 channels though it'd not make much sense to get each as you'd pay $60 plus tax every month, giving up much of the savings you'd get from canceling cable.
For those that like sports though, the platform can be a great option – even at the base rate. If you want to watch college football without cable or satellite, for example, Sling TV is a solid provider to consider.
Check out our guide on Sling TV packages to get a complete breakdown of all the options they offer.
Sling TV – What to Like
There's a lot to like about Sling TV. Most importantly, it's inexpensive and does not require a contract. That alone is worth consideration. It lets you access some of your favorite shows if you've cut cable without the nasty cost.
I also like that it's compatible with so many devices. You can use it on your phone or even on a video game console if you like, so there's obviously a lot of options. We only used the television interface but it was relatively straightforward.
You simply launch the app on the Fire TV Stick or Amazon Fire TV and navigate to the channel you want to watch. As you can see above, the Sling TV channels list is fairly impressive given the cost and popularity of the selected channels.
The app provides a "What's On" section so you can see what's live. You can also navigate to the specific channel to see what on demand programming they have available.
I will add that many of the channels have pause, rewind and fast forward features, which is nice – though it does not work on channels like ESPN, TBS or TNT.
**Additional tip: Love NFL football but don't know how to watch your favorite team without cable? Here's how to watch NFL without cable and still catch all the action!**
The other thing of note I really liked is the 3-Day Replay Sling TV app offers. It's not available on all channels, but is on most. This feature allows you to access content that has been on the given channel during the past three days.
They also offer a similar "Start Over" function that allows you to jump back to the beginning of a show. Sling TV does also have a cloud-based DVR with 10 hours of recording capacity. It doesn't work on all channels, but DVR functionality is not a service all streaming providers offer.
Sling TV – What Not to Like
The main complaint I had with Sling TV was buffering issues. We have a relatively fast internet connection (42.85 Mbps download speed, 6.13 Mbps upload speed and 90 ms latency) since we work from home, but still ran into buffering issues.
The most glaring time I saw this was while trying to watch the college football playoffs in January – with the championship game being the worst. It took 10-15 minutes for the game to come on though I'm sure it's because there were many other people trying to access it at the same time.
That being said, they had much worse problems during March Madness last year so it's something to keep in mind. We've tried it more recently and noticed an improvement, so your situation may vary.
Additionally, there's no way to look at what's on without kicking you out of the platform altogether – ultimately forcing you to start over every time you want to watch something different.
Are you paying too much for cable?
Cut the cord on your overpriced cable contract today! Save big by switching to Hulu With Live TV. Get 60+ channels, DVR, locals, ESPN, HGTV, Disney, CNN, Fox News and more for only $64.99/month.
Get your 7-day free trial now
!
Another thing to keep in mind is Sling TV only works on one device at a time on the base package. That wasn't an issue for us though it may well be for you.
*Related: Can't decide between Hulu Live and Sling TV? Check out our Sling TV vs. Hulu Live guide to see a side-by-side analysis.*
Lastly, some of the more popular channels are linear only which means live is the only option you get with no ability to fast forward or rewind.
Sling TV Review – Final Thoughts
Ultimately, I believe Sling TV is a solid option for those who want to cut the cord. It's not perfect, but no streaming provider is perfect. My hope is that they continue to improve its functionality and clear up the buffering issues.
I think for those who want to cut the cord and still be able to watch HGTV without cable, not to mention other popular channels, it's a good option for the $30 per month price tag, especially given the lack of a contract. That's also not to mention the fact they seem to be adding new channels and capabilities to the platform regularly.
We chose to forego signing up after the free 14-day trial. We have Netflix and HBO Now plus we can access a lot of content for free thanks to our Amazon Prime membership and Fire TV Stick.
That saves us nearly $90 per month and we saw no need to add an additional $20 per month. You can also try out Hulu, who offers plans for $5.99 or $11.99 per month. Click here to look at their plans to see which is best for you.
Each of the best alternatives to cable TV have their drawbacks. None of them are perfect, but Sling TV and others provide a great alternative to spending $110+ per month on cable.
If you decide to give Sling TV a try, take advantage of their 7 day free trial. It's a good way to learn the platform and see what they have to offer. If you like it, it can be a great way to save $50 or more each month and still get the content you want.
Do you still have cable and, if so, how much are you paying for it each month? What's one channel you feel like that you can't live without? If you've used Sling, what are your thoughts on it?
The following two tabs change content below.
John is the founder of Frugal Rules, a dad, husband and veteran of the financial services industry whose writing has been featured in Forbes, CNBC, Yahoo Finance and more.
Passionate about helping people learn from his mistakes, John shares financial tools and tips to help you enjoy the freedom that comes from living frugally. One of his favorite tools is Personal Capital , which he used to plan for retirement and keep track of his finances in less than 15 minutes each month.
Another one of John's passions is helping people save $80 per month by axing their expensive cable subscriptions and replacing them with more affordable ones, like Hulu with Live TV.
Latest posts by John Schmoll (see all)