Dieting and losing weight is a challenge many people struggle with. An essential part of that is having a plan structured to your needs. I know as I've always struggled with my weight, despite being active most of my life. Several years ago I turned to Nutrisystem to get fit.
It wasn't always easy, and it does cost money. However, I was able to lose 100 pounds on the weight loss plan and improve my health.
This honest Nutrisystem review discusses how to follow the plan, what it costs, benefits, and what you can and can't eat on the program.
What is Nutrisystem?
Nutrisystem is a 28-day popular weight loss program and meal delivery service. The company specializes in providing pre-packaged, low-calorie meals that are delivered to your home.
You can add certain fresh fruits and vegetables, and the plan is simple to follow.
The Nutrisystem diet focuses on meals that have you eat fewer calories, without leaving you hungry. They do this by having meals that are 50 percent carbohydrates, 25 percent fat, and 25 percent protein.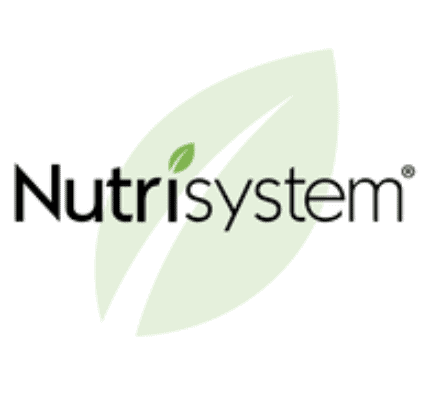 Nutrisystem
Wide variety of convenient, nutritious foods
Transition plans available
Lots of support, both online and over the phone
Plans start at $9.99 per day
Try Nutrisystem
The company also promotes smart carbs which help avoid significant increases to your blood sugar. By following the specialized meal plan you have energy to carry you through the day without feeling hungry.
The diet company was founded in 1972 by Howard Katz, and shifted to a direct-to-consumer meal delivery program in the late 1990s.
How Does Nutrisystem Work?
Choosing a diet meal plan can be challenging if the service doesn't offer a lot of variety. That is not the case with Nutrisystem as they offer numerous packages.
This lets you make selections based on your age, gender, and many other factors.
For example, as I was in my 30s, I chose Nutrisystem for men as it was tailored to my needs. The company also offers several plans for the following needs:
Food options also tend to be low-sodium and lower-glycemic foods to help promote healthy eating.
This level of customization is not available with many other weight loss meal plans. Other programs lack customization, which can help lead to frustration when trying to lose weight.
This leads to people be feeling hungry all the time while trying to get fit. That is not something I usually dealt with while on the diet program.
You receive three meals per day, based on your specific needs. You also receive snacks in all meal plans. Women receive one snack per day, while men receive two snacks per day.
The Nutrisystem plan has a wide variety of menu options you can choose from. And, they specialize in helping you start on the right foot in the first month on your chosen plan.
After the first month, the meal plan shifts focus a bit, helping users to focus on more gradual weight loss since losing substantial weight quickly isn't sustainable.
Most Nutrisytem meal plans let you manage everything online. This includes food selection and other helpful resources to manage your weight loss.
What Foods Can You Eat?
Whenever you compare weight loss diet programs like Nutrisystem, it's important to know what food you can eat. The diet plan recommends users to eat three pre-packaged meals per day.
You can also include their snack offerings in what you eat each days.
Some of my favorite foods were margherita pizza, double chocolate muffins, and ginger cashew chicken. These were all low calorie foods filled with nutrients, lean protein, and fiber.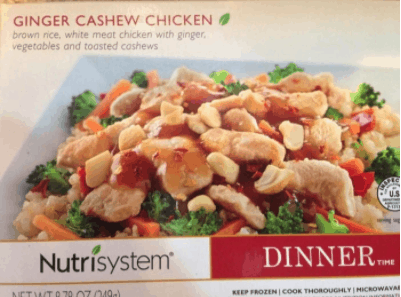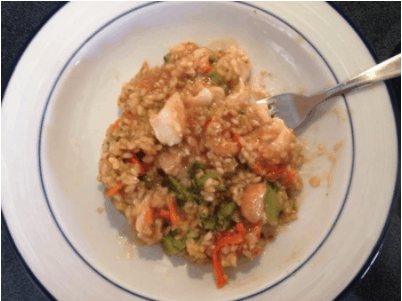 Depending on the plan you choose you can also add in certain snacks, such as non-starchy vegetables, slices of turkey, or three cups of air popped popcorn.
This is where the customization really helps provide convenience. You can create a meal plan that works for your needs all while losing weight. The food is all heart-healthy too.
What Foods Can't You Eat?
Similar to any diet food delivery service, Nutrisystem has somewhat strict guidelines on what foods you can eat. You're greatly discouraged from eating at restaurants while on the plan.
If you're unable to avoid restaurants, foods like leafy green salads, with no dressing is a suitable option.
The diet plan also has numerous packaged meals you can take on the go if dining out. Think KIND bars, or something similar.
While you can have alcohol while on the diet plan, the company strongly encourages you to avoid it. If you must consume alcohol, you're encouraged to have no more than one serving per week.
This is typical with most diet meal plans.
It's also best to avoid condiments like mayonnaise. They add extra fat and calories to your meals. If you must use a condiment, do so sparingly.
Is the Nutrisystem Food Good?
Overall, most of the frozen meals I tried from the Nutrisystem plan are good. The meals are relatively low in sodium, and have minimal saturated and trans fats.
Most meals focus on having smart carbohydrates, lean protein, and high-fiber whole grains. This makes meals a good fit for many health conditions.
As with any meal plan, you will identify meals that you enjoy more than others. With lots of menu choices you have ample options to find foods you'll enjoy.
Nutrisystem Menu Samples
Here are real menu options from a normal day of Nutrisystem, according to their site. Listed first is a typical day for a man, followed by a typical day for a woman.
Meal
For Women
For Men
Breakfast

Nutrisystem blueberry muffin
Milk, fat-free, 1 cup
Hot tea with calorie-free sweetener

Eggs, 2 scrambled
Whole wheat toast, 1 slice
Light margarine, 1/2 tbsp.

Morning Snack

Nutrisystem honey mustard pretzel bits

Lunch

Nutrisystem cheese tortellini
Turkey breast, 2 oz.
Green beans, cooked, 1 cup

Nutrisystem tuna salad (add whole grain roll)
Tomato, sliced, 1 cup
Celery, 2 medium stalks

Afternoon Snack

Cottage cheese, low-fat, 1/2 cup
Peaches, canned in water, 1 cup

Cashews, unsalted, 2 tbsp.
Raisins, 1/4 cup

Dinner

Nutrisystem turkey and stuffing
Turkey breast, 2 oz.
Cucumbers, 1 cup
Salad dressing, fat-free, 1 tbsp.

Nutrisystem chicken alfredo
Spinach, cooked, 1 cup

Evening Snack

Nutrisystem chocolate cake
Whipped topping, fat-free, 3 tbsp.

Nutrisystem white cheddar popcorn
Essentially, you eat six times a day. After a week or so it became second nature to eat six small meals during the day.
How Much Does Nutrisystem Cost Per Month?
There is not one set price for the meal plan. Thanks to customization, price will vary when you sign up for the diet meal plan.
The basic plan has three tiers to choose from. Here are the prices for the available Nutrisystem meals:
Basic – starting at $9.99 per day
Uniquely Yours – starting at $12.14 per day
Uniquely Yours Max+ – starting at $13.57 per day
Complete 55 – starting at $13.93 per day
These prices vary depending on your plan.
The more expensive options include frozen meals and allow you to choose whatever food options you want that are available in your specific plan.
If you sign up for a plan and find that it doesn't work for you, Nutrisystem does offer a seven-day money back guarantee.
Ways to Save on Nutrisystem
Nutrisystem commonly runs different deals to help users save money. The current offer is 50 percent off all plans + 50 percent off a month of shakes.
Another terrific way to save money is to buy discounted gift cards at Costco or eBay. For instance, Costco sells $100 gift cards to Nutrisystem for $80.
Several times throughout the year they go on sale for $60.
If you're a Costco member, or know someone who is, you can stock up on the gift cards to help reduce your monthly cost.
Furthermore, the company offers a seven-day money back guarantee. If you find that the program doesn't work for you in that first week you can cancel and get a refund.
*Do you want to include exercise to lose weight? Read our guide on how to find cheap gym membership deals to help save money.*
Pros and Cons
It's important to take an honest look at any weight loss program. Here are some things to know when considering Nutrisystem.
Pros:
Fully customizable – not all diet meal companies let you customize your menu offerings. If you need to diet, it's easier when you have a plan you can adapt to.
Foolproof – dieting isn't always easy, but the company simplifies everything. You order your food online, and it's delivered, pre-packaged, right to your door.
"Healthy" junk food – If you're like most, you crave chocolate and junk food. Nutrisystem food includes healthy junk options in their snack offerings to help satisfy those cravings.
Wide variety of foods – The diet plan has lots of menu options, so there is plenty to choose from.
Nutritionally balanced – Most of the foods on the plan are low in calories and sodium, while focusing on smart carbohydrates. If you want to start a healthy lifestyle, the plan creates a solid foundation to accomplish it.
Lots of support – Through its online site, Nutrisystem offers tons of support, both from other users and from registered dietitians. If you merely need customer service, the diet plan offers excellent support.
Cons:
Cost – cost is always an issue with diet systems and this company is no different.
Processed foods – similar to other diet plans many of the foods are processed.
Cost aside, Nutrisytem is worth considering if you need to lose weight.
Companies Similar to Nutrisystem
Nutrisystem isn't the only player in the weight loss program space. There are other legitimate companies that help you get fit.
Here are a few of the top alternatives.
WW is often considered the top alternative. Read our guide on Nutrisystem vs. WW to see how they compare.
Jenny Craig is another substitute some people contemplate. Read our Nutrisystem vs. Jenny Craig analysis to learn how the two compare.
FAQs
It's understandable to have questions before joining Nutrisysem. Here are a few of the common questions people ask before joining the weight loss program, including a few I had before trying the company.
How much weight can you lose?
There is no promise of how much weight you can lose on the diet program. However, it does work for many individuals.
Each person is different, so it's impossible to give a guarantee. However, by following the diet plan and exercising you will lose weight.
Is Nutrisystem bad for your health?
Most of the Nutrisystem meals and snacks are relatively low in sodium, saturated fats, trans fats, and include whole grains, healthy fats, and lean proteins.
The menu has ample variety and should work for most, including those with high blood pressure, heart disease, and diabetes.
This is all in addition to the heath benefits of getting fit.
How good is the diet plan?
Commitment is necessary to have some level of success. I was able to lose 100 pounds on the plan, and many others have also seen success.
Each person is different, but the program offers numerous resources to help you achieve your goal.
Does Walmart sell Nutrisystem?
Yes, you can find some items at Walmart, such as shakes, meals, and other food.
This is not a replacement to joining the plan though and does not offer any of the resources offered through their various meal plans.
However, if you are grocery shopping at the store you can purchase some items to supplement what you receive via mail.
Can you go out to eat on Nutrisystem?
Yes, it is possible to go out to eat while on Nutrisystem but it does take work. Your best bet is a salad without dressing or high fat items if going out for lunch or dinner.
Grilled chicken or salmon will also work.
For breakfast look for high fiber items and fruits. When you join, the company offers access to an in-depth guide that provides ideas of what to order and what to avoid at popular restaurants.
How much does Nutrisytem for men cost?
The diet plan has numerous plans, with the service for men being one of the most popular. This plan is slightly more than the basic plan.
The current cost of the basic plan is $9.99, $12.14, $13.57, or $13.93 per day depending on what you choose.
Nutrisystem for men currently costs $11.61, $13.19, and $15.18 per day depending on what you choose.
Remember that if you sign up for a recurring plan that will lower your overall cost.
Is Nutrisystem worth the cost?
Depending on what your overall goal is, the diet meal delivery plan is worth the expense.
The company is in the middle of the road for cost, and makes following a plan simple to accomplish.
What groceries do I need to buy on Nutrisystem?
The company provides much of what you need to eat each month. However, you are allowed to supplement foods with items from the grocery store.
Those include:
Non-starchy vegetables
Roasted turkey
Popcorn to air pop
Certain types of fruit, such as bananas
Your grocery bill should decrease while on the plan, which helps you mitigate the cost of meal delivery.
Nutrisystem Review: Is it right for you?
Food options

Cost

Support

Ease of use

Customization
Nutrisystem Review
If you're looking for a convenient way to achieve your weight loss goals, Nutrisystem could be a good choice for you. Pricing is comparable to other diet meal plans, food variety is great, and all of the work is done for you.
Pros
✔️ Wide variety of foods
✔️ Convenient
✔️ Nutritious
✔️ Transition plans available
✔️ Lots of support, both online and over the phone
Cons
❌ Cost
❌ Processed foods
Does Nutrisystem Work?
Diet plans aren't for everyone. There is a cost to it, and you may not enjoy some of the foods.
However, if you're looking for an easy-to-follow diet plan, that's full of customization, and helpful resources, Nutrisystem is a legitimate way to lose weight.
Losing weight is more mental than anything. It takes commitment, but it also requires you to choose to stick to a plan.
Nutrisystem knows this and helps people on their journey by pointing them in the right direction to find success.
Have you ever tried a diet plan like Nutrisystem and what was your experience?