Nutrisystem Review: How I Lost 100 Pounds on the Plan
Nutrisystem is one of the most popular diet plans to lose weight. I lost 100 pounds on the plan, so here's a Nutrisystem review to share honestly what I think about their plan and if they are a good solution to lose weight. One side note, Nutrisystem is currently offering a 50 percent off offer – on all meals and shakes!
As I've shared in detail over the years, I've always struggled with my weight, even as a child. Although I was very active growing up, playing three sports, I always had a problem with weight. Having just turned 40 I knew if I didn't make a change it likely wasn't going to ever happen.
I was always tired. I had little to no energy and was often out of breath after walking a flight of stairs. That was not the kind of life I wanted to live. A radical change was necessary.
I wanted to add years back to my life and losing a significant amount of weight was the only way to achieve that.
I turned to Nutrisystem. This was not a financial decision, per se, as any diet plan has a significant cost – though there are hacks you can use to save money on Nutrisytem. It was a life decision. There was no real reason why I chose Nutrisystem.
I chose them after seeing their ads and thought I'd give them a chance. They have a variety of meal plans to choose from and I liked the customization aspect.
Nutrisystem Review: How they Help You Lose Weight
I joined Nutrisystem in February 2014 and on June 19, 2015 I reached my goal of losing 100 pounds. It wasn't easy, but without the help of Nutrisystem I would not have been successful.
Below is my review Nutrisystem and thoughts on their diet plan.
Nutrisystem Meals – The Good
The Nutrisystem meal plan does one thing really well – it teaches you about proper portion size. Prior to going on Nutrisystem I was consuming over 4,000+ calories, as I can best estimate, on a given day.
I was eating the amount of food needed to feed a small Russian army. The problem is, I looked like a small Russian army.
I really like that Nutrisystem resets your mind to look at eating in a more balanced way. You eat what you need. No more, no less.
Honestly, at first, this was a literal shock to my system. I went from the 4,000 calorie a day consumption to 1,000 calories per day – for the first week.
I had migraines and I was going through sugar withdrawals. It wasn't pretty. Three days in, I didn't think I could take it any longer. I called in and they bumped me up to 1,500 calories per day. That did the trick.
The other thing I like about the Nutrisystem diet plan is they have a lot of variety, not to mention balanced meals. You have plenty of different foods to choose from – they over 160 meal choices.
I never counted them, but for each meal there is at least two to three dozen different options to choose from.
As you'll see below that came in handy. Variety and portion sizing were key in helping me lose weight. Without either I don't know if I would have been successful.
Nutrisystem also ships all your food to you, so there is no need to go to the store to buy food for your meals.
Nutrisystem Diet – The Bad
You can choose from three meal options with Nutrisystem. Here are the three Nutrisystem meal plans:
First – no choice on what meals you receive
Second – you select your meals
Third – you select your meals, plus you get to receive frozen meals
I chose the highest end option that came in at $360 per month. The other two plans cost $250 and $300 per month, respectively.
The plan allows you ten frozen meals for each breakfast, lunch, dinner, and snacks with the other 18 meals being non-frozen – per monthly shipment.
To be honest, the tastiness of the food varies a bit. Some of the food was pretty good. Many of the frozen meals were no different than something you'd buy at the store, aside from the portion size.
None of the meals are that bad, though few of them are great.
Get Paid Up to $10,000 to Lose Weight!
Have you tried dieting before but always put the weight back on? The secret to shedding pounds for good could be betting on yourself with HealthyWage. Set your weight loss goal and see how much you can win when you hit it.
Try HealthyWage now!
After a month or two I learned what I liked and stuck with those meals. That does lead to a bit of monotony, but I was willing to do it if it worked.
How to Manage Eating Out on the Plan
Another challenge many face is what to do when you travel or go out to eat. I didn't deal with that much, though I can see how it can be a challenge.
Nutrisystem has numerous packaged meals you can take on the go to deal with the travel component. Think KIND bars, or something similar.
Eating out was more of a challenge for me, but I found a good rhythm, though we don't eat out much anyway. My solution to eating out was to order a large leafy green salad, without dressing and I was usually good.
If you can manage those two challenges and find enough food you like, you'll be fine.
I should also point out to get this pricing you do need to agree to a recurring monthly shipment. That was the route I took, but can see how you might not want that.
They offer weekly plans at a slightly higher price.
You can go that route at first to see if you can manage it, then move up to the monthly plan.
Do keep in mind that I chose the highest end Nutrisystem plan. They also have cheaper plans that cost $250 and $300 per month, respectively.
For a limited time, Nutrisystem is offering a 50 percent off offer on all plans.
Click here to take advantage of the offer.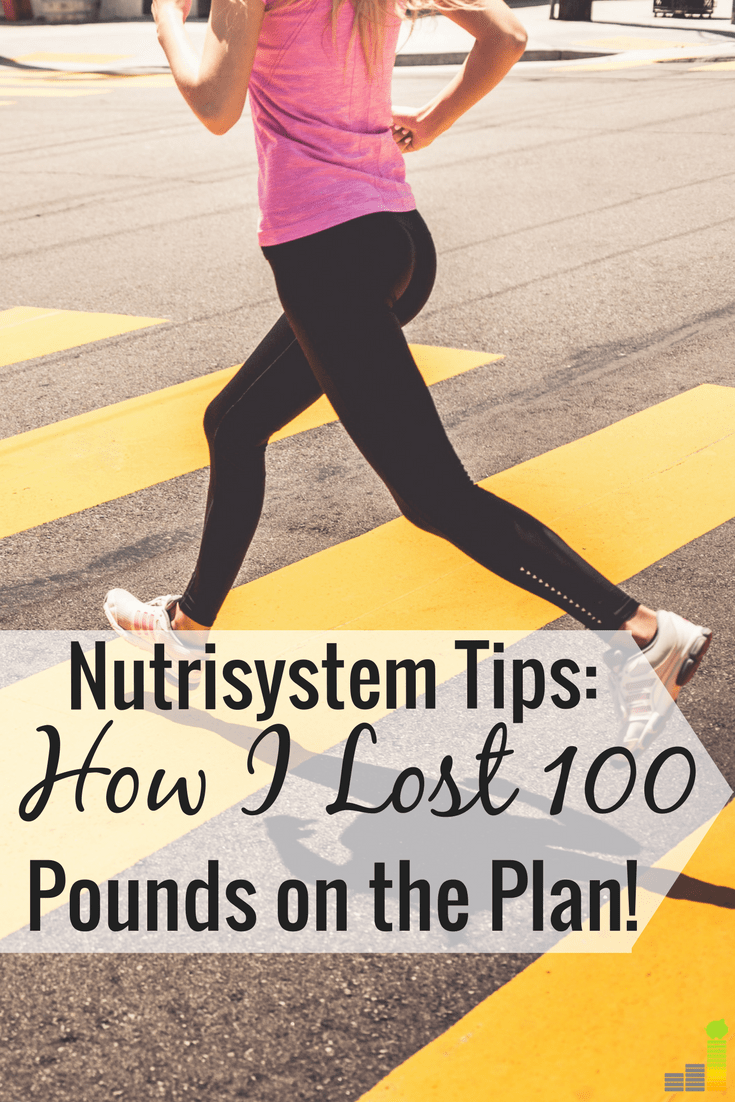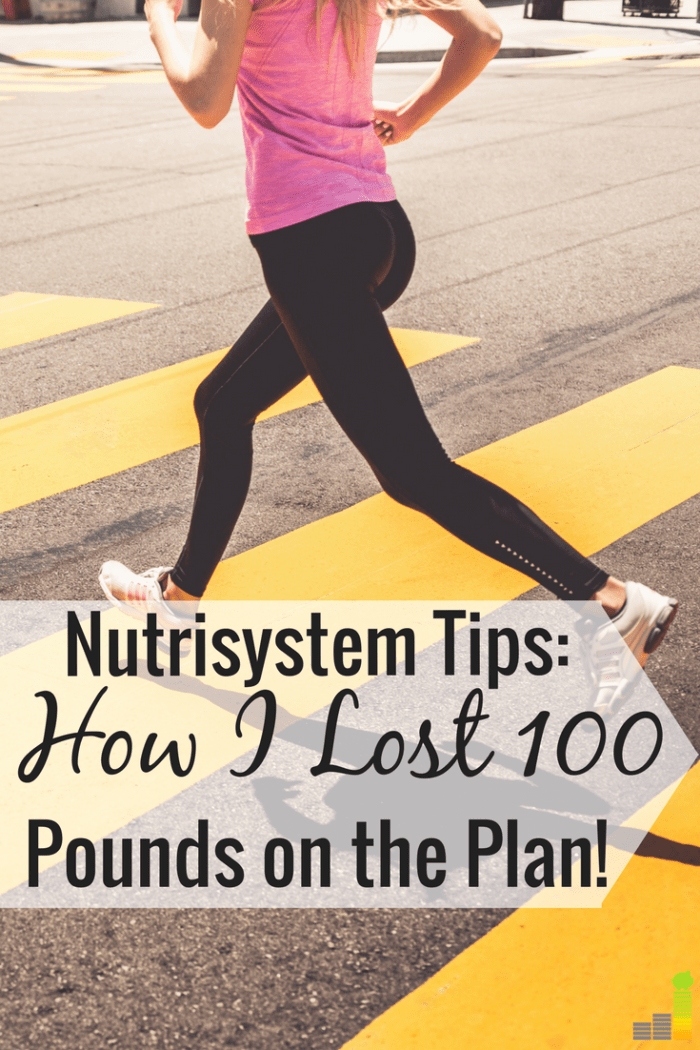 Nutrisystem Savings Hacks
As we live frugally I instantly wanted to find a way to save money on the Nutrisystem meal plan. Thankfully, there are several ways to do just that. Nutrisystem constantly runs different deals, especially at the beginning of the year.
Check out the top Nutrisystem deals below:
Nutrisystem usually has multiple offers, but the above one is their best offer yet and only available for a limited time.
My Nutrisystem savings hack actually came as a result of Costco. Our Costco sells dozens of gift cards from different retailers, one of them being for Nutrisystem.
The standard deal is a $100 Nutrisystem gift card for $80. I would buy three per month and redeem them when ordering my food and save $60 for the month.
Several times during my 15 months on the Nutrisystem diet plan Costco lowered the price to $60 for a $100 gift card. I would stock up during those times, allowing us to save $120 per month.
I also bought discounted gift cards through eBay that provided similar savings. There was only one month I paid full price, that was the first month on the plan.
However, I soon learned there was ample opportunity to save money.
Similarly, if you want to save money on exercising, read our guide on how to find cheap gym membership deals.
What do you eat on Nutrisystem?
I was commonly asked what you can eat while on Nutrisystem. When you're on the Nutrisystem meal plan you get your three meals plus two snacks per day.
They allow you supplement that with a variety of items.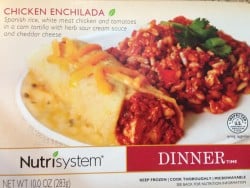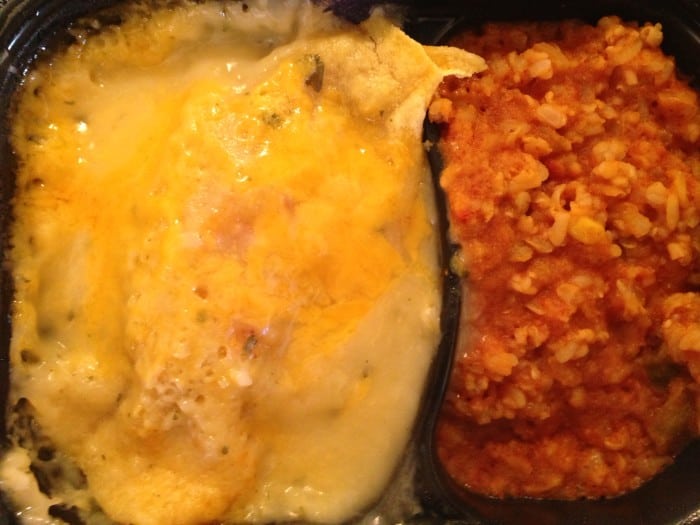 Some of those items are limited (three cups of air popped popcorn for example) and some are unlimited (such as non-starchy vegetables). Below is a sample menu of what I'd eat each day:
Breakfast: Nutrisystem breakfast plus a low sugar Greek yogurt
Morning snack: One piece of fruit – usually a banana or orange
Lunch: Nutrisystem lunch plus, bell pepper and some protein (usually a ½ slice of cheese or serving of peanuts)
Afternoon snack: Nutrisystem snack
Dinner: Nutrisystem dinner, large leafy green salad and more protein (usually 2-3 pieces of turkey lunch meat)
Evening snack: Nutrisystem snack
As you can see, you're eating throughout the day. You will be hungry many times, but that's the point. You don't eat to be full., you eat to be satisfied. Thus, the portion sizing I mentioned earlier.
I will also point out that as I got closer to my goal I cut fruit and the protein at lunch to cut down on the calories.
Nutrisystem FAQs
Many people have questions before joining Nutrisysem. Here are a few of the common questions I receive about the diet plan, including some of the ones I had before starting.
How much weight can you lose on Nutrisystem?
Nutrisystem claims you can lose 13 pounds and seven inches in your first month. This is on their primary plan they put most people on to start.
Each person is different, so it's impossible to give a guarantee. However, by following the Nutrisystem diet plan and exercising you will lose weight.
Is the food bad for you?
I'm not a dietician, so I'm not an expert. After reading through the Nutrisystem menu it's obvious that most of the food are low in sodium, saturated fats, trans fats, and include whole grains, healthy fats, and lean proteins.
The menu has ample variety and should work for most, including those with high blood pressure, heart disease, and diabetes.
How good is the diet plan?
Good is a relative term, and with meal plans like Nutrisystem I find that commitment is necessary to help ensure some level of success. I was able to lose 100 pounds on the plan, and many others have success.
Each person is different, but Nutrisystem offers numerous resources to help you achieve your goal.
Does Walmart sell Nutrisystem?
Yes, you can find some items at Walmart, such as Nutrisystem shakes, meals, and other food. This is not a replacement to joining the plan though and does not offer any of the resources offered through their various meal plans.
Can you go out to eat on Nutrisystem?
Yes, it is possible to go out to eat while on Nutrisystem but it does take work. Your best bet is a salad without dressing or high fat items if going out for lunch or dinner. Grilled chicken or salmon will also work.
For breakfast look for high fiber items and fruits. When you join Nutrisystem, they give you access to an in-depth guide that provides ideas of what to order and what to avoid at popular restaurants.
How much does Nutrisytem for men cost?
The diet plan has numerous plans, with Nutrisystem for men being one of the most popular. Nutrisystem for men is slightly more than the basic plan.
The current cost of the basic plan is $8.57, $10.36, and $12.50 per day depending on what you choose. Nutrisystem for men currently costs $10, $11.79, and $13.93 per day depending on what you choose.
Remember that if you sign up for a recurring plan that will lower your overall cost.
Nutrisystem Diet Plan Review – My Take
A diet plan like Nutrisystem isn't for everyone. I believe I had to be at a certain place to be successful with it. They do a great job of helping you learn about portion sizing, encouraging you to find workouts to do at home, and be successful.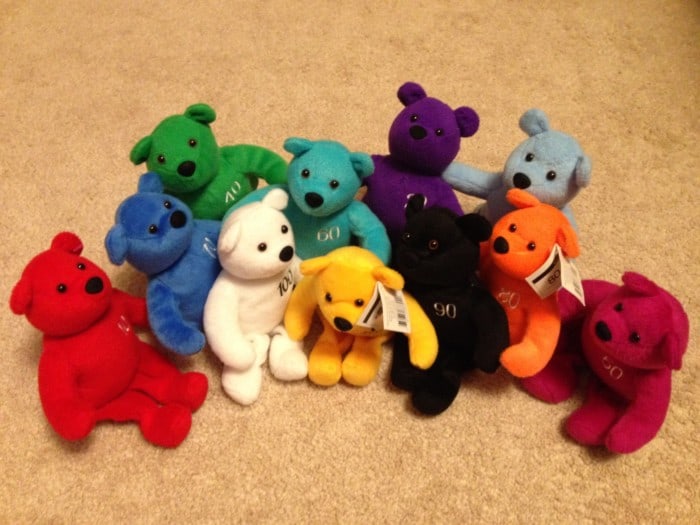 Nutrisystem also offers a lot of different tools to help encourage and motivate you. They have trained dieticians and counselors to speak with you if you ever have questions.
Nutrisystem also has an expansive website to receive feedback or support.
They encourage you to track your progress and reward you by sending a stuffed animal for every ten pounds lost. That's admittedly a bit silly, but I found getting the next bear challenged me to move on.
Stupid, I know, but it worked. You can see my haul above by the way.
Why you should join Nutrisystem
I've shared a lot in my Nutrisytem review. Below are reasons why you should join Nutrisystem if you want to lose weight:
The meals do a great job of helping you learn portion control
The plan teaches you to learn to eat for satisfaction, and what you should eat
Nutrisystem offers a wealth of resources to help encourage and challenge you to reach your goal
Their plan works and is easy to follow
There are several ways to save money on Nutrisystem to reduce your overall cost
You will feel better as your weight loss gains momentum
It's a challenge to spend money to lose weight, especially when it feels like you'll never reach the goal. I used the money we spent as a motivation to continue. I knew if I went off the plan that I might as well be throwing money in the trashcan.
That's the last thing I wanted. That being said, if you're committed and work at it the Nutrisystem diet plan is a good way to try and accomplish your weight loss goals.
Receive 50 percent off all plans, when you sign up through our link!
Have you ever tried a diet plan like Nutrisystem and what was your experience? How many times can you eat the same thing in a week without tiring of it? Would you ever pay to lose weight?

The following two tabs change content below.
John is the founder of Frugal Rules, a dad, husband and veteran of the financial services industry whose writing has been featured in Forbes, CNBC, Yahoo Finance and more.
Passionate about helping people learn from his mistakes, John shares financial tools and tips to help you enjoy the freedom that comes from living frugally. One of his favorite tools is Personal Capital , which he used to plan for retirement and keep track of his finances in less than 15 minutes each month.
Another one of John's passions is helping people save $80 per month by axing their expensive cable subscriptions and replacing them with more affordable ones, like Hulu with Live TV.
Latest posts by John Schmoll (see all)