How to Get Free Cable TV Legally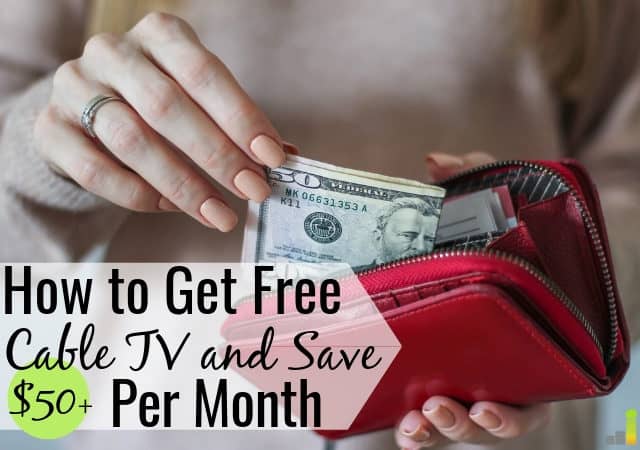 After paying over $105 per month for DirecTV, we had enough. We set out to identify a way to get free cable TV. Considering the shows we like to watch, we were throwing money out the window. Upon deciding it was time to cut the cord, we set out to find a way to get cable TV channels for free.
Cutting the cord is not as difficult as it seems. You can often get free basic cable TV with little work. If you want to save money on cable and don't know where to start, this post is for you.
How to Get Free Cable TV
I regularly speak with people who spend upwards of $200 per month on cable. Unsurprisingly, they tend to have issues with their finances and want to change.
Cutting the cord is one of the simplest ways to immediately improve your financial life. If you spend the average of $110 per month and choose one of the top TV streaming services, you can easily save $50+ per month.
That is life-changing kind of money you can use to reach other goals, such as:
Pay off debt
Grow your emergency fund
Save for retirement
Save for a large expense
With the available options to cut the cord, no show is worth $200 per month. If you want to cut the cord and don't know where to start, here's how to get your favorite TV channels for free.
Buy an HD Antenna
It's quite simple to get free local channels. Gone are the days of a big, clunky antenna on top of your roof.
You also don't have to deal with rabbit ear antennas of old. Today's antennas are sleek and easy to install. Even if you're not a technical genius (I'm not), you can install an antenna in a few minutes.
With our digital antenna, we receive the following channels:
CW, MeTv, Grit
QVC, Home Shopping Network, PBS
Of course, we also receive all the network channels – ABC, CBS, Fox, and NBC — as a digital antenna is the best way to watch local channels without cable.
We live in Omaha and receive almost 30 channels with our antenna. If you live in a larger city, you can get up to 100 channels. You want to go to AntennaWeb to see what channels you can receive from your home.
The site will also tell you the antenna needed to get the best service in your area. Those are:
Directional antennas
Multi-directional antennas
Omni-directional antennas
You may need to buy an antenna that attaches to your roof or go in your attic. AntennaWeb will help you determine which is best, based on your location. You might even get lucky and need one that can stand next to your TV.
HDTV Antenna Types
Depending on where you live, you will choose from three main antenna types. The type you need is based on your distance from broadcasting towers. The further away you are, the stronger you antenna you'll need.
Indoor HDTV Antenna
The best selling indoor HDTV on Amazon is the U Must Have Amplified HD Antenna. The Antenna has an 80-mile range which should be plenty for your needs. You also get built-in 4K capability with this antenna.
*Related: Love the NFL, but want to ditch cable? Check out our guide on how to watch NFL games live without cable.*
Installation is simple, and you can place it on a nearby window or near your TV. After installation, you can watch basic cable TV, plus all local channels.
Indoor/Outdoor HDTV Antenna
If you need to mount an antenna to your roof or in your attic, you want a higher- powered antenna. The ClearStream 4 Indoor/Outdoor Antenna is the best choice, and it's available on Amazon.
You install the antenna where your satellite goes and has a 70-mile range. Like the U Must Have, you can watch basic cable after installation.
Outdoor HDTV Antenna
Finally, if you live in a wooded or remote area, you want a traditional outdoor HDTV antenna. You will mount this to your roof to get free cable TV.
This type of antenna is not as expensive as you might think. The 1byone Outdoor/Roof Antenna is one of the top sellers on Amazon, and has a 150-mile range.
How to Stream Basic Cable TV Online
Thanks to the growth in high-speed internet, it's easier than ever to stream cable TV free of charge. You may have to get creative at times, but it's possible to watch your favorite shows with minimal effort.
Slash Your Cable Bill. Try Hulu with Live TV!
Are you paying too much for cable? Save big now by switching to Hulu With Live TV! Get 60+ channels, DVR, locals, ESPN, HGTV, Disney, CNN, Fox News and more for only $54.99/month.
Get your 7-day free trial now
!
WIthout access to traditional cable, you may not know what's on all the time. The best way to know what's airing is to use TV.com. TV.com shows your local TV programming schedule, so you know what is airing and at what time.
What happens if you can't watch a show when it airs? If you miss the show when it airs live, several networks let you watch shows online for free.
Go to Network Websites
Most of the major networks and several cable channels make shows available online 24 hours after the show airs. You typically need to visit the homepage of the selected network to see if they let you watch shows online.
We do this regularly with CBS and NBC shows. Even if the website does not air current content, they may offer content from previous seasons. Those networks include:
A&E
Comedy Central
Freeform
You may not be able to get all the content you want, but you can get more than you think.
What to Do About Internet Service
Cable companies like to bundle internet with cable by promising you it's saving you money. That is often a lie. They know you need internet service, so they use it to keep you in a cable contract.
Doing the math is important, but it is possible to break the bundle and save money. If you want to get free cable TV legally, it can be done even if you cut the cord.
Here's how to get internet without cable and not stay in a contract.
Ways to Watch Movies Online
If you want to watch cable TV for free and still watch movies, you're in luck. You can cut the cord and still watch full-length and classic movies for free or minimal charge.
Below are a few of the best places to watch free movies online:
Amazon Video
Amazon Video is an excellent platform to watch free movies, especially if you're an Amazon Prime member. Being a Prime member gets you access to all of their original content, plus movies, at no cost.
If you're not a member, you can try Prime free for 30 days to see how you like it. Amazon does offer a standalone video service that costs $10.99 per month, but at that price, it's just worth it to pay for Amazon Prime.
You can get free movies on Amazon without paying anything, but the selection is lacking.
Crackle
Crackle is one of the websites to stream movies. The site works with Sony Pictures, so it's able to offer a wide selection of newer and classic HD movies.
You don't have to sign up or install anything to use Crackle. Simply choose a movie to watch, click on the title, and enjoy. You may need to watch a few ads at the beginning, but it's free-of-charge, and one of the best sites like YouTube to watch movies.
Popcornflix
Popcornflix operates similar to Crackle. It's free-of-charge, and you don't need to sign up for an account to watch movies.
Popcornflix has a database of over 1,500 movies you can watch, from newer movies to classics. They even have a handful of TV shows you can watch.
Top Streaming Options
A digital antenna and movie sites are great, but they may not be enough to replace all the content you want. Many want to know if you can watch TV without cable.
Streaming providers make it possible to watch your favorite networks without a contract and save $50+ per month.
Here are a few of the best streaming providers to get cable for cheap.
Hulu with Live TV
Hulu with Live TV is our favorite streaming service. The Hulu platform has their own original content, but they also act as a streaming provider so you can watch cable without a contract.
If you want the cable experience, Hulu is one of the top Sling TV competitors to consider for your content needs.
Hulu with Live TV costs $54.99 per month, after a free 7-day trial, and includes the following:
60+ channels, including ESPN, HGTV, and more
50 hours of cloud DVR storage
Ability to stream on two devices at once
If you don't need live programming, you can choose legacy Hulu for $5.99 per month. This lets you get most content 24 hours after it airs.
Read our Hulu with Live TV review for a full breakdown of the service.
**Related: not certain which option you should choose? Read our Hulu vs. Hulu Live guide to see which choice fits your needs.**
Philo
If you're not a sports fan, Philo TV is worth considering as a cable replacement. Philo focuses on lifestyle and entertainment content.
Philo package costs $20 per month, after a free 7-day trial, and includes the following:
50+ channels, including Hallmark, HGTV, and more
Free cloud-based DVR
Ability to stream on three devices at once
Philo TV is among the cheapest options in the market. Philo is not an option if you want to watch live sports without cable as they don't carry sports networks.
Read our Philo TV review for a full breakdown of the service.
Sling TV
Sling TV is one of the oldest providers in the market. Dish TV is the parent company of Sling TV, and offers one of the most customizable platforms you can select.
The base Sling TV packages costs just $25 per month, after a free 7-day trial, and includes the following:
30 channels, including ESPN, HGTV, and more
Cloud-based DVR for an additional $5 per month
Ability to stream on up to three devices at once, depends on your plan
What sets Sling TV apart is their customization. They offer ten different packages you can add for only $5 per month.
Read our Sling TV review for a full breakdown of the service.
How to DVR Shows and Movies
Cable companies like to use DVRs to keep us under contract. I used to be the same way. I loved our DVR from DirecTV and thought I couldn't live without one.
If you feel similarly, don't give into the lie. Most streaming providers offer cloud-DVR capability to record content. Each one is different, so make sure you know how they operate before cutting the cord.
You can also buy a standalone DVR to record content. The Fire TV Recast is a great option that works with a Fire TV. The Fire TV Recast, like other standalone DVRs, only records content from over-the-air networks and not content on streaming platforms.
Read our Fire TV Recast review to learn how the DVR works.
Devices Needed to Stream Cable Online
A lot of new smart TVs let you get free basic cable TV with little effort. They work well with digital HD antennas, with installation as simple as a few clicks.
You can also access most streaming platforms directly from your TV.
*Related: Want a free option for cable? Check out our Pluto TV review to learn how to watch free cable shows.*
If your TV does not provide access to the necessary apps, it likely has an HDMI port to use. You simply plug a device in the port, and you can access a plethora of content.
Some of the top devices you can use are:
Amazon Fire TV
Android TV
Apple TV
Chromecast
Each device has a small one-time cost, with no monthly fees. In some cases, you may even travel with the device as you can use it on multiple devices. We've used the Amazon devices for several years and love their simplicity.
You can read our guide on the Amazon Fire Stick vs. Roku to learn which performs best out of the top two devices.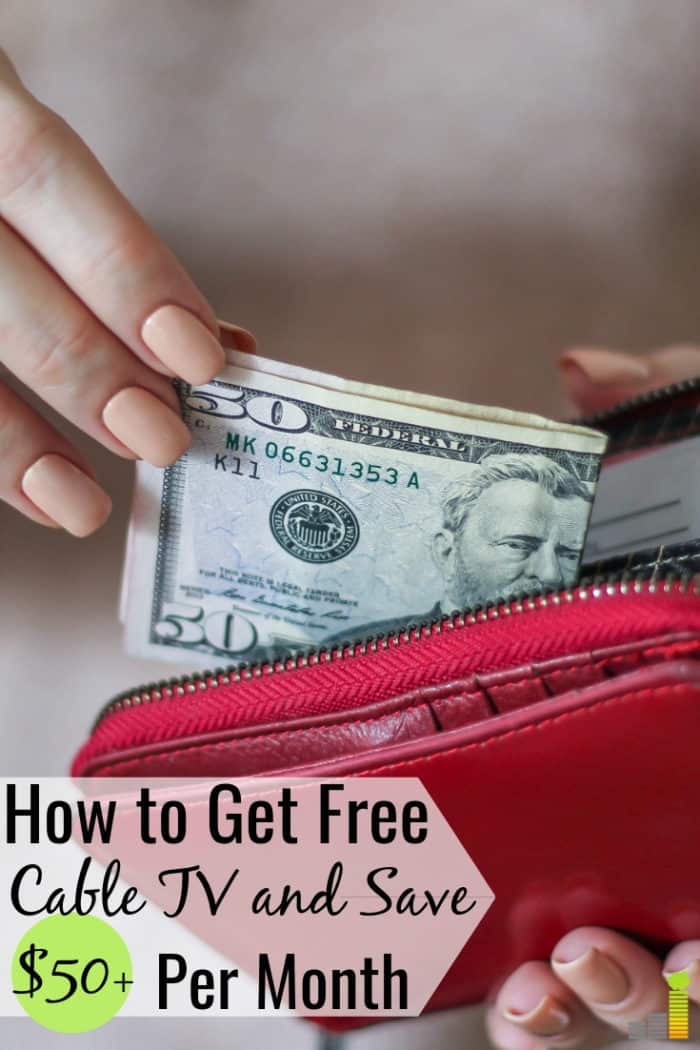 Bottom Line
As you can see, you can get free cable TV legally in various ways. You first want to buy a digital antenna as that's the best way to get local channels, and in some cases, basic cable channels at no cost.
There are plenty of options to get television content without paying significant money. If those don't provide enough, you can supplement it with a streaming provider.
Even if you choose that route, you save $50+ per month vs. paying for cable. That can be life-changing money when you manage it wisely.
What do you do to watch your favorite shows? How much do you spend on content each month? If you still have cable, why haven't you cut the cord?
The following two tabs change content below.
John is the founder of Frugal Rules, a dad, husband and veteran of the financial services industry whose writing has been featured in Forbes, CNBC, Yahoo Finance and more.
Passionate about helping people learn from his mistakes, John shares financial tools and tips to help you enjoy the freedom that comes from living frugally. One of his favorite tools is Personal Capital , which he used to plan for retirement and keep track of his finances in less than 15 minutes each month.
Another one of John's passions is helping people save $80 per month by axing their expensive cable subscriptions and replacing them with more affordable ones, like Hulu with Live TV.
Latest posts by John Schmoll (see all)