After paying over $110 per month for DIRECTV, we had enough and decided to find a way to get cable TV channels for free. Considering the shows we like to watch, we were throwing money away every month.
Once we decided it was time to cut the cord , we discovered it was easy to watch cable TV for free. You can get free basic cable TV with minimal effort.
If you are thinking about cutting the cord and don't know where to start, this post is for you.
How to Get Free Cable TV
It is not as difficult as you might think to get TV for free. If you're spending $200+ on TV each month there are other options.
Many people do because they believe cable companies offer the best value. That is not the case.
With the growth of cable TV alternatives, you can watch live TV online for free or for significantly less than the average monthly cable bill.
Buy an Antenna
All you need is an over-the-air antenna to get free local channels.
Fortunately, the days of a clunky antenna on top of your roof are a thing of the past. You also don't have to deal with rabbit ear antennas.
Today's antennas are sleek and easy to install. Even if you're not a technical genius, you can install an antenna in several minutes.
With our antenna, we receive the following channels:
CW
Grit
Home Shopping Network
MeTv
PBS
QVC
We also receive all the network channels. These include ABC, CBS, FOX, and NBC. Over-the-air antennas are the best way to watch local channels without cable.
We live in Omaha and receive roughly 40 channels with our antenna. If you live in a larger city, you can get up to 100 channels.
The FCC has a helpful page that helps you identify what channels you can receive in your home. Once you provide your ZIP code it gives you an idea of what you can expect.
Here is what it looks like for our home in Omaha.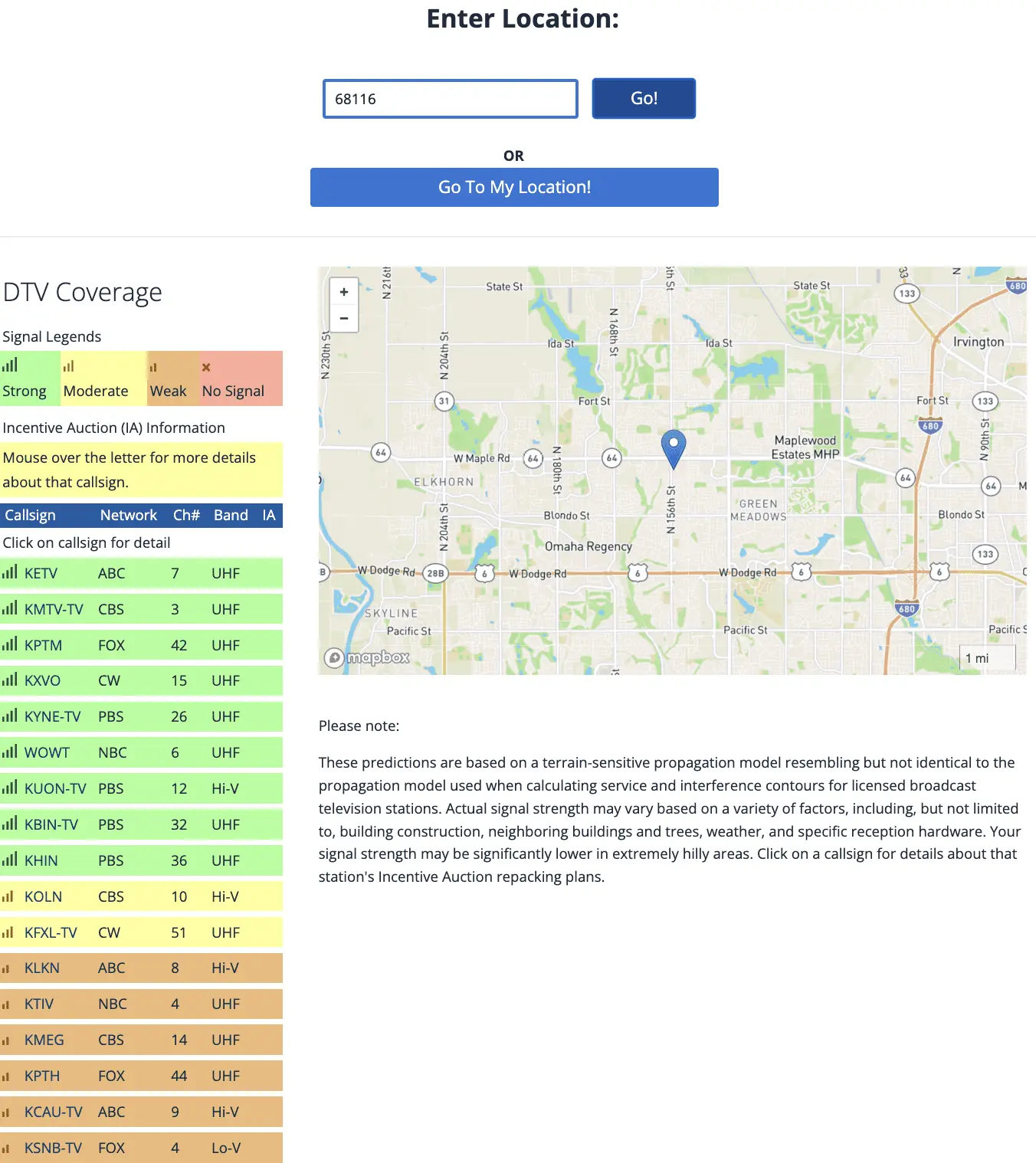 This information will tell you which antenna will provide you the best service in your area. These options are:
Directional antennas
Omni-directional antennas
You may need to buy an antenna that attaches to your roof or goes in your attic. However, those are typically only necessary if you live in remote areas or want something more powerful.
Directional vs. Omni-Directional Antennas
Understanding the two types of antennas isn't difficult. Directional antennas are best when:
There is a clear line of sight between the antenna and the tower
The tower is too far away for a multi-directional antenna to be effective
All towers are in a specific direction
Omni-directional antennas are meant to intercept signals in all directions. They are best when you don't know where the TV signal is originating from.
Regardless of the type, most over-the-air antennas are relatively affordable.
Antenna Types
Depending on where you live, you will choose from three main antenna types. The antenna you need is based on your distance from broadcasting towers.
The further away you are, the stronger antenna you'll need.
Indoor Antenna
The best indoor antenna for the money is the Mohu Leaf. Mohu offers a variety of products, with differing mile ranges.
If you live in a small to medium-sized city, a Mohu Leaf should work great for you.
*Related: Love the NFL, but want to ditch cable? Check out our guide on how to watch NFL games live without cable.*
Installation is simple. You can place the antenna on a nearby window or near your TV. After installation, you can watch basic cable TV and local channels.
We've used Mohu products for years and they perform well.
You can use the code FRUGALRULES10 to receive ten percent off the purchase of a Mohu product.
Indoor/Outdoor Antenna
If you need to mount an antenna to your roof or place it in your attic, you want a higher-powered antenna. The ClearStream 4 Indoor/Outdoor Antenna is the best choice. It's available on Amazon.
With a 70-mile range, you install the antenna where your satellite goes. You can watch basic cable after installation.
Outdoor Antenna
If you live in a wooded or remote area, you want a traditional outdoor antenna. You will mount this to your roof to get free cable TV.
This type of antenna is not as expensive as you'd expect. The 1byone Outdoor/Roof Antenna is one of the top sellers on Amazon. It has a 150-mile range.
How Can I Watch Cable TV for Free?
Thanks to the growth in high-speed internet, it's easier than ever to stream cable TV for free. You may have to get creative at times, but it's possible to watch your favorite TV shows with minimal effort.
*Related: Do you want to cut the cord, but not sure which streaming service to choose? Try our free quiz to see which streaming platform will best fit your needs.*
Without access to traditional cable, you may not know what's on all the time. The best way to find out what's airing is to use TVGuide.com.
TVGuide.com shows your local TV programming schedule. This way you know what is airing and at what time. The site also airs various shows.
What happens if you can't watch a show when it airs? Several networks let you watch shows online for free.
Go To Network Websites
Most of the major networks and several cable channels make shows available online 24 hours after a show airs.
You typically need to visit the homepage of the selected network to see if they let you watch shows online.
We do this regularly with CBS and NBC shows. Even if the website does not air current content, they may offer content from previous seasons.
Those networks include:
A&E
Comedy Central
Freeform
You may not be able to get all the content you want, but you can get more than you'd expect.
What To Do About Internet Service
Cable companies like to bundle internet with cable by promising you'll save money. That is often a lie.
They know you need internet service, so they use it to keep you in a cable contract.
Doing the math is important, but it is possible to break the bundle and save money. If you want to get free cable TV legally, it can be done even if you cut the cord.
Read our guide on how to get internet without cable so you can ditch your contract.
Make sure to ask your provider if they offer an adequate internet speed for streaming to ensure a satisfactory experience. Each streaming service has different recommendations and it needs to be fast enough to mitigate buffering and freezing of shows.
Stream Cable TV Online for Free
Getting rid of cable doesn't mean you have to miss your favorite shows and movies. There are free platforms that offer thousands of shows and full-length movies.
Here are a few top options:
Amazon Video
Amazon Video is an excellent platform to watch free movies, especially if you're an Amazon Prime member. Being a Prime member gets you free access to movies and all of Amazon's original content.
If you're not a member, you can try Prime free for 30 days. Amazon does offer a standalone video service that costs $10.99 per month.
However, that price point makes it worth it to pay for Amazon Prime.
You can get free movies on Amazon without a Prime account, but the selection is limited.
Crackle
Crackle is one of the better websites to stream movies for free. The site can offer a wide selection of newer and classic HD movies because it works with Sony Pictures.
You don't have to sign up or install anything to use Crackle. Just choose a movie, click on the title, and start watching.
While you may need to watch a few ads at the beginning, Crackle is free and has thousands of movies.
Popcornflix
Similar to Crackle, Popcornflix is free to use. You don't need to sign up for an account to watch movies.
Popcornflix has a database of over 1,500 movies you can watch, from newer movies to classics. They even have a handful of TV shows.
Tubi
Tubi TV is a fantastic free resource to get access to hours of free TV shows and movies. The platform is owned by FOX and has more than 40,000 movies and TV shows from over 400 content partners.
While Tubi has some live TV, much of the content is on-demand or curated from popular channels like A&E or Lifetime.
Where Tubi shines is its large library of kid's content. Tubi Kids has hundreds of TV shows and movies for children at varying age-appropriate levels.
You don't need to register to use Tubi, but having an account gives you access to features like parental controls, watchlists, or filtering.
Read our review of Tubi to learn more.
Roku Channel
You might only think of Roku as a streaming device. It also has one of the best free streaming apps in The Roku Channel.
The Roku Channel is similar to Tubi and carries a wide mix of free TV shows and movies. In fact, its content library is of similar size as Tubi.
One other nice perk is Roku's platform of roughly 300 live networks. Included in these are networks like Reuters and Weather Nation.
They also carry some local news stations. These are usually from large metro areas, so you may not find your local broadcast affiliate.
A Roku device isn't necessary to access the platform, but you must create an account to use it. This unlocks a wide variety of helpful features.
Pluto
Pluto TV is a free way to watch top cable networks and movies. You can find channels like TV Land, AMC, BET, and dozens of others.
The platform even has news channels. These include CNN and NBC News. However, it's often curated content as opposed to live shows.
Read our review of Pluto TV to learn more.
You can read our review of the top free TV streaming sites to find other platforms that will help you cut costs.
What is the Best App for Free TV?
Pluto is the best overall platform to stream free TV. The app provides access to over 200 networks, from lifestyle to news.
If you like to watch movies for free, Tubi and Roku are good choices, but Pluto is the closest to the cable experience without paying a dime.
How to DVR Shows and Movies
Cable companies love to use DVRs to keep you under contract. This tactic worked on me. I loved our DVR from DIRECTV and thought I couldn't live without it.
It's possible to watch free basic cable channels and record them with a standalone DVR. The Fire TV Recast was a fantastic option, but it's no longer supported by Amazon.
As a result, Tablo is the best choice for a standalone DVR. It only records content from over-the-air networks. It won't record content on streaming platforms.
Devices Needed to Stream Cable Online
A lot of new smart TVs let you get free basic cable TV with little effort. They work well with over-the-air antennas. Installation is as simple as a few clicks.
You can also access most streaming platforms directly from your TV.
If your TV does not provide access to the necessary apps, it likely has an HDMI port. You simply plug a device in the port to access a plethora of content.
Some of the top devices you can use are:
Devices have no monthly fees, but you will pay a minimal fee for the option you choose. In some cases, you might be able to travel with the device since you can use it on multiple devices.
We've used the Amazon devices for several years and love their simplicity.
You can read our guide on the Amazon Fire Stick vs. Roku to learn which performs best out of the top two devices.
If you're not an Amazon fan, we've tested all of the above devices and all perform well.
What About Live TV Streaming Services?
Live TV streaming services can be a fantastic option to watch your favorite shows and live sports. But, there is a cost associated with each app.
All services are relative replacements to cable, and they range from premium options to low-cost alternatives.
Some services offer free trials to test out the given platform, but not all. If you want a true cable replacement, DIRECTV STREAM is a good option and has a five-day free trial.
Philo is more a more economical service, and offers a seven-day free trial.
Read our guide on the top live TV streaming services to learn more about the available choices.
Bottom Line
It's easy to cut the cord on cable or satellite and save money when you use free TV apps. Start by purchasing an antenna to get local channels. In most cases, an over-the-air antenna is also the perfect option to get basic cable channels at no cost.
There are plenty of ways to get television content without paying significant money. If those don't provide enough shows, you can supplement them with a streaming provider.
Even if you choose a live TV streaming service, you'll save $100+ per month vs. paying for cable. That can be life-changing money if you manage it wisely.
What do you do to watch your favorite shows?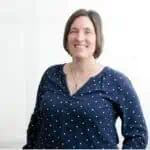 I'm Nicole Schmoll – a master's-educated professional writer, mompreneur, and co-founder of Frugal Rules.
As a freelance copywriter in Omaha, I still believe that writing is an artistic expression. Every time I strike the keys, I intend to evoke a response from my listeners. I left my full-time career as a senior copywriter for an insurance agency to start my own freelance writing business.
I love watching and writing about TV (and how to stream it!)