How to Get Internet Without Cable: 9 Options to Consider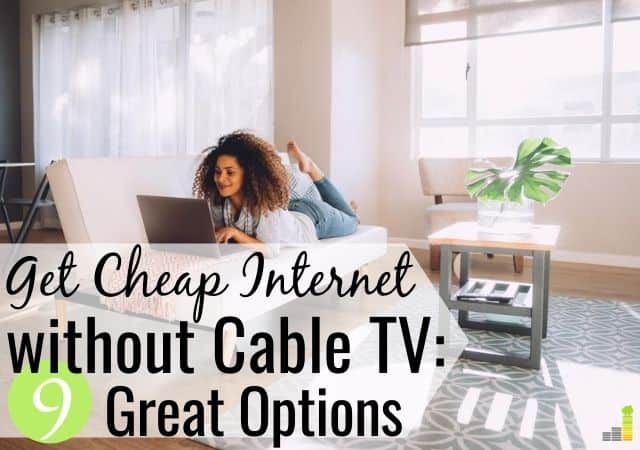 Cutting the cord and ditching cable is one of the easiest ways to save money. However, a common problem cord-cutters encounter is how to get internet without cable TV. This issue continues to plague those who want to cancel cable because many cable providers like to bundle internet with cable plans.
This is done for two reasons – to make us believe we're saving money and for cable companies to keep their subscription numbers up. If you're trying to find out how to get internet without cable or a phone line you've likely experienced this frustration.
We recently dealt with this on a call to negotiate a lower internet price. The salesperson tried to upsell us to get cable and a phone line. His pitch was that bundling might save us money. However, all we wanted was affordable internet access. As you might guess, we did not fall for their sales tactics.
How to Get Internet Without Cable
Thankfully there are ways to get service without cable TV, but it does take work on your part to find the best option.
*Deal of the day: Receive a $50 credit when you switch your mobile phone service to Ting Mobile! You get unlimited talk and text for $10 per month and data costs $5 per GB.
In our case, the process was simple. We had DirecTV, which was separate from our internet service. The combined bill was roughly $200 per month. We canceled DirecTV to lower that cost.
Here's how to cancel DirecTV if you have the service and want to save money. We were able to cut our monthly bill in half when we did this.
The challenge many people face is breaking free of the bundle. Your provider may try to convince you there are no ways to get internet without cable or a phone line.
Don't be fooled. There are many options to consider and some that provide great service.
Yes, there are challenges. For example, if you stream a lot of content or live in a rural area. Even in those circumstances, it is possible to get wireless internet without cable.
Here are the best cheap internet service providers to help you get wireless internet without cable TV.
1. AT&T
The best Internet Service Provider (ISP) in my area is AT&T. AT&T owns the DirecTV family of satellite and streaming providers. They also offer standalone wireless internet across much of the country in addition to phone services.
AT&T Wireless is $40 per month for speeds up to 100 Mbps. AT&T does offer higher speed plans, but that commonly involves bundling with phone or satellite and can frequently change.
If you can live without either, the $40 plan should serve your needs.
AT&T Wireless offers service in the following States:
Alabama, Arkansas, California, Florida
Georgia, Illinois, Indiana, Kansas
Kentucky, Louisiana, Michigan, Mississippi,
Missouri, Nevada, North Carolina, Ohio
Oklahoma, South Carolina, Tennessee, and Wisconsin
AT&T does not offer service across the country. This is not uncommon with service providers. Fortunately, it's not difficult to get internet with another provider.
Benefits
Logo
AT&T Wireless
Cost: $40/month

Enjoy speeds up to 100 Mbps. Available in: AL, AR, CA, FL, GA, IL, IN, KS, KY, LA, MI, MS, MO, NV, NC, OH, OK, SC, TN, WS


2. Verizon Fios
Verizon Fios is an arm of telecom giant Verizon that offers internet-only plans. While you'd expect that Verizon Fios would be in many locations, that is not the case.
Verizon Fios is currently only available in certain parts of these states:
Delaware, Maryland, Massachusetts, New Jersey
New York, Pennsylvania, Rhode Island,
Virginia and Washington DC
The Verizon $39.99 Plan
Verizon Fios gives you up to 200 Mbps with this lower-tier plan. This plan is an exclusive deal you can only find on the internet. Be aware that this plan requires a one-year contract.
*Related: Want to save more on internet service? Check out our guide on how to get free internet service at home to save big bucks!*
Verizon waives the setup charges when you join online. You also get free Disney+ for the first 12 months. After a year, this will auto-renew at $6.99 per month unless you cancel with Verizon.
The Verizon $59.99 Plan
If you have multiple users, Verizon's $59.99 plan gives you 400 Mbps in their mid-tier plan. This plan may be the better option if you share large files or want to binge stream content.
Again, you'll need to sign up for a one-year contract.
Sign up online and Verizon will waive your setup fees. Like the low-tier plan, they include Disney+ for a year. You'll also get free Hulu for six months, then pay $5.99 per month thereafter.
The Verizon $79.99 Plan
This plan provides a speed of 940/880 Mbps. Also, like the other plans, you get a few extra perks.
You'll enjoy one free year of Disney+ and Hulu, free Stream TV, and your router rental charges are included.
Benefits
Logo
Verizon Fios
Cost: $40, $60 or $80/month

Enjoy speeds up to 200, 400 or 940/880 Mbps., respectively. Available in: DE, MD, MA, NJ, NY, PA, RI, VA, and Washington D.C..


3. FreedomPop
FreedomPop offers a wireless internet connection through a hotspot device using the Sprint network. You can use your phone as a mobile hotspot or buy a standalone device.
This lets you get internet coverage at home or in public places. Choosing FreedomPop can be a good option when a cable company isn't an option.
FreedomPop offers several high-speed data plans. Your monthly cost depends on your monthly 4G LTE data allowance. It's possible to pay less when buying a multi-month plan. You can pay in advance for either three, six, or twelve months.
The FreedomPop Talk, Text, and Data
FreedomPop phone plans offer up to 10 GB of 4G LTE data but their free plan gives you 500 MB of 4G LTE data. Each Premium phone plan comes with at least 1 GB of 4G LTE data plus unlimited talk and texts.
You can buy a FreedomPop phone although most unlocked AT&T or T-Mobile phones are compatible.
Depending on your phone's features, you can tether to other devices or enable a personal hotspot. The Talk, Text, and Data plans are a good option if you mostly access the internet from your phone.
Below are some of the phone, text, and data plans available through FreedomPop:
Free plan. This plan costs $0 monthly for 200 minutes, 500 texts, and 500 MB of 4G LTE data. Of course, this plan is only good if you sparingly use data and have other WiFi access. Additional data costs $.025 per MB, but there are no overage charges.
2 GB plan. You get 2 GB of 4G LTE data each month for $24.99 per month. New FreedomPop customers get a free one-month trial for this plan.
5 GB plan. Paying $34.99 per month gives you 5 GB of 4G LTE data each month.
10 GB plan. This upper tier plan costs $59.99 per month and gives you 10 GB of data.
Additional data costs 2.0 cents per MB for Premium plans with no overage charges.
The Freedompop Nationwide LTE Plan
A FreedomPop mobile hotspot plan may be a better option if you want tablet or laptop internet access. Multiple devices can connect to a single hotspot. These plans can also deliver more data at a cheaper price.
You can earn free data by referring friends to FreedomPop and completing shopping offers.
Refurbished FreedomPop hotspot devices cost start at $24.99. After this one-time purchase, your only recurring cost is your monthly data plan.
The current data-only monthly plans are below:
Basic GSM 200. This free data plan gives you up to 200 MB each month. However, this is the standard 4G data instead of the high-speed 4G LTE. Each additional megabyte costs 2.5 cents each. According to FreedomPop, this plan is excellent for social media and email.
Premium GSM 2GB. The entry-level premium hotspot plan is free for the first month and then $19.99. Each additional MB of data costs 1.0 cent.
Premium GSM 3GB. Paying $26.99 per month gives you 3 GB of 4G LTE data. Like the other premium data plan, you pay one cent per extra MB.
FreedomPop offers coverage in most of the country with Sprint coverage. However, there are significant limitations in Montana, Nebraska, North Dakota, South Dakota, and Wyoming.
Benefits
Logo
FreedomPop
Cost: FREE, $25, $35 or $60/mo.

Free plan - 500 MB; others 2 GB, 5 GB and 10 GB, respectively. Add'l data costs 2 cents per MB. Available nationwide.


4. Xfinity by Comcast
Comcast is well-known among the cord-cutting community since they offer cable in much of the country. The Xfinity Internet plans do not require a cable TV contract, but a bundle is possible.
Comcast does offer numerous plans, depending on your level of need, location, and whether or not you have cable. The internet only plan is $40.00 per month, for 100 Mbps. You can connect up to five devices at one time with that plan, with a one-year contract.
It's also possible to get prepaid Xfinity Internet without a one-year contract. However, your data speeds are slower. You pay $45 every 30 days for download speeds of up to 20 Mbps.
There is a one-time $35 modem purchase as well.
If you want TV along with internet service, Xfinity has two plans to choose from:
$50.00 per month, which includes 10 TV channels and requires no contract. Be aware these channels are largely local. You also get 100 Mbps for download speeds. This plan works for up to five devices at once.
$70.00 per month, which includes 125 TV channels. This plan works for six to eight devices at once and requires a two-year contract.
Comcast offers plans in the following states:
Alabama, Arkansas, Arizona, California, Colorado
Connecticut, D.C., Delaware, Florida, Georgia
Idaho, Illinois, Kansas, Kentucky, Louisiana
Massachusetts, Maryland, Maine, Michigan, Minnesota
Missouri, Mississippi, New Hampshire, New Jersey, New Mexico
New York, North Carolina, Ohio, Oregon, Pennsylvania
Rhode Island, South Carolina, Tennessee, Texas, Utah
Vermont, Virginia, Washington, West Virginia, and Wisconsin.
One other feature of Xfinity is they offer cell phone plans to internet customers. Below are some of the details of the service:
Free, unlimited nationwide talk and text
No line access fees for up to five lines
Free access to 18+ million Wi-Fi hotspots
100 MB shared data for free, each month
You can also purchase data for $15 per month per GB. If you prefer unlimited data, you can get that for $45 per month per line. They operate on the Verizon network, so it's quality coverage.
Benefits
Logo
Xfinity
Cost: $40, $50 or $70/mo. + $35 (one-time, modem)

100 Mbps.. Available: AL, AR, AZ, CA, CO, CT, D.C., DE, FL, GA, ID, IL, KS, KY, LA, MA, MD, ME, MI, MN, MO, MS, NH, NJ, NM, NY, NC, OH, OR, PA, RI, SC, TN, TX, UT, VT, VA, WA, WV, WI.


5. Cricket Wireless
Another excellent on-the-go wireless internet option is Cricket Wireless. This prepaid provider offers data-only mobile hotspots using the AT&T network.
Cricket offers two hotspot plans with 4G LTE data:
20 GB Simply Data: $35 per month
40 GB Simply Data: $50 per month
Currently, Cricket doesn't offer add-on data packaged to the hotspot plan. It's possible to bring your own data device or purchase one for $79.99.
A 15 GB personal hotspot also comes with Cricket's $60 per month phone plan. An additional 15 GB of monthly data costs $10 with this plan. This plan might be best if you want a prepaid phone plan.
Benefits
Logo
Cricket Wireless
Cost: $35, $50 or $80/mo.

Two hotspot plans with 4G LTE data: 20 or 40 GB. Available nationwide.


6. Google Fiber
Google Fiber is one of the more interesting ways to get internet without cable or a phone line. As Google is synonymous with the internet, it stands to reason that they offer decent service for those wanting to reduce expenses.
*Related: Want to cut the cord? Check out our guide on the Amazon Fire Stick to see how it can help you save $50+ per month on cable.*
Google Fiber primarily offers two services: internet and television. Their plans vary based on where you live. Some locations require a television package to get their higher-tier internet packages.
Here is where you can currently find Google Fiber:
Atlanta, Austin, Charlotte, Chicago, Dallas, Denver
Des Moines, Huntsville, Jacksonville, Kansas City, Los Angeles
Louisville, Miami, Nashville, North Carolina's "The Triangle," Oakland
Oklahoma City, Orange County, Phoenix, Portland, Provo
San Antonio, San Diego, San Francisco, Salt Lake City, Seattle, and Tampa
It's important to note that some of the locations only offer access if you live in an apartment or condo. Google Fiber offers up to five plans in each "Fiber City." While these plans have no contract, you may need to add a TV package.
Below are the two basic plans that only provide internet service.
Fiber 100: The Fiber 100 plan costs $50 per month, with up to 100 Mbps in speed. You do not have any data caps. You can download an HD movie in under ten minutes and use up to five devices with this plan.
Fiber 1000: The Fiber 1000 plan costs $70 per month, with up to 1,000 Mbps in speed. Like the Fiber 100 plan, this plan has no data caps. You can use up to ten devices and download an HD movie in under a minute.
7. Boost Mobile
Do you live in a Sprint coverage area? If so, Boost Mobile has one of the best mobile hotspot plans. You get 50 GB of 4G LTE data for $50 each month.
When joining Boost, you make a one-time $50 purchase for a Coolpad Surf hotspot device.
A Boost hotspot connects up to 10 devices at once and prevents you from relying on unsecure public Wi-Fi networks.
8. Charter Spectrum
Charter Spectrum is another standalone wireless internet provider that has a fairly wide reach. They only list one plan on their site, which is $49.99 per month for 100 Mbps. But your wireless speeds may be as high as 940 Mbps depending on where you live.
While this plan requires a 12-month commitment, it does come with a free modem.
Charter Spectrum offers plans in the following states:
Alabama, Arizona, California, Colorado, Connecticut
Florida, Georgia, Hawaii, Idaho, Illinois, Indiana
Kansas, Kentucky, Louisiana, Maine, Maryland
Massachusetts, Michigan, Minnesota, Mississippi, Missouri
Montana, Nebraska, Nevada, New Hampshire, New Jersey
New Mexico, New York, North Carolina, Ohio, Oregon
Pennsylvania, South Carolina, South Dakota, Tennessee, Texas
Utah, Vermont, Virginia, Washington, West Virginia, Wisconsin, and Wyoming
You can view the details of the plan and see what specific plans they might offer in your area by checking here.
9. DSL Extreme
Seeing a DSL provider on the list of best companies to get internet without cable may surprise you. DSL Extreme makes this list since they operate on the AT&T U-Verse network, allowing them to offer faster speeds.
Like a few of the other providers, their plans and bandwidth speeds depend on where you live. Their standard plans offer 24 Mbps for $52.95 per month and 45 Mbps for $62.95 per month. As with other plans, DSL Extreme does require a 12-month commitment.
DSL Extreme has less coverage than some of the other providers, but it's possible to spend less per month than getting fiber. You might only be able to use DSL Extreme if you have access to AT&T Wireless Internet.
DSL Extreme offers plans in the following states:
Alabama, Arkansas, California, Florida, Georgia
Illinois, Indiana, Kansas, Kentucky, Louisiana
Michigan, Missouri, Mississippi, Nevada, North Carolina
Ohio, Oklahoma, South Carolina, Tennessee, Texas, and Wisconsin
You can check plan availability here.
What is the Average Cost Per Month for Service?
You want to make cutting the cord worth it. In certain instances, the math may not make it feasible to cut the cord and still stream. You want to balance not having too expensive of a plan with avoiding buffering when using streaming services.
The average internet cost is just over $60 per month, according to USA Today. We pay roughly $75 per month for our service because my wife and I run our business from home which requires us to have faster service.
That is the upper limit of what we're comfortable paying.
You want to find a good balance that still provides enough room to purchase the content you want to watch. Many of the best cable TV alternatives are reasonably priced.
However, you don't want the combination to cost more than your current bundle. Otherwise, you lose money each month.
Why is it so difficult to find a Provider?
A major problem is the lack of competition in the broadband service space. Limited options make it difficult for those determining how to get wireless internet without cable. It's worse if you only have access to one provider.
Sometimes, the "best internet provider" is the only one willing to offer you service. This might be the case if you live in a rural area.
A 2019 study by BroadbandNow points out an unsurprising fact – those who live in an area with multiple options pay lower prices for their service.
Unless you live in an area that has multiple ISPs, you likely face a monopoly. This makes it harder, but not impossible, to save money.
How to Find Internet Providers in Your Area
You may have different options when trying to figure out how to get affordable service. Some options may simply be a DSL provider. Others may be a genuine, standalone wireless provider.
The best way to find internet providers in your area is through a simple web search. Simply type in "internet providers near me" and your zip code to see companies in your area.
There are many standalone ISPs in the space, so you want to ensure you find one that meets your needs.
Can I get Wi-Fi without an internet provider?
Yes, it is possible to get Wi-Fi without an internet provider. Having Wi-Fi through a provider is easier, though you do have other options. Those include:
Through a mobile hotspot
Find free public Wi-Fi
Tethering your smartphone
Ask a neighbor to borrow their service
Each of the above poses its own risks and savings, so do your due diligence before pursuing an option.
How do I get internet without a phone line or cable?
Many cable companies like to bundle internet with cable and/or a phone line. Cable internet alternatives are available to help you reduce costs. Those options include:
Satellite internet
Wireless fixed internet
Naked DSL
DSL internet
Fiber optic internet
What's available largely depends on the services available in your area. If you don't know what is available in your area, a simple search for 'internet service providers near me' will point you in the right direction.
Must-Ask Questions
Many of us have come to depend on fast internet service to meet our needs. We run a business from home that depends on fast internet. Consequently, we care greatly about fast speeds.
Other families have a lot of streaming needs, so they need a big data allowance to cover those needs. You may have different needs. As a result, it's important to ask questions before deciding on an ISP.
Here are the six most important questions to ask an ISP:
What download speeds can I expect?
This is likely the most important question to ask a provider. The provider may not be able to deliver the "up to" speed they advertise.
You want to ask the level of internet speeds they can guarantee. If it does not meet your needs, then you need to look elsewhere.
Do you have a data cap?
The last thing you want to do is run into a situation where you're charged a crazy overage fee. Extra data add-ons can also be pricey.
Make sure you explicitly know what data caps they have. If it's too restrictive, then you need to choose another provider.
What happens at the end of the introductory period?
Many providers market a product with a low, introductory price. Check pricing at multiple providers so you can arm yourself with information.
The last thing you want is to see pricing double after a year. Price jumps may come as a surprise if you don't ask about introductory pricing.
Are there any additional fees?
ISPs, like cable companies, love fees. The quoted price often does not include additional costs like taxes, equipment installation fees, and service charges.
You may also pay a monthly modem rental fee. However, this fee can cost less than paying service fees to fix a broken modem that you own.
When comparing providers, you want to ask what your initial upfront cost will be along with your monthly charge.
How do I cancel my service?
Telecommunication companies often make it difficult and expensive to cancel service. Ask each provider you compare what costs you will incur if you choose to cancel.
Don't forget to ask what to do with any equipment you have from the provider. They often require it to be returned upon cancelation. Make sure to ask what they expect returned and when to avoid being charged.
Should I buy my own router or modem?
Don't overlook this question. Many providers will give you the necessary equipment, but it often comes at a cost of $10 or $20 per month. That can add up over time.
You can buy your own router or modem, but make sure to ask if it will work with their service. Buying your own router or modem is not cheap, but it can save you money in the long run.
Make sure to buy the newest available product so you can get the best possible speeds. New devices may also have a longer lifespan. Here are the best routers from Amazon if you choose to buy your own.
Summary
Many people choose not to cut the cord because they think they can't get internet service without cable. That is not the case as there are many standalone wireless internet-only service providers in the space today.
There is a lot of homework to do before taking the plunge. With many providers to wade through, you want to find the best possible plan for your needs.
Cutting the cord is a good thing, but you want to do the math first. Try and make sure you find the lowest-cost option that meets your needs for both television content and internet.
What cheap ISPs offer the best service in your area? How much do you spend on cable and internet each month?
The following two tabs change content below.
John is the founder of Frugal Rules, a dad, husband and veteran of the financial services industry whose writing has been featured in Forbes, CNBC, Yahoo Finance and more.
Passionate about helping people learn from his mistakes, John shares financial tools and tips to help you enjoy the freedom that comes from living frugally. One of his favorite tools is Personal Capital , which he used to plan for retirement and keep track of his finances in less than 15 minutes each month.
Another one of John's passions is helping people save $80 per month by axing their expensive cable subscriptions and replacing them with more affordable ones, like Hulu with Live TV.
Latest posts by John Schmoll (see all)