Are you tired of paying your expensive cable or satellite TV bill each month? If you're among the people who are spending the average of over $200 on cable TV you can likely slash that bill in half and apply those savings to other needs.
We have been contract-free in our home for nearly a decade and have saved thousands of dollars over that time. However, I know it can be challenging when looking at the variety of cord-cutting choices.
That's where we can help. We have helped thousands of people ditch their contracts and save money. This step-by-step guide shows you how to cut the cord on cable without sacrificing your favorite TV shows or live sports.
How to Cut the Cord on Cable TV or Satellite
It is relatively simple to cancel cable TV. Even if you're tech averse or new to streaming TV, you can get rid of your pricey contract.
There are three key steps you must take before you cancel your cable subscription. We will discuss those, then discuss what you must do to ensure success and maximum savings.
Take a Close Look at Your TV Expenses
The first step to cut the cord on cable is to study the last bill from your TV provider. This is vital to do as it will help you do the math to determine if it's worth the effort to switch from cable to streaming TV.
Your bill should list all of the fees you're paying and potentially if you're in a contract. If you're no longer in a contract, that's terrific.
However, if you're still under contract the bill may list if you face any early termination fees. If those aren't listed, you will need to contact your satellite or cable TV provider.
While their website might list cancellation fees, they're often buried in small text. You likely will need to call or chat with the provider to determine the fees to cancel.
*Deal of the day: Until January 23rd, get your first year with Visible Wireless for $15 per month, when you bring your own phone. Plans are normally $30 a month. You get unlimited talk, text, and data. Read our Visible review to learn more. Use code 15OFF12 to qualify.
Call Your Provider
Calling any television provider can be a maze intended to cause you to give up. When you do get a customer service agent, prepare for them to fight back.
In our case, when we canceled DirecTV we got several representatives who tried to keep us with the company.
None of them knew the early termination fee or the total cost we had to pay to get out of our contract. We finally had to speak with a retention representative to determine the total cost to leave.
Here is a list of popular providers and what you can expect to pay to break a contract.
| Company | Cancellation Fee | Number to Contact |
| --- | --- | --- |
| CenturyLink | $200 (24-mo. plan) or $300 (36-mo. plan) | 1-800-244-1111 |
| Comcast Xfinity | $10 per remaining month | 1-800-934-6489 |
| Cox | Up to $120 | 1-866-961-0027 |
| DirecTV | $20 per remaining month | 1-800-228-2020 |
| DISH | $20 per remaining month | 1-855-782-7086 |
| Spectrum | $0 or $75 if you have Price Guarantee | 1-833-267-6094 |
| Verizon Fios | $175 - $350 | 1-844-837-2262 |
When you call the provider tell them you want to cancel your service and ask what fees you need to pay. You can also ask if the fee will be waived if you move to an internet-only plan.
They may not reduce the fee, but it pays to ask.
If they won't offer you savings, you must get internet service from another provider.
Call Around for A New ISP
A high-speed internet connection is necessary for all streaming apps. If you lose service when you cut the cable TV cord, you need to secure service elsewhere to stream TV.
Price, download speed, and data caps are the three main factors you must look at for service. You should expect to pay $50 to $75 a month for service in most locations.
But, there are ways to lower that cost. For example, purchasing your own router and modem will eliminate monthly rental charges from the provider.
Most streaming services require a speed of at least 10 Mbps. The more people you have streaming will increase the speed you need.
Choosing a cheap service may result in annoying buffering or lagging that most cord-cutters want to avoid. Read our guide on the minimum internet speed requirements for streaming services to identify what all of the major platforms suggest.
Data cap is the last issue you must address with providers. This is of growing importance with the rise in streaming. If you exceed the cap you could end up paying additional fees each month.
We live in a home where there are five of us on devices most of the day. We work from home, homeschool, and often game or watch TV.
We've yet to go over our cap, but it's something to ask potential providers. Read our guide on how to get internet without cable or a phone line to identify the best choices and questions to ask.
Once you've canceled service through your cable provider and have internet service you're ready to stream movies and TV shows online.
What Equipment Do I Need to Cut the Cord?
Once you get rid of cable TV, you will need a few things to watch your favorite shows. Here is what you must purchase to experience a satisfying TV viewing experience.
Over-the-Air Antenna
One of the common tactics used by cable and satellite TV companies keep customers with service is the fear that you will lose access to local affiliate stations.
That is not the case. If you live in a larger urban area, not in a valley or wooded area, you can typically get local networks. In some cases you might be able to get them from multiple cities.
You need an over-the-air antenna to get local networks. To see what channels you can get you need to go to the FCC site and input your zip code. It will list out the channels and signal strength.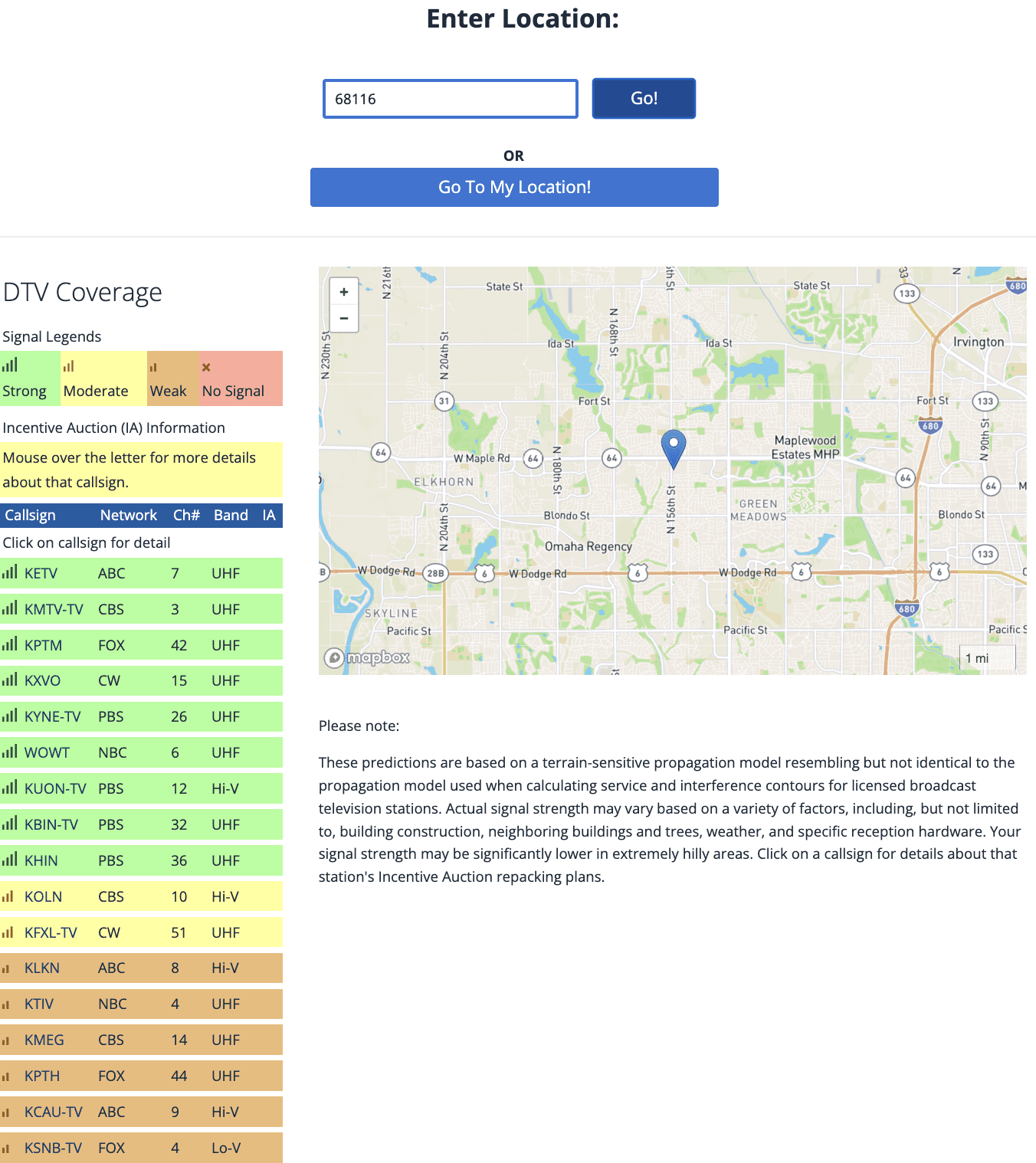 There are a lot of options you can choose, but we believe the Mohu Leaf line of products are the best antennas for cord-cutters.
We have used them in our home for years, and they rarely disappoint. Depending on the style you need you should expect to pay no more than $50 or $60.
You can use the code FRUGALRULES10 to save ten percent on your purchase.
Most antennas take less than ten minutes to install. Once done you can start watching local broadcasting.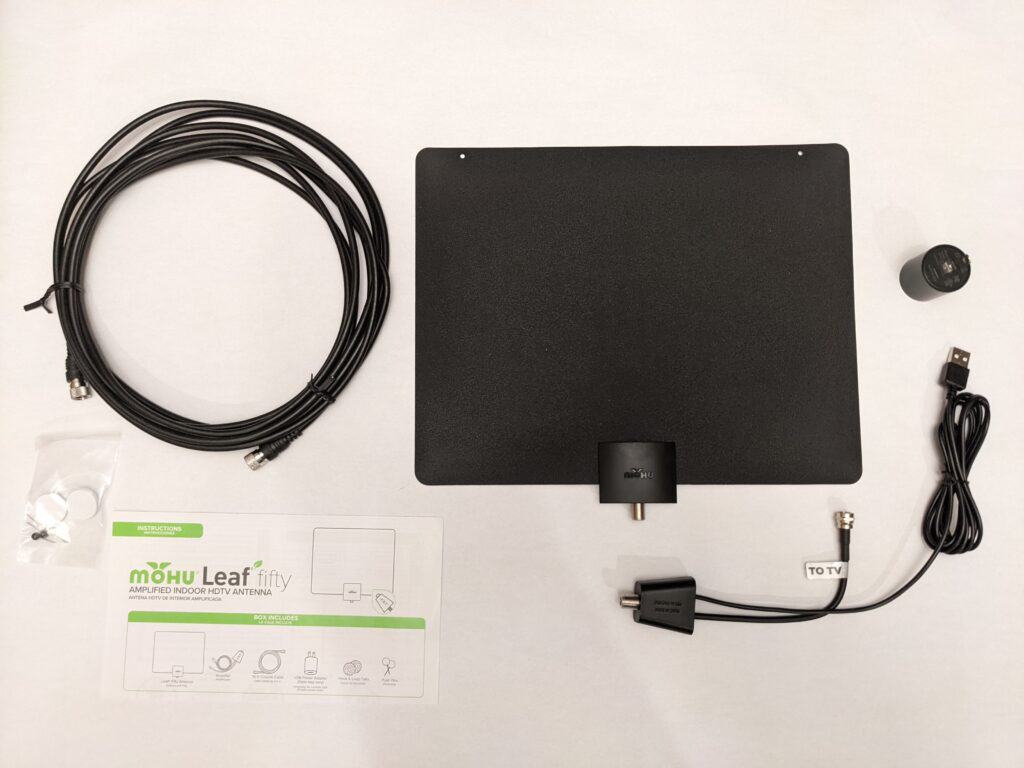 One benefit of using an over-the-air antenna is it may help you avoid choosing a live TV streaming service that carries local networks.
Providers must pay to carry those channels, which they pass onto the customer. These broadcast retransmission fees cost roughly $20 a month.
Read our guide on how to watch local TV without cable to learn more.
Streaming Device or Smart TV
Before you can stream TV online you will need something to deliver internet service to your television set. This can either can some from a smart TV or a streaming device like a Roku or Amazon Fire device.
Most modern TVs, particularly Samsung, LG, or Sony, have many streaming apps installed. If your TV is more than a couple years old, they may not have that capability.
If the TV has a HDMI input you can install a streaming device to accomplish the same end result. Most devices are very affordable and offer a wide range of features.
If you don't have a Roku or Fire device, the Chromecast, Tivo, and Apple TV are also compatible devices with many streaming platforms.
Read our guide on the top Fire TV alternatives to learn more.
Modem and Router
Internet service providers love to make customers believe they must use proprietary products to get service. That is not the case.
Using modems and routers from the internet company often results in monthly fees. Furthermore, the same device is often given to multiple customers so they may be older.
While it does entail an upfront cost, purchasing your own modem and router is a fantastic way to save money long-term. Just ask your provider what's required and use that to guide your purchase.
This allows you to avoid additional monthly fees and ensure you have an up-to-date modem and router.
Decide How Much You Want to Spend
Cable or satellite is great for a set it and forget it mentality. You pay the same thing each month, regardless of what you watch and how much TV you consume.
You want to avoid that when you cut the cord. In fact, you want to think of streaming as similar to managing your money.
You want to maximize value and not overspend, otherwise you may spend more than you want. When you cancel cable you want to create a television budget and regularly revisit it to assure you're not overspending.
For example, if you determine that you want to spend no more than $140 a month on streaming and internet, you start from there.
If your internet service is $70 a month, you have $70 left to spend on streaming. Thankfully, there are a number of services that fit in that range, and you want to review whether or not you need a service quarterly.
Let's assume you choose four streaming services that cost $70 total, but you've not watched anything on Netflix in two months.
If you have the Standard plan with Netflix, which is $15.49 at time of publishing, you can cancel that to recoup the cost.
Following this method keeps you from giving up savings you claimed from cutting the cord. You don't want that.
Thankfully, streaming services are contract-free. Don't feel shame in using a platform for a month to binge shows, then cancel it after the month.
This maximizes your streaming budget and makes sure you're not spending on something you don't use.
Determine What Kind of Content You Want
Choosing a streaming service can be overwhelming. There are hundreds of platforms, each with a different focus.
Before you choose a service, it's essential to determine what you must have. Do you need to have live TV, or are you fine with on-demand content?
Additionally, what networks must you have when choosing a service?
Similarly, do you want one service that has most of what you want or are you fine cobbling together several platforms?
There are three styles of cable TV alternatives, and we'll cover each option.
Top Live TV Streaming Services
A live TV streaming service is the closest to thing to cable or satellite. These services package together channel lineups of dozens of popular networks.
These are the same channels you get via cable or satellite. There are eight major live TV streaming services, ranging from minimalistic to premium services that are much like what you're currently paying for in your contract.
Some platforms even allow you to add-on premium channels like HBO or Showtime if you're used to getting that in your current setup.
Our top-rated service is YouTube TV. It currently costs $64.99 for over 100 channels, with three simultaneous streams. Read our YouTube TV review to learn more about the platform.
If you don't need a premium service Philo is our top-rated service. It has over 60 networks and features similar to YouTube TV. It currently costs $25 per month.
*Related: Do you want to cut the cord, but not sure which streaming service to choose? Try our free quiz to see which platform will best fit your needs.*
Philo is more affordable because it doesn't carry live sports or local networks. Its focus is on lifestyle and entertainment content. Read our Philo review to learn more about the platform.
Some live TV streaming services offer a free trial. It is vital to try those before you cut the cord. You want to make sure streaming experience is good before you cancel cable or satellite.
If you don't like the service, move onto a different one that offers a free trial until you find one you like.
Here is a breakdown of the top live TV streaming platforms.
| Service | Mo. Cost | Free Trial (Y/N)? | Local (Y/N)? | DVR | Try |
| --- | --- | --- | --- | --- | --- |
| DIRECTV STREAM | $74.99+ | Y | Y | No limit | Try |
| Frndly TV | $6.99+ | Y | N | No limit | Try |
| fuboTV | $74.99+ | Y | Y | 1,000 hrs. | Try |
| Hulu Live | $69.99+ | N | Y | No limit | Try |
| Philo | $25+ | Y | N | No limit | Try |
| Sling O+B | $55+ | N | FOX/NBC | 50 hrs. | Try |
| Vidgo | $64.95+ | N | ABC/FOX | N/A | Try |
| YouTube TV | $64.99+ | Y | Y | No limit | Try |
Read our guide on the best live TV streaming services to learn more about the available options.
Top Video Streaming Services
If you don't need live TV, a video streaming service is a good alternative. Netflix is one example of a video streaming platform.
These services often don't carry live TV shows, but are on-demand. There is no need for a DVR as shows are available whenever you want to watch them.
These shows and movies can be original content, or popular TV shows from other networks.
Our top-rated service is Netflix. It is one of the oldest players in the market, with original programming to movies and TV shows from proprietary networks.
If you don't need that much, Peacock and Paramount+ are our top-rated services that carry content exclusively from NBCUniversal and Paramount (CBS) respectively.
Most content on those two services is on-demand. If you choose the respective premium plans, you get your local NBC or CBS stations.
Read our Peacock vs. Paramount+ review to learn about how they compare. Like live services, there are a lot of options for on-demand platforms.
Not as many on-demand services offer free trials, but they're also far more economical than live apps. Take advantage of free trials, where available, to identify what works for you.
Here is a breakdown of the top video streaming services.
| Service | Cost | Live Content? (Y/N) | Best For | Try |
| --- | --- | --- | --- | --- |
| Disney Bundle | $12.99+/mo. | N | Variety | Try |
| HBO MAX | $9.99+/mo. | N | Original content | Try |
| Peacock | $4.99+/mo. | Y | NBC shows | Try |
| Paramount+ | $4.99+/mo. | Y | Live TV | Try |
| Discovery+ | $4.99+/mo. | N | Lifestyle shows | Try |
| Amazon Prime Video | $8.99+/mo. | N | Prime members | Try |
| Netflix | $6.99+ | N | Content library | Try |
Read our guide on the top Netflix alternatives to find a choice that works for you.
Top Free Streaming Services
Regardless if you cut the cord it is possible to stream TV for free. There are hundreds of free streaming apps that let you watch content for nothing.
All you need to do to view content on these apps, in some cases, is create a free account.
These are trustworthy sites, and many are owned by large conglomerates like Paramount or FOX. Many cord-cutting guides overlook these sites as a way to view content.
However, free streaming platforms can be a fantastic way to watch original content, reruns of popular TV shows, and movies and shows from yesteryear.
Such platforms make money in one way, through advertising. If you don't mind ads, free ad-supported streaming services are a helpful tool to keep costs to a minimum.
Pluto TV is our top rated service that has over 200 networks of on-demand and live content. It is run by Paramount, so expect to see a lot of content from that company.
Read our Pluto TV review to learn more.
Tubi is a close second to Pluto. The app is owned by FOX and has over 40,000 movies and TV shows from over 400 partners. It even has some original content.
If you want to keep your streaming costs to a minimum you can pair several free services with an over-the-air antenna to get your local content.
| Service | Account Req. (Y/N)? | Channels | Best For | Try |
| --- | --- | --- | --- | --- |
| Pluto TV | N | 200+ | Live TV | Try |
| Tubi | N | 200+ | Mainstream movies | Try |
| Roku Channel | Y | 300+ | Local news | Try |
| FreeVee | N | 75+ | Prime members | Try |
| Sling Free | N | 150+ | Live TV | Try |
| Crackle | N | 50+ | Classic movies | Try |
| DistroTV | N | 250+ | International movies | Try |
| Samsung TV Plus | N | 500+ | Samsung users | Try |
| Vudu | Y | 10,000+ movies | Movie rentals | Try |
| Hoopla Digital | Y | Local library content | British films | Try |
| Xumo | N | 200+ | Sports | Try |
| Redbox Live | N | 150+ | Original content | Try |
Read our guide on the best free streaming services if you want to dramatically cut your costs.
Keep a Close Eye on Your Spending
No guide to cancel cable is complete without a discussion of how to manage your streaming. Cable and satellite providers like to make you think that you should stay with what you have for eternity.
Thanks to being contract free, that's not the case with streaming. You can and should cancel when you wish.
If you haven't watched something on a service in a month or two, it's time to cancel. You can always go back and watch content when ready or there's something you want to watch.
Furthermore, if there's a new series coming to a service, wait until it's over. Then, sign up for the platform, binge the show in a month, and cancel when done.
Another overlooked way to save on streaming costs is the ability to pause subscriptions to live services. This is an easy way to save, such as when you're traveling.
We do this when we travel and it allows us to skip paying for a month. Pausing allows you to keep all of your settings, DVR recording, favorited channels, and more without having to cancel.
Live TV streaming services differ in how they handle pausing service. Some allow you to pause in week blocks up to 12 weeks whereas others do it in month-long blocks.
Don't overlook this option if you choose a live TV service.
FAQs About Cutting the Cord on Cable or Satellite
If you've always had cable it can be challenging to see yourself leaving. Many people have questions before taking the plunge.
Here are some common questions readers have about cancelling cable.
Is Cutting the Cord Worth it?
It is possible in most cases to save significant money when you get ride of your cable contract. The average bill is over $200 a month and I regularly help people spending $250 – $300 a month on cable.
Even if you spend $75 a month on internet service it's possible to reap significant savings with streaming.
However, do the math to see if you will save money by canceling your cable contract and how much. Not everyone will save, but most will score savings.
Don't overlook monitoring your streaming budget and canceling or pausing services when you don't need them.
For example, we love to stream NFL and college football games in our home. We upgrade to a premium service for several months in the fall. Once the season is over we downgrade.
Doing that allows us to save money and not miss out on the live sports we love. You can do similar to align costs with your needs.
How Do I Get Streaming on My TV?
Streaming is overwhelming to people who have always relied on satellite or cable to get their content. Thankfully, it's not very difficult.
With a contract service you get everything to your TV via a cable cord. Streaming doesn't require a cord. You receive your content via the internet to your TV.
All of those cords you're currently using are no longer necessary. If you have a recent smart TV it will have many of the apps you need.
If your TV is older, a streaming device plugged into the HDMI port of your set will accomplish the same thing.
Can I Record TV Shows Without Cable?
A DVR is what many cable and satellite companies use to keep customers. They promise the ability to record whatever you want and claim you can't with a streaming service.
That is false. Most live TV streaming services offer a cloud DVR for you to record shows, movies, and live sports. In fact, some even offer unlimited recording capabilities.
If you choose a video streaming app, content is available to watch whenever you wish. In that case, there is no need to fear.
Choosing only to use an over-the-air antenna will require you to purchase a standalone DVR to record shows. Watch our video below to learn about the top choices.
How Do I Get Rid of Cable But Keep Internet?
It is common for cable companies to also offer internet service. Unfortunately, in many cases, they're also the only option for high speed internet in your area.
No guide to cord cutting is complete without discussing separating the two when you cancel service.
With cable dying companies do try to increase rates or make it difficult to separate the two. Regardless, it's still possible to get internet without cable.
Ask your provider the cost of internet-only service. You can also ask your local phone company if they offer internet service.
Going internet only may cause the price of that service to increase. Just keep that in mind when setting your streaming budget.
Bottom Line
It is no longer necessary to stay in an expensive contract to watch your favorite shows or live sports. You can often get the content you want for less than the average cable bill of $200 a month.
Do your homework before cutting the cord. Determine the channels and features you must have and try several free trials. That will set you up for success and let you amass more savings.
If you want to know more about saving money on streaming services, subscribe to our YouTube channel. On it we discuss everything you need to know about cord-cutting and streaming.
How much are you spending on TV services each month?