How to Cut the Cord: The Ultimate Guide to Big Savings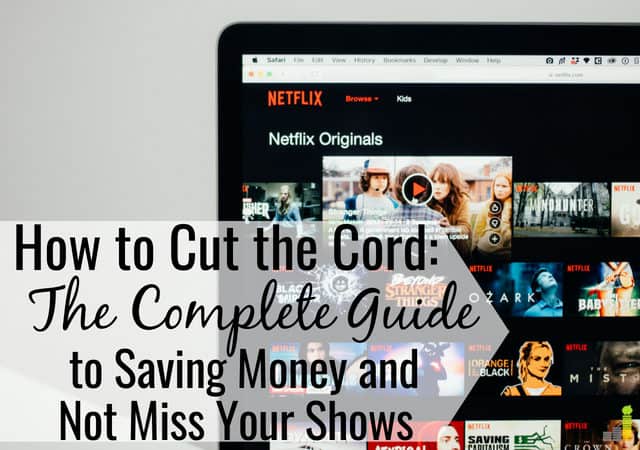 I've written in detail about how we've saved serious money since becoming a cable-free family. I regularly get asked by readers how to cut the cord on cable and what are the best cable alternatives for the shows they watch.
It makes sense for one reason. As a society, we spend too much on cable TV. The average monthly bill comes in at almost $110 per month. That's just insane!
At a time when people are struggling with finances, cutting the cord is one of the simplest ways to save money every month that can be used for other, more important needs.
So, if you want to know how to cut the cord, what channels you can get without cable and the best cable TV alternatives to save money, this guide is for you.
how to Cut the Cord on cable
The first step to canceling cable is the act of cutting the cord. Simple, I know, but a necessary first step. This means, in all likelihood, that you will need to call your cable provider.
They may have an early cancellation fee like we faced when we canceled DirecTV.
I know the cancellation fee may be a tough pill to swallow.
I get it. However, you'll most likely recoup those savings within several months. In our case, we recouped the fee within two months, allowing us to quickly enjoy the savings.
One thing to watch out for is the bundle pricing, especially if you have cable through your Internet service provider. They will tell you your rates will go up, which they may.
My advice is not to give into their pitches of putting you into some special unadvertised package or promises of an extra $5 or $10 off each month. At some point, the "savings" will be gone and your bill will increase even more.
Do the math. If you still save money without the bundled prices, then it only makes sense to cut the cord for good. Ultimately, they're going to do all they can to keep you as a cable customer.
Check out our guide on how to get internet without cable if you think you're overlooking an opportunity to save more money.
The cable industry is a slowly dying beast, and they'll use whatever tricks they can to bind you to them. Don't give into their tricks! Instead, just calmly tell them you're done and that you want to cut the cord.
Get Local Channels Without Cable
Many who ask about how to cut the cord are concerned with getting local channels. It's not as difficult as you might think, thanks to a digital antenna – which is the first thing you need to buy after you cancel cable.
If you want to know how to watch local TV without cable, a digital antenna is the best way to accomplish that task. Thankfully, a modern digital antenna is nothing like antennas of the past.
Most digital antennas are paper thin and can be set up next to your television or adhered to a nearby window. It just depends on what type of antenna you buy. It's also one of the best ways to legally get free cable TV.
I will mention that you will need one antenna per television. Since we have two TVs, we have two antennas, allowing us to get local channels on both televisions.
There are many digital antennas to choose from, and most of them are relatively inexpensive while allowing for TV reception without cable. We have the Mohu Leaf on both TVs and they've been great for us.
The 1byone antenna and Wsky antenna are other popular options with cord cutters.
Here are the best selling digital antennas on Amazon. As you can see, most are relatively inexpensive and should do what you need to get local channels without cable.
It is important to remember that a digital antenna will only provide you access to local and public access channels. You won't be able to get cable channels, but thankfully there are other options to get them.
Alternatives to Cable – Pick the Best One
Assuming you still want access to cable channels after you cut the cord, you should check out some of the best cable TV alternatives. There are plenty of ways to still get cable channels without paying a significant bill each month.
You just have to find what option works best for your needs and interests.
My suggestion is to take advantage of free trials to find the one you like best.
Those who are trying to figure out how to cut the cord are often concerned with replacing their favorite networks. In this case, you want to find a streaming service that offers cable channels without a contract.
**Additional tip: Love NFL football but don't know how to watch your favorite team without cable? Here's and still catch all the action!**
Many of these alternatives will not replace all of your channels. Each alternative has its own channel lineup, so you have to decide which one will deliver the most of what you want.
Here are some of the best alternatives to cable:
Hulu: Hulu is a streaming service similar to Netflix (check out our Netflix vs Hulu guide for an in-depth comparison) that offers access to network and some cable channels. With plans at $6 or $12 per month, it's relatively inexpensive.
The downside is that you have to wait 24 hours after a show originally airs to watch it and many only go five episodes back.
**Related: not certain which option you should choose? Read our Hulu vs. Hulu Live guide to see which choice fits your needs.**
If this is an issue for you, Hulu with Live TV, costs $64.99 per month for 60+ channels and a cloud-based DVR.
Hulu Live is the best option to watch ESPN without cable without the hefty price tag. The platform also carries local channels in nearly all markets.
You can read our Hulu with Live TV review for a full breakdown of the service.
Sling TV: Sling TV is one of the more established cable TV replacements and is offered by satellite giant Dish TV. We've tried the platform several times and it offers plenty of content to meet the needs of most.
Recent additions of a cloud-based DVR and the ability to create your own guide now make them a more attractive option.
Sling TV is a cheaper offering, starting at $25 per month. They also allow more customization relative to other services.
Read our review of the Sling TV packages to learn about the available channel options.
Philo: Philo is a relatively new streaming service that has a unique spin – they don't include sports channels in their offering.
While there aren't any sports channels on Philo, they do have many other popular channels that most want after cutting the cord.
At only $20 per month, Philo may be one of the better options to get the shows you want without spending too much money.
Philo's low monthly cost is its strongest selling point. Not having sports available to stream is a big part of how it is able to keep its monthly subscription fee so low.
You can still do things like watch HGTV without cable and save considerable money each month.
You can enjoy 59 channels in its cheapest channel bundle, some of which include:
HGTV
A&E
AMC
BET
CMT
DIY Network
Food Network
Lifetime
Nick Jr.
MTV
Travel Channel
Philo offers a 7-day free trial to check out their platform.
Read our Philo TV review for a full breakdown of the service.
AT&T TV Now: AT&T TV Now (formerly DirecTV Now) is an offering by, you guessed it, DirecTV, but without the nasty contract. We've tried AT&T TV Now several times, taking advantage of their free trials and were moderately happy with the experience.
The downside is that their lowest monthly package is $65 and goes up to $135, though they do finally have a cloud-based DVR to offer.
You can check out our AT&T TV Now review for a full breakdown of the service.
FuboTV: FuboTV started as a soccer only offering. They now also offer access to dozens of sports stations like FS1, FS2, BTN and more. It also includes DVR functionality.
FuboTV also offers access to live local CBS, Fox and NBC in certain markets. You can check out fuboTV through their free 7-day trial.
Check out our fuboTV review to see if they're the platform for your needs.
Amazon Video: Amazon video is the final cable alternative if you want to cut the cord.
You don't need to have Amazon Prime to take advantage of their video content. but it does open it up to quite a bit more offerings and is a good way to watch free streaming movies online.
Their movies aren't always the best, but, like Netflix, they have a lot of original content. If you choose to get Amazon Prime, it is $119 per year, which works out to $9.90 per month.
We did have Amazon Prime before cutting the cord on cable so I don't count it towards our cost as we'd have it anyway.
By taking advantage of different free trials, we've found that you can replace a lot of what you currently watch with cable. Just remember to do your research before cutting the cord.
Lower-Tier Platforms
The problem with all of the above alternatives to cable is that they come with a monthly cost. If you are looking for even bigger savings and a one-time fee, there are lower cost alternatives to cable that may work for you.
With all of these alternatives, you have a relatively low one-time cost as opposed to an ongoing monthly bill.
Save $30 on Your Cable Bill With Trim
Trim is a little app that makes a big difference in your bank account. You just connect it to your bank account so it can find memberships and subscriptions that you don't use and negotiate lower rates for you.
Trim works with Comcast, Time Warner and more. Make saving easy with Trim!
The one thing to keep in mind is that these lower cost options will not replace cable TV channels. They will provide access to a small handful of channels and apps, but they won't replace everything.
If your viewing needs are like ours then that won't be an issue. Here are some of the best lower-tier cable alternatives:
Amazon Fire TV Stick: The Fire TV Stick is the go-to device in our home. It's relatively cheap and plugs right into our TV. It provides access to about 25 different apps and channels and allows us to stream services like Netflix or Amazon.
We also like that it's portable so we can take it with us on vacations. You can check out our Amazon Fire TV Stick review for a full breakdown of the device.
Amazon Fire TV: We recently added the Amazon Fire TV to our home and really like the device.
The Fire TV is a more amped up version of the TV stick, operating on the same platform but with a few more tools. It adds Alexa capabilities and considerably more gaming options.
You can check out our Amazon Fire TV review for a full breakdown of the device.
Roku: We've not used Roku but it operates much like the Amazon Fire Stick. The Roku provides access to many of the same apps and channels as the Fire TV Stick does.
If you want a device with more features and 4K ability, you can get the Roku Streaming Media player for a bit extra.
Remember that these will not replace most of the channels you currently watch. However, if you don't watch much TV and don't mind streaming a show or two online, then one of the above can be a great option without a monthly cost.
Read our guide on the best Amazon Fire Stick alternatives to find the best option for your needs.
Buy A DVR
I was seriously addicted to our DVR when we had DirecTV. I loved that we could record something, watch it whenever we want, and skip through the commercials.
Thankfully, I've found that divorcing the DirecTV DVR went quite well.
*Related: Want to save on internet service? Check out our guide on how to get free internet service at home to save big bucks!*
Replacing the DVR is a big challenge when you cut the cord, but there are options available that help you record shows. While we've not yet bought a standalone DVR, there are several good options to consider. Some of those include:
Tivo Roamio: The Tivo Roamio allows you to record up to four shows at once and stores up to 75 hours of content.
It works on many platforms and has no monthly service fee. The one downside is you can only record shows you receive via digital antenna. There are cheaper options from Tivo but they require a monthly service charge.
Tablo OTA DVR: The Tablo DVR is a bit cheaper, and it allows you to watch up to four shows as you record them.
Tablo does charge a monthly fee, starting at $5 per month, with discounts given for an entire year. From my research, a monthly plan is not required so you may be able to get away without a monthly fee.
If you live in an Amazon home, the Fire TV Recast is a suitable option and works with most Fire devices.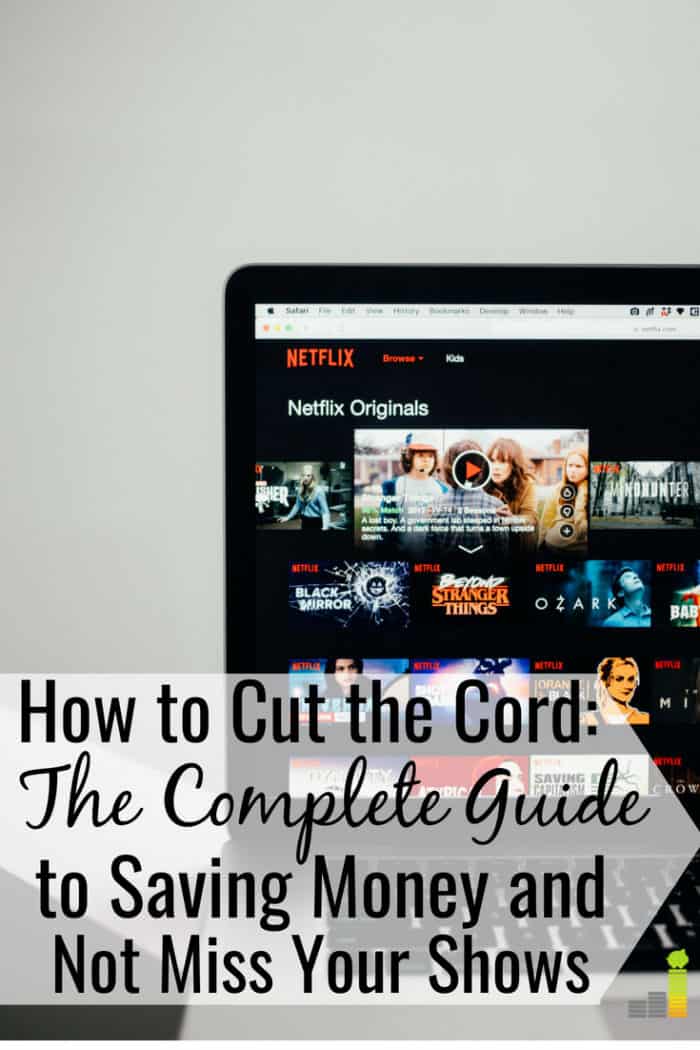 Bank the Savings
I've said this before but I can't believe it took us as long as it did to cut the cord. Now that we've been cable free for five years, there's no going back. We've saved nearly $5,000 during that time.
That's money that's now working to grow our wealth instead of the cable company's bottom line.
We've tried a fair number of cord cutting options available and here's what we've narrowed down our costs to:
Netflix – $14.76 per month
HBO Now – $15.83 per month
When you compare what we pay now to our $105 per month bill with DirecTV, it comes out to a savings of $75+ per month. We do miss some things, but there are so many streaming providers today that it makes sense to cut the cord on cable as you can usually get the content on a different platform.
We also have a Fire TV Stick, Fire TV, and Mohu Leaf but those were all one-time costs that we recouped long ago.
The key to cutting the cord and banking the savings is knowing what you want and keeping the costs to a minimum. It's easy to lose savings by adding some of the cable TV alternatives.
The more you add, the closer you get to the same situation you were in before cutting the cord.
Just sit back and think about what you can do with an extra $80 per month. That's nearly $1,000 per year! That's money that can be used to pay off debt, save for retirement, save for a vacation or many other things – all of which are much more satisfying than paying to watch something on a magic box.
If you have cable, why do you still have it? If you've cut the cord, what are some of the tools you've used to get your content? What are you doing with your savings after cutting the cord?
The following two tabs change content below.
John is the founder of Frugal Rules, a dad, husband and veteran of the financial services industry whose writing has been featured in Forbes, CNBC, Yahoo Finance and more.
Passionate about helping people learn from his mistakes, John shares financial tools and tips to help you enjoy the freedom that comes from living frugally. One of his favorite tools is Personal Capital , which he used to plan for retirement and keep track of his finances in less than 15 minutes each month.
Another one of John's passions is helping people save $80 per month by axing their expensive cable subscriptions and replacing them with more affordable ones, like Hulu with Live TV.
Latest posts by John Schmoll (see all)