Sometimes an electronic copy of a document isn't good enough. Whether it's your auto insurance card or other official paperwork, you need to print documents to have it in physical form.
I personally don't like to spend much money on tasks that can be done for cheap or free. This is a concern for many, leaving most wondering 'where can I make copies near me for cheap?'
If you don't have access to a printer at home, there are various places in your area that you can take care of what you need for cheap and save money for other necessities.
With cost out of the way, let's discuss the best options to make copies near you.
Best Places to Make Free Copies
An office supply store is not the only option to make copies. You will find such stores on our list, but there are other choices to print documents.
In fact, you can make free copies at some locations. Here are the three best places to make free copies.
1. Work
Do you find yourself asking, 'where are the best places to make copies near me?' and not know where to start? Look no further than your office.
Employers often don't mind letting you use their equipment to print a document or two. They may even allow you to make color copies for cheap or free, depending on the quantity.
Be sure to double check with a supervisor before doing it and don't assume they will allow you to make copies. The last thing you want is to get into trouble.
If your boss is fine with you doing it, this is a good option to save money.
2. Friends and Family
Friends or family may have a copy machine or a printer with a copy feature so you can avoid using a paid service. Whenever you need copies made, ask around first.
If friends and family live close, it makes sense to use their equipment and save a trip to the office supply store.
Most family and friends like helping out their loved ones, and this can be a great help for someone who needs some copies made.
If you don't know anyone with a printer, and you live in an apartment complex, consider asking your landlord. They may be willing to let you print documents for free on occasion.
If your complex has a clubhouse or business center, you might be able to use that for free copies as well.
3. Post Office
Some post offices have copy machines they allow customers to use. Not all locations have this option, however.
Instead of risking it and taking an unnecessary trip, call ahead to make sure they offer this service. Most cities have a post office, even small towns do, so hopefully using a post office to make copies won't take up much traveling time.
Making a copy at your local office may be convenient if you need to ship something overnight. Read our guide on the top cheap next day air options to send an item for less.
Where to Make Cheap Copies Near Me
You won't always be able to make copies for free. A simple internet search for 'best printing services near me' may provide some good options, though rates may vary widely.
Here are a few of the best places to make cheap copies.
4. Library
Your local library is one of the best places to make copies of documents. Like a post office, most towns have at least one library.
This service typically isn't free, but the fee isn't too bad. At my library, it's only $0.10 for black and white and $0.25 for color copies.
Libraries aren't typically super busy so the copy machine is usually available.
This means someone can be in and out with their copies in just a few minutes. College or university libraries also have copy machines the public can use as well.
5. Office Depot/Office Max
Office Depot has same day printing and copying. Customers receive 15 percent off any one regularly priced item for signing up for Office Depot/Office Max emails.
Each black and white copy is just $0.09 per copy.
Color copies for Office Depot/Office Max are only $0.42. Orders are usually ready within an hour and there is no extra charge to pick up.
If a customer can't make it to a store there is also a free shipping option for qualifying orders of at least $45.
6. The UPS Store
The UPS Store has over 4,400 stores worldwide and offers a great option to get copies. You can either go into the store to make copies or order them ahead of time online.
Customers who sign up for their news and special offers receive 15 percent off their next online order. They offer various sizes, and can do both thick and thin pieces of paper.
They specialize in this service and can even make copies of W2s, church bulletins, or legal documents. Prices typically start around $0.12 for black and white and around $0.50 for color copies.
7. FedEx Office
Formerly known as Kinkos, FedEx Office is another option for printing services. The store has been expanding their stores and is now in select Walmart locations.
This move makes it nice and convenient for people who have multiple errands to run. It might save them a trip to a printing service location.
Like The UPS Store, you can order copies ahead of time to save you time.
8. Staples
When I'm looking for a place to make copies I usually choose Staples because there is a location nearby.
Staples has good prices and is one of the cheapest places to make copies. They charge $0.53 per color page and $0.11 per black and white copy.
Bulk orders can result in prices as low as $0.13 and $0.04, respectively.
9. Your Local Grocery Store
If there isn't a big name store in a town, sometimes a local grocery store may allow people to use their machine to make copies for cheap.
If there aren't any big retailers to compete with, this may prove to be an easy service for a lesser-known store to offer.
It depends on the location, but some stores may stick with the typical $0.10 for black and white and $0.25 for color copies.
Somewhat related, if you need to know where to get quarters your local grocery store is a solid choice.
10. Community Centers
Do you live in an HOA that has a clubhouse or have a recreation center local to your neighborhood? Many of these are operated by fraternal organizations, or a local government and often have a copier available for public use.
If you live near a community center or clubhouse, ask them if they have a copy machine available for use. This may not work for large jobs, but may be a perfect fit if you only need a few copies.
11. CVS
The photo department at CVS also makes copies for customers. There are 3,400 locations that offer this service nationwide.
Locations will typically have a Kodak kiosk in CVS stores for customers to use for printing and copying services.
This makes for a quick and easy service, and documents are available in minutes. Black and white prices for single-sided copies are $0.29 per page and double-sided is $0.20 per page.
Color copies are a little more than some other options. Single-sided copies are $1.19 per page and double-sided are $0.65 per page.
12. Walgreens
Walgreens is a perfect spot to go for anyone who need to make copies of photos. The retailer Walgreens is a popular store and most cities have at least one location.
Walgreens prices per photo are actually pretty reasonable and only cost around $0.20 for a 4×5 photo. Unfortunately, many Walgreens locations do not allow you to print documents.
Best Places to Order Copies Online
Going to a store is a good option if you need a quick copy of a document or just need a few copies. They have one drawback– they're often a little more expensive than other options.
They may also not offer bulk services.
If you need to make a lot of copies of one document, an online service may serve you better. Below are the best places to order bulk copies online.
13. Rakuten
Do you need to make copies from home without a printer? Look no further than Rakuten as a way to order copies online.
Rakuten often has coupons and discount options for printing services. A few of the companies on this list also have discount offers on Rakuten. Vistaprint and FedEx offer three and five percent back on orders, respectively.
In the history of the site, Rakuten has helped earn Vistaprint customers over $950,000 in cash-back rewards.
For referring friends, customers receive a $10 coupon for each friend referred and the friend gets $10 off their next order.
These two aren't the only companies that offer cash back, though. The biggest percentage back offered from this group of businesses is 11 percent.
14. Best Value Copy
For 25 years, Best Value Copy has offered printing services. When you place your first order, you receive 200 free black and white or 50 free color copies.
This is only for the first purchase and shipping costs will have to be paid by the customer.
After the first initial order, copies are only $0.032 for black and white copies and $0.099 for color. This makes Best Value Copy one of the best options to make color copies for cheap.
Any orders over $125 qualify for free shipping. Shipping is only offered Monday through Friday. There are no minimum order sizes, and your order is shipped in 48 hours or less.
15. Color Copies Today
Color Copies Today has been in business for over 35 years. They are a division of the Rogers Marketing and Printing, Inc company who is based out of Avon, Indiana.
*Related: Looking for places to buy stamps? Check out our guide on where to buy stamps near me to find the best places to buy postage stamps.*
Copies are printed and shipped out the same or next business day the order is submitted. Color Copies Today has a simple upload option to make sending in a request easily.
Customers can send up to four different documents at a time. They do all bulk pricing for their copies. So for 1,000 color copies, customers pay $0.06 per copy.
The cheapest single-sided color copy bulk order the site offers is $0.10 per page for 150 copies.
Black and white copies are $0.04 per page for 500 single-sided copies.
16. Docucopies
Docucopies is a website to use to make color copies for cheap, especially if it's a bulk order. If a customer needed a mass order of 10,000 copies, they can order them from Docucopies for only $0.05 per page.
If that's a little too excessive, they also have a package of 1,000 color copies for $0.07 a piece. Orders are typically shipped by the next business day.
Customer service is available to answer any questions five days a week.
17. Vistaprint
Vistaprint is the go-to company to visit for any and all small business needs. Business cards, marketing materials, calendars are all products that can be customized and purchased from the site.
*Related: Do you need to replace a key? Read our guide on the best places for key duplication near me for cheap.*
The site does not make copies, but they cover most other business needs you may have.
How Much Does it Cost to Make Copies?
It is possible to make copies for free, but it's likely you will have to pay some amount. Each location charges a different price to make copies, though some sites and stores charge the same price regardless of location.
The most important factor learning how much it costs to make a copy is if you choose black and white or color.
Here is what you can expect to pay to make copies:
Black and white copies – between $0.03 and $0.25 per page
Color copies – between $0.10 and $0.75 per page
The above is the cost for standalone copies. If you want other services, like binding copies into a presentation, expect to pay more. How much more depends on the services you need.
Bottom Line
Whether you need photos, business cards, or paper copies, there are probably several options in your area to choose from to help you get it done.
A few of these options may be new to you while you may frequently visit some of the other locations.
Some people can't print from home so having these convenient locations can be a big help. Some businesses have same day service and you can be in and out. It also may take a little while to receive your prints.
Either way, it's relatively simple to print documents for cheap.
Where have you found the cheapest place to make copies? What online printing services do you use to save money?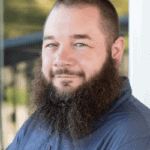 I'm John Schmoll, a former stockbroker, MBA-grad, published finance writer, and founder of Frugal Rules.
As a veteran of the financial services industry, I've worked as a mutual fund administrator, banker, and stockbroker and was Series 7 and 63-licensed, but I left all that behind in 2012 to help people learn how to manage their money.
My goal is to help you gain the knowledge you need to become financially independent with personally-tested financial tools and money-saving solutions.