The other day, I had to drive to Lincoln, Nebraska for a special event. I was so excited to go that I left the house and started my 45-minute drive without any quarters in my purse. When I arrived, I realized I had no change to feed the meter. Stressed, I tried to think of where to get quarters near me.
I've been caught in downtown Lincoln before without change and it's no fun. You'd think I would have remembered that before leaving the house.
Three convenience stores, a candy bar, and a pack of gum later, I finally had what I needed to park. By then, all the good spots were filled. I had a longer walk to make, which I used to game plan how I would never find myself out of change again.
Perhaps you've been in my situation and like me, have asked, 'where can I get a roll of quarters?' If so, this post provides the best options of where to get change.
Where Can I Get a Roll of Quarters?
Whether it is for parking, laundry, or even allowance, we all still use quarters. Therefore, we all need to know where to get change.
We use them to pay our children allowance. (Have you tried getting dollar bills in and out of piggy banks? We have, and trust me, quarters are much easier.)
We have three kids, so we need more than pocket change to pay them. We need to know where to buy rolls of quarters.
1. Your Bank
Your local bank is one of the best places to get quarters. Especially rolls of them. I go in regularly to withdraw and deposit cash as well as to cash freelance checks.
*Related: Cashing a check can be a challenge if you don't have a bank account. Read our guide on the best places to cash a check near me if you don't have a local bank account.
I buy a roll from my bank about once a month. I stash a few dollars' worth in my purse and put the rest with the money we use to pay our children their allowance.
Banks are the best place to get change, as long as you have an account. If you don't, they may not sell you quarters. Try a few banks in your neighborhood.
If no one will help you out and you're still asking, 'where can I get quarters?,' consider opening a no-interest, no-fee checking or savings account at one you like.
Not only will you have a go-to place to get cash, you'll have a way to automate your savings and take an important step toward financial independence.
2. Grocery Store
After your local bank, the grocery store is your next best bet for getting change.
Grocery stores serve a lot of people who shop with cash and need to have a variety of change on hand, including quarters.
If you just need a few dollars' worth, buy a small item and ask the checker to give you change in quarters.
A roll of quarters is $10 worth. That's a lot of quarters, 40 to be exact.
If you need a whole roll, go to the customer service counter as a checker may not have enough to give up a roll.
Plus, you'll avoid the evil eye of the person behind you who just wants to buy their items and get going.
3. Walmart or Target
I hate Walmart. I am not going in there for gold bullion, let alone quarters. But you may not have that option.
Your local grocery store might be Walmart, or Target. Target's not as bad. I don't mind going there.
Still, if you need a roll of quarters, either Walmart or Target will do the trick.
The same rules apply as above with grocery stores. If you need more than a dollar or two of change, go to the customer service counter.
Other Places to Get Quarters
Do you have a washer and dryer in your home? Lucky you.
I still remember when we had to go down the street to the laundromat to clean our clothes. It took a lot of time, especially if we didn't have enough change to operate the machines.
Whether you need to know where to get quarters for laundry or just where to get change, knowing your options ahead of time is worthwhile.
Here are other suitable places to get the change you need.
4. Pharmacies
When I was a little girl, my best friend and I loved to ride our bikes to Thrifty's. Ice cream was only a dime.
Benefits
Logo
CIT Bank - start your emergency fund
$100 minimum deposit requirement

Open a high yield savings account or money market with $100!

Trouble was, we didn't always have change on us. We might have a $5 bill that one of our parents or grandparents gave us.
Not to fear. We would head to the counter with our five bucks, get two scoops of ice cream and go home with $4.80 in change.
Now, because we also loved to go to the arcade, we would often ask for that change in quarters.
Why?
So we could take that change in our hot little hands and ride it all the way to the mall, where we would quickly spend it playing Mortal Combat II, Galaga, or Pacman.
If you need quarters, pharmacies like Walgreens, CVS, and Rite-Aid are worth visiting. You may not be able to get an entire roll, but you'll likely get several dollars' worth.
5. Laundromats
Okay, I know I mentioned needing to get quarters for laundry earlier, but laundromats themselves are also a decent place to get quarters.
If you're in need of some quick change, go to the local laundromat and use one of their change machines to get what you need.
If you only need a few dollars' worth, it's going to be just fine. However, if you need a whole roll, try a bank or grocery store first.
6. Gas Stations and Car Washes
In many parts of the country gas stations and convenience stores are often like mini-grocery stores.
They carry a lot of everyday items like bread, milk, and eggs, as well as candy, hot dogs, and drinks.
They also carry quarters.
California is a different story. When we go back to visit family, I often have a hard time getting anything from a gas station.
Still, if you need a little change, don't overlook the gas station down the street.
Especially one with a car wash.
Or an air hose.
Or vacuums.
All of those run on quarters. If the gas station wants to make money, they'll keep change on hand to fund the use of those things.
So, if you need a few dollars' worth, check out your nearest gas station or car wash. Additionally, read our guide on ways to get free gas to help lower your fuel expenses.
7. Make A Small Purchase
Places like convenience stores, fast food places, arcades, and casinos can often sell you a few dollars' worth of quarters, but will require you to make a small purchase to get them.
For this reason, I'm listing them last as a means to help you save money.
This is a frugality blog, after all. I don't want you to have to spend money to buy money. Still, if you're in a pinch, one of these options will work.
Just try to keep your purchase as small as possible and make it something you need or at least want.
Then, plan ahead for the next time you need quarters by trying one of the other options listed here.
Summary
In our high tech world, it still amazes me how often I need change.
If you're like me, you've found yourself frustrated by app or card-operated parking meters.
Or, irate at your kid's piggy bank because the holes are too small to squeeze your fat fingers through and pull out their dollar bills
Or, just in need of quarters for some other reason.
Plan ahead to make sure you have the change you need by visiting one of the places listed today.
What is the funniest situation you've found yourself in looking for change?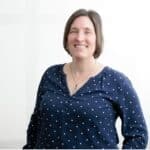 I'm Nicole Schmoll – a master's-educated professional writer, mompreneur, and co-founder of Frugal Rules.
As a freelance copywriter in Omaha, I still believe that writing is an artistic expression. Every time I strike the keys, I intend to evoke a response from my listeners. I left my full-time career as a senior copywriter for an insurance agency to start my own freelance writing business.
I love watching and writing about TV (and how to stream it!)