Despite the prevalence of ACH, direct deposit, and PayPal, personal checks are still common. If you don't have a bank account, knowing where to cash a check is essential.
You may receive checks for side hustle work or another situation and want to know how to cash your check fast. We'll share the best places to cash a personal check and get your money as soon as possible.
Where is the Best Place to Cash a Check?
Cashing a paper check is still a necessary activity for many people. Thankfully, there are various places to get access to your money. If you are looking for the cheapest place to cash a check, consider these options.
1. Your Local Bank or Credit Union
A bank or credit union lets you cash a check for free if you have an account with them. Since you already have a relationship with the institution and can avoid bank fees, it makes sense to use them for this need.
Most financial institutions offer check cashing as a complimentary benefit of having a checking or savings account.
Banks are the most likely place to cash handwritten personal checks since many other locations only accept pre-printed checks to avoid scams and check fraud.
The easiest way to take advantage of this service is to visit your local branch to deposit a check.
If your institution has a mobile app, you might be able to scan the check and instantly deposit the funds into your account.
The only issue you may encounter is that your bank might put a portion of the funds on hold until the check clears. This amount depends on the regulations of your institution, so ask if you're uncertain.
While the check cashing policies differ by bank, the per-check maximum tends to be $10,000. For high-value checks, you may need to contact the bank ahead of time to verify what you can receive.
If you don't have a bank account and want to open one, there are benefits to choosing either a bank or credit union. Opening an account can be worth the effort if you anticipate regularly receiving checks.
2. The Issuing Bank
If you don't have a bank account or are out of town, visiting the issuing bank is your best choice to cash a paper check.
This is also a terrific option if you want instant access to the money since the bank can tell if the account has sufficient funds.
In most cases, you can locate the name of the bank in the bottom left-hand corner of the check, just above the memo line.
If the address is not listed below the name, locate the local branch to visit to cash your check. You will need the following to get funds at the issuing bank:
The check
At least one form of government-issued photo ID (ex., driver's license)
Each bank has different cashing policies. Make sure to bring two forms of ID, such as your Social Security number and driver's license, since some branches have stricter requirements.
The bank may also charge a small fee to cash the check, but that varies by financial institution.
For example, the fee can be $10 for non-customers on balances above $50. In this situation, it's free to cash checks written for smaller amounts.
This fee is almost always less than one at a check-cashing store.
A financial institution may offer a prepaid debit card in exchange for cashing a personal check. Make sure you know the terms and conditions before accepting so you don't lose any of your funds.
3. Go to Walmart
Have you asked yourself, "Where can I cash a check without a bank account?" If so, Walmart is one of the best available options.
Most people live near at least one Walmart location. According to their website, they have over 5,300 locations in the United States.
Benefits
Logo
CIT Bank - start your emergency fund
$100 minimum deposit requirement

Open a high yield savings account or money market with $100!

Most Walmart locations provide banking assistance, which includes check cashing services. Other services they provide include:
Bill pay
Check printing
Prepaid debit cards
It's not free to cash checks at Walmart, but the check-cashing fees are fairly reasonable. Walmart Check Cashing charges the following to cash checks:
$4 per check, up to $1,000
$8 per check, up to $5,000
If you have three checks and they're all under $1,000, expect to pay $12 to get your money. They also limit you to $5,000 for a daily limit, and that increases to $7,500 during the first quarter of the year.
Walmart will cash the following checks:
Cashier's checks
Checks from the government
MoneyGram money orders
Payroll checks
Pre-printed checks
Retirement distribution checks
Two-party personal checks (daily limit of $200)
You can choose either cash or prepaid debit card to receive your funds. The retailer waives the reload fee if you opt for the Walmart Money Card.
Expect to show your government-issued photo ID to cash a check.
4. Your Local Grocery Store
Walmart isn't the only retailer that lets you cash a check when you don't have a bank account. Many grocery stores also provide limited banking services as a part of their offerings.
The capabilities vary by store, but most larger supermarkets or chains offer some banking services.
Here are grocery store chains that still cash paper checks:
Hy-vee
Kroger stores
Publix
Winn-Dixie
Each grocery store charges a different fee. For instance, Kroger charges at least $3 when presenting your loyalty card on amounts up to $2,000 and at least $5.50 for balances from $2,000.01 to $5,000.
Some stores may waive fees if you receive funds via store credit.
If you typically shop at that store, this makes it one of the best places to cash a personal check since you can handle everything in one location.
Like Walmart, expect to be able to cash the following checks at most grocery stores:
Cashier's checks
Checks from the government
MoneyGram money orders
Payroll checks
Personal checks
Pre-printed checks
Retirement distribution checks
If you still have questions, go to the customer service center of your store to ask what personal check cashing services they offer.
Also, if you need to know where to get quarters, your local grocery store is a good choice.
5. Gas Station Travel Centers
Gas stations used to be a popular place to cash paper checks. Unfortunately, that is no longer the case, regardless of the type of check you want to cash.
However, you might be in luck if you live near a large truck stop or are traveling near one. These are the two best travel center options to use for check cashing:
Not each location cashes checks, so make sure to verify what your local center does before visiting.
6. Sign the Check Over to a Friend
Often the best way to cash a check without a bank account is to endorse it to a friend.
Upon endorsing, also known as signing a check over, your friend will cash the check at their financial institution.
*Related: Looking for the best place to get rid of your coins? Read our guide on the best places that offer free coin counting near me and avoid the Coinstar fee.*
Signing a check over to someone else is known as a third-party check. Here is how you sign your check over to a friend:
Verify their bank accepts third-party checks
Sign the back of the check as you normally would
Write "Pay to the order of" followed by your friend's name below your signature
Not every financial institution cashes this check type, so you want to verify if they allow it before pursuing this option.
The bank may also require you to be with your friend, or they may charge a fee to cash the check.
If a fee applies, anticipate paying a flat fee of $8 or two percent.
7. Transact from 7-Eleven
Few convenience stores offer check cashing services. If you live near a 7-Eleven, you can use them to cash a paper check through their Transact by 7-Eleven app.
After downloading the app to your phone, you take a picture of the check to deposit it. You don't receive funds immediately but must wait two days to have access to the money.
*Related: New to writing checks? Check out our guide on how to write a personal check for step-by-step directions.*
After the check clears, the funds are placed onto a prepaid Mastercard debit card you can use at any location that accepts Mastercard.
You can also use the service to send funds to friends and family members.
If your local 7-Eleven has a V-com check-cashing kiosk, you can perform additional financial transactions, including paying bills.
This service is ideal when you need to cash a government check or a payroll check.
What Do You Need to Cash a Personal Check?
It is not as simple as walking into a bank or store and cashing a check. You must typically meet certain conditions to access your funds.
Each financial institution has its own requirements to cash a paper check, but expect to provide the following:
The check
Government-issued photo ID
Contact information
Employer information
If you have a bank account with a negative balance, expect your branch to hold back enough funds to bring the account to zero.
Similarly, if you cash the check at the issuing bank, don't expect to be able to cash the check if the account the check is drawn on is in the negative.
Remember that each institution and retailer has its own limits and fees for performing transactions. It may pay to research choices to ensure you receive as much cash as possible.
Below are the easiest checks to cash:
Cashier's checks
Checks issued by the government
Payroll checks
Retirement distribution checks
You can expect to have more requirements and lower redemption amounts if it's a handwritten personal check.
Can You Cash Personal Checks at ATMs?
An ATM is the first option many think of to cash checks. You must be a member of the bank to use their ATM to cash a check.
If you are, you must find an ATM with check-cashing features, which can be challenging. When you do find one, they may also have a hold time for the entire amount.
If your bank has a mobile app, you might be able to use that to access funds sooner. After opening your banking app, look for the remote deposit feature. It's common to deposit up to $2,000 per day by phone.
Take a picture of the check with your phone, and the funds will be deposited into your account. Similar to cashing the check at an ATM, you may run into hold times over a certain amount.
Read our guide on if banks are open today to learn if you can skip the ATM and go into the branch.
If you don't have a local bank account, Chime is a terrific alternative. It's a mobile-only financial app.
Chime has no minimum account balances, early access to paychecks received via direct deposit, and access to over 60,000 fee-free ATMs.
Read our Chime review to learn more.
If you want another online bank, read our guide about the top Chime alternatives to find comparable options.
Why Many Need to Cash Paper Checks
Check cashing is a big issue for many Americans. This is referred to as being unbanked. According to the FDIC, there are approximately six million unbanked homes as of 2021.
If someone is unbanked, they struggle to get access to cash and need somewhere to cash checks. It's a struggle for many people.
This causes issues from being hindered in paying bills to living paycheck-to-paycheck. Unfortunately, this often leads to paying exorbitant fees for banking services.
Of course, you may be someone that regularly receives paper checks. Thankfully, there are typically options to cash those checks.
24-Hour Check-Cashing Places to Avoid
If you do an internet search for the phrase "check-cashing places near me," you will receive many options for 24-hour stores. These are often retail branches that specialize in cashing personal checks.
Check cashing is a big industry, slightly above payday loans. While 24-hour check-cashing places offer a convenient way to cash checks, they also charge outrageous fees.
Fees are typically a specific dollar amount or a percentage of the check.
They may even offer reloadable debit cards to use funds. These typically carry monthly fees that eat into your cash.
If you need to cash a check without a bank account, it's better to use Walmart or a local grocery store before using check-cashing places. You're able to instantly access your funds but need to visit during business hours.
Why Is It Difficult to Cash Personal Checks?
If checks are still common, why is it difficult to cash paper checks? The top culprit is fraud. Personal checks are easy to abuse, and banks put rules in place to protect their institution from fraud.
For instance, a growing number of stores may only cash pre-printed payroll and government checks. They also do this to protect you as well as their account holders.
This often leads to frustration when trying to get funds. Knowing the requirements before visiting a bank is the best way to avoid this frustration.
If you can open a bank account, this is the best way to cash checks without hassle.
Bottom Line
Cashing a check when you don't have a bank account is a hassle, but there are several options to simplify the process. If you need money now, it's easy to get tempted by check-cashing places that promise instant cash.
Unfortunately, that option often leads to lost money. No one wants to pay high fees to receive their cash, so pursue one of the options in this post to get your money.
If you're unbanked, it's important to work towards opening a free checking account. Plenty of banks have minimal opening balance requirements and low to no fees.
Having a banking account makes cashing checks and other financial needs much simpler.
Do you have an active bank account?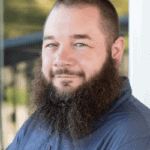 I'm John Schmoll, a former stockbroker, MBA-grad, published finance writer, and founder of Frugal Rules.
As a veteran of the financial services industry, I've worked as a mutual fund administrator, banker, and stockbroker and was Series 7 and 63-licensed, but I left all that behind in 2012 to help people learn how to manage their money.
My goal is to help you gain the knowledge you need to become financially independent with personally-tested financial tools and money-saving solutions.