Are banks open today? This question is a common one around certain holidays. It never fails. You need to go to the bank, and the local branch isn't open.
This situation isn't usually a problem if you need to deposit a check or withdraw cash. You can go to an ATM to handle those things, but an ATM can't help with all banking matters.
If you're asking yourself, "are banks closed today?", we're here to help. Our guide covers the holidays most branches are closed, plus other questions, including:
Will banks be open tomorrow?
Is today a federal holiday for the banks?
Is any bank open today?
Congress has mandated ten federal holidays when all non-essential governmental offices must close. Many banks follow that schedule, but not always.
Are Banks Open Today?
It's always frustrating to go to the bank, only to learn it's closed. It seems as if the only time we need to make some transactions is when the local branch is not open for business.
Not every bank follows the same schedule. However, if you're wondering, "are banks open today near me?" it's a pretty straightforward answer.
Bank holidays largely follow the holiday schedule of the Federal Reserve. Those are:
New Year's Day – Always January 1
Martin Luther King Jr Day – Third Monday of January
Washington's Birthday/President's Day – Third Monday of February
Memorial Day – Last Monday in May
Independence Day – Always July 4
Labor Day – First Monday in September
Columbus Day/Indigenous People's Day – Second Monday in October
Veterans Day – Always November 11
Thanksgiving Day – Fourth Thursday of November
Christmas Day – December 25
In addition to the ten observed holidays, most banks also recognize Christmas Eve and New Year's Eve as a holiday. Your bank may be open those two days but likely have limited hours.
Some banks also observe Inauguration Day as a holiday. However, that only occurs every four years. Easter falls on a Sunday when brick and mortar branches typically close.
Some in-store banks are open on Easter, so ask your bank if that's an option.
Other days like Good Friday, July 3, and Black Friday vary by institution. Inquire at your local branch if it's near those dates.
If you perform anything financial on a holiday, it transacts the following business day. This includes anything from automated bill pay to any type of online banking.
Although performed by a computer, these transactions do not process on holidays. Businesses know this, so you don't need to worry about late fees.
List of Bank Holidays
Most banks can be fairly standard in their holiday schedules. The table below shows when most banks are closed for 2023 through 2026.
| Bank Holiday | 2023 | 2024 | 2025 | 2026 |
| --- | --- | --- | --- | --- |
| New Year's Day | Jan. 1 | Jan. 1 | Jan. 1 | Jan. 1 |
| MLK Jr. Birthday | Jan. 16 | Jan. 15 | Jan. 20 | Jan. 19 |
| Washington's Birthday | Feb. 20 | Feb. 19 | Feb. 17 | Feb. 16 |
| Memorial Day | May. 29 | May 27 | May 26 | May 25 |
| Independence Day | Jul. 4 | Jul. 4 | Jul. 4 | Jul. 4 |
| Labor Day | Sept. 4 | Sept. 2 | Sept. 1 | Sept. 7 |
| Columbus Day | Oct. 9 | Oct. 14 | Oct. 13 | Oct. 12 |
| Veterans Day | Nov. 11 | Nov. 11 | Nov. 11 | Nov. 11 |
| Thanksgiving Day | Nov. 23 | Nov. 28 | Nov. 27 | Nov. 26 |
| Christmas Day | Dec. 25 | Dec. 25 | Dec. 25 | Dec. 25 |
If you're not sure whether your branch is closed, call and ask if they're open for business. This is of particular importance during the current pandemic, so always call before visiting.
What to Do if Your Branch is Closed
There are several things you must do in-person at a bank, such as accessing your safe deposit box or speaking with a lender. If your branch office is closed, visit an in-store branch.
My bank, U.S. Bank, has branches in local grocery store chains across the country.
You may not be able to access a safe deposit box at such locations, but you can do many other things. Below are several tasks I've done at an in-store branch:
Deposit or withdraw cash
Get a document notarized
Get Money Orders or cashier's checks
Order new checks
Speak with a loan officer
In-store bank branches often have the added flexibility of extended hours, including possibly being open on Sundays.
One other option when your bank isn't open is performing your business through your online banking portal.
Again, this won't process until the following business day during non-business hours, but it's a terrific alternative to conduct business.
What Are Common Bank Hours?
One of my first jobs out of college was working at a bank. I can tell you one thing; bank hours vary for most branches.
This issue makes it difficult at times to answer the question, "what banks are open today near me?" Still, many follow a similar pattern for scheduling.
For example, we bank with U.S. Bank, and our local branch is open 9:00 a.m. – 5:00 p.m. Monday through Thursday, and they stay open an additional 30 minutes on Fridays.
They're also open 9:00 a.m. – 12:00 p.m. on Saturdays. Your local bank will likely follow a different schedule, but it shouldn't be too different.
What if I Need My Bank When it's Not Open?
Thanks to the internet, it's much simpler to manage our financial lives. That includes banking needs. An internet-only bank, like CIT Bank, is a perfect solution to manage your banking at all times of the day.
CIT Bank offers most everything you'll find with a physical bank, from FDIC-insured money markets to checking accounts and mortgages. And, there are no hidden fees.
Benefits
Logo
CIT Bank - start your emergency fund
$100 minimum deposit requirement

Open a high yield savings account or money market with $100!

Regardless of the time of day, or it being a holiday, you can transact any business online with CIT Bank and not worry about closures.
Summary
It's always frustrating to go to the bank, only to learn it's not open for business. It also seems only to happen when you need to do something important.
The best way to see whether banks are open today is to refer to their website. Most banks list their hours on the homepage of their website.
You can also ask a teller for the hours and bank holiday schedule next time you're there to conduct business.
How often do you go to your local bank branch?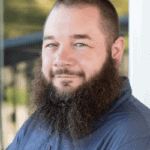 I'm John Schmoll, a former stockbroker, MBA-grad, published finance writer, and founder of Frugal Rules.
As a veteran of the financial services industry, I've worked as a mutual fund administrator, banker, and stockbroker and was Series 7 and 63-licensed, but I left all that behind in 2012 to help people learn how to manage their money.
My goal is to help you gain the knowledge you need to become financially independent with personally-tested financial tools and money-saving solutions.