It never fails. You're expecting an important delivery, only to learn it's a mail holiday. Frustration aside, the U.S. Postal Service observes ten official holidays.
Post offices are closed on these days and there is no delivery. If you're asking yourself 'Is there mail today?' this guide is a helpful resource.
Is There Mail Today?
As the old saying goes, "Neither snow nor rain nor heat nor gloom of night stays these couriers from the swift completion of their appointed rounds."
USPS holidays are are as dependable as their mail carriers.
You can always count on Post Office holidays. Here are the days where there is no running of mail:
New Year's Day – Always January 1
Martin Luther King Jr Day – Third Monday of January
Washington's Birthday/President's Day – Third Monday of February
Memorial Day – Last Monday in May
Juneteenth National Independence Day – June 19
Independence Day – Always July 4
Labor Day – First Monday in September
Columbus Day/Indigenous Peoples Day – Second Monday in October
Veterans Day – Always November 11
Thanksgiving Day – Fourth Thursday of November
Christmas Day – December 25
*Related: Do you need to make copies of a document before mailing it? Read our guide to find cheap printing services near you for the best options.*
The postal service has a helpful page on its website showing the remaining holidays for the year to reference and learn will there be mail delivery today or not.
For convenience's sake, below is the mail holiday schedule until 2026.
| Mail Holiday | 2023 | 2024 | 2025 | 2026 |
| --- | --- | --- | --- | --- |
| New Year's Day | Jan. 1 | Jan. 1 | Jan. 1 | Jan. 1 |
| MLK Jr. Birthday | Jan. 16 | Jan. 15 | Jan. 20 | Jan. 19 |
| Washington's Birthday | Feb. 20 | Feb. 19 | Feb. 17 | Feb. 16 |
| Memorial Day | May 29 | May 27 | May 26 | May 25 |
| Juneteenth National Independence Day | Jun. 19 | Jun. 19 | Jun. 19 | Jun. 19 |
| Independence Day | Jul. 4 | Jul. 4 | Jul. 4 | Jul. 4 |
| Labor Day | Sept. 4 | Sept. 2 | Sept. 1 | Sept. 7 |
| Columbus Day | Oct. 9 | Oct. 14 | Oct. 13 | Oct. 12 |
| Veterans Day | Nov. 11 | Nov. 11 | Nov. 11 | Nov. 11 |
| Thanksgiving Day | Nov. 23 | Nov. 28 | Nov. 27 | Nov. 26 |
| Christmas Day | Dec. 25 | Dec. 25 | Dec. 25 | Dec. 25 |
If your mail is anything like my local mail, expect a later in the day delivery after these holidays.
However, if you need something delivered quicker, read our guide on the cheapest overnight shipping options to get it to you for less.
How to See What Mail You Will Receive Today
A common question around holidays is, "was mail delivered today?". Heck, you may ask yourself that question at any point of the year.
A helpful tool we use to know if we will get mail today is Informed Delivery by USPS. The service is free and a terrific way to learn the answer to the question, "did the post office deliver mail today?"
To sign up for Informed Delivery by USPS, you go to their website and sign up for a free account. After you verify your identity, you provide an email address for notifications.
When you sign up, you can expect to receive an email each morning showing you each piece of mail you'll receive later in the day.
This service is not only helpful to learn if mail will be delivered today, but it's also terrific to monitor mail when you're out of town.
We use it in our family, and it's an awesome tool to manage your incoming mail.
What Are the U.S. Post Office Hours?
USPS hours vary by location, but are often very similar. I live in Omaha, and most branches operate from 8:00 a.m. to 5:30 p.m.
We do have several branches in the city with extended hours, as well as in-store branches at grocery stores that have different hours.
Thankfully, this doesn't pose a problem in buying stamps, or managing other, less significant postage needs, as you can manage that at most grocery stores or office supply stores.
Another suitable option is Stamps.com. The site lets you manage many of your mail needs, including:
Calculate and buy postage
Print labels to affix to packages or envelopes
Mail directly from your home
A resource like Stamps.com allows you to manage all of your postage needs, regardless of what time it is. And, you receive $5 in postage to use in a four-week trial when you sign up for an account.
Bottom Line
Even if you receive mostly junk and bills, it's always helpful to know if there's mail today. The best way to monitor what you'll receive in your mailbox is Informed Delivery by the USPS.
Use this free service to see what mail you'll receive each day.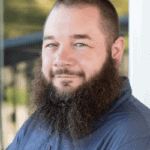 I'm John Schmoll, a former stockbroker, MBA-grad, published finance writer, and founder of Frugal Rules.
As a veteran of the financial services industry, I've worked as a mutual fund administrator, banker, and stockbroker and was Series 7 and 63-licensed, but I left all that behind in 2012 to help people learn how to manage their money.
My goal is to help you gain the knowledge you need to become financially independent with personally-tested financial tools and money-saving solutions.