Where to Buy Stamps Near Me: 53 Places to Buy Stamps
Posted on October 9, 2020 by Nicole in
Reviews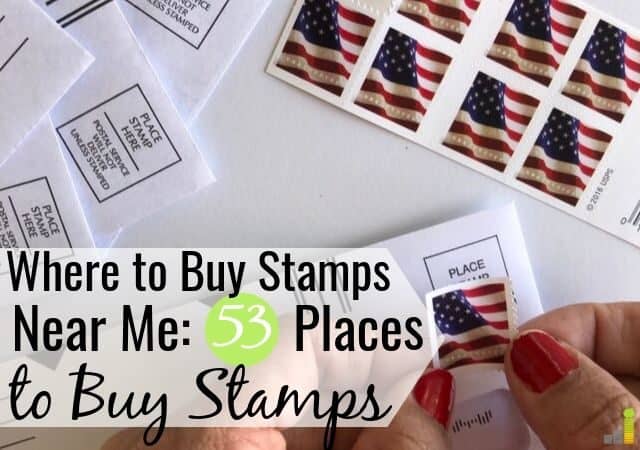 "How much are stamps?" I asked the checker at Costco the other week.
"$54.75 for five books of stamps," she replied.
Doing the math in my head I quickly realized that while that was more than I wanted to spend in the moment, I would be taking home 100 stamps, which would last me quite a while.
I don't use stamps every day, but it always seems that when I need one, I'm out. Thus, I find myself searching for where to buy stamps near me. I used to think the Post Office was the only place to buy postage but when I discovered otherwise, I've realized that there are lots of other choices.
While it seems like the price of stamps is always going up, we still need them. Places like Costco, and others, offer discounts that help bring that cost down.
If you want to know where to buy a book of stamps, you'll find lots of options here.
Where to Buy Stamps Near Me
Thankfully, the post office isn't the only place to purchase stamps.
**Related: Do you hate to go out and buy stamps? You can print postage from the comfort of your home. Visit Stamps.com to learn how you can manage your postage stamp needs directly from home.**
There are more than 50 places to buy postage. All of the following are suitable places to look.
ATMs
Did you know that some banks will let you buy stamps at their ATMs?
1. Wells Fargo ATMs dispense stamps 24 hours a day, seven days a week.
Banks
Many banks also sell stamps. Here's a selection of some national banks that sell postage.
2. Fifth Third Bank
3. KeyBank
4. U.S. Bank
5. Wells Fargo Bank
Convenience Stores and Gas Stations
What if you're out filling up your car with gas, or grabbing a pack of gum, and suddenly remember you need to mail something? These convenience stores and gas stations are an easy way to buy a book of stamps without wasting a lot of time.
6. 7-Eleven
7. Circle K
8. QuikTrip
9. Stinker Stores (Idaho only)
Grocery Stores
If you've been asking, "does Kroger sell stamps?" you'll be happy to learn that the answer is yes. Kroger along with other national, regional, and local grocery store chains are some of the most convenient places to purchase stamps.
10. Albertsons
11. Bakers
12. Copps (Wisconsin only)
13. Food 4 Less
14. Food City (Arizona only)
15. Food Lion
16. Fry's Food (Arizona only)
17. Giant Eagle
18. Hannaford
19. Hy-Vee
20. Jewel/Jewel-Osco
21. Kroger
22. Meijer
23. Pick N Save (Wisconsin only)
24. Publix
25. Ralphs (California only)
26. Randalls (Texas only)
27. Safeway
28. ShopRite
29. Vons (California only)
30. Walmart
31. Wegmans
32. Winco
33. Winn-Dixie
Another thing that makes grocery stores a great alternative to buy postage stamps is that many also sell mailing supplies like padded envelopes and shipping boxes.
*Related: Looking for the best place to get rid of your coins? Read our guide on the best places to change coins into cash near me and avoid the Coinstar fee.*
Some will also meter and mail letters and packages for you, making them a convenient one-stop option. Also, if you're asking yourself "Where can I get quarters?", grocery stores are a good choice.
Office Supply Stores
You may not think it, but office supply stores are a terrific choice if you need to purchase postage stamps.
Here are some office supply stores where you will have the best luck..
34. Office Depot / Office Max
35. Staples
36. University Bookstores
Pharmacies
Along with grocery stores, banks, and all the other places to buy stamps, pharmacies are another option.
37. Bartell Drugs (Washington only)
38. CVS
39. Walgreens
USPS Offices, Kiosks, and Online
We've talked a lot about where to buy stamps other than the post office, but that doesn't mean you can't buy stamps there. Your local Post Office is a great place to stop and will likely have the most variety of postage options available.
USPS operates self-service kiosks where you can manage your postage needs. You can also buy stamps at USPS online and print them on your own.
Wholesale Clubs
Wholesale clubs are a great place to buy stamps. They often offer a small discount. Plus, they're convenient since you can buy your stamps while shopping.
40. BJ's Wholesale Club
41. Costco
42. Sam's Club
Other Places to Buy Postage Stamps
There are other places to buy stamps, but they aren't considered approved vendors by the United States Postal Services.
That just means you aren't guaranteed to find what you need, so call first before heading over.
43. Bi-Lo
44. Foodtown
45. Fred Meyer
46. Gelson's
47. Kmart
48. Piggly Wiggly
49. Rite Aid
50. Save-a-Lot
51. Shop 'n Save
52. Stop & Shop
53. Whole Foods
How Much is A Book of Stamps?
If you're like me, you don't buy stamps frequently. The price of a book of stamps can change from one time to the next. So, if you've been asking, "how much is a roll of stamps?" don't feel bad.
Stamps don't cost the same in 2020 as they did in 2019 0r 2018. It's more expensive to mail a letter today.
The cost of stamps keeps going up, in part because the Post Office keeps losing money. Inflation influences the cost of stamps as well.
As of January 27, 2019, the cost to mail a First-Class letter rose from $0.50 to $0.55. Today, you need one, 55 cent stamp to mail a letter.
One book of stamps contains 20 stamps. Therefore, the answer to the question, "how much does a book of stamps cost," is $11.00.
So, when I bought five books of stamps for $54.75 at Costco, I saved a whopping 25 cents. While that's not a ton of money, I didn't have to pay shipping and I won't need to buy stamps again for a year.
It was one of the best places to buy stamps near me because it was the most convenient.
However, where to buy stamps for you may be different. It may also depend on the type of stamps you need.
Styles and Prices
There are a few different types of stamps to buy. The main two types are:
Forever stamps – value increases with the price of First-Class stamps; today:
One Forever stamp costs $0.55.
One book of Forever stamps costs $11.00.
One roll of Forever stamps costs $55.00.
First-Class stamps – only worth what you pay for them (if you buy one today, it will always only be worth $0.55)
One First-Class stamp costs $0.55.
One book of First-Class stamps costs $11.00.
One roll of 100 First-Class stamps costs $55.00.
Forever stamps can be used to send one ounce of First-Class Mail, even if stamp prices increase down the road. Today, one Forever stamp costs $0.55.
If the Post Office raises the cost of a First-Class stamp next year to $0.60, however, you can still mail a letter with one Forever stamp.
When the Post Office raises the cost of postage again, a First-Class stamp bought before the price increase will not be enough to mail a letter.
You will have to buy additional postage. The Post Office sells a variety of stamps worth different amounts, so you can always go there to purchase the additional postage you need.
How to Buy Stamps Online
You don't have to buy stamps in person, you can also purchase them online. You can buy stamps online easily through the following three options.
Like just about anything today, if you want it, you can buy it on Amazon. That's true of stamps too. You can buy a book of stamps on Amazon or a roll of 100 stamps and have them shipped to your home.
Prices do tend to be a bit higher, however, so if you are trying to save money, Amazon may not be the best route.
Stamps.com is one of the most convenient places to buy stamps because you can buy them online and print them at home.
USPS.com is another terrific choice to purchase postage. Like Amazon, you select the stamps you want and USPS ships them to you. They will have the most variety of stamp designs and amounts of any retailer mentioned here.
So, if you like to buy stamps with flowers, presidents, or even Sesame Street characters, buy stamps on USPS.com.
Where to Buy Stamps on Sunday
Decades ago, it may not have been possible to buy stamps on Sunday since post offices were closed on Sundays. However, now that there are so many authorized retailers, you're in luck.
Rather than list out every individual option again, here's a summary of where to buy stamps on Sundays:
ATMs (like Wells Fargo)
Convenience Stores and Gas Stations
Grocery Stores (like Walmart)
Office Supplies Stores (like Staples)
Wholesale Clubs (like Costco)
Online – Stamps.com
As you can see, there are multiple options to take care of your needs.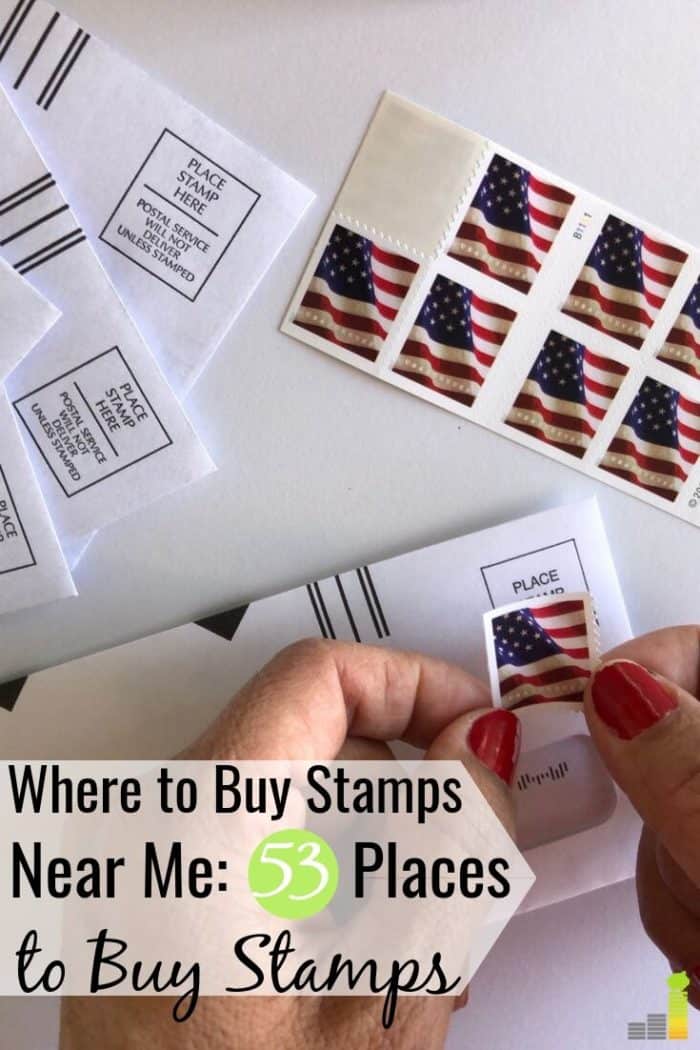 Bottom Line
There's no reason to rush out to your local post office to buy stamps. Today, whether you need them in a pinch or are planning a mass mailing and know you'll need a lot of stamps, there are many places that can help.
If convenience matters most to you, consider buying stamps online or at your local grocery or wholesale store the next time you go shopping.
If saving money is most important, try Costco or Sam's Club.
Consider buying Forever stamps, especially if you use stamps infrequently. That way, you'll never have to worry about buying extra postage again.
Where are some of the best places you've found to buy stamps? Do you buy stamps online and print at home? What's your favorite design?
The following two tabs change content below.
Nicole Schmoll is an experienced professional copywriter who writes regularly for clients in the finance, IT, healthcare, trades and retail industries. Check out samples of her work and services at
Ink Harmony
.