If you've ever had dinner from your favorite restaurant delivered to your door, chances are you used a food order delivery service. What you might not have realized is that the person delivering your meal may be earning $1,000+ per month as a part-time contractor.
The food delivery app space is exploding as a way to stay at home as well as an opportunity to make money on the side. Services like DoorDash claim you can get paid $23 per hour on a delivery.
Our DoorDash Driver review shares how to work for the service and will help you determine if it's the right side hustle for you.
What Is DoorDash?
DoorDash is an app that offers on-demand food delivery. They are one of the more popular options in the space. Other companies include:
Grubhub
Postmates
Uber Eats
Drivers, known as Dashers, deliver meals from participating local restaurants to your home. The service is available in most major cities and surrounding areas.
Over 4,000 cities nationwide and in Canada currently offer DoorDash delivery.
Driving for DoorDash is similar to other delivery gigs. You create your own schedule and earn a certain dollar amount for each delivery.
You can also earn tips as a part of your work. As a DoorDash driver, you keep 100 percent of your tips.
DoorDash communicates your potential earnings before you accept an order. This feature sets it apart from other on-demand apps.
Driver Eligibility Requirements
It's relatively simple to start driving for DoorDash.
The first step is to go to their website and click "Become A Dasher." You need to provide your name, phone number, social security number, and address.
To become a DoorDash driver, you must meet the following qualifications:
Be at least 18 years of age or older
Have access to a vehicle (this could even be a motor scooter or bicycle)
Have a valid driver's license as well as an insured vehicle (your name must be on the policy)
Own an Android or iPhone
Be willing to attend an online or in-person orientation
Have no more than three accidents or moving violations in the last three years
Once you finish your application, complete your background check, and get approval to drive, you'll need to sign up for orientation and get your activation kit.
Your activation kit includes a hot bag for you to use for the food, your Red Card (or company card) for tips and payment, and a manual to help you get started.
You can start accepting DoorDash jobs once you have those items.
How Much Money Can You Make?
DoorDash is unique among other food delivery apps since they show you a guaranteed amount you'll receive for a delivery before you accept it.
Here's how it works:
You receive base pay that depends on time, distance, and desirability of orders
Promotions are given during peak times
Sometimes there are challenges that you can complete for extra cash
You earn 100 percent of the tips you make
The minimum base pay you receive is $2 an order. The pay you receive as a driver depends on your city, state, available deliveries, and hours worked.
Many DoorDash delivery drivers have reported getting paid a minimum of $12 an hour and a maximum of $25 an hour. DoorDash offers challenges to help you increase earnings through bonuses.
Peak pay is typically available on nights and weekends. If you want extra cash, those are the best days to deliver.
This compares favorably against Uber Eats. Read our comparison guide of the two services here to learn more.
What Does Driving for DoorDash Look Like?
From the app to deliveries to pay and more, there are some important things to know about driving for DoorDash before you sign up.
Driver App
The Dasher app is available on both Android and Apple phones. When you're approved to drive for DoorDash, you can download the app and input your Red Card information.
The Dasher app provides helpful information, including:
Previous deliveries and ratings
Earnings
The most currently active areas for delivery
Directions for each delivery
The app is set up to help you earn as much as possible. It even identifies areas that offer higher earnings based on your current location. You will also find directions for all deliveries within the app.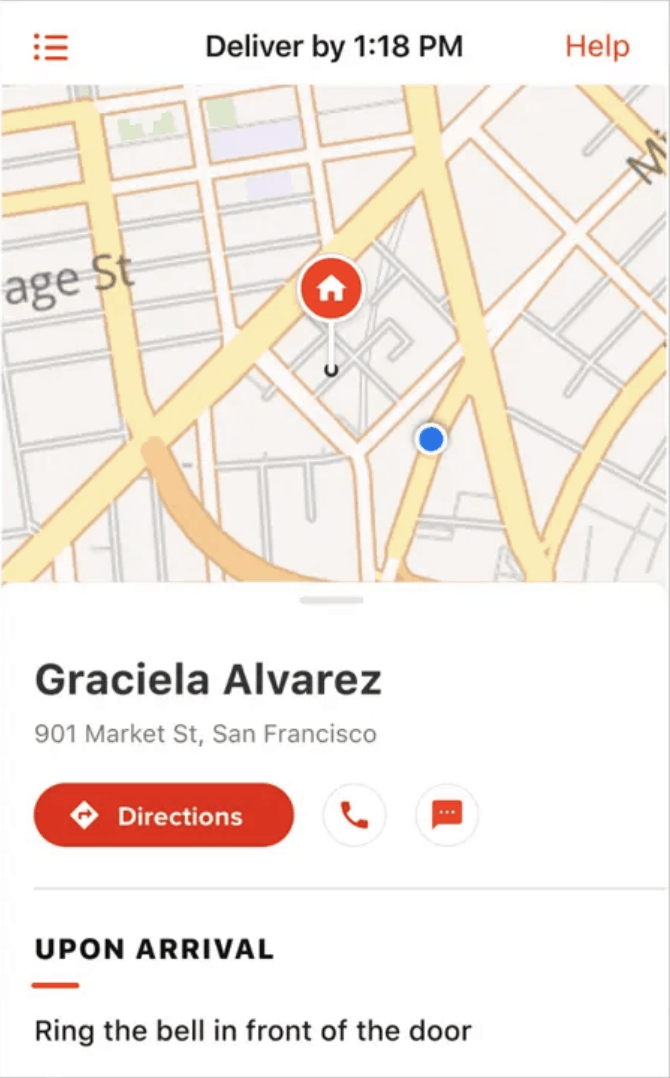 The Dasher app includes an instant chat feature where you can talk with a support agent if you need help.
Working for DoorDash
An attractive feature of working for DoorDash is you can schedule your own shifts. It's possible to schedule shifts through the app up to a week in advance.
The scheduling feature helps limit the number of current Dashers, allowing you to accept more deliveries.
If you have flexibility and want to work on the same day, you can select the "Dash Now" feature within the app. You likely won't be able to deliver to all areas of the city, only those highlighted in pink or red.
Driver Pay
Another great benefit of working for DoorDash is that you get paid weekly. DoorDash pays every Monday. Funds hit Dashers' bank accounts within three business days.
*Related: Read our detailed guide on DoorDash vs. Grubhub to learn which of the two delivery apps is best for drivers.
If you need funds immediately, you can use the "Fast Pay" feature. It allows you to receive your funds within 24 hours of requesting them.
The "Fast Pay" feature costs $1.99 per cash out. You must complete at least 25 deliveries and live in a market that allows "Fast Pay" to take advantage of it.
You must also have worked for DoorDash for two weeks to use this feature.
Benefits
Logo
DoorDash
Get paid $23 per hour while on a delivery!

Deliver food with just a car or scooter. Get started today!


Expenses
When you drive for DoorDash, you are not an employee. Instead, you are an independent contractor.
As an independent contractor, you are responsible for taking out your own taxes and paying for your own expenses. These may include:
Gas
Maintenance on your car
Tolls
It's best to keep track of all your delivery-related expenses to deduct them come tax season.
How to Earn More Money as a Driver
Driving for DoorDash won't replace your day job. However, it's an excellent way to run errands for money and supplement your income.
Here are some tips to earn more as a DoorDash Driver.
Drive During Peak Times
While peak times may vary based on your location, they are the best time to drive.
Orders during peak times have a higher base and promotion pay. This means more money in your pocket.
Know Your Area Well
Do you know how to avoid traffic? Are you aware of all of the back roads and ways to get to certain locations?
Knowing these can come in handy, especially if you're driving during peak times.
*Related: If you're looking for other courier jobs, read our guide on delivery jobs like Uber Eats to identify additional opportunities.
You never want to be stuck in traffic since your base pay doesn't increase if you're sitting bumper to bumper.
Getting stuck in traffic also causes your deliveries to be slow. This could result in you completing fewer deliveries in an hour or receiving smaller tips.
Accept Larger Orders When Possible
Why earn $5 on an order when you can earn $15? If you're willing to wait for larger orders or you qualify for catering orders, you can make more money per delivery.
If you're desperate to earn cash, smaller orders are fine. However, they won't make you much money and tips will be smaller. Try to stick to larger orders if you can get them.
You can also work for multiple food delivery services at the same time to increase earnings. Instacart Shopper is a top competitor to DoorDash that could be worth a look if you're interested in grocery delivery.
You can our DoorDash vs. Instacart comparison here to learn more about how the two services differ.
Be the Best
While DoorDash offers tipping before delivery, many people still wait until after delivery to tip.
Be kind, try to be fast, and offer communication if anything goes wrong. A smile and being pleasant goes a long way.
Don't be afraid to ask customers for a 5-star rating. At the very least, even if they tip small, a 5-star rating is free and often results in better-paying deliveries.
Complete the Challenges
If you want to earn more money, you can complete the challenges that DoorDash offers.
These challenges are incentives for drivers who complete a certain amount of deliveries or tasks in a specific amount of time.
For example, you can earn an extra $20 for completing 15 deliveries in one week. You can earn this money in addition to promotions and peak pay.
Pros and Cons to Consider
As with any side hustle, there are pros and cons to being a DoorDash Dasher. It's essential to keep these in mind to see if the app is worth your effort.
Pros
You can choose your schedule and complete as many deliveries as you want each week.
You get to select the deliveries that you want to do. It's possible to accept or decline them based on your schedule and desired pay.
It's a terrific way to earn quick cash in your spare time. The app pays weekly, plus bonuses. This is great if you need some quick cash for bills or savings.
You don't have to work with people. Besides flashing a smile at your receiving customer, socializing is almost zero.
You can use a bike or scooter. Doing so will limit your delivery area, but you don't really need a car.
You keep 100 percent of all of your tips and bonuses.
Cons
The base pay is $2 per order. That means if you take a small order, you may only get $2 if you don't receive a tip.
Delivering can be slow during peak times, especially if you're in a large metro area. You could end up competing with everyone else who wants the bonuses and promotions. However, if your market and location aren't oversaturated with drivers, you may earn more.
Only you can answer if the opportunity is a fit for you. If you're willing and able to work throughout the week, DoorDash can be a good way to make money on the side. In fact, it's possible to make $1,000 fast – in a week or two, if you're in need of cash.
FAQs
It's common to have questions before working for any side hustle app. Here are a few questions people typically have before working for DoorDash.
Is there phone support for drivers?
Yes, you can speak with DoorDash support agents through the Dasher app if you wish. If the app is not working, you can contact support through the website.
Does DoorDash carry insurance?
DoorDash offers a commercial auto insurance policy that provides up to $1,000,000 in bodily injury while on a delivery.
The coverage also includes property damage to third parties.
You must physically possess the food you're delivering to qualify for coverage. If you're between deliveries, the coverage does not apply.
Do I need my own insurance?
Yes, one of the requirements to become a Dasher is to carry an auto insurance policy. If you don't have coverage, the policy from DoorDash may not apply.
What benefits does DoorDash offer to drivers?
Each on-demand delivery driver app has different perks. DoorDash offers numerous benefits to its drivers.
You can find dental, health, and vision coverage through their partnership with Stride Health. If you need a way to track mileage and expenses, DoorDash gives drivers a three-month trial of Everlance Premium.
Should you choose not to pay for Everlance after the trial, you can manage tracking through the free version.
How do I set up direct deposit?
It's simple to establish direct deposit for earnings. Once you open the Dasher app, go to the "Earnings" tab. You can then tap the red bank symbol at the top right and input your banking information.
Once you're done, hit "Submit Bank Details" and you're all set.
DoorDash Review
Earning Potential

Sign Up

Job Availability

Ease of Use

Payment Speed
Summary
If you live in a busy area with lots of meal delivery requests, you can earn up to $25/hour driving for DoorDash. The ability to earn tips and turn around jobs quickly will help increase your potential earnings.
Pros
✔️ You can work on your own time
✔️ There are no passengers involved
✔️ Can deliver by bike or scooter in select cities
✔️ You keep all the tips
✔️ Weekly payments
Cons
❌ Instant payouts cost $1.99 each
❌ May receive few delivery requests outside of peak hours
Bottom Line
Being a DoorDash driver is one of the best delivery app gigs that can help you earn extra money each week. Many Dashers report earnings of at least $1,000 per month.
That's real money you can use to supplement your income.
If you need to earn extra cash or you're looking for a gig while you're in-between jobs, this is a terrific way to earn money.
What is your favorite side hustle? What do you look for in a side gig?
*Actual earnings may differ and depend on factors like number of deliveries completed, time of day, location, and expenses. Hourly pay is calculated using average Dasher payouts while on a delivery (from the time you accept an order until the time you drop it off) over a 90 day period and includes compensation from peak pay, tips, and other incentives.