Driving gigs are some of the most popular side hustles out there. They let you work on your own schedule, and you don't need previous experience or a degree to hit the road.
But, like any gig job, working efficiently helps boost your hourly earnings. This is why driving at the best DoorDash hours is so important, especially if you only drive a few hours per week.
Thankfully, there's plenty of data out there on the best times to DoorDash so you can get more orders and higher driver pay.
When Are the Best Hours to DoorDash?
The best times to deliver for DoorDash are periods when customer order volume is high. This is because busy markets have more order requests for drivers.
With more order requests, you can be selective about which orders to accept so that you're only driving when you're getting paid more.
There are several peak times to drive for DoorDash where you should expect higher earnings:
Lunch Time: 11:00 a.m. to 1:00 p.m.
Dinner: 5:00 a.m. to 7:00 p.m.
Late-Night Orders: 9:00 p.m. to Midnight
Breakfast is generally a bad time to work for DoorDash because orders are typically cheaper, so driver pay and tips are lower.
Plus, many people rush off to work or skip breakfast entirely, so you're better off Dashing around 11:00 a.m. and hitting the early lunch rush.
What are the Best Days to DoorDash?
Friday evenings and all of Saturday and Sunday are the best days to DoorDash. This is because people are more likely to order food after a long work week and for weekend events.
Late-night orders are also common on Friday and Saturday since people stay out late to enjoy the weekend.
What are the Peak Times for Customers?
Peak customer times are the best times to DoorDash. In other words, you should be online in the Dasher app whenever people are most hungry.
Here are some peak times for customers that you should prioritize to get more DoorDash orders.
Lunch During the Week
Working professionals or people working remotely might order meals during their lunch breaks.
If you live in a big city that has a downtown core with many businesses, consider waiting near restaurants in this area to get more deliveries on DoorDash.
This increases the chances you get lunchtime orders, and delivering in a downtown area can also reduce how many miles you have to drive per delivery.
Late Night Weekend Shifts
People are more likely to order fast food and late-night snacks after a night of partying.
Unsurprisingly, this means delivery app jobs are very popular from around 8:00 p.m. to 2:00 a.m. on Friday and Saturday.
All Day On Weekends
Another peak DoorDash time for customers is all day during the weekend. This is especially true if there's an event like the Super Bowl or an attraction in your city like a music festival.
In short, if it's the weekend, expect people to be hungry and order food from their favorite restaurants.
If you're looking for weekend jobs, working on Saturday and/or Sunday can be a lucrative time to earn cash.
What Does the Company Say are the Best Times to DoorDash?
The company wants its drivers to earn more money and enjoy dashing. So, the company actually has recommended times to help deliver drivers succeed.
Here are the best times to do DoorDash according to DoorDash's latest driver guide:
Lunch: 11:00 a.m. to 2:00 p.m.
Dinner: 4:30 a.m. to 8:00 p.m.
They also recommend scheduling Dashes in advance to ensure you can start driving during these peak times.
How to Find the DoorDash Peak Hours
Most markets are similar because people generally eat around the same times each day.
However, to find DoorDash peak hours in your area, you have to experiment.
Some drivers make excellent money working early mornings or late nights during the week, so it's worth trying several times to see the impact on your earnings.
But, you should still stick to the busiest times to Dash, which are around lunch, dinner, and all day on weekends.
Feedback from Drivers on the Best Time to Dash
DoorDash has its own guide on the best times to Dash, but what do real couriers say?
Reddit's DoorDash community has a wealth of information on this topic and how to make more money while driving.
Here are some tips from Dashers on how to maximize your earnings as a delivery driver:
User Early_Adhesiveness says: "It depends a lot on the market, but I know most places breakfast sucks. My market the best money to be made is always dinner time. 5:30-8:00 most nights."
User Purple-Sound-5543 says: "Experiment with different days and times. You will learn your own market."
User Car_Transmission says: "Dinner time is the best. Lunch is ok in my market, but during the week, it sucks. Breakfast is always slow here too."
In short, lunch and dinner are still the best DoorDash times, although experimenting in your market is important.
Benefits
Logo
DoorDash
Earn cash and create your own schedule!

Deliver food with just a car or scooter. Get started today!


Frequently Asked Questions
Now that you know the busiest times to deliver for DoorDash, it's time to cover a few more questions people have about increasing their overall earnings.
What is the slowest day for DoorDash?
Many drivers state that Tuesday and Wednesday are the slowest DoorDash days.
This makes sense since people are more likely to order if they are scrambling from the weekend's festivities and don't have time to prepare food on Monday.
Similarly, people who are tired by the end of the week are more likely to order food Thursday through Sunday.
How can I make the most money with DoorDash?
DoorDash drivers pay varies on a number of factors. There are several driver tricks you can use to influence your earnings, including:
Improving Customer Service: Putting in extra effort to message the customer about delays or grabbing extra sauces from restaurants are small ways to improve customer service. Plus, with better customer service, you increase the odds you get a better tip (or any tip at all).
Taking Batch Orders: DoorDash sometimes offers batch orders, which means picking up two orders from the same restaurant and then making two separate deliveries. While this can be tricky for beginners, batched orders are often higher-paying and help you work more efficiently.
Driver Promotions: DoorDash sometimes has promotions for drivers that offer peak pay and other bonuses for completing a certain number of orders in a given time period.
Going the extra mile when accepting DoorDash orders can be a terrific way to earn more. This is similar to working for an app like Grubhub.
Read our DoorDash vs. Grubhub review to learn how they compare.
Does DoorDash pay mileage?
DoorDash drivers are independent contractors. This means you're responsible for your own expenses, including gas, so DoorDash doesn't pay for mileage.
Side gigs like Instacart and Uber Eats work the same way. In contrast, companies that hire you as an actual employee likely reimburse you for business-related mileage.
Does DoorDash pay more on holidays?
The company doesn't pay more during the holidays in terms of a change to driver base pay.
However, the holidays likely lead to more food delivery requests, meaning it's a generally good time to make money on DoorDash.
Can I see if there are any Dashers in my area?
Unfortunately, there isn't a way for DoorDash drivers or customers to see if there are nearby Dashers.
For customers, slow order acceptances are a sign of a lack of nearby Dashers. To increase how quickly your order is accepted, consider tipping more.
This lets the app display a higher payout to drivers, increasing the odds someone accepts your order.
Should I DoorDash in the morning?
Many drivers state that mornings aren't a great time to Dash. If mornings are the only time you're free, you can still make great money driving for DoorDash, especially in larger cities.
However, if you can choose your own hours, Dash during peak times instead.
When is the best time to schedule blocks?
You can schedule blocks in the "Schedule" tab within the DoorDash driver app.
The calendar displays available days and times, and this is the best way to snag blocks during peak times so that you make more money.
You can schedule a Dash up to five days in advance, so get in the habit of doing so to ensure you drive at the best times.
How can you tell if DoorDash is busy?
The driver app highlights different zones to display how busy they are. Gray zones have too many active Dashers and are too busy for you to Dash in.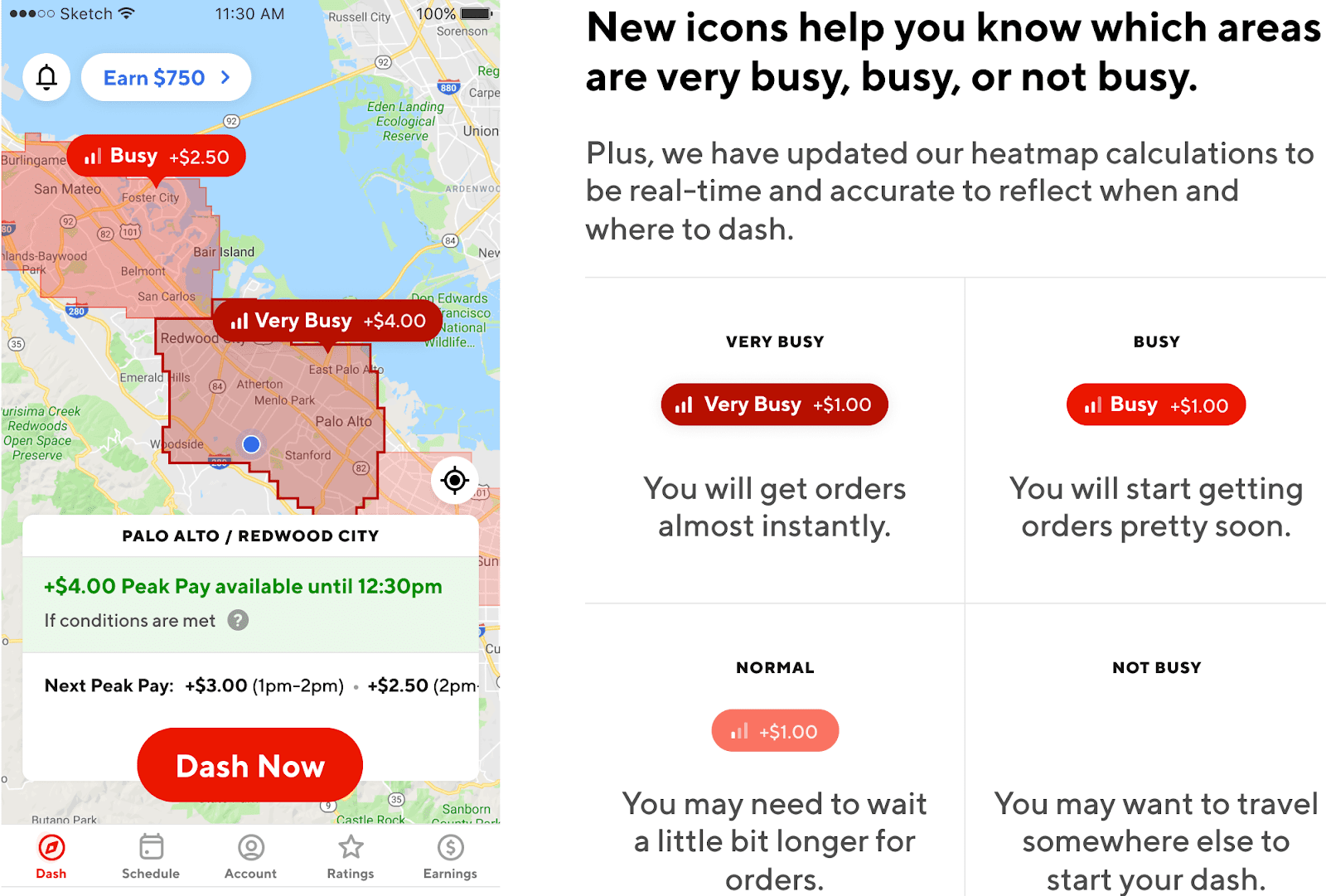 In contrast, light red and dark red zones are busy and very busy, so you can begin Dashing in these zones as soon as you're online.
Is being a Top Dasher worth it?
The Top Dasher program rewards drivers with high acceptance and completion rates.
The perks of being a Top Dasher include being able to Dash anytime, regardless of how many other drivers are on the road. Top Dashers also get priority on new orders when things are slow.
The requirements for Top Dasher include:
Customer rating of 4.7 or higher
Acceptance rate of at least 70 percent
Completion rate of at least 95 percent
100 deliveries completed during the previous month
At least 200 lifetime DoorDash deliveries
These requirements sound easy, but being a Top Dasher isn't worth it because of the acceptance rate requirement.
Maintaining a 70 percent or higher acceptance rate inevitably means you accept many low-paying orders to reach that rate.
In fact, DoorDash pros often have acceptance rates under 30 percent because they only accept high-paying orders that pay around $1 per mile.
How often do you get paid from DoorDash?
The app pays you weekly through direct deposit. Your payment includes earnings from the previous week of deliveries from Monday to Sunday.
Alternatively, you can use DoorDash Fast Pay and cash out your earnings instantly for a $1.99 fee.
Bottom Line
Delivery gigs like DoorDash let you make money on the side. If you want to pay off debt or build up an emergency fund, it's the perfect side hustle because of the hourly pay and flexibility.
Driving at the best times is important if you want to make the most money with DoorDash. Plus, you shouldn't be afraid to experiment with other food delivery app gigs like Instacart or Shipt.
Ultimately, by trying several apps and delivering for DoorDash, you can find what times and platforms pay the most in your market.
What do you do to increase your earnings from a side hustle?
*Earning more on certain types of orders (ex. alcohol): Earn more per order as compared to restaurant orders. Actual earnings may differ and depend on factors like number of deliveries you accept and complete, time of day, location, and any costs. Hourly pay is calculated using average Dasher payouts while on a delivery (from the time you accept an order until the time you drop it off) over a 90 day period and includes compensation from tips, peak pay, and other incentives.
*Get paid instantly (DasherDirect): Subject to approval
*Cash out daily (Fast Pay): Fees apply
*Start Dashing today: Subject to background check and availability
*Dash anytime: Subject to availability
Tom is a freelance personal finance writer and blogger originally from Toronto, Canada. Tom's writing has appeared on numerous personal finance websites, including Bankrate, Money Crashers, Yahoo Finance, and dozens of personal finance blogs. He also shares personal finance advice and teaches young adults how to earn more money on his blog ThisOnlineWorld.com.