Do you want to make extra money? Being a delivery driver is one of the most effective and flexible gig economy jobs around.
There's been a surge in on-demand delivery options over the last few years. To keep up with demand, food ordering apps are often looking for couriers.
Thankfully, if you want to take advantage of this growing side hustle, you have options. Companies like DoorDash and Uber Eats are leaders in the restaurant delivery space. Both companies are flexible and have massive market coverage.
DoorDash vs. Uber Eats: Which is Better for Drivers?
If you want to supplement your income, our comparison of Uber Eats vs. DoorDash will help you determine which company is right for you.
What is DoorDash?
DoorDash began in 2013 and is one of the leading online food delivery services in North America. Currently, they operate in over 7,000 cities across the United States, Canada, and Australia.
The company specializes in fast food and restaurant delivery, partnering with both global chains and local eateries.
What is Uber Eats?
Uber Eats is the food ordering branch of Uber, one of the world's largest ridesharing companies.
The platform launched in 2014. While it has a slightly smaller presence than DoorDash in North America, it serves over 6,000 cities across 45 countries.
Like DoorDash, Uber Eats lets users order from their favorite restaurants.
Requirements and Availability
One perk of partnering with either driver app is the easy registration process.
To sign up for DoorDash, you provide your name, email, address, Social Security number, and vehicle information.
After you pass a background check, DoorDash sends you an activation kit. This includes the Red Card you use to pay for orders and a delivery bag.
There's also a virtual orientation that teaches you how to use the DoorDash app. Some markets require in-person orientation, but this isn't common.
DoorDash indicates if you will have to complete an in-person orientation when you sign up.
DoorDash driver requirements include:
Be 18 or older
Have a functional vehicle, bike, or scooter
Have a valid driver's license and auto insurance
Have a clean driving record and no more than three minor driving violations, like speeding, within the last three years
The company doesn't have specific vehicle requirements and only requires that you have insurance.
Read our DoorDash Driver review to learn more about becoming a Dasher.
The process is similar if you want to become a delivery person with Uber Eats. These are the Uber Eats requirements:
Meet Uber's minimum age to drive in your city and have at least one year of driving experience
Have a valid driver's license and auto insurance
Drive a vehicle that's 20 years or newer in most cities
Have a minimum of three years of driving experience if you're under 23
While requirements are stricter for young drivers, Uber Eats lets you deliver via bike at 18 and scooter at 19 in some cities.
If you already drive with Uber, the bright side is that you can automatically accept food delivery requests through the Uber Eats platform.
*As of 7/18/22, Uber is migrating to a combined Driver & Delivery program that will allow a user to select how they want to earn with Uber, i.e., driving, delivering, or both! This consolidated program will be named Uber "One Earner." Under this new model, whether a user lands on a Driver or a Delivery page, they'll have the option to self-select which type of earning opportunity they want.
As for the registration process, it's similar to DoorDash. You provide your name, email, and vehicle type.
You also upload a picture of your license, registration, and insurance before consenting to a background check.
Winner: DoorDash has fewer restrictions for young drivers and no vehicle requirements, making it one of the best gig apps to consider.
How the Apps Work
In terms of making food deliveries, both platforms are quite similar.
When you're driving for DoorDash, the app highlights zones in your area and ranks how busy they are.
Grey zones aren't busy enough for you to work, while red zones are either "Busy" or "Very Busy" and let you begin working immediately.
DoorDash also highlights "hotspots," which are clusters of restaurants with frequent delivery requests. Heading to hotspots is an effective way to drive more efficiently.
Once you're working, order requests pop up if someone in your area makes an order. Each request includes:
The pickup restaurant and location
Items in the order
Total mileage
Dropoff time goal
DoorDash driver pay, which doesn't include a possible tip
After you accept an order, the app helps you navigate to the restaurant. DoorDash prompts you to confirm the items are correct once you pick up the order.
Finally, the app helps you navigate to the dropoff location.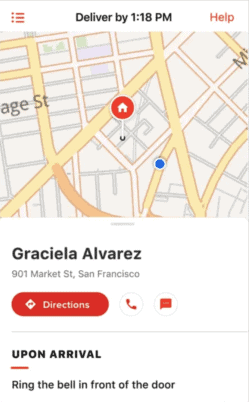 DoorDash can also send additional order requests as you're en route to complete an order if the second order is nearby. This is known as "stacking orders" and can significantly increase how much you earn.
If you stack orders, you pick up two orders and then make two deliveries to different customers.
DoorDash shows you how much you earned for the trip after delivery completion, which can include a potential tip.
As for Uber Eats, the app provides similar information for drivers.
When an order request appears, it includes:
The restaurant
Pickup distance
Items in the order
The dropoff location
Uber Eats driver pay, which doesn't include a possible tip
Order time estimation
After accepting an order, the Uber Eats app helps the driver navigate to the restaurant. Once you confirm the pickup, the app helps you navigate to the customer.
If the customer gives a tip, you see the amount approximately one hour after completing the delivery.
Uber Eats also sends stacked order requests. However, you don't see the dropoff location for the second order, so you could end up driving farther than you want.
Finally, both apps let you contact driver support if you encounter issues. You can also message the customer if there's a delay or if you encounter dropoff difficulties.
Winner: DoorDash has the edge because of the hotspot feature and a better order stacking system.
Scheduling
One difference between the companies is how scheduling works.
With DoorDash, you have two options to start delivering:
Schedule shifts for specific zones
Work immediately if you're in a busy zone
Scheduling shifts is a helpful feature if you drive in a city where order volume isn't always high because it ensures you can work and make money.
You schedule shifts in 30-minute increments. Shifts are also zone-dependent. This means that you can't schedule a shift in one area of your city and then start driving in a different zone or city.
In contrast, you don't schedule shifts with Uber Eats. The number of orders you get per hour depends on demand and how many delivery drivers are on the road.
However, you can work whenever you please.
Winner: DoorDash is more flexible, and scheduling shifts helps increase how many orders you get by limiting the number of active drivers at one time.
Benefits
Logo
DoorDash
Earn cash and create your own schedule!

Deliver food with just a car or scooter. Get started today!


How and When You're Paid
Receiving timely payment is essential with any side hustle app. DoorDash driver pay involves several components:
Base Pay: Factors in delivery time, total distance, and how desirable orders are
Promotions: DoorDash pays drivers more for delivering in busy zones through Peak Pay and offers delivery challenges, like making a certain number of deliveries within a week
Tips: You keep 100 percent of tips
DoorDash driver pay depends on numerous factors. Peak Pay helps boost your earnings, so look for red busy zones that indicate this bonus.

Payments process every Monday for the previous week of earnings through direct deposit. However, U.S. drivers can cash out daily with Fast Pay for a $1.99 fee.
As for Uber Eats driver pay, earnings factor in:
Base Fare: Includes pickup, dropoff, delivery time, and total distance
Trip Supplementation: You're sometimes compensated if a trip is longer or farther than the order estimate
Bonuses: Like DoorDash, you can earn Boost and Surge bonuses for delivering during busy periods
Tips: You keep 100 percent of all tips
Uber Eats pays every Thursday through direct deposit for the previous week of earnings.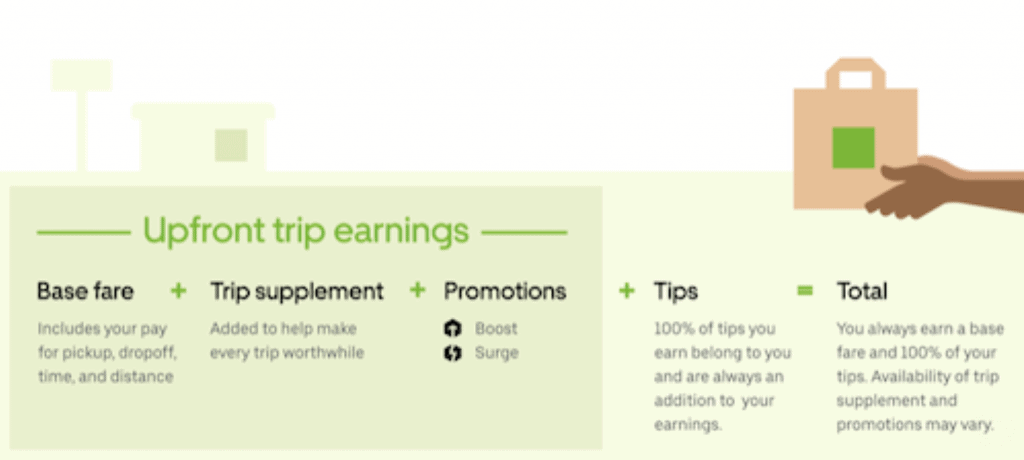 You can also cash out immediately with Instant Pay for a $0.50 fee, which is waived if you use the Uber Debit Card.
Winner: With a lower Instant Pay fee and trip supplementation, Uber Eats wins this matchup.
Does Uber Eats or DoorDash Pay More?
Maximizing your earning potential is vital with any side gig. Here is what to know when looking at both DoorDash and Uber Eats.
DoorDash driver earnings vary depending on location and time spent delivering items
Earnings for Uber Eats drivers vary greatly depending on location, time spent performing deliveries, and other factors
Keep in mind that tips and promotions can shift which company is better in terms of pay. Read our guide on the best times to DoorDash in my area to learn how to maximize your earnings.
Winner: Tie
Driver Ratings
Customers on both platforms rate their experience after receiving their delivery. Drivers for both services get a rating that's a rolling average of the previous 100 deliveries.
Either platform can deactivate you if your rating drops too low, but this typically means you're always canceling orders or are usually late.
As long as you avoid doing these things, you should be fine.
Highly-rated DoorDash drivers can qualify for the Top Dasher Program, which makes scheduling shifts easier and gives you priority to accept order requests during slower periods.
In contrast, Uber Eats is rolling out Uber Eats Pro, which rewards highly-rated drivers with perks like discount car maintenance.
Winner: DoorDash currently has better perks for highly-rated drivers, but this will change if Uber Eats Pro rolls out fully.
Is Delivering for DoorDash Worth it?
DoorDash is flexible, has few driver requirements, though driver pay can vary. If you want to make money fast, delivering for the company is worth it.
Just remember to track your fuel costs and factor in vehicle depreciation into your earnings.
Is Delivering for Uber Eats Worth it?
Uber Eats is a straightforward way to boost your income. Plus, this delivery service has international coverage, so more people can supplement their income.
If you want to make money on the side, you can also consider driving with Uber Eats and ridesharing simultaneously to see which platform you prefer.
Read our guide on other side hustle ideas to consider if delivery jobs aren't for you.
Can You Use Both Apps at the Same Time?
Yes, it is possible to use both food delivery services at the same time.
To do this, run both driving apps simultaneously to begin accepting orders. When you accept an order, turn off the other app until you're close to dropping off the order, at which point you can start accepting deliveries again.
Just be cautious of doing this if you're on a scheduled DoorDash shift since turning off the app for more than 35 minutes during a shift cancels your entire shift.
You can also try working for other delivery app gigs to find a combination that maximizes pay. Many drivers do this to increase earning ability.
Read our guide on how to build a side hustle stack to learn the benefits of doing this.
Pros and Cons
It's tricky comparing DoorDash vs. Uber Eats since both platforms are similar.
However, differences in scheduling, app functionality, and availability lead to several pros and cons for each company.
DoorDash Pros:
No vehicle requirements
Better order stacking
Potential to withdraw earnings same day
Flexible scheduling system
DoorDash Cons:
Lacks significant international market coverage
If you don't want to schedule shifts, it might be difficult to work during busy periods
Uber Eats Pros:
Widespread market coverage
Promising Uber Eats Pro rewards program
Eligible to deliver if you already drive with Uber
Lower instant pay fees
Uber Eats Cons:
Stricter driving and vehicle requirements
Stacking orders is a gamble
Both gigs are legit ways to get paid to drive and you can use them simultaneously. It's often best to try both to see which is the better fit for you.
Is DoorDash or Uber Eats Better For Drivers?
When choosing between delivery app jobs, it can be difficult to determine which platform is better.
DoorDash drivers earn more than drivers who deliver with Uber Eats on average. Plus, the flexibility to schedule shifts or work immediately is a perk.
However, Uber Eats is available in more countries. You're also eligible to drive on the Eats platform if you drive with Uber.
If DoorDash is in your market, try it first for higher pay and a better app. Otherwise, stick with Uber Eats for its accessibility and decent pay.
Bottom Line
The gig economy is one of the best options for earning money fast because it's flexible and lacks barriers to entry. Delivery platforms like DoorDash and Uber Eats are perfect examples of this for people who want to become delivery drivers.
Both companies let you make extra money as an independent contractor on your own time.
If you like the ability to schedule shifts, signing up for DoorDash is the best choice.
In contrast, Uber Eats is ideal if you already drive with Uber or live in a market where DoorDash doesn't operate.
Ultimately, it's best to try both food delivery companies to test the demand and hourly earning potential in your market.
What do you look for in extra income opportunities?
*Earning more on certain types of orders (ex. alcohol): Earn more per order as compared to restaurant orders. Actual earnings may differ and depend on factors like number of deliveries you accept and complete, time of day, location, and any costs. Hourly pay is calculated using average Dasher payouts while on a delivery (from the time you accept an order until the time you drop it off) over a 90 day period and includes compensation from tips, peak pay, and other incentives.
*Get paid instantly (DasherDirect): Subject to approval
*Cash out daily (Fast Pay): Fees apply
*Start Dashing today: Subject to background check and availability
*Dash anytime: Subject to availability
Tom is a freelance personal finance writer and blogger originally from Toronto, Canada. Tom's writing has appeared on numerous personal finance websites, including Bankrate, Money Crashers, Yahoo Finance, and dozens of personal finance blogs. He also shares personal finance advice and teaches young adults how to earn more money on his blog ThisOnlineWorld.com.