In terms of side hustles, courier jobs are immensely popular. Delivery app gigs let you start working quickly, earn a decent income, and set your own schedule.
Two leading food delivery services are DoorDash and Instacart Shopper. With extensive market coverage, competitive pay, and a near-endless demand for home-delivery drivers, you can significantly boost your monthly income with either company.
Instacart vs. DoorDash
Despite their similarities, there are several differences between each food delivery job. Ultimately, what customers can order is the most notable variation between the two companies.
Our DoorDash vs. Instacart Shopper guide will help you decide which platform is right for you.
Offerings and Availability
Instacart is an on-demand grocery delivery service that began in 2012. Currently, the company operates in over 5,500 cities across the U.S. and Canada and is one of the most popular grocery delivery services on the market.
DoorDash is an on-demand food delivery service that began in 2013. Unlike Instacart, which focuses on groceries, DoorDash lets people order food from their favorite restaurants and fast food joints.
Currently, DoorDash operates in over 7,000 cities in the U.S., Canada, and Australia. The company is also the largest food delivery service in the United States.
Requirements and Availability
Working for delivery apps is a flexible way to make money, but it's essential to understand the job requirements of any service you choose.
Becoming an Instacart Shopper requires:
Being 18 or older
A valid driver's license and car insurance
Consistent access to a vehicle
Ability to lift 50 pounds
A newer smartphone (iPhone 6 or newer or Android 5.0 or newer)
To sign up to work for the company, you provide your name, email, phone number, and ZIP code. You then download the Instacart driver app.
Within the app, you complete a questionnaire about how you would respond to various shopping scenarios, like a store being out of a particular product. You also upload a photo of your driver's license.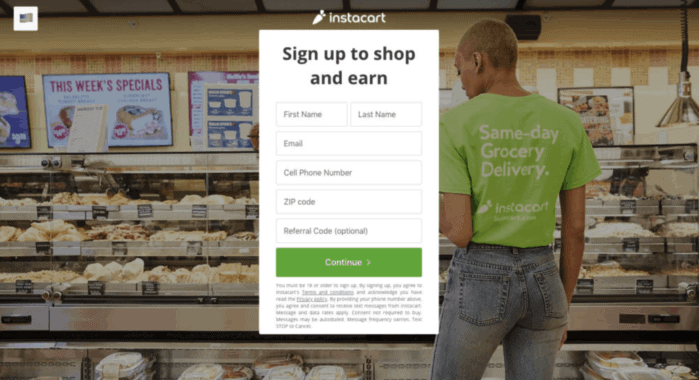 Finally, Instacart mails a prepaid debit card you use to pay for groceries. You then sign an independent contractor agreement, submit a W-9 form, and authorize a background check.
DoorDash also streamlines signing up and has lenient driver requirements, including:
Being 18 or older
Having a valid driver's license and car insurance
Having a functional car, bike, or scooter
Owning a smartphone that can run the DoorDash app (iPhone 6 or newer or Android 5.0 or newer)
Signing up for DoorDash is similar to Instacart. You apply with your name, email, and vehicle type. Next, you upload a picture of your license, registration, and insurance. Finally, you consent to a background check.
After passing the background check, the company sends an activation kit that includes a food delivery bag and DoorDash Red Card you use to pay for orders.
Background checks vary by state. Generally, a criminal record or any major driving violation within the last seven years makes you ineligible to work for Instacart or DoorDash.
Winner: DoorDash has more flexible vehicle requirements, making it more accessible for contractors.
Benefits
Logo
DoorDash
Earn cash and create your own schedule!

Deliver food with just a car or scooter. Get started today!


How The Apps Work
One difference between the two delivery apps is how they work. This is because Instacart orders are more complex than DoorDash orders.
The Instacart Shopper app displays available "batches" when you're working. Batches are grocery delivery orders.
Tapping on a batch displays:
Estimated earnings, which includes Instacart pay and a potential tip
Items in the order
The store
Delivery distance
When you arrive at the store, you tap "Start Shopping" to begin working. As you add products to your cart, you mark them as "found" within the Instacart shopper app.
You can do this manually or by scanning product barcodes. For produce, you also enter the weight.
The major difference with Instacart is that products are sometimes out of stock and require replacements. Customers can leave notes about product replacement preferences.
*Do you want to deliver packages instead of food? Read our Amazon Flex review to learn how you can make $20+ per hour driving for Amazon.
You can also message the customer to ask if they'd like another product instead. If you can't find a replacement, you tap "I can't find a replacement" within the app to refund the customer for that product.
After checking out, Instacart helps you navigate to the customer's address. Customers select their delivery preference, which includes handing over the groceries or no-contact delivery.
Earnings typically appear in the app 30 minutes to one hour after completing a delivery, including your tip. Read our Instacart Shopper review to learn more.
Making food deliveries with DoorDash is more straightforward since you're simply picking up food, not shopping for groceries.
When you go online with DoorDash, the app highlights zones in your city and how busy they are. Grey zones aren't busy enough for you to dash in, whereas red zones let you begin working immediately.
Once you're working, order requests pop up that outline:
Restaurant and pickup location
Items in the order
Delivery distance
Dropoff time goal
Driver pay, which doesn't include a potential tip
If you accept an order, the app helps you navigate to the restaurant. You confirm that items in the order are correct upon pickup before DoorDash helps you navigate to the customer.
Customers can also request no-contact delivery.
When you complete the delivery, DoorDash displays how much you earned. This can include a tip. Read our DoorDash driver review to learn more.
Instacart deliveries typically take longer than DoorDash deliveries and also require more thinking on your feet. However, both apps let you contact customer support or the customer if you're having difficulties and are easy to use after some practice.
Winner: While Instacart wins by a hair, thanks to the enhanced ability to communicate with customers, both apps offer plenty of support to drivers.
Read our guide on jobs like Instacart to learn about additional income opportunities.
Scheduling
Many delivery app jobs like Postmates or Uber Eats let you work whenever you want.
Previously, Instacart Shoppers had to schedule shifts to work. However, in 2020, Instacart began rolling out on-demand delivery work for shoppers.
*Related: If you're looking for other delivery jobs, read our guide on apps like Uber Eats to find additional opportunities.
Now, you can work whenever you want just by going online.
In contrast, DoorDash has two options for drivers:
Work immediately in a red zone
Schedule shifts in advance
With DoorDash, you schedule shifts in 30-minute increments. You have to work in the zone you select and can't drive in multiple zones.
Winner: Ultimately, DoorDash's flexibility is a bonus if you work in a busy market with many other contractors working for delivery apps since it limits the number of drivers on the road, leaving you with more orders.
How and When You're Paid
With Instacart, the amount you earn per batch varies depending on the:
Number of items
Types of items, like heavy items
Driving distance
Order difficulty
Customer tips
The company can also pay shoppers more for delivering during busy periods with peak pay incentives.
With Instacart, you can even accept double batches. This involves shopping at the same store for two separate customers and then making two deliveries.
Double batches are tricky since you have to keep items separate for each customer. However, they are more time-efficient.
The company pays you through direct deposit every Wednesday for the previous week of earnings. Payments take two to three business days to process.
Alternatively, you can cash out with instant pay for a $0.50 fee, which is useful if you need money now.
In contrast, DoorDash driver pay uses a more transparent formula:
Base Pay: Includes delivery time, mileage, and how desirable orders are
Promotions: Higher pay for delivering during busy periods, plus delivery challenges that pay bonuses for completing a certain number of deliveries within a week
Tips: Drivers keep 100 percent of tips
DoorDash driver pay varies on numerous factors. Peak pay is more common on DoorDash and helps boost your earnings.
Like Instacart, DoorDash can send stacked order requests where you pick up two orders and make two separate deliveries.

DoorDash pays you every Monday via direct deposit for the previous week of deliveries. Like Instacart, payments usually take two to three days to process.
You can also cash out earnings instantly for $1.99.
Tips ultimately play a significant role in how much you make as a delivery person for either service, so being on-time and friendly is critical.
Consult our guide on the best times to DoorDash to learn how to maximize earnings.
Read our analysis on the best times to do Instacart in my area to learn how to increase earnings.
Does DoorDash or Instacart Pay More?
According to salary review websites like Glassdoor:
Instacart shoppers earn approximately $11 to $25 per hour
DoorDash driver pay depends on several factors
Instacart's pay is extremely variable because large batches can easily pay $40 to $50 or more. That said, they can also take over an hour for beginner shoppers to complete.
In contrast, DoorDash provides more stable hourly pay but has lower earning potential.
Winner: Instacart has higher earning potential, but working fast and learning which batches are worth it is vital.
Benefits
Logo
Instacart
Earn up to $20+ per hour

Deliver groceries with just a car from nearby stores. Get started today!


Driver Ratings
Another difference between the two delivery companies is how driver ratings impact your earnings.
Instacart customers rate their personal shopper and overall experience between one and five stars. Your shopper rating is your average rating over the last 100 deliveries.
Highly rated shoppers receive batch requests first. As a new shopper, you're placed higher in the batch request queue to give you a chance to complete your first orders.
However, if your rating declines, you receive fewer batch requests and ultimately make less money.
DoorDash ratings are similar. Customers rate delivery couriers and their overall experience. Your driver rating is the average of the last 100 orders.
Fortunately, a lower rating doesn't impact how many order requests you receive nearly as much as Instacart unless it's a very slow delivery day.
Top-rated Dashers can qualify for the Top Dasher Program. This program grants priority order requests during slow periods and lets you schedule a Dash whenever you want, even if it's slow.
Winner: Since a lower DoorDash rating doesn't impact how many orders you receive nearly as much as a low Instacart rating, DoorDash has the edge.
Pros and Cons
Delivering groceries versus fast food sounds similar on paper. However, this difference creates several pros and cons for each company.
Instacart Shopper Pros:
High hourly earning potential
You can work whenever you want
Tips are higher than food delivery jobs on average
Instacart Shopper Cons:
A low shopper rating means fewer batch requests
Inability to schedule shifts makes it harder to work
Steeper learning curve
DoorDash Pros:
Flexible scheduling system
Numerous delivery possibilities
Variety of eligible vehicles
DoorDash Cons:
If you don't schedule shifts, you might not work during busy periods
Unlikely to get large tips
Both platforms let you deliver orders to customers in similar fashion. Choosing one primarily comes down to if you prefer to shop for groceries or just deliver meals.
Should I Do DoorDash or Instacart?
DoorDash is a simple side hustle idea that's also viable if you own a bike or scooter. However, the downsides include lower earnings and more mileage on your vehicle since you complete more deliveries per hour.
| App | Pay | Instant Pay Fees | Bike/Scooter | Lifting Req. |
| --- | --- | --- | --- | --- |
| DoorDash | Varies | $1.99 | Yes | N/A |
| Instacart | $11 - $25 | $0.50 | No | Up to 50 lbs. |
With Instacart, it takes time to learn how to shop quickly, and the rating system is cutthroat. But, the upside is that you can find batches that pay $50 or more and get better tips, so the earning potential is higher.
To keep life simple or to deliver orders to customers using a bike or scooter, work for DoorDash. In contrast, try out Instacart if you're willing to put in the time to improve your shopping skills and want to make more money.
Bottom Line
Ultimately, it's difficult to declare a winner in the Instacart shopper vs. DoorDash debate since both platforms are unique.
Additionally, competition between drivers and demand in your market impact how much you earn per hour.
The best solution is to sign up for Instacart and DoorDash to test which side gig you prefer and how much you earn.
Both companies have lenient requirements and let you begin working quickly, so there's no harm in testing the waters. You might even find that using both apps is the best way to make extra money.
What do you look for in a side hustle? How often do you need extra funds to supplement your income?
*Earning more on certain types of orders (ex. alcohol): Earn more per order as compared to restaurant orders. Actual earnings may differ and depend on factors like number of deliveries you accept and complete, time of day, location, and any costs. Hourly pay is calculated using average Dasher payouts while on a delivery (from the time you accept an order until the time you drop it off) over a 90 day period and includes compensation from tips, peak pay, and other incentives.
*Get paid instantly (DasherDirect): Subject to approval
*Cash out daily (Fast Pay): Fees apply
*Start Dashing today: Subject to background check and availability
*Dash anytime: Subject to availability
Tom is a freelance personal finance writer and blogger originally from Toronto, Canada. Tom's writing has appeared on numerous personal finance websites, including Bankrate, Money Crashers, Yahoo Finance, and dozens of personal finance blogs. He also shares personal finance advice and teaches young adults how to earn more money on his blog ThisOnlineWorld.com.