Are you looking for a side gig that offers a flexible schedule? Working for delivery apps is a fantastic option that lets you run errands for people and earn $20 per hour or more.
On-demand grocery shopping is one of the top side hustles. With apps like Shipt Shopper, you can earn extra money by delivering groceries.
Our Shipt Shopper review discusses if it's a good way to boost your income.
What is Shipt Shopper?
Shipt Shopper is a gig economy app that connects personal shoppers with customers who place orders for groceries to be delivered to their homes or businesses.
When you accept driving jobs with Shipt, you claim orders, go to the grocery store to purchase items, and deliver them to customers.
The company operates in over 5,000 locations throughout the United States. If you live in a big city, it's likely you can earn money as an independent contractor for the company.
Even though the company is owned by Target, Shipt partners with numerous retailers to fulfill customers' shopping needs. These include:
Albertsons
Costco
CVS
GNC
Hy-Vee
Jewel-Osco
Kroger
Publix
Rite-Aid
Safeway
Target
You can schedule hours at your convenience within the app. It's an excellent opportunity if you want to make money on the side since you can work when it's best for you.
Shipt differs from a service like DoorDash, where you solely deliver restaurant meals. Read our DoorDash vs. Shipt Shopper analysis to learn which is best for drivers.
What if you don't want to be a personal shopper? You can still work for Shipt via its Shipt Driver program.
Shipt Driver is a new option that is available in select cities and allows contractors to deliver packages to people around town.
How to Become a Shipt Shopper
It is relatively simple to start working for Shipt. It can take up to five business days to start this side hustle opportunity after applying to work.
Here are the requirements to become a Shipt Shopper:
Be at least 18 years old
Have a valid driver's license
Be able to lift up to 40 pounds
Have valid insurance
Be able to pass a background check
Have access to a reliable car from 1997 or newer
Own a current smartphone
Have a clean driving record
Attend an in-person orientation (in select cities)
Have a bank account to accept payment via direct deposit
Additionally, the company interviews applicants via video. Expect to hear some of the following questions when applying to work:
What is your typical availability?
How can you fit working for Shipt into your regular schedule?
If a customer requests a particular item and the store does not have it, what would you do?
What are the things you look for when selecting fresh produce?
Describe a time you had a difficult customer situation. What did you do to resolve it?
Assuming the company has a need in your city, you should be approved to work within 24-48 hours of the interview.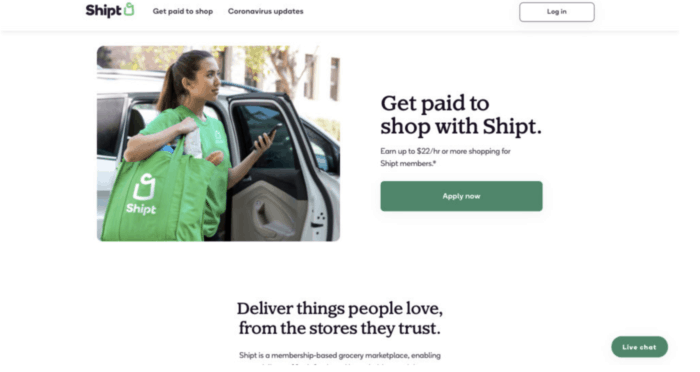 If there is no need for drivers in your location, they may put you on a waiting list until there is availability.
Once your application is approved, you download the app and complete the necessary training. You can find the training materials in the Shipt Shopper Hub.
The Hub contains numerous tips and training videos that you can use to help you learn how to use the app. Once you download the app and complete your training, you can start receiving orders.
How Much Do Shipt Shoppers Make?
It is possible to earn up to $20 per hour when working for Shipt. After you complete 100 deliveries, the company increases that amount to up to $22 an hour.
Read our guide on other jobs that pay an hourly wage of $20 or more that don't require a degree if you don't want to make deliveries.
Shipt Shopper pay is calculated fairly simply. You earn a base pay of $5 per order plus 7.50 percent of the order total.
For example, if you accept a $50 order, you earn a $5 base plus $3.75. This means that you earn $8.75 for your time. If you're a fast shopper, this will help you maximize your earnings.
*Related: Are you considering delivering for Instacart Shopper? Read our guide on the Instacart peak hours to help maximize your earnings.
Payment is sent weekly via direct deposit. You receive payment on Friday for work completed the previous week.
You also get to keep 100 percent of the tips you receive.
Does Shipt Pay Daily?
Same-day pay jobs can be a fantastic opportunity if you need to make money without a job. Shipt Shopper does give you the ability to cash out instantly.
While you must pay a $1 fee for Fast Pay, it can be helpful if you're short on funds.
Does Shipt Give Bonuses?
It is possible to occasionally receive a bonus from Shipt Shopper. For example, they often give a $50 bonus if you refer a new driver to the service.
Depending on the need in your area, the company may also offer a bonus. But, availability for this will vary.
Furthermore, the company often offers promotions for drivers who work during peak times and complete a given number of deliveries.
Shipt Shopper Review
Earning potential

Sign up

Ease of Use

Job Availability

Payment Speed
Shipt Shopper Review
If you live in a larger city with lots of delivery requests, you can earn up to $22 per hour delivering for Shipt. The ability to earn tips and perform jobs quickly will increase your potential earnings.
Pros
✔️ Weekly pay
✔️ Can earn up to $22 per hour
✔️ You keep 100 percent of tips
✔️ There are no passengers involved
✔️ Periodic promotion bonuses
Cons
❌ Wear and tear on your car
❌ Can't see exact items in order before accepting
❌ Hourly wage can vary
Does Shipt Reimburse for Gas?
Like other delivery app gigs, it is not possible to be reimbursed for gas when you work for Shipt Shopper.
As an independent contractor, you are responsible for any fuel expenses, tolls, and wear and tear on your car. These work-related expenses must be considered since they impact your hourly pay.
Additionally, you are responsible for your self-employment taxes. Because of this, it's best to keep track of your expenses in the event you want to claim them at tax time.

How Do Deliveries Work?
After you receive approval to drive for Shipt, it is easy to accept orders. You can either schedule shifts in advance or see if there are current needs in the app.
The Shipt Shopper app has two main tabs, including "Open Metro" and "Schedule." The former is where you go to accept orders that are currently available.
The latter is where you go to schedule hours or claim any future-dated orders.
Accepting Orders
When your scheduled shift begins, you need to log in using the app to access your account. This page is where you will locate all the available job listings.
You don't need to accept each shop, but the company does measure acceptance rates. If you want to earn extra cash, you can accept multiple orders at once and do the shops concurrently.
Each order highlights several items of importance you want to consider before accepting, including:
Selected grocery store
Size of the order
Estimated pay
Delivery area for the customer
Shipt is different from other grocery delivery services because it gives you the option to set your delivery radius. This can limit how far you have to drive as well as how many orders you receive.
You will want to test this feature out so that it doesn't negatively impact your ability to make money on Shipt.
The app also has an active shoppers minimum of one order completed every 90 days. If you don't complete an order within that timeframe, you will not see available gigs within the app.
Shopping for Orders
Shopping for orders is easy with Shipt. Every order includes the chosen store the customer would like you to use and the items they're requesting.
Upon accepting an order, you go to your local store to shop for and buy groceries. If an item is out of stock, you can live chat with the customer to determine what they would like as a substitute.
The customer can also ask you to add items to their shopping list. Being attentive to their requests is an excellent way to get a better tip.
Finally, Shipt provides shoppers with insulated bags. Make sure to use those for any cold or warm items you need to keep insulated.
Paying for the Order
It is simple to pay for completed orders. Shipt gives shoppers pre-loaded cash cards that they use to buy items at the store.
Additional funds get added to the card as customers place orders so that there is no need to pay out of pocket for the items you purchase.
Delivering Groceries to the Customer
The final step is to deliver items to your customer. They will specify within their order how they would like you to bring them to their home or business.
This can include no-contact delivery by leaving them on their front porch. They can also request you bring items to their front door and hand the bags to them.
If you leave bags on a front porch, you're required to take a picture of where you placed them. You send this picture to the customer so that they can see where they are located.
After completing the selected shops, you select additional orders until the end of your shift.
Benefits
Logo
Shipt
Earn up to $22 per hour

Deliver anything with just a car from nearby stores. Get started today!


Ways to Increase Earnings
Driving for Shipt is an excellent way to make money on your own schedule. It's one of the best apps that pay you to drive to supplement your income.
Here are some tips to maximize your earnings.
Know the Store
Knowing where to find items in the store is essential to completing orders in a timely manner. More completed orders often result in higher earnings.
Look at the shopping list before entering the store and take advantage of signs in stores to locate the necessary aisles you need.
Approach shopping by going through the store in an orderly fashion. This will allow you to get done quicker and help mitigate any issues with long checkout lines or traffic.
Provide Excellent Customer Service
Putting in some extra effort is a fantastic way to increase the likelihood of better tips. Stay in regular communication with the customer in the app.
Customers may request to be contacted regarding substitutions. If they do, clearly communicate any available options.
Let customers know when you're done with shopping and on your way to their residence. Also, make sure to thank them for their business.
In short, treat customers the way you would like to be treated. All of these should encourage good tips.
Work Sundays and Mondays
Regular shoppers report that Sundays and Mondays usually have more orders than any other days during the week. They also tend to have larger orders.
If you want to secure high-paying orders and have flexibility, you will want to schedule hours on these two days.
Prioritize Small Orders
It is tempting to only claim large orders, but they also take longer to complete. Don't overlook claiming smaller orders.
They will pay less, but you can do more of them. In turn, this allows you to increase your earnings and get more deliveries on Shipt.
Additionally, smaller shops allow you to batch orders more easily and provide additional money-making opportunities.
Take Advantage of Bounties
Many food delivery apps have peak hours where they're busier than normal. Apps like Shipt pay bounties or bonuses to drivers who complete a certain number of orders.
Bounties vary and can appear at any time. Monitor the Shopper app to take advantage of on-demand jobs to increase your earnings.
Pros and Cons
Working for Shipt Shopper is a great way to make money on the weekends or any other time when you have availability. However, it's not for everyone.
Here is what to keep in mind when considering driving for Shipt.
Pros
Weekly pay
Get paid via direct deposit
Can make $22 per hour on average
Occasional promotion bonuses
Free Shipt membership ($99 value)
Shoppers keep 100 percent of their tips
Payment per completed trip
Flexible hours
ASL friendly
Cons
Limited orders if you don't live in busy areas/cities
Have to pay for own mileage, car maintenance, and other expenses
Includes limited physical activity like carrying and loading grocery bags
If you want to work as a food delivery driver, Shipt Shopper is a good side hustle app to try.
Shipt Shopper FAQs
People often have questions when considering working for a delivery service. Here are some common questions we receive about Shipt Shopper.
Does Shipt Shopper Take Taxes Out?
No, the company doesn't take taxes out of your pay. Shipt Shoppers are independent contractors and are responsible for self-employment taxes.
As a result, it's best to set aside a certain amount of each paycheck to pay for taxes.
It's also wise to consult a tax professional to determine what you need to hold back for taxes.
What Day Does Shipt Pay?
Shipt pays drivers each Friday for work they've done the previous Monday through Sunday. You receive payment a week after you complete deliveries.
They do allow you to withdraw funds instantly, but that comes with a small fee.
Is Driving For Shipt Safe?
Yes, it is safe to deliver for Shipt. Nevertheless, there are some tips to follow to increase your safety.
When approaching a grocery store, ensure you're in a well-lit area. Additionally, when you are approaching a house or place of business, make sure to be aware of your surroundings.
Furthermore, the company lets contractors know regularly about best practices for safety while on a delivery.
Shipt does offer insurance coverage to customers injured as a result of actions by a shopper.
These tips are similar to what you will find with other driving apps to make money.
Is Shipt or Instacart Better to Work For?
Both grocery delivery jobs work similarly. The average pay for Shipt Shoppers is a little higher than Instacart, but it doesn't have the same availability.
Both companies offer promotions, and pay is weekly. Ultimately, it comes down to your preferences.
Read our Instacart Shopper or Shipt Shopper guide to learn how the two apps compare.
Alternatives to Delivering for Shipt
There are many opportunities to get a part-time job with delivery platforms. Since growth has exploded in recent years, it is possible to find a good-paying side hustle to do in your free time.
Here are three popular alternatives to working for Shipt.
Read our review of the top delivery app gigs to learn more about these platforms.
Is Being A Shipt Shopper Worth it?
Shipt Shopper can be an excellent option for people who are looking to make money in their free time. It's possible to earn up to $22 an hour, and it has wide availability.
You won't replace your day job working for the service. But, working ten or 15 hours a week is a terrific way to make ends meet or reach an important financial goal.
What do you look for in a side hustle?
*Earning more on certain types of orders (ex. alcohol): Earn more per order as compared to restaurant orders. Actual earnings may differ and depend on factors like number of deliveries you accept and complete, time of day, location, and any costs. Hourly pay is calculated using average Dasher payouts while on a delivery (from the time you accept an order until the time you drop it off) over a 90 day period and includes compensation from tips, peak pay, and other incentives.
*Get paid instantly (DasherDirect): Subject to approval
*Cash out daily (Fast Pay): Fees apply
*Start Dashing today: Subject to background check and availability
*Dash anytime: Subject to availability
Choncé is a Certified Financial Education Instructor (CFEI), personal finance freelance writer, and blogger who focuses on helping others manage their money better in order to live a life with more possibilities and fewer limitations. Her work has been featured on Business Insider, LendingTree, Credit Sesame, and Barclaycard.