Shipt Shopper Review: Earn $20+ Per Hour
Grocery delivery is a growing service people use to simplify their life, especially given current events. With this expansion, the necessity for personal grocery shoppers has also grown. If you need a way to earn extra money, Shipt Shopper is a terrific platform to supplement your income.
Like other delivery services, you can work for the platform and work on your own schedule. There are minimal requirements, and as long as you're at least 18 years old, you can use the Shipt Shopper app to make money on the side.
If that sounds like you, our review will show you exactly how you can earn up to $22 per hour delivering groceries.
What is Shipt Shopper?
Shipt is a grocery delivery app for people who need same-day service. The service requires an annual membership, costing users $99 per year. As a Shopper, you receive a membership as a free perk.
Target owns the platform, and working as a Shipt Shopper is similar to working as an Instacart Shopper.
You can read our Instacart Shopper or Shipt Shopper guide to learn how the two apps compare.
Customers use the app to order groceries and other items from their local grocery store. As the shopper, you use the Shopper app to select shops, do the shopping, and deliver the items to the customer in your car.
Everything happens on the app, so you'll see which store to stop at, grocery lists, the delivery location, and more.
The service is available in over 300 cities across the country and is growing.
Shipt has made its way into many larger cities across the country including:
Boston
Orlando
Kansas City
Philadelphia
Tampa
Phoenix
Portland
New York
Los Angeles
If you're interested in being a Shipt Shopper, it's relatively simple to apply and start earning money.
How to Become a Shipt Shopper
If you want to know how to become a Shipt Shopper, you need to complete three simple steps. Those are:
Apply and interview
Get approved
Download the Shipt Shopper app
The interview is not difficult. Shipt interviews applicants via video. Expect to hear some of the following questions when applying to work for Shipt Shopper:
What is your typical availability?
How can you fit working for Shipt in your regular schedule?
If a customer requests a particular item and the store does not have it, what would you do?
What are the things you look for when selecting fresh produce?
Describe a time you had a difficult customer situation; what did you do to resolve it?
Upon completing the interview, the recruiting team will then decide if help is necessary for your area. If it is, they will reach out within 24-48 hours.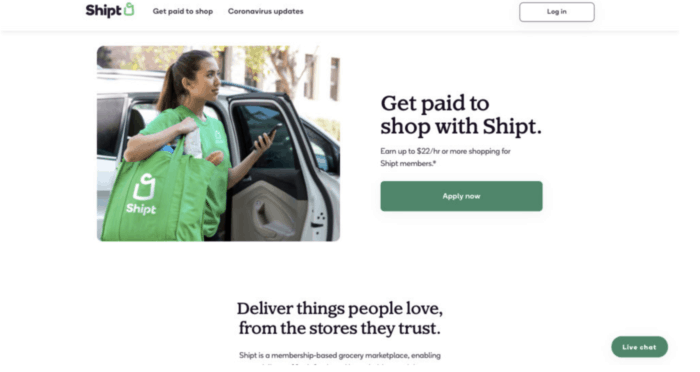 If there is no need, they may put you on a waiting list until there is availability.
Once your application is approved, you download the app and complete the necessary training there. You can find the training materials in the Shipt Shopper Hub.
The Hub contains numerous tips and training videos you can use to help you learn how to use the app. Once you download the app and complete your training, you can start receiving orders.
Requirements
Like most delivery app gigs, Shipt Shopper is a platform many can work for as they do not require specialized skills. As long as you can perform the job, and there is availability, you should be able to work for the service.
There are a few requirements to become a Shopper, including:
A valid US driver's license
Auto insurance
Knowledge of produce selection
Have an iPhone (iOS 10 or newer) or Android (5.1 or newer)
Reliable car that's a 1997 or newer
Ability to lift 40 pounds
Have insulated cooler bags, which the service provides
Assuming you can meet the requirements and your application is approved, you can start accepting orders.
How Does Shipt Work For Shoppers?
Shoppers can choose their own schedule by selecting available hours in the app. When orders start coming through, you can decide whether you want to accept them or not.
Each order shows the following information to help you choose if you want to accept it:
Selected grocery store
Size of the order
Estimated pay
Delivery area for the customer
Shipt is a little different from other grocery delivery platforms because it gives you the option to set your delivery radius. This can limit how far out you have to go, but also limits how many orders you receive.
Realize that limiting your radius can limit your earnings if there are not enough orders in the areas that you select.
You may just need to play around with this feature and learn the busy times and areas to optimize your time shopping and delivering for Shipt.
Sometimes, Shipt allows you to go online in the app when it's busy, whether you scheduled time or not. Some shoppers even get offered bonus pay to work during busy times so that orders still get fulfilled.
Shipt prides itself on providing same-day grocery delivery, so the number of orders you receive can vary depending on how the market is in your area.
Accepting Orders
When your scheduled shift begins, you need to access the Shipt Shopper login on the app and get into your account. This page is where you will locate all available shops.
You don't need to accept each shop, but the app does measure acceptance rates. If you want to maximize income, you can accept multiple orders at once and do the shops concurrently.
Like Instacart Shopper, with Shipt you perform the shopping and delivery of the groceries.
Here is a typical example of what you will do after accepting a shop for a customer:
Head to the grocery store to start shopping
Select the requested items
Purchase items with a provided, pre-loaded cash card
Check order notes for specifics on drop off location
Message the customer when you are on the way
Drive to customer's house
Bring items to the customer's door
Take a picture as proof of delivery
Message or ring doorbell to let the customer know you dropped off items
After completing the selected shops, you select additional orders until the end of your shift.
Pay
As with any side gig app, the pay is an important consideration when looking at Shipt Shopper jobs as an opportunity.
Shoppers receive payment per order that they complete, and there is no minimum order amount for customers.
For each order that you accept, you receive a commission. The base commission is currently $5 plus 7.5 percent of the order amount.
As an example, if you accept a shop that costs $50, you will receive $8.75 for your time. If you're a fast shopper, you can maximize earning potential, but if you're a slower shopper, this will impact earnings.
That is only part of the Shipt Shopper salary you can expect. Shoppers can also receive tips from customers after completing a delivery. You keep 100 percent of the tips you receive.
Shipt claims contractors can earn up to $22 per hour. That's a good income for a side gig, but remember your timeliness will impact earnings.
Don't overlook bonuses the app may offer to help further increase your earnings.
As an independent contractor, remember to hold aside part of your earnings for taxes. The service does not withhold taxes, so you don't want to be surprised come tax season.
Payments arrive via direct deposit, and shoppers get paid every Friday. Shoppers will have to pay for their own gas and data usage but do have the option to write them off on taxes at the end of the year.
Pros and Cons
Like every money-making opportunity, there are benefits and drawbacks. Here are some things to keep in mind before you deliver for Shipt.
Pros
Weekly pay
Get paid via direct deposit
Can make $22 per hour on average
Occasional promotion bonuses
Shoppers keep 100 percent of their tips
Payment per completed trip
Flexible hours
Cons
Limited orders if you don't live in busy areas/cities
Have to pay for own mileage, car maintenance, and other expenses
Includes limited physical activity like carrying and loading grocery bags
The negatives aside, working for Shipt Shopper is an excellent way to earn money on the side. If you have a flexible schedule and don't hate shopping, it's a good way to increase your income.
Shipt Shopper FAQs
If you want to know how to be a Shipt Shopper, it's not difficult. However, there are some things you can do to increase earnings or know before applying.

Work on Sundays and Mondays
Shipt has busier times in which there are abundant opportunities to make money. Those days are usually Sundays and Mondays.
Make Extra Money by Taking Short Surveys
Taking short surveys in your free time can be an awesome way to earn extra money fast! The instant you finish a survey,
Survey Junkie pays you in cash via PayPal
. 6 Million users and an 8.9/10 Trust Pilot rating prove you can trust them.
If you have availability to work on either day, try and schedule a time to work then so you can take advantage of the opportunity.
How will I purchase items at checkout?
You receive a prepaid cash card to pay for each order. The card has enough to buy the items for the customer, plus a little more to cover additional items upon request in case you need to contact them while shopping.
How do the tips work?
Tips are a significant part of your Shipt Shopper pay. The customer can pay you in cash when you drop off the items, or they can pay you within the app.
Is a background check required to be a Shipt Shopper?
Yes, Shipt does perform a background check on potential contractors.
How does Shipt make money?
Shipt makes its money from subscription costs of $99 per year or $14 per month. They also charge a delivery fee of $7 if your order is under $35
Should I accept small orders?
Smaller orders do result in lower commissions. However, it increases your ability to earn more tips.
It also makes it easier to perform multiple shops at once. Generally speaking, this means more cash in your pocket.
Summary
While you won't replace your day job working for Shipt Shopper, the on-demand app is a fantastic option for people who want to make extra income.
It lets you earn good money doing relatively easy work, all on your own schedule.
Regardless if you're a stay-at-home parent or just want a side hustle, the on-demand app offers ample opportunities to make money.
What other questions do you have about working for the delivery service? What are your favorite ways to make money on the side? Have you ever used a service like Shipt?
The following two tabs change content below.
Choncé is a freelance writer who's obsessed with frugality and passionate about helping others increase their savings rate, eliminate debt, and work toward financial stability. She chronicles her journey with balancing motherhood, work, and finances on her blog, MyDebt Epiphany.com