12 Best Coupon Sites for Extreme Savings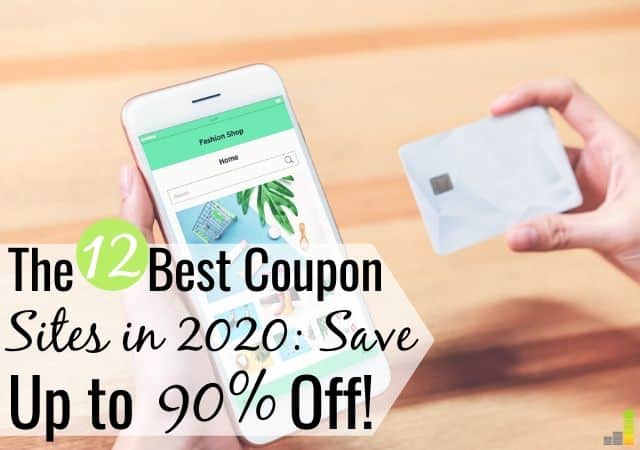 Couponing is one of the most traditional ways to save money at the store. Those who coupon tend to spend hours poring over the Sunday paper, searching for deals to help lower their grocery bills. However, thanks to some of the best coupon sites, you no longer need to spend significant time looking for savings.
Not only do these sites help you cut costs, but they help you save time. Instead of sifting through coupons, most sites let you easily locate discounts on your favorite brands and items of food. In fact, many free coupon websites let you save money on items beyond food – from items for your home to travel.
If you want to save more money each month, our guide shares a few of the top websites to use.
Best Coupon Sites
The internet makes couponing easy to accomplish. Whether you're looking for the best grocery coupon websites, or want to save money around town, there are plenty of choices.
Below are 12 of the best sites for extreme savings in 2020.
1. Coupons.com
Coupons.com is one of the best printable coupon sites you can use. As you would imagine, the name says it all – they're all about coupons.
The Coupons.com platform doesn't just offer printable coupons, they also offer digital coupons. The site has hundreds of free paperless coupon options.
The total amount of savings currently offered on the site is over $200, according to their site. This means there are plenty of reasons to give this site a try.
So the savings are there, but you do actually need to make the effort to redeem them, if you choose the printable option. This is where I ran through problems when I was doing the old-fashioned couponing method.
Sometimes I'd forget to bring my coupon binder with me when I went shopping or I wouldn't have enough ink to print the offers at home.
The great thing about Coupons.com is that they have an app that makes it simpler to redeem those savings.
Most stores will let customers use the app right at the register for instant savings, while others won't offer a discount until a receipt is scanned in after purchase, similar to a rebate.
Once a receipt is received, the cash back is sent to the PayPal address you have on file.
2. honey
Do you often watch for sales and other ways to save money while shopping online? If you do, you should check out the Honey browser extension. Honey is one of the best platforms to help you save money while shopping.
Honey works in the background, watching for promo codes and offers on items you purchase online. It locates and unlocks these codes and applies them when you make a purchase.
Honey partners with over 30,000 popular merchants, so there are plenty of opportunities to save.
It's easy to save with Honey. Just install the extension, click on the items you want to buy, and put them all into one convenient cart – even if they are from different stores.
Use Honey to save at all your favorite stores like:
Best Buy
Target
Walmart
GameStop
Adidas
Sephora
You can even use the extension to find free pizza codes, or other significant discounts to save money on a pie.
According to their website, Honey finds members an average of $126 in savings each year and an average discount of 17.92 percent. It may not sound like a lot of savings, but every little bit adds up.
Read our Honey app review to learn more about the platform.
3. Swagbucks
Swagbucks is one of my favorite online rewards sites because it's easy to use and you can make money by doing a variety of short tasks.
For each task a customer completes on the site, they earn points which is commonly referred to as 'Swagbucks' (SB). Swagbucks are then collected and can be redeemed for gift cards.
Swagbucks also has a section on the site for customers to redeem coupons. Visitors earn 25 SB's for each coupon redeemed with a chance for an additional 1 SB for each coupon printed up to a maximum of 50 coupons.
A few of their popular coupon categories are:
Popular brands like Colgate, Clorox, Pop Tarts, and Energizer are among the coupons available to be redeemed. SB's are rewarded once a coupon is used in a store.
However, be aware that it can take between 8-12 weeks for a credit to show up in a Swagbucks account.
This is a great opportunity for shoppers because you can save money with the coupons and also earn free gift cards after earning points for shopping online.
You can read our Swagbucks review to learn how the platform works and maximize earnings.
4. Ebates
Ebates (now a part of Rakuten) offers coupons and cash-back deals for popular retailers. The site lets you know exactly how much of a discount is available with every eligible site you visit.
You can shop online through the site to utilize coupons or download the Google browser extension and activate available offers when they pop us (usually when you visit a site with a deal).
The cash back you earn will be automatically applied during checkout. Shoppers can also browse the different offers Rakuten has on their website as well.
Customers can be paid either by check or PayPal. Be sure to check out the 'Daily Hot Deals' section to learn of the newest chance to save.
Rakuten works with a variety of popular retailers, including:
Amazon
Best Buy
Dell
JC Penney
Sephora
Target
Walmart
You can also earn cash for referring friends. For each friend who joins and spends at least $25, you receive a $25 bonus. Rakuten partners with over 2,500 different stores, so the opportunities for savings are there.
You can read our Rakuten review to learn how the platform works and maximize earnings.
5. Amazon Coupons
Did you know that the online retail giant offers coupons? The Amazon coupons section of the site allows you to save money on a variety of products available to order on Amazon.
Offers are either a percentage off or a dollar amount, depending on the promotion.
This is a great site to use to pair with an Amazon Prime membership if you frequently shop on the site.
Make sure to keep an eye on expiration dates because Amazon has the right to modify or cancel coupons at any time.
*Related: Like to use your phone to save money shopping? Read our guide on the top apps to scan grocery receipts for money to reduce food costs.*
If you're planning on making a purchase through Amazon, I recommend checking out the coupons section. It only takes a few seconds, which is worth it to save some money.
As with most coupons, customers may have to pay a sales tax or shipping and handling when using an Amazon coupon. Most promotions are typically only one coupon per customer.
Amazon does a great job of letting customers know how many items are eligible as well.
6. Groupon
Most everyone has heard of Groupon. You won't save money on groceries with Groupon, but the platform is one of the best sites to save money in other areas, such as:
Beauty
Entertainment
Restaurants
You can also use Groupon to save money on travel. Simply go to the Groupon site and type in the name of your city, or the one you want to visit, to locate deals.
If you buy a deal, you can usually apply it to a total of three coupons if you want to increase your savings.
Groupon also has a coupons section of their site. These vary from physical retailers to online retailers like Amazon or the Microsoft Store. If you've done an internet search for 'cheap vets near me' you may also find that Groupon often has specials for animal care.
7. LivingSocial
If you've ever used Groupon, then you've likely heard of LivingSocial. The LivingSocial platform operates similar to Groupon and offers deals on dining, travel, events, and more for as high as 80 percent off.
Sites like Groupon and LivingSocial can send deals straight to your email address when you sign up.
Just enter a city or ZIP code to pull up all the LivingSocial discounts in your chosen area. You can also locate deals based on subject, such as spa or travel.
I find it's best to use LivingSocial in conjunction with Groupon to find deals. They're both free coupon websites, so it's no cost to you.
8. Red Plum/RetailMeNot
Red Plum is currently in the process of rebranding and will soon be known as Retailmenot.com/everyday. Despite the name change, Red Plum plans to keep offering coupons and local deals to users.
Saving Money is Easy With Trim
Do you feel like you pay too much for your cable bill or gym membership? Let Trim save you money on the memberships and subscriptions you don't use.
The average Trim user saves $30 per bill with this handy little app!
Trim can negotiate lower prices for you with Comcast, Time Warner and more. Try Trim today!
Their categories for coupons include frozen food, beverages, health and drug, and pantry food. Some of the latest coupons available range from $0.55 to $2.00 off a purchase.
Red Plum also has a mailing list so coupons can be sent directly to your home, depending on the retail partner.
*Related: Need a cheap place to make copies? Read our guide on the cheapest places to make copies near me to find the best options to save money.*
If you're looking for the best printable coupon sites, Red Plum is worth considering. All that's needed is an application, which is available for download right on the home page.
After following a few prompts from the app, coupons will be available for print right to a home printer.
9. ShopAtHome
ShopAtHome is another site that rewards shoppers with cash back on their purchases. A $10 welcome bonus is offered to any shoppers who spend at least $25 at any store featured on the ShopAtHome website.
Shoppers must receive a minimum of $0.25 cash back for this purchase, and it should be completed within 30 days of registration. The $10 is rewarded as an Amazon gift card.
A welcome reward like this makes ShopAtHome one of the best coupon sites to use.
Each coupon redeemed at a store earns a shopper $0.10 cash back and $0.01 for every coupon printed. ShopAtHome maxes out at 50 coupon prints per day.
The site doesn't put a limit on how many coupons can be redeemed daily, though. That's a pretty great deal for a free coupon website. The site has nearly 70 different coupons totaling close to $110 in savings.
*Related: Want coupon codes to pop up for you when you're about to buy something? Try adding Wikibuy to your phone and computer to save more money.
10. Slickdeals
Slickdeals has a catchy name and does a pretty good job living up to it. The Slickdeals platform is filled with both deals and coupons. A deal is categorized as a discounted price on an item sold on the site.
And of course, a coupon is either a code or a printable sheet of paper.
Deals are listed on the homepage while coupons have their own separate section. Slickdeals has thousands of coupons, so the best way to search for what you want may be to filter by their ratings.
The site uses a thumb rating system with five representing the highest and zero representing the worst.
Slickdeals offers a ton of BOGO (buy one get one) deals as well They also bundle items so users can get discounts so a three for $20 deal is very common on the site.
One unique feature of ShopAtHome is their forum section. The forum section allows you to communicate with other members to find deals.
11. SmartSource
SmartSource is one of the best grocery coupon websites as they are filled with different household items, and works similar to Coupons.com. Create an account with Smart Source and they will track how many coupons you clip online along with your total savings.
The platform makes finding coupons very simple. You can filter by a specific brand, or locate special deals in your area.
This site makes it easy for customers to share a coupon on social media as well. Smart Source doesn't allow pairing their paper coupons with their digital coupons, so you must use one or the other.
12. Frugaa
Popular savings categories on Frugaa include beauty, clothing, pets, and shoes. They offer more variety of coupons than a few of the other best coupon sites on this list.
*Related: Want to order dinner in, but don't want to spend much? Read our review of the top choices for food delivery near me to save money and stay out of the kitchen.*
To use a coupon, search for your favorite store, select your preferred coupon, and apply it at checkout. Some deals even include free shipping. Frugaa is a perfect way to help manage a family budget and save money on essential everyday products.
Frugaa currently has over 42,000 active coupons ready to be redeemed, and 8,000 of them come with free shipping. My favorite part of the site is they tell you right on the home page the average savings you can expect.
Bottom Line
Coupon sites have evolved and make it easy to save money. Some savings are bigger than others, but customers can find some great deals without putting forth too much time and effort.
If it's challenging to stay under a budget, these couponing sites can help. You may be surprised what kind of deals you can find. You might even opt to use some of these sites weekly to save on regular household purchases.
Wikibuy compensates us when you sign up for Wikibuy using the links provided.
What other sites would you add to our list of best coupon sites? How else do you save money on your shopping needs? How much time do you spend looking for deals when buying an item?
The following two tabs change content below.
Choncé is a freelance writer who's obsessed with frugality and passionate about helping others increase their savings rate, eliminate debt, and work toward financial stability. She chronicles her journey with balancing motherhood, work, and finances on her blog, MyDebt Epiphany.com