I was shopping online for a family member's birthday last week and found the perfect item at Target. Shipping was free and it would arrive the next day. How can you not love shopping online? I love it almost as much as I love to save money, and there's a neat little app that helps me do both. Capital One Shopping (formerly Wikibuy) is a browser extension growing in popularity that lets you cut costs on your shopping needs.
While shopping online is great, its one downside is the time it takes to compare prices to find what fits in your budget. The Capital One Shopping Chrome extension acts like a personal assistant to help you find low prices.
The extension helps you do that by comparing prices at multiple retailers, identifying coupon codes, and more.
If you're looking for a helpful platform to simplify your shopping experience and save money, our Capital One Shopping review shows how the extension makes online shopping even easier than it already is.
What is Capital One Shopping?
Capital One Shopping is a brower extension that aids people when buying items online. The service started as Wikibuy in 2014, but exploded in popularity after its acquisition by Capital One in 2018.
While Capital One provides mainly banking products, they also saw the value that mobile price comparison tools offer consumers.
Capital One Shopping uses real-time data from other users to help you find the best available deal on items you need to purchase.
If just one customer finds a coupon that helps reduce the price of an item, the whole community benefits by getting access to the savings too.
Coupon codes are sometimes automatically added to your cart, but occasionally have to be manually entered from the browser extension.
You can use the extension on a variety of browsers. They also have an app you can use when shopping on your phone.
The best part of Capital One Shopping is that it's free to use. Add that to the potential savings, and it's one of the best money saving apps to use when shopping online.
Benefits
Logo
Capital One Shopping
Save more when you shop!

Snag better prices automatically on the things you buy with valid discount codes.


How Does the Extension Work?
Capital One Shopping is simple to use. Once you add the Capital One Shopping browser extension, it's easy to start saving money right away.
The extension works with any of these browser types:
Mozilla Firefox
Safari
Microsoft Edge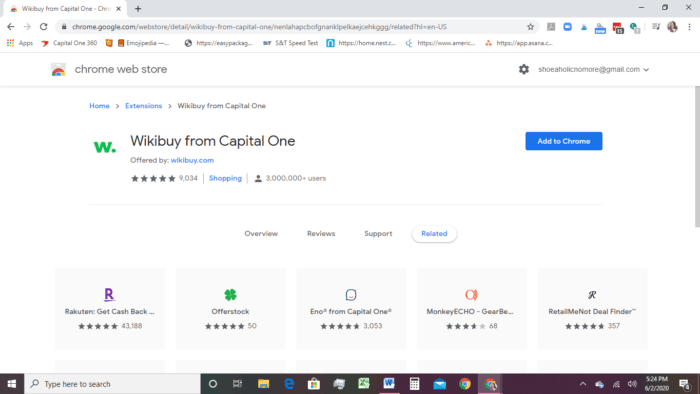 Within ten seconds of viewing a product page while shopping on Amazon, Target, Home Depot, or Best Buy, notifications pop up on your webpage notifying you of potential savings.
If you purchase an item on Amazon, for example, the extension shows you reviews from other purchasers. It also shows you reviews from YouTube, and other sources, to better inform you of the product.
When you buy an item, the app works to find available coupon codes online and applies those to your purchase to further increase your savings.
Another terrific feature of Capital One Shopping is that you can earn loyalty credits when you shop from its portal. It works a lot like Rakuten in this way.
Credits vary by store. You can redeem these credits for free gift cards. It's not cash, but it's free money to spend at other retailers.
You can use Capital One Shopping on your Android or iPhone device as well as a desktop and it's always free.
One thing I like about Capital One Shopping is that they provide the final price including shipping and taxes along with an expected delivery date for the items you order.
Key Features
There are several features of the browser extension you'll want to start using right away.
Universal Product Search
One way Capital One Shopping can help you save is by visiting the product search section. Enter what you're looking for to see the potential savings.
The tool lets you see all the different stores selling the item and reveals the best possible price. You can also use Capital One Shopping to scan an item's barcode.
Just scan the code and you'll have instant access to the best available prices from top retailers.

Today's Featured Offers
If you want to browse and haven't narrowed down the item you're looking for yet, Capital One Shopping's featured offers section can be an excellent way to find deals.
Some current offers are free shipping, $50 off, or even 20-40 percent off a purchase.
Price Drop Alerts
If you opt-in, Capital One Shopping notifies you of price decreases on an item you recently viewed or purchased.
This is a great way to save money on something you want to buy, but just haven't pulled the trigger on yet, or want to buy again at a lower price.
If you're waiting for the best available deal, this is a simple way to do it passively since you'll be automatically notified about price drops.
Another way to use Capital One Shopping to your advantage is to add items to your watch list. They'll stay there for up to 60 days so you can see if any deals surface.
Mobile Price Comparison
Mobile price comparison with Capital One Shopping works a little differently on your smartphone than on your desktop computer or laptop.
Here are the steps to take to save when using the Capital One Shopping app:
Go to the Amazon product page
Click on the "share" button at the top of the item's photo. When users click on the button, your phone's menu will come up on the bottom of the screen
Then click on the "message" icon. This creates a text message. The message section will have a pre-populated product link.
In the "To:" section, enter the Capital One Shopping number or choose Capital One Shopping from your contact list.
Send the text
If a better deal is available, you will receive a text message with links to compare prices.
Loyalty Credits
The browser extension has a loyalty rewards system named Capital One Shopping credits. Similar to Rakuten, or Honey, Capital One Shopping gives you a percentage back after certain purchases.
Those credits can be used towards digital gift cards to retailers.
You can see savings like 2.5 percent cash back on a daily basis. Although the savings are similar to sites like Rakuten, and they may even share a few of the same retailers, the offers can't be combined.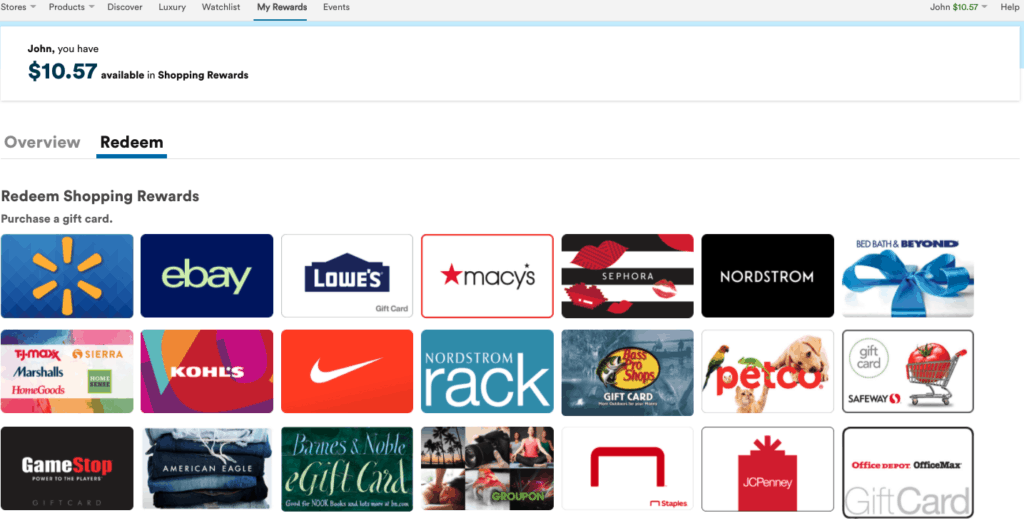 Capital One Shopping users can spend their credits at more than 10,000 stores. Not every purchase is eligible for credits though including:
Guns and ammunition
Real estate categories
Travel insurance
Canceled orders
Subscription renewal
Shipping and tax charges
You also can't receive credit for in-store pickup, Walmart grocery orders, Direct TV, AT&T Business, or AT&T Voice purchases.
Shop Local
Get real-time offers near you with the 'Shop Local' offers on the Capital One Shopping extension. By linking your credit or debit card, you unlock savings at local restaurants and stores.
Customers can use this as another way to earn credit back on purchases. These purchases can also be used to load gift cards to your favorite merchants.
Reviews
Capital One Shopping rounds up relevant product reviews to help decide if you want to make a purchase. The browser extension offers reviews from the following sources:
Amazon
Professional reviews
YouTube
If a website or company wrote a review on the product, it will be listed in the professional reviews section.
This is super convenient if you often look for reviews or a second opinion when making a purchase decision.

Who Can Use the Extension?
The browser extension is for anyone who wants to save money online. It currently only finds savings for United States residents.
Extending this internationally is something that isn't currently available.
Capital One Shopping users have to be at least 18 years old. Certain functions are available to users who live in Puerto Rico.
Is Capital One Shopping Legit and Safe?
You may ask yourself "Is Capital One Shopping safe?," and the answer is yes. Since 2014, Capital One Shopping has been a place for Americans to save money.
Additionally, the extension has top-notch ratings on TrustPilot, with a 4.6 out of a possible five stars.
Can Capital One Shopping Save You Money?
Weighing the pros and cons is a good way to help determine if you want to try a service.
Here are the top things to keep in mind when considering using Capital One Shopping:
Pros
Free to use
Easy to save with little effort
The extension is simple to add and remove
Receive credits to use at your favorite stores
Savings offers for both desktop and mobile users
Calculates taxes and shipping in price comparisons
Shop local feature allows you to save at local restaurants
Cons
See savings from stores/sites you're unfamiliar with
Some savings are based off previous shoppers' coupons
Capital One Shopping may sound too good to be true. It's not. The extension is a simple way to save money easily when shopping online.
If you add the Capital One Shopping extension to your browser and don't like the service or want to get rid of it, it's simple.
Open your web browser, go to "Manage Extensions" and select "Remove Extension." Once you do that, the browser extension is removed and no longer collects your data.
If you ever have problems using the service, you can contact help@wikibuy.com for assistance.
Summary
Is Capital One Shopping worth the time and effort? I would say yes. If you're going to shop, why not save money while doing it?
Capital One Shopping doesn't require much effort and you can save money on everyday purchases.
If you like to compare prices, identify coupon codes, or get loyalty credits back on your shopping, the browser extension is an easy way to help manage your budget.
What's your favorite way to save money when shopping online? How do you compare prices on your shopping? What other questions do you have about using browser extensions to cut costs?
*Capital One Shopping compensates us when you sign up for Capital One Shopping using the links provided.