If you're trying to save money or get cash back when shopping, there are many strategies you can use. One of the easiest options is signing up for a cash rebate app to earn money when you make purchases. Rakuten, formerly known as Ebates, is the ultimate cash back app since you can use it for anything.
If you want to get cash back on your purchases, our Rakuten review shares how the site can work for you.
What is Rakuten?
The Rakuten app is one of the top cashback sites. It is free to use.
When you use the Rakuten portal to make purchases, you receive rewards. You can earn anywhere between one and 40 percent cash back on your purchases.
Founded in 1998, Rakuten works with stores that pay the app a commission for referrals. Rakuten then shares the commission with users in the form of a rebate.
How Does Rakuten Work?
It's easy to sign up for Rakuten and immediately start earning cash back. All you have to do is download the Chrome plugin (if using Chrome) or provide your email and create a password.
When you're ready to cash out your rewards, you'll need to provide your PayPal email address. You can also provide your home address if you want a paper check.
After installing the extension, you can shop online like you normally do. The extension will automatically apply discounts and promotions to your purchases. It will also add up what you spent and deposit cash back into your account.
If you don't want to download the extension, you need to login and use the site to search for your preferred store. You can also install the app on your phone if you like shopping from a mobile device.
The app doesn't add extra costs to your purchases. It's free to use and helps you earn rebates on items you buy.
Which Stores Partner with Rakuten?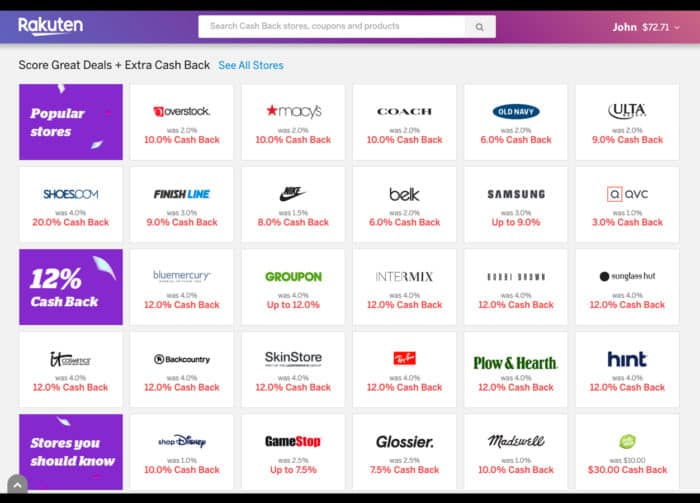 Many stores partner with Rakuten. The site works with over 2,500 retailers. Some of their most popular partnerships include:
Expedia
Walmart
Groupon
Target
Petsmart
Nike
Dyson
Ulta Beauty
Sephora
Since there are very few places that Rakuten doesn't work with, it's hard to find a store that won't give you cash back.
How Does Rakuten Make Money?
When Rakuten refers you to a company through their website or extension, they receive a commission.
Just like you can earn referral points or cash by sending friends and family to certain websites, Rakuten can as well.
Rakuten then takes the money that they earned and splits it with their users by providing cash back on purchases.
How You Make Money with Rakuten
There are several ways to earn money with Rakuten. The first way is to use the app when making your regular purchases.
You earn points based on the available deals and promotions. Typically, you can earn at least one to ten percent cash back at most retailers.
The second way to make money with the Rakuten app is by signing up. Currently, they offer a $10 bonus to new users. That means you automatically qualify for cash via PayPal or check.
Another awesome way to earn money is by referring friends and family. If they use your referral code, you earn money. While the promotion changes from time to time, you can earn $10 to $25 per referral.
Features
Rakuten has some great features to make earning cash back easier for users.
Browser Extension
Rakuten offers a browser extension. This means your cash back earnings are automated. It also allows you to make purchases directly from the retailer instead of the Rakuten portal.
It's not mandatory to use the extension. However, it is helpful if you don't like logging in to shop.
The extension will also add any available discount codes to help you save money. You can get the extension if you use Chrome or Firefox.
In-Store Shopping
You don't need to shop online to receive cash back. You can install the Rakuten app on your phone to earn rebates on your in-store purchases.
After activating an offer on the site or app and linking a credit or debit card, you can make your purchase. Once you checkout, the retailer confirms your purchase and you receive cash within a few hours or days.
In-store offers are only available for one purchase at a time. You will need to reactivate an offer if you plan on making another purchase. This may be a bit of a hassle, but it's worth it.
Is Rakuten Legit?
You may wonder, "is Rakuten safe to use?" The good news is that it is. The shopping app is certified as compliant by the Payment Card Industry Security Standards Council (PCI). You can also opt-out of location tracking when using the app.
Just like their encryption and security, they have great customer service. This includes a help center and the option to contact them via email or phone.
Pros and Cons
As with any service, there are pros and cons to using Rakuten.
Pros:
It's easy to use. Once you sign up, you can start earning cash back immediately.
You can shop from just about any store and earn cash back.
They have great coupons and promotional periods. In some instances, you can earn 40 percent cash back.
They have a referral program. This means you can earn money for getting friends and family to sign up.
Cons:
They only allow you to cash out quarterly. While this could be good if you like getting a nice check every few months, most people want to cash out more frequently.
Some items don't earn cash back. As with any promotion, exclusions will apply. Make sure you do your research before making purchases you think will earn cash back.
Overall, the app is worth using if you want to get rebates on your purchases.
Rakuten Review
Ease of Use

Flexibility

Rebate Opportunities

Payment Frequency

Support
Summary
Rakuten is an easy to use cash rebate app that gives users up to 40 percent on purchases made online. You won't become rich, but it's a helpful way to save money.
Pros
✔️ Easy to use
✔️ Rebates up to 40%
✔️ Free
✔️ Works with thousands of retailers
✔️ Awesome referral program
Cons
❌ Only pays quarterly
❌ Not all categories qualify
Top Alternatives to Rakuten
Rakuten isn't the only option to earn cash back when you shop. There are other discount code sites that offer shopping rebates. Here are a few cash back apps similar to Rakuten.
Wikibuy
Capital One Shopping (formerly Wikibuy) is a browser extension that helps you find lower prices on the items you want to buy. You can also receive alerts when something you're trying to buy goes on sale.
You can download the extension and use it on any of the following browsers:
Chrome
Firefox
Microsoft Edge
Safari
Unlike Rakuten, you don't get cash back with Capital One Shopping. Instead, you receive shopping credits or gift cards that you can use at certain stores. While this is something to keep in mind if you want actual cash, it is great if you like shopping at specific places.
Read our full Capital One Shopping review to learn more.
Swagbucks
Swagbucks is primarily known as a survey website and app, but they also have a cash back program. The site is free to use. All you have to do is sign up.
You can use their extension or their website to shop at the store of your choosing.
Once your purchase goes through and is approved, you'll receive points. Like Capital One Shopping, you don't earn pure cash back.
However, Swagbucks does offer PayPal credits and Visa gift cards. If you don't have a PayPal account but want cash back, you can request a Visa gift card.
You can use Rakuten in addition to Swagbucks and Capital One Shopping. Since some retailers may offer varying rebates to different portals, it never hurts to compare.
Read our full Swagbucks review to learn more.
Summary
Rakuten is a terrific way to get money back on your shopping. It is free to join. Anyone over 18 can use the app.
You never pay more when you use Rakuten. The site merely allows you to earn cash rebates. With the holidays coming up, Rakuten is a good way to cut costs. It's also a terrific tool to use throughout the year if you want to spend less.
What other cashback sites do you use to save money on shopping? How else do you save on shopping?
*Capital One Shopping compensates us when you sign up for Capital One Shopping using the links provided.