Saving money when shopping online is more important than ever due to rising prices. Using Rakuten, formerly known as Ebates, is one of the easiest ways to keep more money in your wallet.
This cash back app offers several ways to save with online shopping at over 2,500 retailers.
If you want to get rewards on your purchases, our Rakuten review can help you decide if the site is right for you.
What is the Rakuten App?
The Rakuten app is one of the top cash back sites on the market. It partners with many retailers and makes it easy to redeem your shopping rewards.
Better yet, it is free to use.
When you use the portal to make purchases, you receive cash rewards. You can earn anywhere between one and 40 percent cash back on your purchases.
Founded in 1998, Rakuten works with stores that pay the app a commission for referrals. Rakuten then shares the commission with users in the form of a rebate.
How Does Rakuten Work?
It's easy to create a Rakuten account and start earning cash back at your favorite stores.
There are several ways to join the platform. These include:
Mobile app: Download the Android or iOS mobile app
Browser extension: The free cash back button is available for Chrome, Safari, Firefox, and Edge
Online website: Sign up at Rakuten.com by submitting your email address or Facebook details (no software download required)
The rewards app offers exclusive cashback offers not available through the website or extension.
As a new member, you can receive a $10 welcome bonus after spending at least $25 on a single qualifying purchase.
To get free money, you simply activate a shopping session from the Rakuten website, extension, or rewards app. Additionally, the rebate site can apply discount codes to help you instantly save money.
Aside from this extra step, your shopping experience is the same. Plus, there are zero hidden costs.
When you're ready to cash out your rewards, you'll need to provide your PayPal email address. You can also provide your home address if you prefer a paper check.
Read our guide on how to get free money on PayPal to learn other ways to earn quick cash.
Features
The features that an app offers are how it stands out from the competition. Here are some of the top features of this shopping rewards program.
Browser Extension
Rakuten is ultimately a browser extension, and using it in this way can be the easiest way to shop online.
Instead of going to the cashback site to activate a shopping offer first, you can just go directly to the store of your choosing. Then, the cash back button will notify you of the rewards rate.
Next, you tap the button to activate the online shopping session. You shop as you would normally, and the extension automatically applies coupon codes and tracks your purchase to receive cash back.
It's not mandatory to use the extension. However, it is helpful if you don't like logging in to shop.
The extension will also add any available discount codes to help you save money.
You can get the extension if you use Chrome, Safari, Firefox, or Edge.
Read our guide on other top couponing websites to use to save money on your shopping needs.
In-Store Shopping
With Rakuten, you aren't limited to shopping online. You can also save on select in-store purchases.
After activating an in-store cash back offer on the site or app and linking a credit or debit card, you can make your purchase.
Once you checkout, the retailer confirms your purchase. You'll then receive cash within a few hours or days.
In-store offers are only available for one purchase at a time. You will need to reactivate an offer if you plan on making another purchase.
This can be a bit of a hassle, but it's worth it to save money on things you're already buying.
Rakuten Dining
The Rakuten Dining program makes dining purchases eligible for rewards.
After enrolling, your total purchase (including tax, tip, and alcohol) gets five percent back.
To get started, look for the "Dining" section within the in-store offers. Next, pay with your linked credit card or debit card at over 10,000 participating restaurants.
This feature is exclusively available through the mobile app. Fortunately, you don't have to activate offers each time like you do before you make online purchases.
Rakuten Travel
Traveling is getting more expensive. The Rakuten Travel section can help with this by letting you locate travel discounts.
It's possible to find great deals on these travel purchases:
Airfare
Hotels
Car rentals
Cruises
Tours and experiences
Travel gear
You can quickly find travel providers offering bonus cash back and travel coupons.
The platform also has "Travel Thursday" specials. These can be another way to find better prices for your next trip.
Hot Deals
Browsing the Hot Deals section can help you find enhanced cash back offers, promo codes, and special sales.
With Hot Deals, it's easy to find the store with the best cash back rate before shopping. This section can even simplify the task of comparing rates.
Being able to search for deals helps prevent overlooking money-saving opportunities as well.
If you don't see a featured deal, you can also type your desired product name into the search bar to find relevant stores, products, and coupons.
Which Stores Partner with Rakuten?
It is easy to find rebate opportunities with Rakuten. The site works with over 2,500 retailers.
Some of their most popular partnerships include:
Expedia
Walmart
Groupon
Target
Petsmart
Nike
Dyson
Ulta Beauty
Sephora
Since there are very few places that Rakuten doesn't work with, it's hard to find a store that won't give you cash back.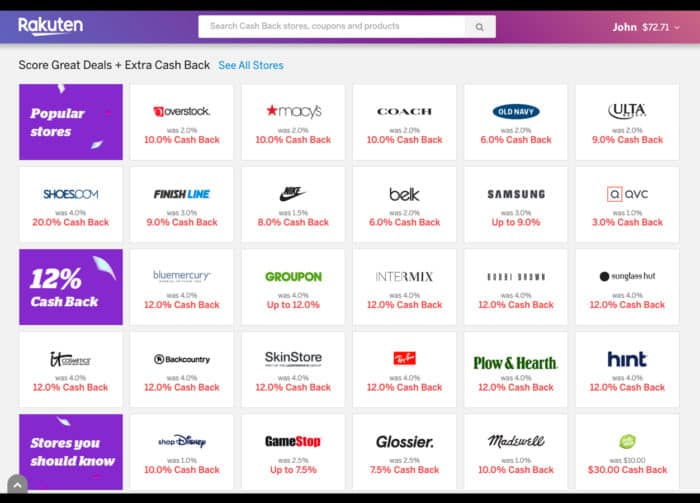 However, it's vital to review the merchant terms and conditions to see which products are eligible for cashback or rewards. For example, not all stores award cash if you're buying a new phone.
They may also offer different rates for categories, and only some categories earn the maximum amount.
How Does Rakuten Make Money?
Rakuten is free to use and doesn't have hidden fees. To generate revenue, it receives a commission when members make purchases through its website.
Online retail is a competitive space, so merchants partner with Rakuten to offer cash back to attract potential shoppers. It's a win-win as the retailer makes a sale while you spend less money.
Just like you can earn referral points or cash by sending friends and family to certain websites, Rakuten can as well.
The rewards program then takes the money that they earned and splits it with their users by providing cash back on purchases.
Rakuten Review
Ease of Use

Flexibility

Rebate Opportunities

Payment Frequency

Support
Summary
Rakuten is an easy to use cash rebate app that gives users up to 40 percent on purchases made online. You won't become rich, but it's a helpful way to save money.
Pros
✔️ Easy to use ✔️ Rebates up to 40% ✔️ Free ✔️ Works with thousands of retailers ✔️ Awesome referral program
Cons
❌ Only pays quarterly ❌ Not all categories qualify ❌ No price comparison tools
When Does Rakuten Pay Users?
Earning money back on purchases is fantastic, but it's essential to know how and when you will receive your cash.
Rakuten pays in one of three ways, including:
Sending a payment to your PayPal account
Mailing a "Big Fat Check" to your mailing address (no extra fee)
Gift cards to select stores and restaurants
A physical check or PayPal Cash can be the best options since you receive cash without fees.
Compared to other cash back sites, the gift card rewards are limited to a handful of retailers. However, this can be the better option if you're eligible for a redemption bonus.
When your balance reaches $5.01, you qualify to receive your earnings. There is usually a waiting period of 60 to 90 days to verify your purchase after the refund period closes.
Unfortunately, you cannot request payment on-demand and must wait for the next quarterly payment date once your balance reaches $5.01.
You can also take earnings via free Shein gift cards if you wish.
The quarterly payment dates include:
May 15 (for purchases posted between January 1 and March 31)
August 15 (for purchases posted between April 1 and June 30)
November 15 (for purchases posted between July 1 and September 30)
February 15 (for purchases posted between October 1 and December 31)
You earn points based on the available deals and promotions. Typically, you can earn at least one to ten percent cash back at most retailers.
A second way to make money with Rakuten is by signing up. Currently, they offer a $10 bonus to new users after making a qualifying purchase.
There isn't a waiting period, and you can automatically receive your bonus cash via PayPal or check.
Another awesome way to earn money is by referring friends and family. If they use your referral code, you earn money.
While the promotion changes from time to time, you can earn $10 to $25 per referral.
Is Rakuten Legitimate?
You may wonder, "is Rakuten safe to use?" The good news is that it is. The shopping app is certified as compliant by the Payment Card Industry Security Standards Council (PCI).
You can also opt out of location tracking when using the app.
Just like their encryption and security, they have great customer service. This includes a help center and the option to contact them via email or phone.
Additionally, this rebate site is part of the worldwide Rakuten affiliate marketing company. They partner with many brands across the world to connect businesses and shoppers so both parties can earn rewards.
How Do You Uninstall the Rakuten App?
The rebate site is an easy way to lower your online shopping costs, but it's not for everyone. If you decide it's not right for you, it's easy to uninstall the app.
You can remove the mobile app or browser extension by following the uninstall instructions for your respective device or browser. The process is easy, but it differs slightly by platform.
It's also possible to permanently delete your account by following these steps:
Sign in to your account
Tap the "My Account" tab
Click "Account Info"
Select "Cancel My Account"
You may choose to no longer use Rakuten if you forget to activate the shopping offers and don't want the app to send messages or track your shopping history.
Pros and Cons
No app is flawless. Here's what to keep in mind when considering Rakuten.
Pros:
Easy to use and free
Works with over 2,500 participating retailers
Earn 40 percent cash back on select purchases
Great coupons and promotional periods
Earn money by referring friends and family
Quick customer service
Cons:
Can only cash out quarterly
Not all purchases qualify for rewards
Doesn't always have the highest cash back rate
No in-depth price comparison tools
Overall, the app is worth using if you want to get rebates on your purchases.
Alternatives to Rakuten
Rakuten isn't the only option to earn rewards when you shop online. There are other discount code sites that offer shopping rebates.
| App | Cost | Best For | Cash Back? (Y/N) | Try |
| --- | --- | --- | --- | --- |
| Rakuten | $0 | Promo codes | Y | Try |
| Capital One Shopping | $0 | Product searches | N | Try |
| Honey | $0 | Amazon purchases | Y | Try |
| Swagbucks | $0 | Earning opportunities | Y | Try |
Here are a few cash back apps similar to Rakuten.
Capital One Shopping
Capital One Shopping (formerly Wikibuy) is a browser extension that helps you find lower prices on the items you want to buy. It also sends alerts when something you're trying to buy goes on sale.
You can download the extension and use it on any of the following browsers:
Chrome
Firefox
Microsoft Edge
Safari
A mobile app that lets you earn rewards on select in-person purchases is also available. The app even lets you compare prices from online vendors.
Unlike Rakuten, you don't get cash back with Capital One Shopping. Instead, you receive shopping credits or gift cards that you can use at certain stores.
While this is something to keep in mind if you want actual cash, it is great if you like shopping at specific places.
Read our Capital One Shopping review to learn more.
Honey
The Honey app has many similarities to Rakuten. It lets you earn cash back through the Honey Gold program and applies coupon codes at checkout.
However, the Honey Gold redemption minimum is $10. This is higher than Rakuten's minimum payout requirement.
Related: Read our comparison of Honey vs. Capital One Shopping to learn how they stack up.
You can redeem your earnings for PayPal cash or gift cards. It's worth noting that the gift card selection is far more extensive than what Rakuten offers.
This app even has price tracking tools and price drop alerts. It also effortlessly compares prices between Amazon sellers.
Read our Honey review for more.
Swagbucks
Swagbucks is primarily known as a survey website and app, but they also have a rebate program.
The site is free to use. All you have to do is sign up.
You can use their extension or website to shop at the store of your choosing. The app also lets you earn points by redeeming coupons for groceries.
Once your purchase goes through and is approved, you'll receive points. Like Capital One Shopping, you don't earn pure cash back as most of the redemption options are for restaurant and retail gift cards.
However, Swagbucks does offer PayPal credits and Visa gift cards. If you don't have a PayPal account but want cash back, you can request a Visa gift card.
The redemption minimum is 500 points (worth $5) for PayPal and most gift cards. Amazon gift card redemptions start at 140 points for a $1 award.
Read our Swagbucks review to learn more.
Summary
Rakuten is a terrific way to get money back when you shop. It is free to join, and anyone over 18 can use the app.
You never pay more when you use this cashback portal. The rewards site merely allows you to earn cash rebates and save money by using online discounts.
Its low redemption minimum also makes it an encouraging option if you don't shop online often but want to cut costs effortlessly.
How else do you save on shopping?
*Capital One Shopping compensates us when you sign up for Capital One Shopping using the links provided.