11 Legit Ways to Earn Free PayPal Money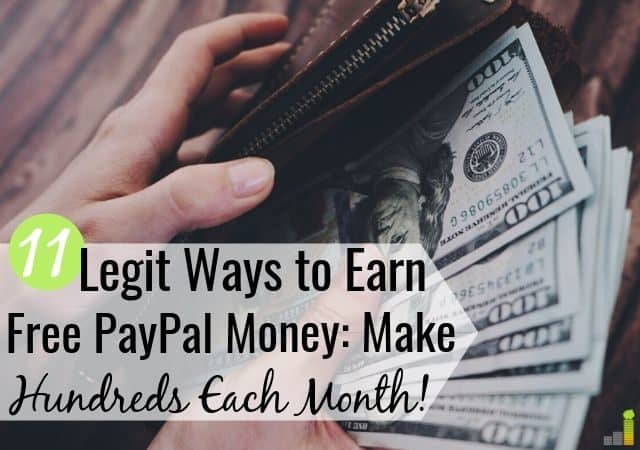 Anyone who likes to make money on the side knows about PayPal. It's an excellent way to receive money for little to no cost and is one of the most common ways to receive cash online. You may not realize this, but it's also possible to earn free PayPal money.
There are dozens of apps that pay free money for performing tasks. These can be as simple as completing a survey, scanning a receipt, or downloading an app.
Yes, this does take time. However, most require minimal effort. If you're looking for a simple way to make extra money, this guide shares a few of the best options to make money with PayPal.
Best Ways to Earn Free PayPal Money Instantly
Do you want to make extra money in your spare time? Below are the best apps to earn free PayPal money instantly. Just make sure to use a secondary email address to avoid overloading your primary inbox with needless emails.
1. Swagbucks
Swagbucks is one of the best ways to earn extra cash. The platform is a loyalty rewards site that pays you to perform small tasks. Examples of common tasks include:
Answering surveys
Using their online shopping portal
Using their search engine
Playing games online
You won't become rich, but these tasks provide an effective way to put a few extra dollars in your PayPal account every month.
The sign up process takes less than five minutes. You'll fill out a few qualifying questions to match you more effectively with survey options. From that point, all you have to do is login and start earning "SB points," also known as Swagbucks.
Once you've reached at least 500 points, you can cash out your Swagbucks for rewards, including free PayPal money. Every 100 points you earn equals $1, with a minimum redemption of $5 for most gift cards or money via PayPal.
You can earn points and redeem them whenever you want. Swagbucks gives you a free $10 when you open an account to start earning. Read our review of Swagbucks to learn more.
Benefits
Logo
Swagbucks
Get $10 when you sign up now!

Earn free gift cards and cash rewards taking surveys, shopping and more.


2. Ibotta
If you do the shopping for your home, Ibotta is a must-have app to earn PayPal money instantly.
Ibotta gives you cash back on certain purchases you make while grocery shopping. You can earn cash back via online shopping or in-store shopping.
The app works with over 350 retailers and online stores, so it's likely that you will find your favorite stores on the app.
When you sign up for Ibotta, you can start browsing for offers and finding items that you need to buy. When you find them, you can click them to "unlock" them. Once you've purchased those items and have taken a picture of your receipt as proof, you'll receive the cash back value.
Another great perk to Ibotta is that you can pay directly from the app if the retailer you're visiting allows it. So, you can do everything right through the app, saving you time and energy.
Ibotta gives all new users $20 when they open an account.
| Avg. Payout | Trustpilot | Cash Out Min. | Sign Up | Read Review |
| --- | --- | --- | --- | --- |
| Avg. Payout | Trustpilot | Cash Out Min. | | |
| 2% to 6% | 1.8/5 | $20 | SIGN UP | Read Review |
3. Survey Junkie
Survey Junkie is a survey site you can use to earn extra cash in your spare time. If you want to make PayPal money fast, Survey Junkie is a good option to consider.
You can make money via taking surveys, as well as, testing products and is one of the top options to earn money fast online.
The biggest perks with Survey Junkie are that the surveys can equal up to $1-$3 each survey. You can complete surveys online or via your mobile phone. Survey Junkie has a low payment threshold, so you can cash out with as little as $10 in your account.
Read our Survey Junkie review to learn more.
Benefits
Logo
Survey Junkie
Earn $50+ per month

$1 per survey. Cash out fast with low redemption minimums.


4. InboxDollars
InboxDollars, like Survey Junkie, is an excellent way to earn free PayPal money taking surveys. While it does have one of the highest payout thresholds at $30, you receive a $5 signup bonus when you join.
Here are a few ways you can earn money with InboxDollars:
Reading emails
Playing games online
Watching videos
Shopping online
Testing new products
The emails are the lowest paying, but you do get a few almost every day, so they are the easiest way to get money in your spare time. Once you reach the $30 payout threshold, you can transfer your cash to PayPal.
| Avg. Payout | Trustpilot | Cash Out Min. | Sign Up | Read Review |
| --- | --- | --- | --- | --- |
| Avg. Payout | Trustpilot | Cash Out Min. | | |
| 2% to 6% | 1.8/5 | $20 | SIGN UP | Read Review |
5. Toluna
Toluna is another survey site you can use to earn free PayPal money. With ten million active members, it's one of the largest survey providers in the space.
With Toluna, you can receive 3,000 to 6,000 points for each survey you take. Toluna also offers longer surveys that pay as much as 50,000 points.
One drawback to Toluna is they have a higher redemption amount than some of the other sites on this list. The minimum you can cash out with PayPal is 90,000 points, which equals $30.
If you choose to redeem your points for gift cards to a retailer of your choice, you can do that with a minimum of 30,000 points, which equals $10 in gift cards.
Besides surveys, you can also receive 500 points for opening an account and 15 points if you do not qualify for a survey. You can also earn points for buying apps or magazine subscriptions as well as sweepstakes for points.
6. Rakuten
Rakuten (formerly known as Ebates) is a great site to earn PayPal money instantly for online shopping. If you shop online often, it's a good option to receive cash back.
Signing up is easy, and will take you under ten minutes. Once you've signed up, you can shop thousands of online stores and earn cash back.
Based on where you shop, you can get anywhere from two to ten percent cash back. You can save even more money by using coupons.
The minimum payment threshold is only $5, and you receive $10 instantly when you sign up. You can use this money to buy gift cards or get instant cash in your PayPal account.
Read our Rakuten review here to learn more about the shopping portal.
7. MyPoints
MyPoints, similar to other sites on this list, is a get-paid-to (GPT) site. You earn cash on MyPoints in various ways, including:
Playing games online
Using coupons
Using their online shopping portal
Using the MyPoints search engine
You earn points for each activity that you can redeem for cash via PayPal or gift cards. You can redeem points for free gift cards starting at $1. If you want cash, you must have a $10 balance.
The platform gives new users a $10 Amazon gift card if you make a purchase, via their shopping portal, of at least $25 within 3o days of opening your account.
8. Shopkick
Do you like to use cash back apps to earn money at the store? Shopkick is a free service that gives you points, also known as "kicks," for shopping both in-store and online.
The app is available for both Android and iOS-based phones. You can earn kicks by scanning item barcodes, walking into stores or visiting them online, watching videos, and making purchases. However, you don't have to buy anything at all to earn points.
250 "kicks" is equal to $1 in cash. Once you've reached $20, you can then cash out and transfer the money directly to your PayPal account. You can also use the points to cash in for a gift card if there's something that catches your eye.
9. Decluttr
Reducing clutter around your house is a terrific way to earn spare money.
Decluttr is one of many websites that pay you cash for your junk. The website buys back various items, including:
CDs and DVDs
Used phones
Books
Legos
Tablets, including iPads and Kindles
Video games and consoles
To see how much you can receive for your items, go to the site, and take their quick survey to see what Decluttr will offer. The questions are quick and ask simple things like how old the item is and if it's damaged.
Once you fill it out, Decluttr will give you a quote and you can ship your item directly to them for free. Once they receive your item, they will pay you in cash via PayPal or direct deposit.
10. Gigwalk
Gigwalk is like a survey site for extroverts. If you find yourself out and about often, you can download the Gigwalk app and complete "gigs" to earn money.
While tasks vary, you complete various gigs around your city. These could include taking photos of shelves at the grocery store or finding the current price of milk.
All you have to do to start as a Gigwalker is sign up and connect your PayPal account. Once you've done that, you can begin accepting new tasks in your city right away.
When you complete a gig and it's approved, Gigwalk transfers the money into your account. There are no waiting or thresholds to meet.
11. UserTesting.com
UserTesting.com is an online platform that pays you to review websites. You can earn $10 per review, and can even perform reviews on your phone if you download the UserTesting app.
UserTesting is free to join. However, you will have to perform a pre-qualifying review before being eligible for others. This can take a few weeks for approval, but UserTesting.com pays for this initial review.
If you pass, you'll start receiving other website reviews instantly.
You don't have to wait to reach a payment threshold to redeem earnings. Once you've completed a review and it's approved by UserTesting, you'll receive the money in your PayPal account, making it one of the best micro task sites to use to earn cash.
While you won't make much from this site, it can give you a few extra bucks for your budget.
Summary
The above options merely scratch the surface of ways to make money with PayPal. You can pursue a side hustle to earn money, but the above options require less work and often provide money instantly.
You won't become wealthy with any of the above options. However, if you want extra spending money, or want to boost your savings account, these ways to earn free PayPal money offer a good solution.
What are some other ways you like to earn free cash? How do you find lucrative side hustles?
The following two tabs change content below.
Kim Suazo
Kim is an online business manager and freelance writer that focuses on personal finance, productivity, and running an online business as a mom and entrepreneur. She shares tips and tricks to help women work less on their business while scaling their income on her blog, TheEntrepremomer.com
Latest posts by Kim Suazo (see all)