With the prominence of online scams, free cash often sounds too good to be true. However, there are ways to earn free PayPal money to make ends meet.
Various legitimate sites let you earn money by completing simple tasks. These platforms distribute earnings via PayPal, gift cards, and more.
Our guide shares a few of the top options to earn cash in your free time.
What Are the Best Ways to Earn Free PayPal Money Instantly?
There are many opportunities to make extra cash when you're not busy. The best way to monetize downtime is to use get-paid-to sites (GPT) that pay you to do small jobs.
Many platforms let you withdraw earnings in PayPal cash or gift cards. As a preview, here are the top choices to make money in your free time.
| Site | Best For | Bonus? | Minimum Redemption | Try |
| --- | --- | --- | --- | --- |
| Swagbucks | Small tasks | $10 | $5 | Try |
| Upside | Gas rebates | No | $10 | Try |
| Survey Junkie | Surveys | No | $5 | Try |
| Pinecone Research | Product Testing | $3 | $3 | Try |
| Honey | Finding deals | No | $10 | Try |
| InboxDollars | Watching Videos | $5 | $30 | Try |
| Toluna | Sweepstakes | Varies | $30 | Try |
| Rakuten | Rebates | No | $5.01 | Try |
| Branded Surveys | Daily Polls | $1 | $5 | Try |
| MyPoints | Online Shopping | $10 | $25 | Try |
| KashKick | Money-saving deals | $1 | $10 | Try |
| Decluttr | Selling Devices | No | N/A | Try |
| UserTesting | Testing Websites | No | N/A | Try |
Keep the following in mind when looking for opportunities:
A small processing fee might be deducted when receiving your payout
You won't become wealthy, but you can earn some beer money
Using a secondary email address can keep your main inbox clean
Be wary of offers that seem too good to be true or ask for private information
You can often transfer earnings to your Venmo or bank account if you prefer
Here are the top ways to earn free PayPal money instantly.
1. Swagbucks
Swagbucks is one of the best sites to earn extra cash. The platform is a micro-task site that lets you earn points, known as SB points, for completing small tasks.
Examples of typical tasks include:
Taking surveys for money
Using their online shopping portal
Playing games online
Using their search engine
The site offers nearly 20 ways to make money, so you're likely to find opportunities to earn PayPal cash.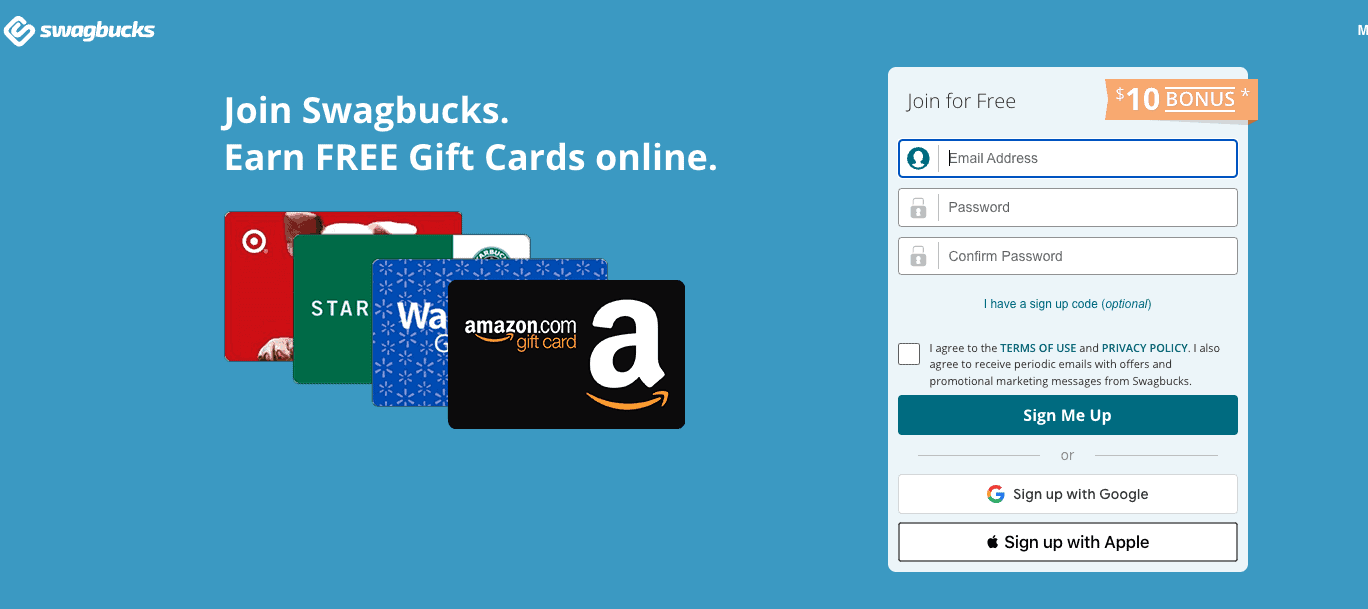 The registration process takes less than five minutes. You'll fill out a few qualifying questions to match you more effectively with survey options.
After you create your account, you can log in and start earning. Every 100 points you earn equals $1.
Once reach at least 500 points, you can cash out your points for money. Some retailers let you cash out with a minimum redemption of 300 points.
The site also gives new users a $10 sign-up bonus after making a qualifying purchase through its shopping portal. You can redeem earnings via gift cards, free Google Play points, or PayPal cash.
Read our review of Swagbucks to learn more.
Benefits
Logo
Swagbucks
Get $10 when you sign up now!

Earn free gift cards and cash rewards taking surveys, shopping and more.


2. Upside
Upside is a top choice to save money on fuel. If you don't need or want a side gig, the app is a terrific way to get free PayPal cash fast.
Upside specializes in helping users get rebates on gas purchases. Here is how the app works:
Find a participating gas station near you in the app.
View current prices.
Pay at the pump with a linked credit card or debit card.
Enjoy up to $0.25 savings per gallon. In some cases, you can earn $0.35 back per gallon.
You must use the promo code FRUGALRULES25 to earn the rebate.
It's easy to find offers with the app's interactive map and save an extra $0.25 per gallon. You can also take advantage of any payment card rewards or loyalty discounts.
The map even shows current prices for participating stations. Real-time prices and current shopping offers can make it easy to find a lower gas price.
This money-saving app also offers cash back at grocery stores and restaurants.
You will need to scan your receipt to receive credit. Some retailers offer a check-in option, so you don't need a receipt and can access your rewards sooner.
Redemption options include:
Bank transfer
PayPal cash
Gift cards
You can redeem earnings to PayPal once you reach $15. If you choose a gift card or bank transfer, you can redeem earnings once you reach a $10 balance.
Furthermore, consult our guide on ways to get free gas to identify other ways to reduce your fuel expenses.
Read our Upside app review to learn more.
3. Survey Junkie
Survey Junkie is one of the top money-making apps in the space. The site works with market research companies to get feedback on products and services.
This platform primarily has surveys, but you can also make money via product testing. However, there aren't as many opportunities for paid product testing.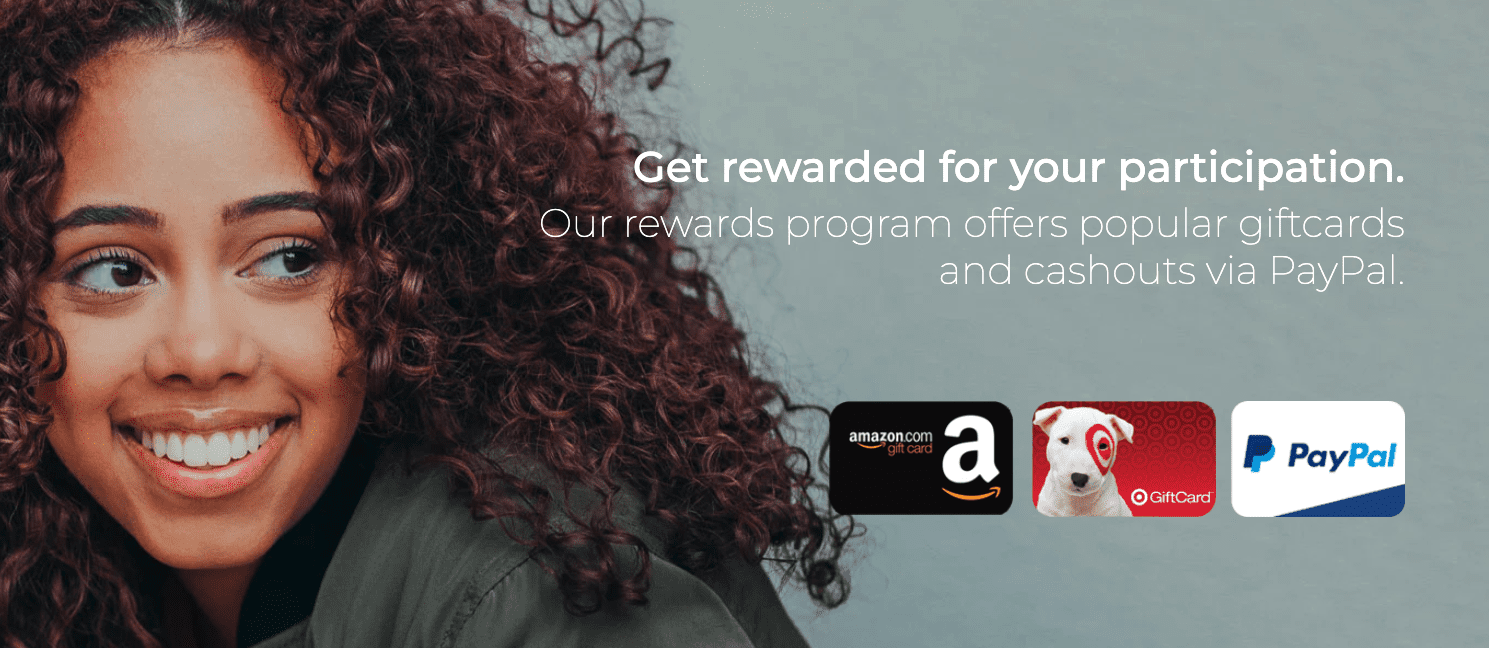 Like Swagbucks, 100 points equals $1 of earnings at Survey Junkie. Most surveys offer 100 to 300 points, while others award up to 500 points. Earning more points is better but may not be worth your time.
Each opportunity tells you how long it will take to complete, so keep that in mind as you consider which surveys to take. The site regularly adds new surveys throughout the day.
Survey Junkie has a low minimum redemption of $5 or 500 points. With surveys ranging from 100 to 300 points, you can quickly amass enough earnings to cash out.
Like other online survey sites, you can transfer funds to your PayPal account or choose a gift card from selected retailers.
Read our Survey Junkie review to learn more.
Benefits
Logo
Survey Junkie
Earn $50+ per month

$1 per survey. Cash out fast with low redemption minimums.


4. Pinecone Research
Pinecone Research is one of our favorite ways to get free PayPal money. It's available on an invite-only basis or through our link. This allows them to them be more selective and offer better opportunities to earn rewards.
The platform offers paid surveys and product testing. Testing products often pays more and can range from trying a not-yet-sold food product to evaluating other items.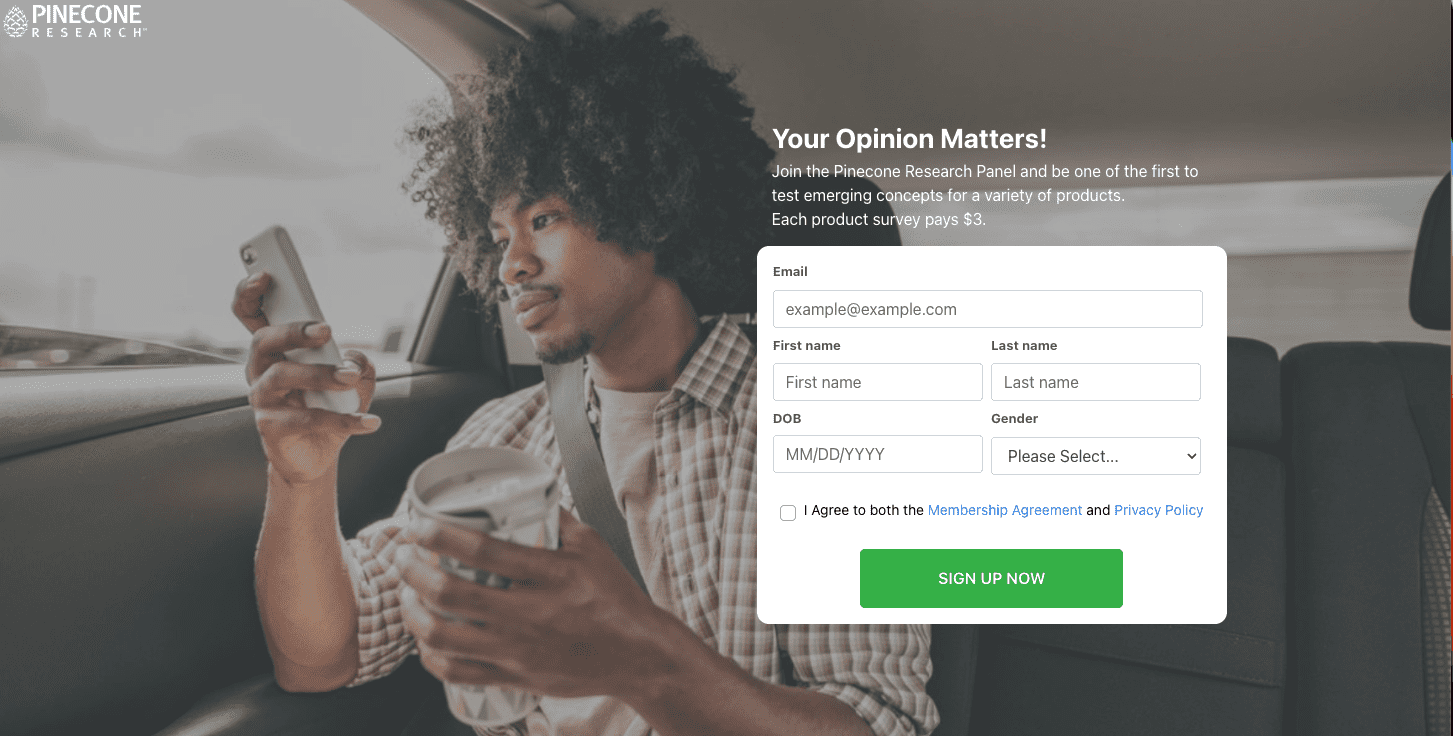 These opportunities aren't available frequently, so you want to jump on them when they are offered.
Every 100 points equals $1. All surveys pay 300 points, which is the platform's minimum redemption amount.
You must have earning activity at least once every 12 months to avoid having your account deactivated. Earnings can be redeemed via PayPal or paper check.
Read our detailed Pinecone Research review to learn more.
Benefits
Logo
Pinecone Research
Earn $3 per survey!

Get paid for your opinion. Earn points to redeem for cash or merchandise.


5. Honey
Honey is a helpful tool to use when shopping online. The browser extension works in the background while you shop, helping you find better deals.
If you look online for coupon codes, you know how frustrating it is to waste time on discounts that don't work. Honey solves this by scouring the web to find active discounts.
When you make a purchase, it applies the promotion, allowing you to save money and earn cash. You can also use the extension to create price drop alerts.
The cash back shopping portal is free to use, and you can redeem earnings once you reach a $10 balance. You can withdraw earnings via free gift cards or get paid via PayPal.
Read our Honey app review to learn more.
Benefits
Logo
Honey - find active rebate codes
Earn free gift cards!

This popular browser extension finds active discount codes to help you save money shopping online.


6. InboxDollars
InboxDollars is another popular online rewards site to earn PayPal money instantly watching videos. Swagbucks owns the site, so it operates similarly.
You can earn points in several ways on InboxDollars, including:
Reading emails
Playing games online
Shopping online
Testing new products
The emails are the lowest paying opportunity, but you do receive multiple emails daily. This makes them the easiest way to get money in your spare time.
Swagbucks is more robust in its offerings, but InboxDollars is simpler to navigate and find offers. Conversely, InboxDollars may restrict access if you don't log in at least once over a ten-day period or open one sponsored email.
InboxDollars gives new users a $5 bonus after opening an account. Unfortunately, the site has a redemption minimum of $30.
You can redeem earnings via PayPal or for free gift cards.
Read our InboxDollars review to learn more.
7. Toluna
Toluna is another survey site you can use to earn free PayPal money. With ten million active members, it's one of the largest platforms in the space.
You can receive 3,000 to 6,000 points for every survey you take. Toluna also offers longer surveys that pay up to 50,000 points.
This platform gives all new users an account opening bonus of 500 points. You also receive 15 points for each survey you attempt but don't qualify for.
Users can earn rewards for buying apps or magazine subscriptions. Additionally, Toluna runs regular sweepstakes for points.
The site even has a referral program, allowing you to earn 500 points for every friend you refer.
Toluna has a higher redemption minimum of 90,000 points, which equals $30 in cash. Gift card redemptions begin at 30,000 points, which equals $10.
You can transfer earnings to your PayPal account or redeem them for gift cards.
8. Rakuten
Do you shop online frequently? If so, Rakuten (formerly known as Ebates) is a helpful site that lets you earn cash back on your shopping.
The shopping portal works at over 2,500 stores. Some give back 40 percent of the purchase price.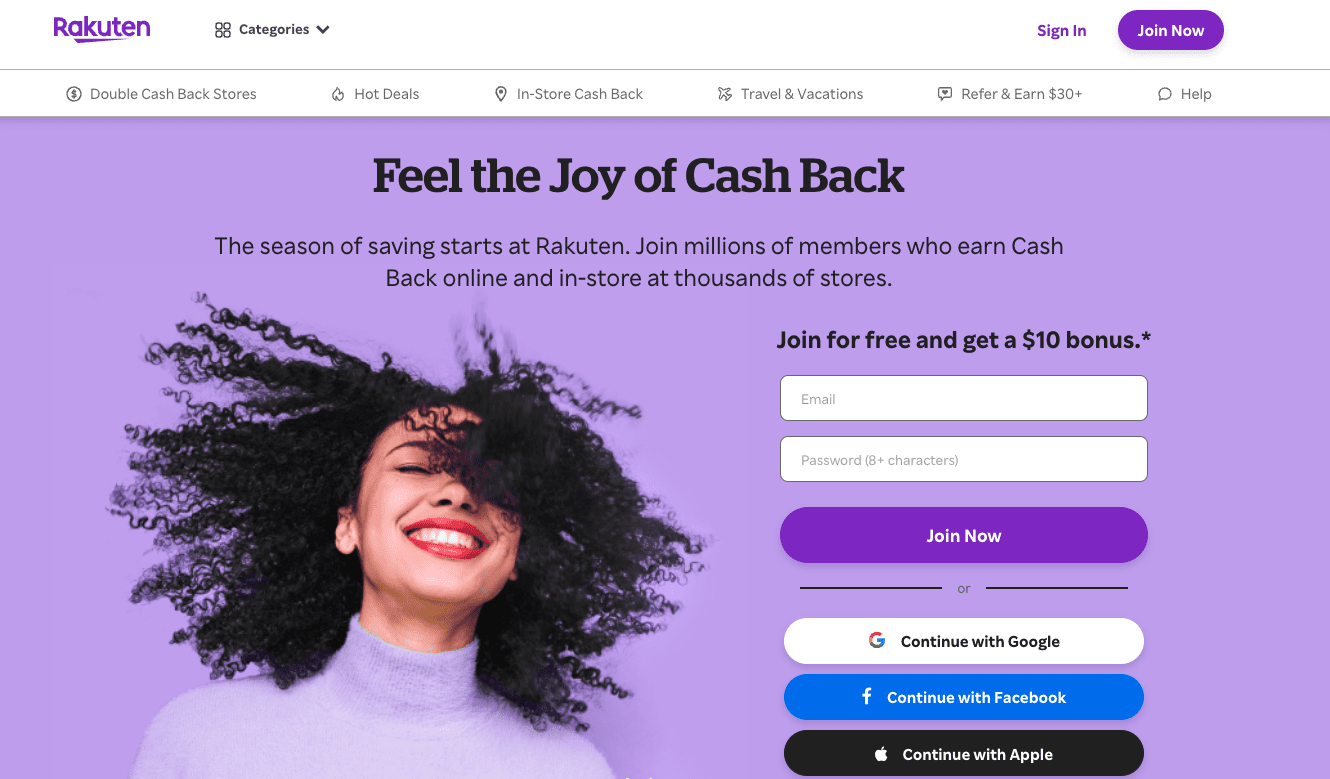 While finding those high cash back opportunities is challenging, the extension often nets you up to ten percent back on your purchases.
Once you sign up, you go to the portal to do your shopping like normal. Each store clearly displays the rebate opportunity. They also have a mobile app you can use in-store to compare pricing.
The one drawback is that Rakuten only sends payouts quarterly, and you must have a balance of at least $5.01 to get paid. Fortunately, you can stack promo or discount codes to increase savings.
Rakuten gives new users a $10 bonus after making a qualifying $20 purchase within 30 days of opening an account. Payment methods are either PayPal or paper check.
Read our review of Rakuten to learn more about the shopping portal.
9. Branded Surveys
Branded Surveys is another popular membership rewards site that allows you to make money online. Like Swagbucks, you can earn free cash by completing small online jobs.
Online surveys are one of the top ways to earn cash on Branded Surveys. Other opportunities include:
Daily polls
Survey streaks
Poll streaks
Referring friends
Every 100 points you earn equals $1 in rewards. You must earn at least 500 points before you can redeem your points. New users receive 100 points when opening an account.
Redemption options include free Amazon gift cards or gift cards to other popular retailers, PayPal, and bank account transfers. You can also redeem points for a Visa gift card.
10. MyPoints
MyPoints is another popular reward site that lets you make money via PayPal. The platform is a hybrid between apps like Rakuten and Upside.
This site was initially a cash back shopping portal. Like Rakuten, you would earn rebates on purchases you make with participating retailers.
MyPoints is now more of a GPT app. Additional earning opportunities include:
Taking online surveys
Scanning receipts to identify active promotions
Playing games online
Daily polls
Unfortunately, there is no easy conversion for points to cash. Points you earn are valued differently.
You earn a $10 sign-up bonus after making a qualifying purchase through its online portal. The minimum redemption level varies depending on how you withdraw earnings.
For example, you can redeem $3 for Amazon gift cards, but it takes $25 to transfer funds to your PayPal account.
11. KashKick
KashKick is another well-known website to earn extra money in your free time. The primary purpose of the site is to offer paid surveys.
However, there are other ways to earn on the platform, including:
Using its search engine
Claiming money-saving deals
Referring friends
Playing online games
KashKick gives new users a $1 sign-up bonus when they open an account. You can redeem earnings once you reach a $10 balance.
One unique feature of KashKick is they only allow you to redeem earnings via PayPal transfer. If you want to earn free gift cards, consider other sites like Swagbucks to make money.
12. Decluttr
If survey sites or shopping apps don't interest you, it's still possible to earn free PayPal money instantly. You can do this by selling a device you no longer use.
Decluttr is a site that buys and sells used items to help people make or save money. The platform buys back various items, including:
CDs and DVDs
Used phones
Books
Legos
Tablets, including iPads and Kindles
Video games and consoles
To see how much you can receive with this money-making app, go to the site and take their short survey to receive a quote. The questions are quick and ask simple things like how old the item is and if it's damaged.
Once you complete the survey, Decluttr will give you a quote. If you accept it, they will provide you with a postage-paid slip to mail the item(s). They will pay you when they receive the item.
You can receive funds via PayPal or direct deposit to your bank account.
13. UserTesting.com
If you're looking for higher-paying gigs and don't want to read emails or watch videos, UserTesting.com is a fantastic alternative. The platform pays you to review websites.
This helps companies improve their websites, allowing them to reach and help potential clients more effectively.
There is no charge to use the site. Fortune 100 companies use it to test their sites, so it's a trustworthy platform to use.
You do have to perform a pre-qualifying review before being eligible. If you pass, you'll start receiving other website reviews instantly.
You can earn $10 per review and perform reviews on your phone if you download the UserTesting app.
Most reviews take 20 minutes to complete, so this is a terrific way to earn $20 or $30 an hour if you're able to do multiple reviews.
You can only receive earnings via PayPal, and you'll receive compensation no more than seven days after completing a test.
Bottom Line
There are many ways to earn free PayPal money in your free time. You won't become wealthy with most of the choices, but they can be a good way to earn extra spending money.
If you need to make more substantial money, consider a true side hustle that you can do on evenings or weekends to supplement your income. Regardless, choose a platform that maximizes your time and earnings.
What are some other ways you like to earn money on the side?