Most people could benefit from making extra money. Fortunately, not every money-making idea requires lots of time or effort. Paid surveys can be an easy opportunity when you want to earn money in your free time.
Surveys can often be completed in under 20 minutes, and you can answer several each day.
This Survey Junkie review will cover how you can share your opinion on the site to earn small amounts of money.
What is Survey Junkie?
Survey Junkie is a paid survey site with more than three million active members. You can take surveys for money and redeem your rewards for gift cards or PayPal cash.
The online surveys come from a market research company that partners with popular retail brands.
For example, you may answer questions about your favorite groceries, restaurants, or streaming services.
Then, your opinions and suggestions about their offerings can help the company make improvements or adjustments.
How to Open an Account
You can join Survey Junkie by visiting their online website or by downloading the Survey Junkie app for your Android or iOS device.
First, connect your email or Facebook account. After that, you will answer profile questions like your age, location, and family size. This process takes up to five minutes.
You receive a total sign-up bonus of 100 points ($1.00) by setting up your account and confirming your email.
To put this bonus into perspective, you need 500 points to start requesting payment for rewards worth $5.

After setting up your free account, you can start answering surveys for money.
How to Make Money With Survey Junkie
It is relatively easy to earn cash with Survey Junkie. Unlike other platforms that offer a dozen ways to make money, Survey Junkie has just two ways to earn.
This streamlined approach allows the platform to specialize in quick surveys.
Additionally, you can open an account at 13 years of age, making this online survey platform a solid way to make money as a teenager.
Paid Surveys
You can attempt multiple surveys each day from your member dashboard. The site shows the payout and estimated completion time.
However, it doesn't show the topic.
Most surveys pay between 15 and 100 points. The average time commitment is between five and 25 minutes.
For each survey, you must answer a series of screener questions to qualify for the full survey. You won't qualify for every survey, but you can earn a few points as a consolation prize.
According to Survey Junkie, you may only qualify for one in five surveys when you are just getting started with the site.
Answering topic-specific profile surveys for topics like technology or health can match your background with relevant surveys and make it easier to qualify.
Once a month or less, you can make extra money with these activities:
Product testing
Online focus groups
In-person focus groups
Phone surveys
You will need to receive invitations to participate in these additional tasks.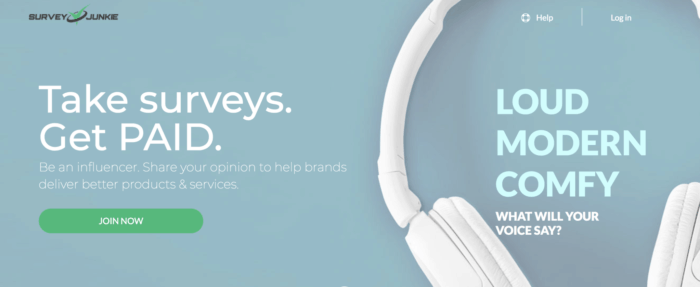 Sharing Your Online Activity
A second effortless way to make money on the side with this survey site is by installing the Survey Junkie Pulse app or browser extension.
You can share your digital browsing habits and earn rewards points.
SJ Pulse automatically tracks these activities:
Searching the internet
Visiting websites
Using apps
Online shopping
View advertisements
You can earn a few extra dollars each month by actively using your devices. Pulse users also get exclusive surveys not available to regular panelists.
To start earning, you must have the extension installed for at least 30 days. If you only use it for a few weeks, you won't earn anything.
It's important to note that your personal information is not shared by using the Pulse extension. Companies receive the data gleaned from you, but it's anonymous.
Can You Really Make Money with Survey Junkie?
Yes, you can make money with this survey site. However, you will need to attempt several surveys each day or week to request routine payments.
The average survey on the site is worth 50 points. You earn more points by taking more surveys or longer surveys, which can offer up to 200 points.
It's possible to earn $50+ per month if you take several surveys each week.
Installing the Survey Junkie Pulse app may help you earn an extra $5 per month.
As a new member, you will also earn points by answering profile questions. These questionnaires can award up to ten points and take a few minutes or less.
The minimum redemption is 500 points for PayPal cash, bank account deposits, and gift cards. This points balance is worth five dollars for either reward.
Survey Junkie is one of the best apps to earn gift cards because of its wide selection and low point requirements.
Your gift card redemption options include:
Survey opportunities update regularly, so members are encouraged to check their profiles often. Points are also credited to your account once you complete a survey, so you don't have to wait.
*Related: Do you like to buy books or movies in the Google Play store? Read our review on free Google Play points to learn how you can earn gift cards to use in the store.
If you have a gamer in your home, you can even earn credits to use on Roblox. Read our guide on how to get free Robux to learn more.
You can also take earnings via a free Shein gift card if you wish.
Is Survey Junkie a Legitimate Site?
A common concern many people have is whether or not Survey Junkie is a scam.
That's a reasonable question for any paid survey site. You want to ensure your information is safe and they're not asking for too much personal information.
Additionally, you want to make sure the site will pay you and that it is a good use of your time.
Using that criteria, Survey Junkie is a legit way to earn money in your free time.
This site has a 4.4 out of 5 Trustpilot score with over 33,000 ratings. It even has a 4.32 out of 5 Better Business Bureau (BBB) rating.
These are some of the highest survey site scores.
Does Survey Junkie Steal Your Information?
Survey Junkie may collect your sensitive information for market research, but it won't reveal your personal identity.
The initial profile survey includes questions regarding the following personal areas:
Children's ages
Employment status
Family size
Household income
Survey Junkie refers to this data as "sensitive information" that is used internally to communicate with you about surveys and tailor more opportunities toward you.
These are also questions typically asked by legit paid online surveys, so it's not a red flag. The information helps ensure you get surveys matched to your profile.
Of course, your opinions and feedback are used for brands' market research. If you're concerned about how, consult their privacy policy before signing up.
Survey Junkie does partner with other market research companies. This means you may receive emails from those partners who have acquired your information for additional survey opportunities.
However, you can minimize the effects this can in terms of filling up your inbox by using an email address separate from your main one.
Pros and Cons
As with any side gig opportunity, there are some things to keep in mind when deciding if you should pursue this option. Here is what to know when considering Survey Junkie.
Pros
Quick, easy, and free
Multiple daily surveys
Cash and gift card redemption options
Low $10 payout threshold
Bonus points for signing up and completing your profile
Cons
Payouts can be low per survey
You have to prequalify for surveys
You can't finish surveys too fast
Overall, Survey Junkie is one of the best survey sites you can use. It's a straightforward site with plenty of opportunities to get free money online.
Alternatives to Consider
Survey Junkie is a terrific option to earn spending money in your spare time. But, it's not the only option. There are lots of survey sites to consider.
Here are several of the top alternatives, which are all highly rated by Trustpilot.
All of the sites let you complete surveys for money. Some apps like Swagbucks provide nearly a dozen ways to make money.
Pinecone Research, on the other hand, focuses solely on surveys and product testing jobs. The latter pays up to $75 per product and is an excellent way to amplify earnings.
Survey Junkie
Earning Potential

Cashout Options

Customer Support

Ease of Use

Availability
Survey Junkie Review
Survey Junkie is an easy to use paid survey site that compensates you for providing your opinion on different products and services.
Pros
✔️ It's free to join ✔️ Has a low $10 threshold to redeem earnings ✔️ Easy to use ✔️ You receive points if you don't qualify for surveys ✔️ Cash and gift cards are available for redemption
Cons
❌ Surveys are the only earning opportunity ❌ You must pre-qualify for surveys ❌ Some surveys have very low payouts
Bottom Line
It's impossible to replace your income with taking surveys, but Survey Junkie is a legit option for getting paid to answer questions.
While it's easy to redeem rewards, this site is best for paying small bills. However, you should consider other online jobs if you want to earn more for your effort.
Which survey sites have you used as a side hustle?