21 Real Ways to Make Money From Home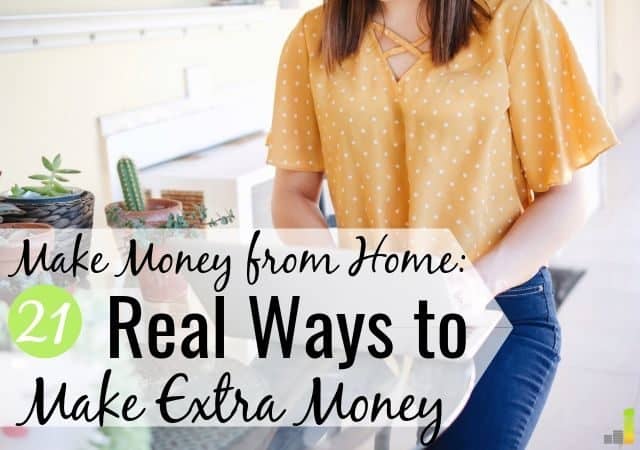 It's the dream of many to figure out how to make money from home. People think there are no real ways to earn a decent living, but it is possible and the flexibility of working from home isn't too bad either.
The biggest roadblock is deciphering which options are legit, and which ones aren't – such as multi-level marketing (MLM) schemes. It's an understandable fear, as you don't want to waste time on a fruitless endeavor.
Some opportunities are easier than others, but each one requires time and effort. If you've ever asked yourself "How can I make money from home?", this post highlights several of the best options to pursue.
Real Ways to Make Money from Home
Are you ready to make money from home for free? There are dozens of options you can pursue. Here are some legitimate ways to earn an income in your pajamas.
1. Start A Blog
Starting a blog is one of the best ways to make money online. You can either blog to earn money on the side or make your living from blogging.
I'm partial to blogging, as having a blog changed my life. I've written extensively about quitting my day job to run a business with my wife; this blog is a product of that business, and it now supports our family.
Like anything, though, you get out of blogging what you put into it. It takes a great deal of work and time to grow a profitable blog. And, you must compete with millions of other bloggers jockeying for traffic, sales conversions, and ad revenue.
Despite the roadblocks, blogging also provides various opportunities to make money beyond the blog itself, including:
Public speaking
Sponsorships
Freelance writing
Writing a book
The best way to start a blog is through Bluehost. The hosting service provides you a free domain name and hosts your site. If you don't have the necessary technical skills, don't worry, Bluehost sets everything up for you with a few simple clicks.
If you sign up through this link, you pay just $2.95 per month for everything you need to start a blog and get it online.
Check out our guide on how to start a blog if you're new and want an in-depth guide of how to monetize your site.
2. Make Money with Surveys
Do you want a flexible side hustle to make money in your free time? If so, paid survey sites are a good choice.
You won't replace your income with survey sites. However, the best survey sites are an effective way to monetize your downtime and earn as much as several hundred dollars per month.
In many cases, you can either redeem earnings in cash, or earn free Amazon gift cards. Below are a few of our favorite survey sites that offer legitimate options to earn cash:
Survey Junkie – This survey site has been in business since 2005 and offers one of the easiest ways to earn rewards. You can redeem earnings once you reach 1,000 points, which is equivalent to $10. Read our Survey Junkie review to learn more about the platform.
Vindale Research – Vindale lets you share your opinion on a variety of options, from restaurants to fashion. This site has a higher than average redemption amount of $50, but their surveys pay higher than most. They also give you $2 to start. Read our Vindale Research review to learn more about the platform.
Opinion Outpost – Opinion Outpost is similar to Survey Junkie, and allows you to redeem earnings once you hit $10. If you prefer gift cards, you only need $5 to redeem. This platform also has quarterly $10,000 prize drawings.
The best way to increase earnings is to sign up for multiple survey sites. Doing so can help you earn several hundred dollars per month. Payouts vary on survey sites, with some starting at $1, up to $50 or more per survey.
Again, you won't replace your day job, but surveys are a good way to earn money in your free time simply by sharing your opinions.
3. Become A Courier
Ok, so this technically isn't a work-from-home job, but it's an awesome way to make extra money. Being a courier is a good option for a stay-at-home parent wanting to earn money or anyone who wants to supplement their income.
Postmates is the top option to find work as a courier. They focus on items in the following categories:
Alcohol
Clothing
Groceries
Take-out meals
You pay no fees to deliver through their platform, and you get to keep 100 percent of the tips you receive. You need to do the following to deliver with Postmates:
Create an account – You provide a photo and background information
Receive a welcome kit – Upon verification Postmates sends you a delivery bag and prepaid card that you use for deliveries
Download the app – You link your card to the Fleet app and start accepting deliveries
Postmates claims you can earn up to $25 per hour as an experienced courier. Even if you fall short of that target, it's a helpful way to make money on the side.
Read our Postmates driver review to learn more about this opportunity.
4. Get Paid to Complete Tasks Online
Similar to paid surveys, one of the best ways to make money from home is to complete short tasks online. While get-paid-to (GPT) sites pay you to take surveys, they offer numerous other ways to earn free money fast, such as:
Using an online shopping portal
Watching sponsored videos
Playing online games
Referring friends
Printing off or redeeming coupons
Reading sponsored emails
Like surveys, you won't become rich with GPT sites, but they're a terrific way to earn money with minimal experience. You can often earn more with GPT sites than surveys as you have multiple earning opportunities.
Here are our two favorite GPT sites:
InboxDollars – InboxDollars gives you $5 when you sign up, and you can redeem once you reach $30.
Swagbucks – Swagbucks offers you $10 when you sign up, and you can start redeeming when you reach $25. The platform lets you take earnings in cash or select from dozens of gift cards.
If you always seem to be on your phone, either platform is a good option.
5. Make Money Delivering Food
Looking for other delivery opportunities besides Postmates? DoorDash is a terrific option.
Similar to other delivery app jobs, you can work as little or as much as you want with DoorDash. You set your own schedule, and have 30 seconds once an order populates on the app to accept it.
You only deliver take-out meals with DoorDash, and not alcohol or groceries as you can with Postmates. If you want to deliver meals with DoorDash you must meet the following requirements:
Your car must have at least two doors
The car must not be older than a 1998 model
Scooters must have a 50cc motor or drive no faster than 30 mph
You must have a government-issued ID
At least one year of driving experience, if delivering by car
You must be at least 18 years old
Read our DoorDash driver review to learn more about this opportunity.
6. Become A Proofreader
Do you have a degree in English or Journalism, or are you good at grammar? One of the best ways to make money from home is to become a proofreader.
There is an endless demand for high-quality content. Whether it be businesses or authors, creators produce content that requires a discerning eye to catch errors that detract from the reader's experience.
If you don't know where to start, Proofread Anywhere is an excellent resource. In it, our friend Caitlyn Pyle shares how to improve in your proofreading skills, and how to land clients.
In most cases, you can earn $25+ per hour as a proofreader, and this is a job you can do from anywhere.
Read our guide on how to become a proofreader to learn more about this opportunity.
7. Get Paid to Go Shopping
How often do you shop online? If you're like me, you do most of your shopping online. While you can't actually make money by shopping, you can receive money back from your shopping.
This is one of the best ways to make money fast from home, because you get money back from shopping you're already doing. Below are our two favorite shopping portals to earn cash on your shopping:
Rakuten– You can earn up to ten percent cash back on your purchases through the Rakuten (formerly known as Ebates) platform. They work with hundreds of retailers, and they give you $10 when you open an account. The main drawback is that Ebates only pays out quarterly.
Ibotta– Ibotta started as a cash back grocery app, but it works at 350+ retailers. The platform gives you $10 when you open an account, and you can cash out once you hit $20.
You won't become rich with these options, but if you're already doing the shopping, you might as well earn money in the process.
8. Make Money as A Virtual Assistant
Are you an administrative whiz and like to work behind the scenes? If you do, then working as a virtual assistant (VA) is a good option to make money online.
A VA is someone who supports the needs of a business. This role encompasses a variety of needs, including:
Email management
Customer service
Scheduling
Invoicing
Social media management
You don't need to be technically inclined to work as a VA, though it does help to increase earning potential. You can expect to earn at least $15 to $20 per hour as a VA, and if you have more advanced skills, expect to earn closer to $30 per hour.
If you want to learn how to become a VA, consider this course from my friend Kayla Sloan. In the course, named 10kVA, Kayla shares the actionable steps she took to grow her business and provides resources for you to succeed as a VA.
Our guide on how to become a virtual assistant with no experience shares helpful tips to learn where to start with this opportunity.
9. Rent A Room…or Your House
Do you have a spare bedroom in your house you don't use? Or do you travel several times per year?
If so, you can make money from your home by listing it on Airbnb. We have family members that do this, and they make close to $200 per night by listing their condo.
If you do it regularly, you can earn even more. It does take some work to clean your property, but much of the income is passive as Airbnb handles most of the heavy lifting for bookings.
Listing your property on Airbnb isn't difficult. You create a free listing by completing a description, adding photos, and naming a price. You also set house rules, so guests know what to expect.
Upon listing, guests can find your property. Airbnb does require guests to provide information to help increase the level of trust.
Read our Airbnb host checklist to learn how to list your property and maximize earnings.
10. Make Money Losing Weight
Are you looking for a unique way to make money while improving your health? You can get paid to lose weight and accomplish both goals at once.
Losing weight is something a lot of people struggle to do. However, money is a great motivator.
With HealthyWage, you bet against yourself to lose weight. The app works simply: you set a goal to lose a certain amount of weight within a specific period.
If you reach your goal, you win the bet. If you don't, you lose the bet.
The average prize is $1,400, according to the HealthyWage website. You can win up to $10,000 by losing weight and keeping it off.
Although only a one-time influx of cash, this is still an excellent way to make money from home while improving your health at the same time.
11. Become A Personal Grocery Shopper
Going to the grocery store is a chore many people like to avoid. If you're a stay-at-home parent or want an option to make money on the side, you can make money by shopping and delivering groceries to those individuals.
With Instacart Shopper, you shop and deliver groceries on your own schedule.
You can choose to be an in-store shopper, but you become a part-time employee of Instacart. The other option is to be a full-service shopper, allowing you to be an independent contractor and deliver groceries.
With tips, you can earn up to $20 per hour. There are other jobs similar to Instacart Shopper that work as an alternative and may even allow you to earn more per hour.
Read our guide on how to become an Instacart Shopper to learn how the platform works and maximize your earnings.
12. Teach Kids from All Over the World
One of the best ways to earn an income online is teaching English. Young and old alike all over the world want to learn English. If you have a bachelor's degree, you can teach English from home.
Various companies pay to teach English online, with EF Education First being one of the best options. In addition to having a bachelor's degree (the field does not matter), you must be a native English speaker.
You must also have access to the following resources:
A computer with reliable internet access
HD external or integrated camera
A headset with a microphone and stable input and output
EF Education First allows you to set your own schedule, though classes often begin early in the morning, and you can choose either a one-on-one or group class setting.
The platform allows you to teach either students or adults. Pay with EF Education First is up to $20 per hour. Teaching from home provides an excellent opportunity to make money without a job, or supplement your income.
13. Test New Products
Companies love to know feelings on a product before launching it to the public. To compensate you for your time, many companies pay you to test their products.
Like survey sites, you won't become wealthy, but product testing is an easy way to make money from home. You may even receive coupons to buy the product if you want to buy it after they release it.
Pinecone Research is one company that pays you to test products at home. Payment varies for the time to test the product, and you receive an additional $3 to complete a survey after testing.
The platform holds $500 bi-weekly prize drawings, as well as $4,500 quarterly drawings. You receive one entry per completed test.
14. Rent Out Your Car
It may seem far-fetched, but one of the overlooked real ways to make money on the side is renting your car. You read that correctly, renting out your car when you're not using it.
You can rent your car through GetAround and earn money.
Here's how it works. If you have a car, you don't always drive; you list it on their platform for people to rent. This is a good option for travelers to your city or someone who needs a car for a day or two.
Similar to Airbnb, you create a free account and list your car. After uploading pictures and a description, you set your price. You can earn up to $800 per month according to their site, and they pay out earnings on the 15th of each month.
The GetAround platform offers $1 million in insurance coverage, but make sure your primary insurer allows for you to rent your car out.
15. Freelance Writing
Good content is worth a lot of money. My wife started our business over ten years ago as a freelance writer, and today we run an advertising agency.
Companies pay good money for professional content. Articles on sites like this can net you at least $100 – $200 apiece, if not more.
That's just the tip of the iceberg, you can make money by creating all sorts of content, such as:
E-books
Speeches
Web content
White papers
You don't need to be an expert to start but having a specialty does help. If you do specialize in a particular field it can be nothing to earn hundreds, if not thousands of dollars per piece of content.
It does take time to build to this level, but if you put in the effort, freelance writing is a very lucrative side gig.
If you want to learn more about finding side hustle jobs for writers, take the course Get Paid to Write for Blogs to learn how and where to start.
16. Create A Shopify Store
A drawback to selling items from home is you must physically store the items. With dropshipping you sell items but you don't hold the product, you merely act as a middleman between the customer and the retailer.
With Shopify, you create a website to facilitate sales to customers. When a person buys an item from your store, Shopify works with the merchant to ship the item to the customer.
This may seem like a lot of work, and it is, but it allows you to take advantage of retail arbitrage and make money from home. Shopify also helps you with a lot of the work needed to launch and maintain your business.
Read our guide on how to make money with Shopify to learn more about this opportunity.
*Related: Do you need an alternative to Shopify? Check out Sellfy to create an e-commerce site and start selling your products within minutes.
17. Online Data Entry
Are you a proficient typer and looking for a way to make money online from home? If so, data entry is a fantastic option.
Make Extra Money by Taking Short Surveys
Taking short surveys in your free time can be an awesome way to earn extra money fast! The instant you finish a survey,
Survey Junkie pays you in cash via PayPal
. 6 Million users and an 8.9/10 Trust Pilot rating prove you can trust them.
You don't need to be a super-fast typist but should be able to type at least 50 words per minute to take advantage of this opportunity. There are numerous ways you can make money with data entry, including:
Entering medical data
Merging information from multiple documents into one
Processing invoices
Simple accounting
DionData Solutions is one option to find data entry jobs. You can also look for local jobs in Facebook Marketplace or tell your friends you're looking for online data entry jobs.
18. Technical Freelancing
Freelancing doesn't always come down to writing. If you have technical skills, this is one of the best ways to make money from home.
*Related: Want a part-time job with benefits? Check out our guide on the best part-time jobs with health benefits to help stretch your budget.*
Technical freelancing spans a wide spectrum, but includes the following:
Coding
Website management
Design
Technical support representative
Word of mouth is an awesome way to find technical freelance jobs. FlexJobs is a good option if you want a paid job board service. Use the promo code "JOBS" to receive 50 percent off the cost.
19. Lower Your Bills
When was the last time you negotiated a lower bill for a service you use? How many services do you pay for that you no longer use?
If you can't remember the length of time or amount, you're overlooking a wonderful way to make money. Earnings are limited based on how much you cut, but there's no reason to pay for something you don't need.
Trim is a service that helps you cut the fat from your spending. The app connects to your bank account and looks for services to negotiate or cut. Users saved a total of over $1 million last month according to their site.
The site is free to use, and they receive 33 percent of the savings they create for you using the service. If you haven't analyzed your bills recently, you may be overlooking hundreds of dollars in savings.
Check out our Ask Trim review to learn more about the service.
20. Invest in Real Estate
Investing in real estate feels like something only uber-wealthy people do. Thanks to crowdfunded real estate investing, most anyone can invest in property.
With Fundrise you can invest in real estate. You don't have to deal with any of the drawbacks of being a landlord. This makes it a win-win situation.
Fundrise requires merely $500 to start investing in real estate and is a great option for beginners or expert real estate investors. You put your money into a portfolio managed by their team of experts.
Read our Fundrise review to learn more about the platform.
Alternatively, Streitwise is another terrific option to invest in real estate, but with at least $1,000. Check out our Streitwise review to learn more about the platform.
Investing in real estate one of the best ways to create passive income, and thanks to crowdfunding it's within reach for most people.
21. Investing in the Stock Market
It's hard to overlook the classic method of investing in the stock market. Like real estate investing, you don't need a lot of money to invest in the stock market.
Not only can you earn money from dividends but investing in the stock market is the best way to build long-term wealth.
If you're new to investing or have nothing to start with, Acorns is an excellent app to use. Acorns rounds up each purchase you make so you can invest the money. The platform allows you to choose from a selection of six different low-cost index funds.
The Acorns app is full of educational resources if you're new to investing, and they even give you a free $5 when you open a new account.
Read our guide on best free investing apps to learn more about Acorns and other apps that help you invest.
How to Make Money from Home
Before you start any new activity, you must know your goal. Making money at home is no different. Your specific goal may be unique, but the most common reason to earn money comes down to one of the two below reasons:
To supplement the income from your day job, or earn extra spending money
To start your own business
A clear understanding of your goal will dictate your next steps and the resources required. Regardless of your situation, you likely need access to a computer or smartphone, along with high-speed internet.
If you plan to start a new business, you will also need:
A dedicated work environment
Self-discipline
Specialized software
Working from home for your job comes with unique concerns compared to simply making money on the side. Read our guide on legitimate work-from-home jobs to learn more about what you may need to start.
Other Legit Ways to Make Money Online from Home
The above list scratches the surface for ways to earn money from home. There are countless other ways, such as:
Online transcription work
Medical coding and billing
Creating apps
Designing and selling crafts, t-shirts, mugs
Launching an online course
Teaching music lessons
Start an in-home daycare
Start an in-home doggy daycare
Create and sell woodworking products
Write a book or e-book
Become a voice-over artist
Work as an in-home call center rep
As you can see, there are various real ways to earn an income at home. Some require more work than others, and some are more profitable than others, but with effort and dedication success is possible.
Opportunities to Avoid
Not all work-from-home opportunities are created equal, however. Below are a few of the ones you want to avoid:
Anything that requires an investment. You want ways to make money from home for free, not an investment "opportunity."
There are dozens of legitimate ways to make money. Choose one of those and avoid anything that asks you to pay any type of fees.
Any type of MLM schemes. MLM companies love to market to people who want to work from home. They promise crazy results and that you simply need to follow their plan to make money.
MLM companies like to tout themselves as one of the best jobs for stay-at-home moms, but it's not the case.
Less than one percent of those who work for an MLM company profit, according to the FTC. MLM apologists love to deny this statistic and claim you can make good money.
That is not a reality for most. The opposite is typically true, as it often leads to debt.
Anything not worth your time. Not every money-making opportunity will work for you. There are easy ways to make money, but there are those that provide little return and are not worth the effort.
It may require trial and error on your part, but it's best to pursue the options that offer the greatest return on investment (ROI) for your time.
Summary
There are countless ways to make money on the side. Thanks to the internet, it's possible to work for anyone and nearly anywhere in the world.
You can either make money online from home or establish an in-home business – it's up to you.
Whether you need a way to make ends meet, earn extra spending money, or want to start your own business, you can do it all remotely. If you think creatively and put in the effort, anything is possible.
What are some ways you earn money from home? How would you benefit from earning an extra $500 or $1,000 per month?
The following two tabs change content below.
John is the founder of Frugal Rules, a dad, husband and veteran of the financial services industry whose writing has been featured in Forbes, CNBC, Yahoo Finance and more.
Passionate about helping people learn from his mistakes, John shares financial tools and tips to help you enjoy the freedom that comes from living frugally. One of his favorite tools is Personal Capital , which he used to plan for retirement and keep track of his finances in less than 15 minutes each month.
Another one of John's passions is helping people save $80 per month by axing their expensive cable subscriptions and replacing them with more affordable ones, like Hulu with Live TV.
Latest posts by John Schmoll (see all)