Freelance writing is the perfect side hustle. It pays well, you can work from wherever you like, and it's enjoyable. Better yet, you typically don't need an advanced degree to get paid to write.
Freelance writing can be a terrific way to make money from home. Like any business opportunity, there are a few things you should learn to help you maximize your success. You need to know how to find work as well as what editors and companies expect from you.
How To Start Making Money Writing
Before you try to make money writing articles, you need to know how to market yourself and find clients.
Choose What To Write About
There are many topics you can write about. When you're writing for money, having more subjects you can discuss makes you more marketable to prospective clients.
For example, I specialize in personal finance, online business, and being a mom. If I only wrote about being a mom, that would limit my income potential. Since I specialize in several niches, I can charge more and find work faster.
Keep in mind that you want to make sure the topics you cover are subjects you know well. This is because companies don't want to hire someone who can write about anything, but with limited knowledge. They usually want to hire writers that are experts in their field.
If you pick a lucrative niche to specialize in, the writing can be quite profitable. There are numerous freelance writers I know earning six figures annually from the comfort of their homes.
Writing Opportunities
There are countless ways you can get paid to write online. It's not limited to writing articles for money.
Here are a few ways you can make money writing online:
Blog posts
Speeches
Books or ebooks
Presentations
Marketing emails, social media content, and other marketing material
Resumes
Grant proposals
Contracts
Some industries pay more than others, so it's important to choose something that mixes your passion and ability to earn a decent income.
Create A Portfolio
After you get a few articles or blog posts under your belt, you should create an online portfolio. This gives you something to show potential clients and is a way for clients to find you.
You can use LinkedIn to connect with businesses and people looking to hire freelance writers. Some freelance writing websites even allow you to create a simple portfolio.
You can take it to another level by creating a website to showcase your work and share testimonials from clients. You can also add a "Hire Me" page so prospective clients can contact you.
If creating a website sounds overwhelming, don't let it hold you back. A service like Bluehost can help you launch your website and manage all your basic technical needs.
The service costs just $2.95 per month and includes a free domain name for the first year.
Don't be afraid to accept some lower-paying gigs as you build your portfolio and reputation. This will get your feet wet while getting your name out there.
Network
It's not what you know, it's who you know. You've probably heard that quote before, and it's true.
The easiest way to network is to start with your existing network. You can reach out to family, friends, and colleagues to let them know you're looking to get paid to write. If you're comfortable with it, you can ask if they know of anyone who needs help.
The next step is to network with other writers and people in the niche that you want to write for. You can learn who is hiring by making connections on Linkedin, Facebook (especially through groups), and MeetUp.
You can also network by cold pitching potential clients. Once you've narrowed down the niche or topic you want to write about, you can send email pitches. Make sure that you customize each pitch to include:
Why you would be great for the website or business
How you can help with their content
What you've written about that is similar to what they need/are looking for
Your contact details
It can be scary to cold pitch at first, but the process is easy once you get it down.
How Much Do Freelance Writers Earn?
Before you start any side hustle, you want to know what to expect for income. Freelance writing can be a profitable business, especially if you are in demand.
According to Indeed, the average salary for a freelance writer in 2020 is $20.94 per hour.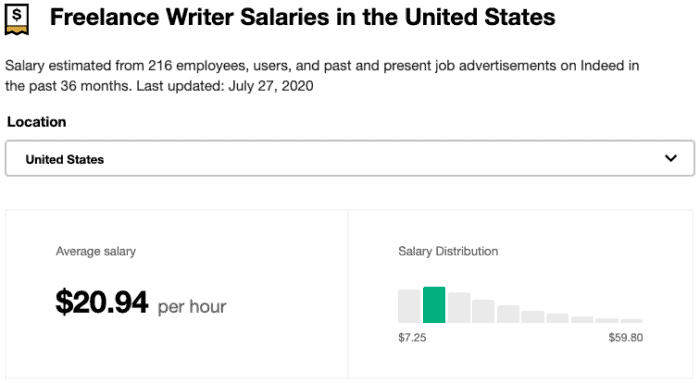 Payment depends on several factors, but it's not impossible to earn $200 or more per article or blog post. As you get into more intense assignments like white papers or ebooks, it's possible to earn four-figures per assignment.
The Best Freelance Writing Websites To Join
Building a portfolio is one of the most important steps when growing your writing business. Here are some trustworthy freelance writing websites for beginners who want to find work.
1. Contently
Contently is a content marketing platform that connects freelance writers with clients. Freelancers can pitch ideas, accept work, and receive payment immediately after submitting work.
Contently specializes in allowing well-known companies to locate writers. It may take time to secure regular freelance work through the site, but it can be quite lucrative when you do.
The service is free to use. It allows you to create a portfolio so clients can find you and offer you work.
2. Upwork
Upwork is known for their freelance writing job boards where you can search for gigs. Anyone can freelance with Upwork. To get started, you simply fill out a profile and take a few proficiency tests.
Like Contently, you can create a free writing portfolio so clients can discover you. The one drawback to Upwork is they charge a fee when you complete work.
The site charges 20 percent of your first $500 earned from a client, ten percent up to $10,000, and five percent after that.
Upwork may be a good choice for a beginning freelance writer, but it's too expensive for skilled writers.
3. ClearVoice
ClearVoice is a terrific resource to use if you want to start writing blog posts for money. Not only do they hire writers, but they also hire proofreaders, editors, and more. This means that you can uplevel your skills if you want to earn more money.
You can also write more than blog posts with ClearVoice. They have the option to write social media copy, website pages, and books. It's free to get started,just upload a portfolio and resume.
Like Contently, you receive payment immediately after submitting work.
4. FlexJobs
FlexJobs is another paid freelance writing job board. The service is a good tool to use to find work until you build a network of your own.
FlexJobs vets every company they work with and is a legitimate site to use to get work.
*Related: Are you looking for writing gigs online? Read our review of sites like Indeed here to learn about the top job boards to use.
You will have to pay for a subscription. Prices vary depending on the length of your subscription in addition to the promotions FlexJobs is running when you sign up.
Read our review of FlexJobs to learn more.
5. Skyword
Skyword has been around for almost 20 years and is a resource for more than just freelance writers. You can also find freelance design work, videography work, and other creative roles on the site.
The platform works with smaller and larger clients, so you don't need to have years of experience to secure work. Like Contently and ClearVoice, it may take some time to get discovered. However, jobs are typically lucrative.
6. nDash
nDash is a newer website that focuses on experienced freelance writers. The platform asks writers to pitch to prospective clients. You can submit pitches for jobs like blog posts and white papers.
It's free to create a profile on nDash. It takes two days to receive payment once you submit work. Not many businesses are using the site yet since it is new, but reports indicate the opportunities pay well.
7. SmartBug
SmartBug is the only company on this list that offers full-time jobs. Luckily, many of their jobs are for work from home writers.
They may require a degree in business, marketing, or something similar, so make sure to read the requirements before applying.
*Related: Are you looking for work-from-home data input work to supplement your income? Read our guide on where good paying transcription jobs to streamline your search.
The site specializes in business to business writing, so work may focus more on copywriting and marketing materials.
8. The Writer Finder
The Writer Finder says they can find a business's "dream writer" in less than 72 hours. The company works with a wide variety of businesses, from those specializing in travel to others focusing on pet care.
The website lets you create a free portfolio to attract clients. One area where The Writer Finder shines is that they teach writer basic search engine optimization (SEO) skills.
This is an excellent resource for beginner writers looking to take their skills to the next level since many companies look for freelance writers who know SEO.
9. NewsCred
If you want to write about technology, business, pharmaceuticals, or manufacturing, NewsCred is your best option.
These types of articles are in high demand and pay well, but writers often find them research-heavy. It's easy to get started with NewsCred. All you have to do is sign up and give them a writing sample.
10. Textbroker
Unlike other platforms on this list, Textbroker focuses solely on freelance writing services. If you're looking for other creative work, you should consider another site.
Textbroker is free to use and pays per word. You can earn $0.07 to $0.50 per word as well as quarterly bonuses if you reach a certain word count.
Resources to Make Money Writing Online
Starting a freelance writing business may seem overwhelming, but it's possible to launch one and earn great money. Here are two of our favorite resources on writing articles for money.
Earn More Writing by Holly Johnson
It may seem impossible to launch a six-figure freelance writing business. However, Frugal Rules co-founder Nicole Schmoll has been doing it for a decade and knows it's possible.
If you want to do something similar, Earn More Writing by our friend Holly Johnson is an excellent resource. She earns six figures annually as a freelance writer and shows students how to get paid to write online.
Johnson offers a free workshop to teach you what it takes to launch a lucrative business. In the course, she shares actionable tips to start and grow your freelance business.
As a part of the course, you also receive access to her closed Facebook group. In this group, you can communicate with Holly and other course participants to discuss questions and tips.
Freelance Writer Academy
Another good resource to grow your freelance business is the Freelance Writer Academy by our friends Miranda Marquit, Kat Tretina, and Ben Luthi. They all get paid to write articles and are earning six figures per year in the process.
The Freelance Writer Academy offers three levels of coursework, from beginner to advanced, and helps writers take their skills to the next level.
As a bonus, you also receive access to their closed Facebook group so you can chat with them and other writers.
Summary
Freelance writing is a terrific side hustle. You don't need to have a degree, and you can make good money if you're knowledgeable about a certain subject.
Better yet, all you need is access to a computer and the internet. If you need to supplement your income or want to work for yourself, it's possible with freelance writing.
What do you do to make money from home? What topic could you write about and earn an income?
Kim Suazo has been a freelance writer and business owner for over four years. When she's not writing for Frugal Rules, you can find her on other publications like Chime, Discovery, and Due. She also owns her own websites The Entrepremomer and Part-Time Profit, where she teaches overworked moms how to streamline their new businesses so they can scale without a team.