9 Best Places to Buy Discount Shoes Online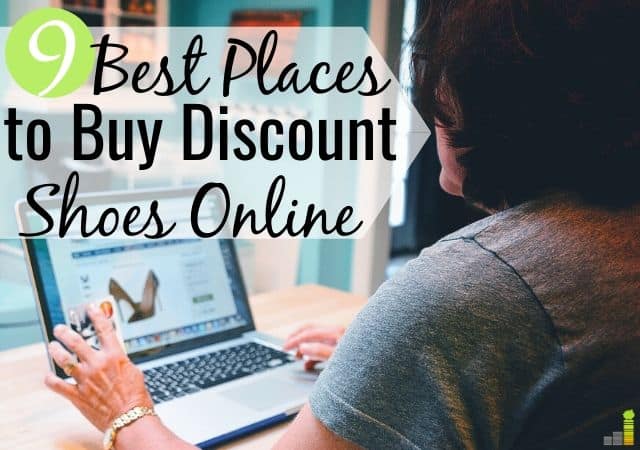 Shoe shopping is stressful for me. My feet are small but relatively wide, making buying shoes a hassle. I hate going into stores to try on lots of shoes before I find affordable shoes that I like. Thankfully, there are dozens of options to buy discount shoes online that fit my feet.
Buying shoes online lets me save money and avoid the stress of trying them on at the store. If you're like me, you may wonder, "Where is the best place to buy shoes online?" and believe there are few choices.
This guide shares a few of my favorite choices to find affordable shoes without leaving home.
Where to Find Affordable Shoes
Regardless if you're shopping for shoes or cheap men's or women's shoes, you have plenty of choices to save money.
When buying anything online, make sure you know the return policies and learn what it takes to receive free shipping. You don't want to be stuck with a pair of shoes you don't like or overpay for shipping.
Below are the nine best places to buy discount shoes online for you and your family.
1. Amazon
You can buy virtually anything on Amazon, including shoes. If you need to find discount shoes, the online giant should be your first stop.
Amazon has hundreds of different brands in stock, including their own brand (most of which are under $25). If you want a good deal on shoes, you can shop their warehouse offers or filter the shoes for $25 and under.
The best part about shopping for shoes on Amazon is that the purchase falls under their traditional refund policy.
You can return the shoes, as long as they haven't been "worn" (i.e., you can't dance around in them at a concert and then expect to return them) within 30 days.
If you don't like the shoes, you can ship them back for free. When shopping, make sure you buy the shoes that have the "free returns" label on them.
Pros
Amazon Prime perks for Prime members
Easy return and refund policy
Many brands, options, sizes, and colors available
Shoes available in nearly any budget
Cons
Need to make sure shoes have "free return" options
If you like to shop at Amazon, check out our guide on the best ways to earn free Amazon gift cards to boost savings.
2. Zappos
Zappos is a must if you're looking for one of the best online shoe stores. The retailer has been around for over 20 years and is a part of the Amazon family.
If you're looking for affordable children's, men's, or women's shoes, they are worth a stop. Zappos always offers free shipping.
They also offer free returns and a generous return policy that allows you a whole year to return your shoes.
You can find just about every brand and option of shoes with Zappos, and they also have an amazing filter option.
For example, you can look up shoes based on their width, price, and features (including slip-resistance, vegan, and recycled options).
You can also sign up for a free account and get personalized options based on your answers to their shoe quiz.
Pros
Amazing customer service
Easy to filter options
Free shipping and returns
Great return and refund policy
Options for the whole family
Cons
Shoes can be slightly more expensive than other websites
They don't offer coupons (unless you're a student or in the military)
If reading reviews before purchasing is important to you, Zappos is an excellent choice. Thanks to their history, they have thousands of reviews you can read to learn if a shoe is the right for you.
3. Overstock.com
Overstock.com is another excellent choice to buy cheap shoes online. They have clothing and accessory sales often, including shoes, if you want to increase savings.
If you're trying to save money on specialty shoes like boots or want designer shoes at a discount, you need to check out Overstock.com.
They have great options for men, women, and children, so you can get shoes for the whole family and stay under budget.
It's important to keep in mind that Overstock.com changes their inventory out regularly. So, if you like a pair of shoes, don't hesitate to grab them. They may not be there tomorrow.
Pros
Great selection of shoes for the whole family
Free shipping on orders $45 or more
$4.95 shipping for orders under $45
Great 30-day return policy
Often has sales of 20 percent off suggested retail
Cons
Selection moves quickly
Deals expire fast
Don't forget to join the Overstock.com email list. When you do, they send you a 12 percent off coupon to use on your first purchase.
4. Target
I love to shop at Target. They have lots of cute clothing items and shoes for everyone in your family. But my Target has a bad habit of selling out of everything or never having my size.
So, instead of battling people at the store, I shop online.
On Target's website, you have a bigger selection of shoes, because whatever you choose can be shipped to you via their warehouse or one of their stores.
If you find something you love, and it's not available at your store for pickup, you can just order it.
Pros
Larger selection than in-store
Fast shipping (usually shipped the next business day)
Free shipping/pickup if shipped to your local store
REDcard perks (like free shipping on orders $35 and over)
Generous refund policy
Cons
Few perks for shipping if you don't have a REDcard
If you have a large family or like to save money, Target is a terrific choice to buy cheap clothes online as well.
5. Foot Locker
Do you need to buy tennis shoes online? If so, Foot Locker is an excellent place to get your kicks.
I remember walking into a Foot Locker for the first time at my local mall. That was years ago, but Foot Locker has adapted. If you're really into shoes or love designer sports options, Foot Locker is worth a look.
Saving Money is Easy With Trim
Do you feel like you pay too much for your cable bill or gym membership? Let Trim save you money on the memberships and subscriptions you don't use.
The average Trim user saves $30 per bill with this handy little app!
Trim can negotiate lower prices for you with Comcast, Time Warner and more. Try Trim today!
You will pay more for shoes at Foot Locker, but they do have a coupon page you can use to find discounts.
Of course, Foot Locker is for those that love sports, running, hiking, and other activities. If you need some nice sandals, heels, or boots, you need to look elsewhere.
Pros
Affordable running shoes for all sizes
Free shipping over $75 (which is easy to do on athleticwear)
Great sale options
45-day return policy
Cons
Must have original everything, including tags, to return items
Have to pay $6.99 to return items
If you want to find cheap Nike shoes online, Foot Locker is worth a look.
6. DSW
DSW (Designer Shoe Warehouse) is for all of the fashionistas that love "trendy" shoes but don't want to pay too much for them. You can find just about every shoe at DSW, from the uber-chic boots to the snakeskin heels.
If you've seen their stores, they have ample selection. However, the DSW website has even more selection. You can filter the shoes by the occasion you need them for, your toe shape, the heel height you need, and more.
I have purchased some fantastic shoes from DSW, including some great pairs of heels that I've needed for conferences or specific parties.
Each pair has been amazing and under $35. Not bad for heels that can fall out of style in less than a year.
Pros
Trendy options and regular options like tennis shoes and sandals
Hundreds of brands to choose from
Free exchanges within 60 days of purchase
Cons
Only members get free shipping on orders $35 or more
Online returns cost $8.95
If selection is crucial to you, DSW is behind only Amazon and Zappos in the number of shoes it offers.
7. 6pm
If you didn't know, Zappos has an outlet store as well. Zappos sends their unsold shoes and accessories to 6pm as a last attempt to sell them. Because of that, you can find some incredible deals on the site.
It's important to note that shopping at 6pm is different than at Zappos. For example, they only have a 30-day policy instead of a whole year.
Also, some of their items are considered final sale, so be careful before ordering.
Pros
Free shipping for orders $50 or more, or 2+ items
Designer shoes for rock bottom prices
Frequent discounts offered
Cons
Return policy is short, no exchanges accepted
6pm regularly runs specials and free shipping promos, making them one of the best places to buy shoes online.
8. Shoe Carnival
If you want to know where to purchase cheap shoes, Shoe Carnival is worth considering. You've likely seen a retail store of theirs, but like DSW, they offer even more deals online.
You can find shoes for the whole family, receive free shipping for all orders over $75, and shoe perks as a Shoe Carnival member (and signing up is free to do).
When you join their club, known as Shoe Perks, you receive one point for every $1 you spend. You receive a $10 gift card when you reach 200 points. The best part is, points never expire.
Pros
No receipt necessary for returns
Get $5 on your birthday as a part of Shoe Perks
Free in-store pickup
Daily deal each day
Cons
Only "Gold" members get free shipping under $75 (to qualify, you must spend $200 in a calendar year)
When you join the Shoe Carnival email club, you receive a free $10 discount on any pair over $59.98.
9. Famous Footwear
You likely know Famous Footwear from its massive retail store footprint around the country. Like others on our list, Famous Footwear is also one of the best places to buy discount shoes online.
You won't find designer shoes at Famous Footwear, but they're great for shoes you wear every day, including tennis shoes. The retailer also carries shoes for the entire family if efficiency is important to you when shopping online.
You can even find shoes for infants and toddlers, which isn't typical with quite a few online sites.
As someone who had a hard time finding durable and inexpensive shoes for my daughter when she was a toddler, I wish I would've tried out Famous Footwear sooner.
Pros
Offers infant and toddler sizes
Hundreds of shoes under $30
Free in-store pickup
Free rewards program offers free shipping and money back for purchases
Cons
You have to pay for return shipping
Selection for shoes can be small if you're looking for something specific
When you join their loyalty club, Famously You, you receive free shipping on all orders. They also give you $5 in rewards on your birthday and for each $100 you spend.
How to Maximize Savings When Buying Shoes
Buying discount shoes online is a terrific way to save money on a new pair of kicks. However, there are a couple of ways you can increase savings when shopping on the internet.
Get Cash Back When Shopping
If you shop online, you may as well get cash back from it. Swagbucks gives you cash back when you shop online.
Before you start shopping on any online shoe sites, first check with Swagbucks to see which store is offering the most cash back (sometimes up to seven percent).
Once you've made your purchase, Swagbucks adds the cash to your account. You can also receive a $10 bonus with your first purchase of $25 or more.
Read our Swagbucks review to learn how to increase your savings when shopping.
Use Discounted Gift Cards
Another way to save money is to buy discounted gift cards to the shops you want to use. You can often combine them with cash-back shopping apps or other discounts to increase savings.
You can use Raise to get discounts on gift cards just about everywhere, including Overstock.com, Zappos, and more. Expect to save up to ten percent on the gift cards, which can add up quickly.
Bottom Line
If you aren't a fan of shopping in stores or have a hard time finding shoes that fit and don't cost you a fortune, try buying your shoes online. Now that I've started, I don't even go into stores to look for new pairs.
Shopping online is convenient, easy, and often more affordable. That means more money in your pocket, and cute shoes on your feet.
Where do you go to find affordable shoes? How much do you budget for shoes each year? What other ways do you like to save money on shoes?
The following two tabs change content below.
Kim Suazo
Kim is an online business manager and freelance writer that focuses on personal finance, productivity, and running an online business as a mom and entrepreneur. She shares tips and tricks to help women work less on their business while scaling their income on her blog, TheEntrepremomer.com
Latest posts by Kim Suazo (see all)