It may seem like yesterday that your children just finished school. Students will soon be heading back to start classes. It can be challenging to save money on back-to-school supplies, especially if you have multiple kids.
Luckily, it's not impossible to keep costs in check. By following a few simple tips, you can make sure that this back-to-school season won't break the bank.
What Are the Best Ways to Save on Back-to-School Shopping?
Back-to-school season is a profitable time for many retailers. They know parents need to find affordable ways to get their children supplies for the new school year.
It's easy to overspend, but there are ways to save big. If you are trying to determine how to save money on back-to-school shopping, our guide shares 23 simple ways to reduce budgetary stress.
1. Use Online Coupons
Shopping online for school items is a terrific way to save money, especially if you use coupon codes. Unfortunately, not all promo codes you find online are active.
Capital One Shopping is a fantastic tool that helps users avoid this frustration. The free browser extension works in the background as you shop online.
When you put items in your shopping cart, the app searches the internet for active discount codes or helps you find better deals at other retailers. If they locate one, they apply it to your item or send you to the other retailer.
You can also use the app to compare prices if you like to shop in person. Other features include:
Price drop alerts
Trending deals
Loyalty credits
Universal product search
You won't earn cash back with the app like you can with the Honey by PayPal app, but it is a free tool that helps you save money.
Read our Capital One Shopping review to learn more.
Benefits
Logo
Capital One Shopping
Save more when you shop!

Snag better prices automatically on the things you buy with valid discount codes.


2. Shop With a Rebate App
Using coupons is a terrific way to maximize savings at back-to-school sales. If you don't want to spend time clipping coupons, you can still save money with rebate apps like Fetch Rewards.
With this app, you shop like normal and take a picture of the receipt. The app then finds any available rebates on the items you purchased.
Fetch Rewards works at hundreds of participating retailers. Once you reach a $10 balance in your account, you can redeem your earnings for gift cards to popular stores.
To double your savings, consider using those gift cards to purchase other back-to-school supplies on your shopping list.
Read our Fetch Rewards review to learn more.
3. Earn Rewards Buying Items Online
If you prefer to earn cash back on your back-to-school shopping, Swagbucks is a fantastic alternative to Capital One Shopping. Swagbucks has an online shopping portal that lets you earn rebates on items you purchase.
Although the app is best known for its paid online surveys, it works with over 3,000 retailers to get you cash back on certain purchases.
You can redeem your earnings for gift cards or free PayPal money once you reach the $5 balance. New users receive a $10 bonus after making a qualifying purchase.
Swagbucks is an easy way to save money on school items and potentially earn some cash back to pad your savings account.
Read our Swagbucks review to learn more.
Benefits
Logo
Swagbucks
Get $10 when you sign up now!

Earn free gift cards and cash rewards taking surveys, shopping and more.


4. Use a Daily Deal Site
Daily deal sites like Groupon still exist. We use them regularly in our home when shopping around for money-saving deals.
If you need to purchase back-to-school clothes for your children, Groupon or LivingSocial can be legitimate ways to save big. Our favorite way to use these apps is to create alerts that notify us when deals become available.
You may find discounts for supplies, but we find that daily deal sites are best for school clothes.
Read our guide on sites like Groupon to find a deal site that works for you.
5. Use a Cash Back Credit Card
If you are able to use them wisely, the best option for your school shopping needs is to use cash back credit cards. These allow you to earn cash back on the items you purchase.
Just remember to pay off your credit card in full and on time. No amount of cash back earnings is worth going into debt.
Here are some of the best currently available cash back credit cards to consider.
6. Buy in Bulk With Other Parents
Buying items in bulk is a terrific way to reduce your back-to-school spending. But how can you implement this strategy if you don't have a membership to Costco or Sam's Club?
All you need is one or two friends who have access to either membership store. If you don't know anyone with a membership, Walmart is typically a good choice to save big.
You can then pool your funds together to buy school supplies in bulk to help everyone save money. Examples of what you can buy in bulk include:
Pens
Pencils
Highlighters
Ziploc bags
Brown paper bags
Folders
Notebooks
Clipboards
Loose leaf paper
Printer paper
This hack works whether you have college students, kids in high school, or children in middle school. It's an easy way to save time and money for multiple families.
Read our Costco vs. Sam's Club analysis to determine which store is best for buying school supplies.
7. Stick to Your List
Many schools or teachers provide a list of what school supplies your student needs. Use that list to guide your purchasing decisions.
It's easy to let back-to-school spending get expensive. The best way to prevent this is to create a list and not deviate from it. Sometimes it is the simplest things that help you the most.
8. Look at Your Credit Card Offers
Earning cash back isn't the only way a credit card can help you with back-to-school expenses. You can also use them to take advantage of targeted savings offers.
Some credit cards may provide additional money-saving offers at participating retailers. For example, my credit card often has rebates to Office Depot or Target.
If you make a qualifying purchase, you then earn an additional rebate that gets credited to your account.
9. Include Your Child in the Budgeting
One of our favorite ways to promote financial literacy in our home is to include our children in our purchase decisions. Done wisely, this can help them start to understand what goes into managing their money.
Shopping for the new school season is a perfect opportunity to do this. For example, if they want the latest pair of designer jeans, they may need to understand this purchase won't allow them to have other essentials for the classroom.
Include them in your purchase decisions now. Then, as they get older, let them play a part in the decision-making. Not only will this help you save money, but it will also help them learn valuable life skills.
10. Shop Second-Hand
Thrift stores can be an excellent way to save big on back-to-school clothes. We commonly shop at Goodwill and other consignment stores as a way to cut back on costs.
In all likelihood, your child will outgrow some of the clothing you purchase for the school year. Knowing that, it doesn't make sense to buy everything new.
Simply take an inventory of the clothing your children have that still fit, then use that information to make a list of what to purchase at your local thrift store.
11. Join Mailing Lists
One of the best ways to save money on back-to-school shopping is to utilize mailing lists from popular retailers. These can include stores like Staples, Walmart, Target, Best Buy, and others.
All of these retailers regularly send out emails with special money-saving offers, especially when it comes to shopping for the new school season.
Not only does this allow you to do price comparisons, but it may also give you access to offers you won't find elsewhere. If you are concerned about clogging your inbox, use a secondary email for these mailing lists.
Additionally, you could follow your favorite stores on social media to find other special deals.
12. Use Student Discounts
Student discounts are a terrific way to save money on school shopping. Many retailers offer special deals available only to students.
These can include anything from electronics to other accessories they may need for the classroom. Furthermore, don't overlook your alumni association for special deals.
13. Shop at the Dollar Store
Dollar stores can be a terrific option to save big on back-to-school supplies. Accessories like pens or pencils can get expensive if you have to buy them in bulk.
Instead of purchasing them at a major retailer, discount stores can be a good option to get items your child will use every day in the classroom.
We have done this in the past, and it's not uncommon to find name-brand items that are available for a fraction of the cost other stores charge.
You may even be able to use online dollar stores that offer free shipping so that you don't have to leave your home to shop.
Pro-tip, don't skimp on backpacks. Your child will wear theirs year-round. You want to ensure they have a quality backpack that doesn't tear in the middle of the school year.
14. Shop the Clearance Racks
Clearance racks are a great option to cut costs on back-to-school shopping. You may not find the latest trendy fashion, but it's possible to save money on something that fits just as well.
Target is a fantastic resource to find clothing on clearance. They often run deals on a weekday, so ask your local store when the best time is to find clearance items.
You can even use rebate apps to stack your savings on these purchases.
15. Buy During Tax-Free Holidays
Sales tax can be a pain, even at back-to-school sales. We live in Nebraska, and taxes add more than seven percent to items we purchase.
However, some states offer sales tax holidays for the back-to-school shopping season. We don't have that in Nebraska, but we live near Iowa. They offer sales tax holidays in early August that allow shoppers to buy items without sales tax.
Savings may not apply to all items, but we have taken advantage of savings on footwear, backpacks, and other accessories like scissors.
Reports indicate that roughly 20 states offer these savings opportunities. Do a quick internet search to see if they are available in your area.
16. Use Discounted Gift Cards
One of my favorite back-to-school shopping tips is to use discounted gift cards to purchase items. Sites like Gift Card Outlets let you purchase gift cards for up to a 20 percent discount.
You can use these gift cards like cash at many popular national retailers. This is a good way to save if you need to buy a calculator or something more expensive for your child's dorm room.
At the time of publication, Gift Card Outlets has gift certificates available to retailers like Best Buy, Apple, Old Navy, JCPenney, and more.
17. Shop at a Craft Store for Accessories
Don't overlook your local Michaels or JOANN stores for savings on pens, markers, or construction paper your child may need for the classroom. They commonly offer coupons for a discount on your entire purchase.
These retailers are also a terrific option if your student is involved in artistic extracurricular activities. JOANN stores even offer teachers a rewards program that lets them save money on every order.
18. Use the Amazon App
We love to shop on Amazon, but they don't always offer the best prices. Fortunately, you can use the Amazon app to comparison shop when you are in a store.
Simply use the app when you are in a store. When you find something you need to purchase, look it up on Amazon.
If it's cheaper, you can place the purchase and leave. But, if it's more affordable in-store, you can confidently make the purchase knowing that you're saving money.
19. Take Advantage of Price Matching
Price matching can be an effective way to save money at back-to-school sales. It can also save you time driving from store to store.
While not every store honors price matching, some popular retailers that match competitor's pricing include:
Staples
JCPenney
Kohl's
Target
Office Max
JOANN
Ask in-store to verify the requirements before attempting a price match.
20. Shop Without Your Children
Leaving your children at home is often one of the top back-to-school shopping tips to follow if you want to save money. Your child might be tempted by something expensive, which can throw off your budget.
However, including them may also let them feel like they are part of the decision-making process. It can also be helpful when shopping for items like school outfits or uniforms since it will let you save time by ensuring the clothing fits appropriately.
Shopping without your kids has its pros and cons. If you are buying general supplies, the more cost-conscious choice could be to leave them at home.
21. Don't Be Afraid to Purchase Generic
Name-brand items are fun to buy, but they also come with an additional cost. Reports indicate shoppers can often save between 20 and 30 percent by purchasing generic items.
Saving that much may not seem like a lot, but it can add up. These savings can help you stretch your budget and have the funds necessary to purchase more expensive items without incurring debt.
22. Plan Your Shopping
Having a plan of attack is essential when approaching back-to-school sales. Without a plan, it's easy to overspend or purchase items you don't need.
To formulate your plan, look at what you purchased last year. Then, see what your student needs for this new upcoming year. This will give you a good idea of where to start.
Furthermore, it also allows you to monitor back-to-school deals that retailers promote. This will give you a way to map out your purchases.
23. Watch Pricing After You Buy
Buying an item and then learning it's available at the same store for a lower price is frustrating. Thankfully, some stores allow you to receive the difference in cost if this happens.
Similar to price matching, retailers operate differently when it comes to price reductions. Some make it simple to get back some savings.
For example, when you shop at Costco, if you purchase an item and they reduce the cost within 30 days of purchase, they will give you the difference. All you need to do is show them the receipt, and they will honor the price reduction.
Make sure to ask about requirements in-store before requesting a price reduction. Also, keep track of sale pricing after your purchases so you don't miss out on potential savings.
How Much Should You Spend on Back-to-School Shopping?
Saving money is essential when planning your shopping for the new school year. Otherwise, it's easy for costs to get out of hand.
According to USA Today, the average family spent $660 per child buying new items for the 2022 school year. If you follow the back-to-school shopping tips on our list, you should be able to reduce that cost significantly.
What Days Are Best to Go Back-to-School Shopping?
Knowing when to plan your purchases is a key way to keep your back-to-school expenses under control. According to the Krazy Coupon Lady, Sundays and Mondays are the best times to find deals.
This may vary in your area, so it's best to keep track of sales to see when you should plan to shop.
Keep in mind that inventory levels may be higher at the end of June into July and become more limited as you get closer to the school season.
When Should I Buy Back-to-School Clothes?
Mid to late July is often the best time to go shopping for back-to-school clothing. You want to keep sales and your child's growth patterns in mind when planning your purchases.
Depending on when the school year starts in your area, you may also want to wait for post-Labor Day sales to maximize your savings.
Bottom Line
Back-to-school shopping is an exciting time for many families. It's a fun opportunity for students to get excited about the new school year, but it can also be a strain on your budget.
By following a few money-saving tips and planning your purchases, your child can get what they want and need without costing you a fortune.
*Capital One Shopping compensates us when you sign up for Capital One Shopping using the links provided.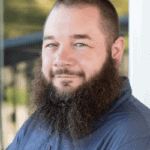 I'm John Schmoll, a former stockbroker, MBA-grad, published finance writer, and founder of Frugal Rules.
As a veteran of the financial services industry, I've worked as a mutual fund administrator, banker, and stockbroker and was Series 7 and 63-licensed, but I left all that behind in 2012 to help people learn how to manage their money.
My goal is to help you gain the knowledge you need to become financially independent with personally-tested financial tools and money-saving solutions.