Fetch Rewards Review: Earn Rewards on Groceries!
Saving money at the grocery store is an essential part of stretching your budget. If you have a growing family, like I do, you know how quickly grocery costs add up. One way I like to reduce costs is to use cash back apps like Fetch Rewards.
The cash back space for groceries is a growing niche. Companies know the importance of saving money at the grocery store and seek to ease the burden for Americans.
If you need to cut down on your food costs, this Fetch Rewards review will show you a helpful way to put money back in your pocket.
What Is Fetch Rewards?
The Fetch Rewards app is a mobile app you can download for free and use while at the store. The app works similarly to Ibotta, which is the most well-known name in the space.
The Fetch grocery app gives you points and cash back for taking pictures of your grocery receipts. The app is currently only available for users in the United States.
It offers rewards from your receipts because your anonymous purchase data supports market research. The platform is the middleman in helping companies learn what is profitable and what consumers want.
You get rewarded for taking photos of your receipts, Fetch gets paid for being the middleman, and the companies learn about their consumers. It's a win-win for everyone.
Unlike other rewards apps, you don't need to buy special food or go to a particular store to earn points. You receive the points no matter where you shop or what you buy.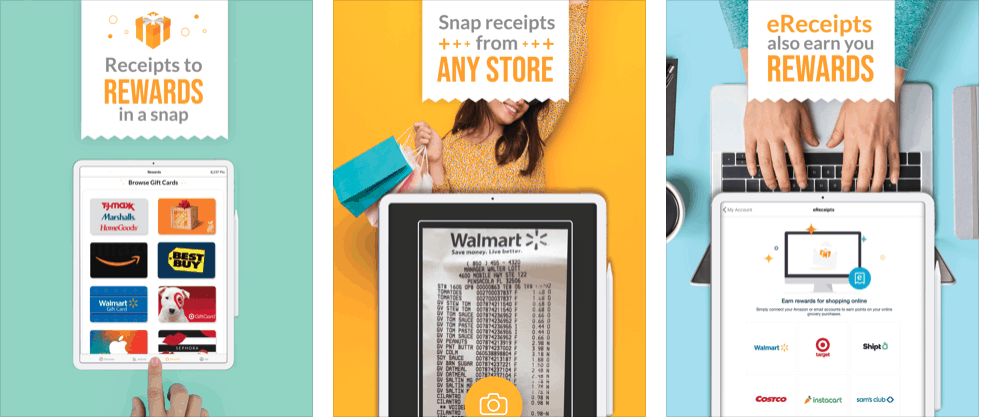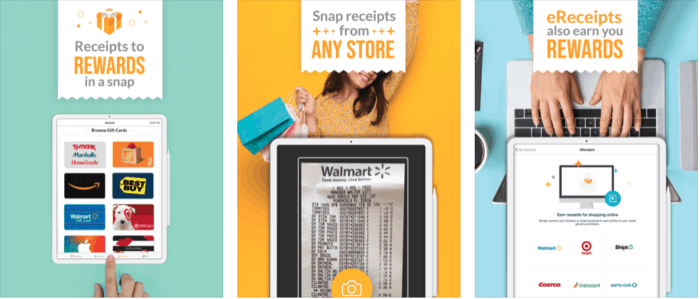 However, you do receive bonus points if you purchase specific products during the time Fetch is promoting them.
For example, you automatically receive a set number of points just for scanning your receipt. But if Lunchables were on the app, and you bought four of them, you could earn extra points for purchasing them during their Fetch promotion.
As of right now, my app is currently promoting the following products:
Dove Body Wash
Kleenex Facial Tissue
Suave products
If I were to have any of these products on my receipt, I'd receive between 850-1,500 extra points for every item I purchase.
I don't use this feature often; my family and I buy certain products that we love, and we don't like venturing away from them.
However, this could be a fantastic way to try out new products and earn extra points if you're into that sort of thing.
How to Use the App
If you're asking yourself, "How does Fetch Rewards work?" it's a straightforward process. Here's what to expect when you sign up to use the grocery rebate app.
Step 1: Sign Up
Signing up for Fetch Rewards is easy. First, you must download the app to your phone. Because it's a mobile app, you cannot use this feature on your computer.
Then, you log in either by email or Facebook. From there, you enter your state and phone number.
The platform will send you a confirmation code to your phone number, and you need to enter it into the app.
Don't worry, all of these steps take less than five minutes to do. Once you've confirmed your account, you can start taking pictures of your receipts.
Step 2: Use it When You Shop
As mentioned above, you don't have to plan your shopping around the Fetch Rewards app. Instead, you shop as you usually do. Just remember to keep your receipts.
The app works with hundreds of different stores, including pet stores and convenience stores. So, you can shop at your favorite places and still receive points.
Step 3: Redeem and Earn
Once you complete your shopping, all you have to do is take photos of your receipts. It's quite simple to do.
In the Fetch Rewards app, they have their own camera that you can use to take photos of receipts. Make sure you're in a well-lit area, and to take a full photo of your receipt.
The app even has a scroll feature for super long receipts.
The app will tell you if you're too close or too far away from your receipt.
However, I've noticed that as long as the receipt is straight and the text is legible, I usually receive the points even if my receipt was outside of the highlighted area.
If your receipt has writing on the back, take a picture of that too. Otherwise, Fetch Rewards may deny your points for submitting an incomplete photo.
Once it receives your receipt, you receive your points. This takes five minutes or less.
Once you reach 5,000 points, or $5, you can cash out with a gift card of your choice. The app has dozens of different gift card options available, including:
Amazon
Bed Bath & Beyond
Kohl's
Starbucks
Target
Walmart
You can even earn free Google Play credits through Fetch Rewards. You can use those to download free books, games, or movies.
Some places offer the ability to cash out at 3,000 points, but not all offer that.
If you don't want a gift card, you can also cash out for a Visa Gift Card. But keep in mind that the Visa gift cards cost more in points.
For example, for $5, instead of spending 5,000 points, it will cost you 6,000.
Where Can You Use the Fetch Grocery App?
You can use the Fetch Rewards app at any grocery store that offers paper receipts. If you're an iPhone user, you can also use the e-receipts feature to earn points from online shopping.
If you're not an iPhone user, this feature isn't available just yet, but the service is currently working on it.
E-receipts include stores like:
Amazon
Jet.com
Target
Sam's Club
Walmart – their grocery pickup service
You can also use Fetch Rewards if you shop at hardware stores, pet stores, and convenience stores.
How much time does It take to earn points?
It doesn't take much time to earn points from Fetch Rewards. This is especially true if you use a referral code, shop for groceries often, and if you buy certain products that they promote.
Make Extra Money by Taking Short Surveys
Taking short surveys in your free time can be an awesome way to earn extra money fast! The instant you finish a survey,
Survey Junkie pays you in cash via PayPal
. 6 Million users and an 8.9/10 Trust Pilot rating prove you can trust them.
I shop once a week and used a referral code and reached 10,000 points, worth $10, within my first month alone.
However, I typically don't purchase items the Fetch shopping app promotes, mainly because my family doesn't use them.
You can also earn points when you refer someone to the service, so that's another effortless way to receive rewards without having to shop so much.
Just make sure they use your code when they sign up, so you get the credit.
Overall, it's super easy to earn free points, because all you have to do is take photos of your receipts.
Referral Code
Like most grocery rebate apps, Fetch Rewards offers a promotion when you open an account.
The current promo code is FETCH2K. When you provide that code after downloading the app, you receive 2,000, or $2, at account opening.
How much can I earn with the app?
You will never become rich using a cash back shopping app. That's not their purpose, but most offer an excellent way to reduce grocery costs.
When you use the Fetch Rewards app, you receive a specific number of points on each receipt you scan. The amount you receive depends on what you purchase and the currently available offers.
You can expect to earn between 250 and 2,000 points per offer. Since 1,000 points equal $1, that means you earn $.25 to $2.00 per offer. Having multiple offers on a receipt will increase your earnings.
Pros and Cons
As with any cash back app, Fetch Rewards does have its pros and cons. Let's take a look at them.
Pros
You can redeem points almost instantly. Within a few minutes, and usually once you take the photo, you'll see the points you've earned from your receipt.
No need to search for deals. Simply take a picture of your receipts and earn points.
Free to use. You are, essentially, earning free money just by scanning your receipts.
User-friendly. Anyone can use the app. As long as you can work the camera feature on your phone, you can earn points.
Rewards are easy to redeem. You get your e-gift card super quick, typically within 24 hours or less. So, if you plan on buying gifts, treating yourself, or using the points for groceries, you can do so without disrupting your routine and waiting for a gift card.
Cons
No cash back option. Unless you go with the Visa gift card, you don't technically receive cash back for using Fetch Rewards. Instead, you redeem your points for gift cards. Other apps like Ibotta offer a cash back option, so this is a con for Fetch Rewards.
No e-receipts for Android users. I use Walmart Grocery Pickup sometimes, and it's annoying that I can't redeem points on my purchases. I hope the company fixes this soon since Apple devices can use this feature.
As you can see, the pros far outweigh the cons. However, if the drawbacks are a big deal breaker for you, Fetch Rewards may not be the app for you.
Bottom Line
Overall, I love using the Fetch Rewards app. It's one of the few money-saving apps that I use and have used for quite a while.
For me, some apps are too complicated on what they offer, when, and how much I can earn. Frankly, I don't have the time or patience to search for deals and points opportunities constantly.
That's why I've stuck with Fetch Rewards for so long.
There are no "extras" in the app. You simply earn points by taking pictures of your receipts. It's super easy and less time-consuming for me to do.
The free money, in the form of gift cards, is a nice bonus.
If you don't like wasting time trying to save or make money and need something easy, Fetch Rewards is the app for you.
It's easy to use, free, and it rewards you for the things you already do. If that's not a winning app, I don't know what is.
What are your favorite ways to save money on groceries? How often do you go to the grocery store? What cash back app is your go-to choice to save money?
The following two tabs change content below.
Kim Suazo
Kim is an online business manager and freelance writer that focuses on personal finance, productivity, and running an online business as a mom and entrepreneur. She shares tips and tricks to help women work less on their business while scaling their income on her blog, TheEntrepremomer.com
Latest posts by Kim Suazo (see all)