When you want to stretch your budget, saving money at the grocery store is essential. If you have a growing family, grocery costs can add up quickly. One way to reduce costs is to use cash back apps like Fetch Rewards.
This grocery discount app can be a more effective use of your time than clipping coupons since there are more qualifying products and you don't have to activate offers. Plus, you can stack your savings by couponing.
This Fetch Rewards review shares how the app puts money back in your pocket.
What Is Fetch Rewards?
Fetch Rewards is a free shopping app you can download and use while grocery shopping. The app works similarly to Ibotta, which is the most well-known name in the space.
This grocery rebate app gives you points for taking pictures of your grocery receipts. You can also earn rewards on merchandise, gas, and dining. However, you're less likely to receive bonus points from these scans.
The app is unique because you don't need to clip coupons before going to the store. Instead, you take a picture of your receipts and automatically receive bonus points when you buy participating brands.
This platform offers rewards for your receipts because your anonymous purchase data supports market research. Fetch is the middleman that helps companies learn what is profitable and what consumers want.
Unlike other rewards apps, you don't need to buy special food or go to a particular store to earn points. You receive points no matter where you shop or what you buy online or locally.
Rewards points can be redeemed for gift cards to stores and restaurants. Redemption minimums start at $3 for select brands.
How Does the Fetch Rewards App Work?
The cash back space for groceries is a growing niche. Companies know the importance of saving money at the grocery store and seek to ease the burden on Americans.
Fetch tries to make it as easy as possible to save money at the store and reduce spending since you don't have to activate individual offers or initiate a shopping session like most rebate or receipt scanning apps.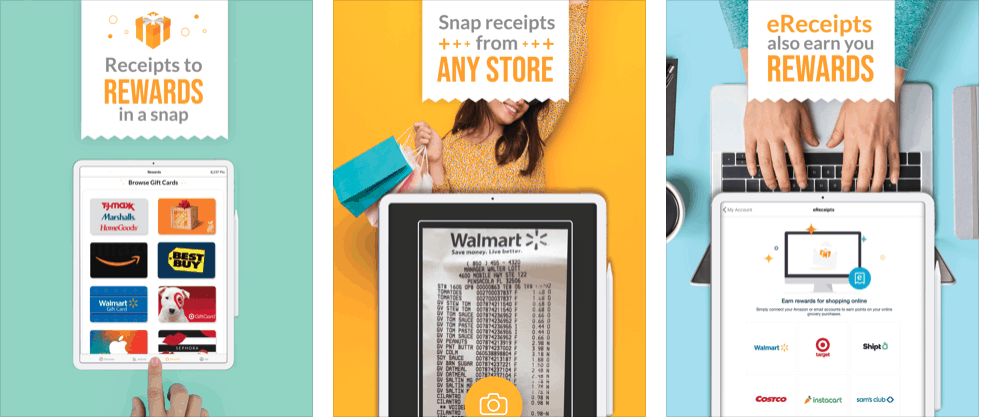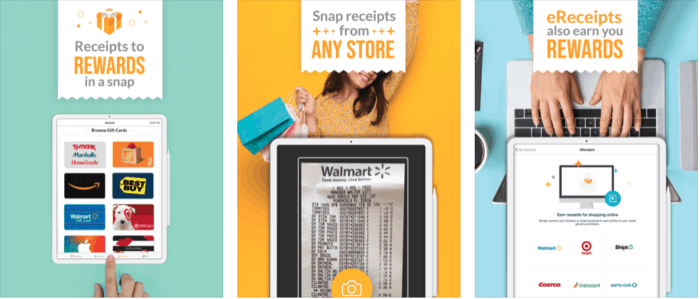 You can scan any itemized receipt that lists the name, quantity, and purchase price for each product. After scanning your receipt, the app instantly awards bonus points for participating products.
In addition to scanning paper receipts, you can link your Amazon account and email address to receive credit for online purchases.
The standard reward points structure includes the following:
Minimum earning amount: All qualifying receipts earn 25 points. You can also earn a daily reward of five to 10,000 bonus points after scanning your first paper receipt in a 24-hour period.
Buy participating brands: Qualifying brand names earn ten points per dollar.
Special Offers: Limited-time deals earn a lump-sum bonus of several hundred or several thousand points. Most offers "stack," and you can earn the bonus when you buy multiple quantities.
For example, you automatically receive a set number of points by scanning your receipt. This usually equals 25 points.
But, if Lunchables were on the app and you bought four of them at $5 each, you could earn 200 points (ten points per dollar) if it's a participating item.
You can earn a larger bonus when a particular product is a special offer.
As of right now, depending on your location, the app is currently promoting the following products:
Dove Body Wash
Pull-Ups Training Pants
Suave products
If you were to have any of these products on your receipt, you'd receive between 850-2,000 extra points for every item you purchase.
You can find rebate offers for many brands and product types, whether it's food, wine, baby items, or personal care.
While you might not use the special offers feature often if you prefer to buy certain products, this could be a fantastic way to try out new products and earn extra points.
It's also possible to save money on items you regularly buy.
How to Use Fetch Rewards
This shopping app offers a straightforward way to earn rebates on your everyday shopping. Here's how to use the grocery rebate app.
Step 1: Sign Up
Signing up for Fetch Rewards is easy. First, you must download the app to your phone. It works both on iOS and Android-based devices.
Then, you log in either by email or Facebook. From there, you enter your state and phone number. The platform will send you a confirmation code to your phone number that you'll need to enter into the app.
It takes less than five minutes to create an account. Once you confirm your account, you can start taking pictures of your receipts.
Step 2: Use It When You Shop
With Fetch, you don't have to plan your shopping around the grocery offers. Other apps, like Ibotta, may require you to select discounted offers before you go shopping.
Plus, these savings can be store-specific.
Instead, you shop as you usually do, although it's easy to search for deals in the app. You can also enable location services to look for local deals for a particular grocery store.
Just remember to upload a receipt or link your email account to receive credit.
The app works with hundreds of different stores, including pet stores, convenience stores, and Amazon. This means you can shop at your favorite retailers and earn points when shopping online or at a local store.
It's also possible to redeem manufacturer coupons or scan your grocery store loyalty program card for extra savings.
Step 3: Redeem and Earn
Once you complete your shopping, you must take a picture of your receipt. Fetch uses the info from your receipt to identify any eligible rebates you can earn.
Make sure you're in a well-lit area, then take a full photo of your receipt. Before submitting the receipt, you must capture the store name, purchase total, and shopping date.
The app has a scroll feature for long receipts so that you can receive credit for each item. Additionally, the platform will tell you if you're too close or too far away from your receipt.
As long as the receipt is straight and the text is legible, you should receive the points even if your receipt is outside the highlighted area.
If your receipt has writing on the back, take a picture of that as well. Otherwise, they may deny your points for submitting an incomplete photo.
When Fetch receives your receipt, your points are deposited into your account. This takes five minutes or less.
Once you reach 5,000 points, or $5, you can cash out for a gift card of your choice.
The app has dozens of different gift card options available, including:
Amazon
Best Buy
Marshall's
Starbucks
Target
Walmart
You can even earn free Google Play credits through Fetch Rewards. These can be used to download free books, games, or movies.
Some places offer the ability to cash out at 3,000 points, but not all offer that option.
If you don't want a store gift card, you can also cash out for a Visa Gift Card. However, the Visa prepaid card costs more in points.
For example, for $5, it will cost you 6,000 points instead of 5,000. Other apps, like Ibotta, allow you to redeem earnings via PayPal Cash or direct deposit.
If you prefer cash, you may want to consider Ibotta instead of Fetch.
Read our guide on other top coupon apps to use to save money that give cash back.
Features
Rebate apps can be a fantastic way to stretch your budget. Here are some of the best functions within Fetch to further streamline your experience.
Fetch Pay
Select users can receive the Fetch Pay debit card. Participating in this program is free, and you will earn one point per dollar in card purchases.
This rewards program is optional, and you can continue using your current payment method to turn your grocery receipts into cash.
Fetch Rewards Referral Program
Like most grocery rebate apps, Fetch Rewards offers a promotion when you open an account.
The current promo code is FETCH2K. When you provide that code after downloading the app, you receive 2,000, or $2, at account opening.
After joining, you can invite friends and family to start using Fetch. You both can earn bonus points after they scan their first receipt.
Activity Dashboard
Keeping tabs on your earnings is essential to determine if using a cash back app is worth your effort. Fetch simplifies that for you with its in-app dashboard.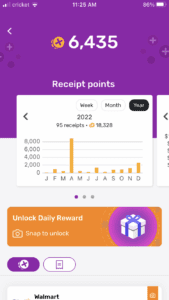 Your earnings history can be tracked using the in-app dashboard. This feature also provides spending insights so that you know how much you spent at a particular retailer or during a specific month.
You can even review your recent receipts to make sure the offers track accurately. The revision period is seven days if you need to request additional credit.
While the app is accurate in most situations, some products require additional review.
Daily Reward
Rebates aren't the only way to accumulate points with Fetch. You can also earn bonuses.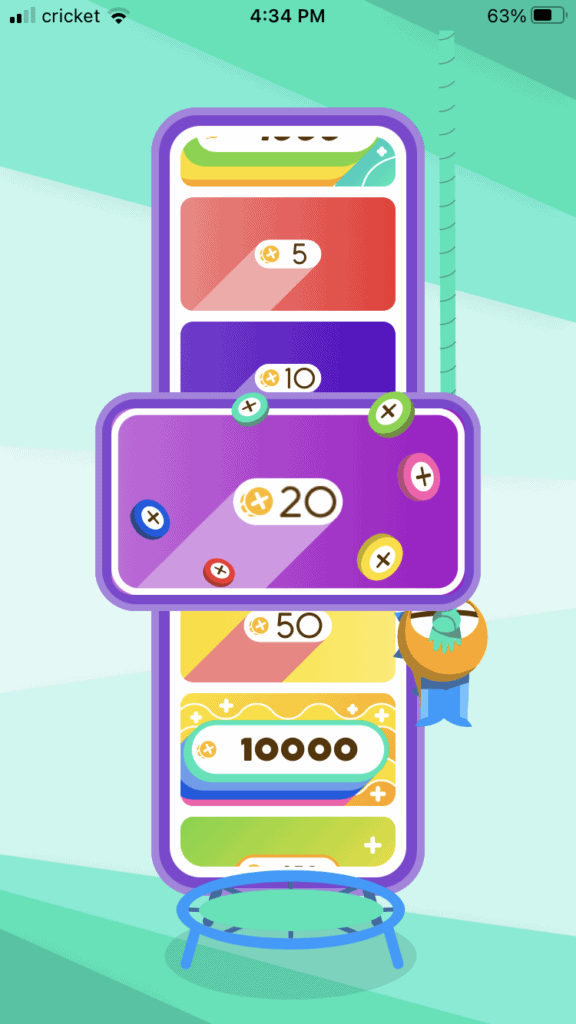 It's possible to receive a one-time receipt scan bonus once in a rolling 24-hour period. After scanning your first paper receipt for the day, you can tap the Daily Reward button to spin the prize wheel.
The grand prize is 10,000 points, but most spins earn small amounts. For example, it's normal to earn five to 100 points plus your receipt earnings.
Where Can You Use the Fetch Rewards App?
You can use this app at any grocery store that offers paper receipts. The e-receipts feature can also be used to earn points from online shopping and linking your Amazon account.
E-receipts include stores like:
Amazon
Costco
Instacart
Target
Sam's Club
Shipt
Walmart (their grocery pickup service)
When an online retailer doesn't directly connect to this rewards app, you can link your email to automatically scan your inbox for purchase confirmations.
You can also use Fetch Rewards if you shop at hardware stores, pet stores, and convenience stores. As a result, you can earn points by scanning your receipts from any store.
It's important to note that grocery receipts qualify for the biggest rewards.
How Much Can You Earn with Fetch Rewards?
Like most receipt apps that pay you money, you will earn a little extra cash. However, you won't get rich.
At a minimum, each physical or digital receipt earns 25 points. You will earn more by purchasing qualifying name-brand products and when you can take advantage of the special offers for groceries and GoodRx prescriptions.
If you earn bonus points, you can get a few dollars back in rewards points and quickly reach the minimum redemption requirement for your points.
It doesn't take much time to earn points from Fetch Rewards. This is especially true if you use a referral code, shop for groceries often, and buy certain products they promote.
If you shop once a week and use a referral code, it's possible to reach 10,000 points within your first month.
Additionally, you can earn 2,000 bonus points, or $2, at account opening by using the promo code FETCH2K.
What Are the Redemption Options?
Unfortunately, there is no way to redeem points for cash through Fetch. They offer the ability to redeem points for a Visa cash card, but gift cards are the main redemption option.
You can redeem your points for these gift card categories:
Amazon
Clothing
Entertainment
Fashion
Health and beauty
Pets
Restaurants
Travel
Visa prepaid card
You can also redeem your points for "Fetch Merch" t-shirts and apparel. It's even possible to make charity donations and enter sweepstakes.
Unfortunately, there are no PayPal, Venmo, or direct deposit options. Read our guide on apps that let you earn free PayPal money if you prefer that over gift cards.
How Many Receipts Can I Scan on Fetch a Day?
You can upload up to 35 receipts per day.
If you reach the daily maximum or forget a receipt, you have 14 days from the purchase date to submit and receive points.
Is Fetch Rewards a Safe App?
Fetch is a legit shopping rewards app to make money from your purchases. It has many positive customer reviews and verified redemptions.
Importantly, it's also safe since it anonymizes your data and won't sell your sensitive details.
Pros and Cons
As with any service, there are numerous things to keep in mind when considering Fetch Rewards. Here is what to know about the app.
Pros
You can redeem points almost instantly.

Usually, once you take the photo, you'll quickly see the points you've earned from your receipt.

There's no need to search for deals. Simply take a picture of your receipts and earn points. You can also redeem an in-store coupon or online promo code for additional savings.
Fetch is free to use. You are, essentially, earning free money just by scanning your receipts.
The app is user-friendly, and anyone can use it. As long as you can work the camera feature on your phone, you can earn points.
Rewards are easy to redeem. You get your e-gift card fast, typically within 24 hours or less. If you plan on buying gifts, treating yourself, or using the points for groceries,

you can do so without waiting.

Read our guide on the best sites to buy discounted gift cards if you want to increase your savings.
Cons
There is no cash back option. Unless you choose the Visa gift card, you don't technically earn cash back for using Fetch Rewards. Instead, you redeem your points for gift cards.
The redemption minimums are higher. Many popular stores, including Amazon, offer gift cards with a $5 face value, but some require a balance of $10 or more.
You must buy name-brand groceries. While any grocery or retail receipt earns points, only participating brands earn bonus points. You will need to purchase these items to make this app worth your time.
This app is a helpful resource to save money on groceries. However, if you prefer to redeem earnings for cash, you may want to consider an app like Ibotta.
Read our guide on the top money-saving apps that help you cut costs at the store.
Alternatives to Fetch Rewards
The Fetch app is a terrific platform to use to earn rebates. Nevertheless, there are other free money apps worth considering.
| App | Cost | Best For | Cash Back? (Y/N) | Try |
| --- | --- | --- | --- | --- |
| Fetch Rewards | $0 | Low redemption amounts | N | Try |
| Ibotta | $0 | Grocery rebates | Y | Try |
| Upside | $0 | Gas rebates | Y | Try |
| Swagbucks | $0 | Earning opportunities | Y | Try |
Here are the top apps like Fetch Rewards.
Ibotta
Ibotta specializes in grocery coupons and has in-store offers at retailers like Cabela's, Lowe's, and Petco. You will need to activate the savings offer for each product and scan your receipt to save money.
It's possible to earn a percentage back at thousands of online retailers for merchandise, grocery delivery, and travel. You can add a browser extension or use the coupon app to earn rewards from online shopping trips.
Your redemption options include bank direct deposits, PayPal, and gift cards with a $20 minimum balance. New users receive a $5 bonus after uploading their first receipt.
Read our Ibotta app review to learn more.
Upside
If you want to save on fuel costs, the Upside app is a terrific alternative. The app lets you earn a cash rebate of up to $0.25 per gallon of gas and works similarly to Fetch.
Just use the code FRUGALRULES25 to qualify.
First, you activate a gas station offer and check in once you arrive at the location. Then, you pay with your linked payment card and receive your cash rewards within two business days.
You may also be able to get cash back at participating restaurants and grocery stores when paying with a linked card.
Rewards can be redeemed via direct deposit, PayPal, or gift cards with a minimum balance of $10.
Read our Upside app review to learn more.
Swagbucks
If you want multiple ways to make money, Swagbucks is a great option. Your point-earning opportunities include online surveys, playing games, watching videos, and shopping. Many activities don't require a purchase.
When it comes to shopping rewards, the platform's Magic Receipts has digital grocery offers that you can activate before scanning a receipt to receive rewards. You can also print in-store coupons for instant savings.
Amazon gift card redemptions only require a $1 balance, but most gift card and PayPal redemptions start at 500 points ($5).
Read our Swagbucks review to learn more.
Fetch Rewards Review
Earning Potential

Cashout Options

Ease of Use

Customer Support
Fetch Rewards Review
Fetch Rewards is a helpful grocery shopping app that's free to use and let's you earn rebates on purchases you make at the store.
Pros
✔️ Free to use
✔️ You don't need to search for deals
✔️ Easy redemption options
✔️ Only need $5 to redeem earnings
✔️ Works at most major retailers
Cons
❌ You can't redeem cash via PayPal or Venmo
❌ You have to upload your receipt to get rebates
Bottom Line
Overall, the Fetch Rewards app is one of the best grocery savings apps because it partners with many brands. Better yet, you don't have to spend a long time activating offers or clipping coupons.
Being able to earn points on local and online retail purchases is also nice since it helps you redeem points for gift cards sooner. You can even redeem manufacturer coupons and promo codes to help compound your savings.
What are your favorite ways to save money on groceries?
Josh uses his personal experience of paying off over $130,000 in personal debt and changing careers to write about saving money, investing, and paying off debt. He has regularly written for notable outlets including Wallet Hacks, Well Kept Wallet, and Debt Roundup.
Josh was previously an operations supervisor for a Fortune 500 company for seven years. He is married with three small children.