If you're like most people, you've been feeling the pain at the pump. Spending money on gas is never fun, but it's a necessity for many facets of life.
Thankfully, there are ways to save money on gas. One new option to save on fuel costs is the Upside app. This cash back app lets you earn rebates when filling up your car.
Our Upside app review shares our experience using the tool and can help you decide if it's a legitimate way to save money at the gas pump.
What is the Upside App?
The Upside app is a free platform that helps you save money on gas. It also works at participating grocery stores and restaurants in your area.
Formerly known as GetUpside, the mobile app partners with over 50,000 participating retailers to let you save money on everyday expenses.
The platform works on both iOS and Android devices. You have to download the app to find deals in your area.
This free mobile app works nationwide, though larger metro areas typically have more participating retailers. For example, there are currently 30 available offers in Omaha.
Most offers are for up to $0.25 in gas rebates per gallon, though they tend to be closer to $0.10 per gallon. Restaurant and grocery purchases range between five and 15 percent of your total cost.
Is Upside Legit?
Upside is a legitimate app that can help you save money when buying gas, groceries, and restaurant meals. Like most other cash back apps, it's easy to download and use for eligible purchases.
The company claims to have over 30 million users and more than 50,000 partner stations and retailers.
Once you install the app on your device, you can start using it to cut costs. Using the code FRUGALRULES25 will help you earn at least $0.25 per gallon on your first fill-up.
The company makes money by helping gas stations and retailers attract more business.
How to Install the Upside Gas App
Installing the app is the first step you need to take to use it. First, you provide your phone number when you go to Upside.com.
Then, you'll receive an invite to download the app from either Google Play or the Apple App Store.
You can sign up using your email, Facebook account, Google, or Apple. Upon doing so, your free account is created.
The platform will ask if you want to turn on location services. If you want to get the best deals closest to you, it's recommended to turn that on.
You can choose to have location services on only when using the app or at all times. I selected the former in my testing, and it allowed me to see deals close to my location.
Furthermore, the app asks if you want to link a payment card. I chose not to do so since they don't require it to get cash back.
How Does Upside Work?
Using the Upside gas app is simple. With a few clicks, you can start saving money at the gas pump or other retailers. Here is how to use the platform.
Claim an Offer
Opening the app is the first step to finding active offers. Once you open it, you will see a screen like the one below.
As you can see, I currently have several offers from Casey's in my area. All three are within a one-and-a-half-mile radius of my home.
When you travel, those options will change to your current location if you have location services turned on.
If you select either restaurant or grocery store deals, the map will update to reflect your local choices.
The map shows that I have numerous choices within several miles of my home.
Regardless of the savings opportunities I want to select on the map, they all show the gas rebate I will earn or the percent back on groceries or meals.
The company works with thousands of national brands, so there are many opportunities to save. For this review, I will show you how to select a gas offer.
When you find an offer you want to use, you will click the "claim offer" button. This will show you how much the rebate is worth, the location of the gas station, and how long you have to use it.
You have four hours to utilize the rebate. If you don't, the offer expires. Additionally, if you decide not to go to that station, you can unclaim the offer in the upper right-hand side of the app.
Get Gas
After selecting your offer, you can go to your chosen gas station. You can even choose the offer while at the station since the rebate becomes active immediately upon selecting it.
Then, you want to find an open pump and start filling your car with fuel. Make sure to pay attention to the fuel grade since the Upside app will list offers for various options.
You can also try to use a card from other loyalty programs you're a part of before filling up, but this will impact the earnings you receive from Upside by $0.035 per gallon.
Additionally, you must use a debit or credit card to pay for your gas.
After filling up your car, it's essential you get the receipt. If one doesn't print out at the pump, you must go into the station to ask them to print one off for you.
Upload Your Receipt
Gas pumps can be notorious for not printing out receipts. This is an issue because you need a receipt to earn the rebate from Upside. Either get it at the pump or walk into the station to get a copy.
You will need to upload a copy of your receipt once it prints. Like other receipt rewards apps, the platform has a camera feature for you to use.
Simply snap a photo of the receipt to start the process. Once you are done, a pop-up will appear like the one below.
Assuming it looks good, you will click the upload button. This takes a couple of seconds to complete, and you will receive a confirmation screen like the one below once it's successful.
The confirmation explains that it will take up to four days for the rebate to clear and apply to your account.
Get Paid
When I tested the app, it generally took several days for the rebate to apply to my account. Once it finalizes, you will receive an email that tells you how much you received.
While you wait, it's ok to take advantage of other cash back offers. These will process in approximately the same amount of time as the current one.
Cash Out
Cashing out is easy to do with the Upside app. It has a relatively low minimum redemption when compared to other shopping apps.
You can redeem your earnings using one of three methods:
Direct deposit to your bank account
Gift cards
PayPal cash
At the time of publication, you can redeem your earnings for gift cards at 30 participating retailers including free Google Play points.
You can withdraw cash or earn a gift card once you reach a $10 balance. Paypal redemptions require $15.00 to cash out.
Read our guide on how to get free PayPal money to discover other ways to earn cash.
Upside reserves the right to charge a $1 service fee if you try to redeem below the minimum redemption, but that wasn't something we encountered in our testing.
Features and User Experience
Upside is unique compared to other gas rewards apps. It offers multiple ways to cut costs. Here are how the options work.
Gas Offers
With the rising cost of gas, it's more important than ever to cut fuel expenses. The company offers a terrific way to do that if you have the right expectations.
You won't get free gas, but it is a legitimate way to save money when filling up your car.
The app doesn't work at every gas station, but it does work with thousands of locations nationwide. Participating retailers include:
76
BP
Casey's
Chevron
Circle K
Exxon
Marathon
Mobil
Phillips 66
Shell
Sunoco
Valero
Not every station for a specific brand will have the same offers.
For example, Casey's has a lot of stations in Omaha. Currently, the station nearest to me offers a $0.10 per gallon rebate. One that's a mile further away is offering a $0.20 rebate.
Keep that in mind as you look for offers. You may want to compare offers to claim the one that provides a higher rebate.
Restaurant Deals
The Upside gas app also works with participating restaurants. You earn a percentage back on each purchase.
This doesn't include tip and tax, only the cost of your specific items. It's common to see rebates of up to 15 percent back, but you'll most likely get rebates that are closer to ten percent.
Most offers come from local, independently run restaurants, but you may see some from national chains. These include fast food restaurants like:
Burger King
Dunkin'
Papa John's
Popeyes
Qdoba
Wendy's
Like gas offers, restaurant deals are tied to your location. If you want to earn cash back at restaurants, the Upside app is worth trying.
Grocery Deals
In select cities, usually larger ones, it's possible to save on groceries with Upside. However, most of the available offers seem to be solely from smaller stores rather than nationwide chains.
You can claim two offers per week. There's no maximum to what you can earn, but rebates tend to be roughly ten percent.
The app typically requires you spend at least $20 to receive a rebate. Plus, you must use a debit or credit card on your purchase.
After paying, you take a picture of your receipt and wait several days for it to clear.
If you utilize Upside only for groceries, you might be disappointed. It's an area they're growing, so it's best to view it as a complement to gas rebates.
Read our guide on the best coupon apps to use to save money on groceries.
Is Upside Safe?
Like other rewards apps, Upside is safe to use. The company doesn't sell your information, and they require verification for direct deposit or PayPal withdrawals.
Additionally, they don't store your banking information. Plus, the platform uses bank-level security to process transactions.
How Much Can I Earn With Upside?
Rebate apps can be a fantastic way to cut costs, but you won't become wealthy using them.
In your first fill-up, it's common to earn up to $0.40 or $.50 per gallon with Upside. After that, you can expect to see rebates range from $.05 to $0.20 per gallon.
Depending on how much gas you purchase, you'll likely earn several dollars back. While this is not bad, you are not going to recoup half of what you spend.
Earn More with the Upside Promo Code
When you first sign up to use Upside, it's best to use a promo code to earn more. You can use code FRUGALRULES25 to receive at least $0.25 per gallon for your first tank.
The company also has a referral program to increase your earnings. You receive $5 after the person you refer claims and completes their first offer when using your referral code.
The company even gives you $0.01 per gallon on every fuel purchase they make.
Does Your Upside Balance Expire?
Rebate apps can be a great tool to use to cut costs, but you need to stay abreast of the activity in your account.
The terms and conditions on the Upside website explain that your earnings expire after six months. If you don't claim and use an offer within six months, you will lose your earnings.
Does Upside Have a Gallon Limit?
Upside limits you to 50 gallons for rebates. If you go beyond that threshold, you won't receive a rebate for anything over 50 gallons.
Given the size of most tanks, it will be difficult to go over that limit.
Who Should Use Upside?
Upside is one of the best apps for finding cheap gas, but it's not for everyone. Here's who should consider using the app.
People Looking to Save on Gas
Gas prices can be burdensome for many people. Sadly, they are a necessity for most of us. If you need a way to save money at the pump, the app is worth trying.
It's not uncommon to see rebates of $0.10 to $0.20 per gallon. If it's on the higher end, you could earn several dollars back on your purchase.
You won't amass riches, but it's a good way to stretch your budget.
People Who Travel A Lot
Do you travel frequently? If so, the app is an excellent way to save extra money.
You will be limited when it comes to grocery rebates, but there are plenty of gas and restaurant offers to make it worthwhile.
Additionally, if you redeem earnings for gift cards, you can use those to lower your travel costs.
People in Large Metro Areas
The Upside gas app is best for people who live in larger metro areas. Omaha, which is a mid-size metro area, has dozens of offers for both gas stations and restaurants.
Larger cities have even more offers. However, if you live in a smaller town, you may not have enough offers to warrant using the platform.
Who Shouldn't Use Upside?
If you're on the fence about using the app, Upside may not be for you. Here is who shouldn't download it.
People Expecting to Earn A Lot
Upside is an excellent resource to help you find cheap gas. While it does give you cash back on purchases, it won't help you earn significant sums of cash.
If you're using the app to shave a considerable amount of money from your fuel budget, it's best to look elsewhere.
People Not Willing to Get Receipts
A receipt is necessary to claim rebates on fuel and food-related purchases. Gas pumps often don't print off receipts.
If your pump doesn't print one off, you must go into the station to get one. If you don't want to do that, the app isn't for you.
Pros and Cons
There are many rebate apps you can use to save money, but they are not all equal. Here are some things to keep in mind when considering the Upside app.
Pros:
Easy-to-use interface
Low minimum redemption amounts
Redeem earnings for cash or gift cards
Free to use
Works with over 50,000 participating retailers
Minimal time to receive earnings
Multiple ways to earn
Cons:
Receipt printers at gas stations are often broken
Using with other loyalty programs reduces your payout
Limited grocery offers
Might not be the lowest price per gallon in your area
Overall, if you want to save money on gas, the Upside gas app is worth trying.
Upside App Alternatives
There are many options to get rebates on purchases. Here are some alternatives to Upside you might want to consider.
| App | Cost | Best For | Cash Back? (Y/N) | Try |
| --- | --- | --- | --- | --- |
| Upside | $0 | Gas rebates | Y | Try |
| Ibotta | $0 | Grocery rebates | Y | Try |
| GasBuddy | $0 | Trip calculators | N | Try |
| Dosh | $0 | Booking hotels | Y | Try |
Ibotta
Ibotta is a leading rebate app that lets users save money at the grocery store. Like Upside, you claim offers and scan your receipt after you are done shopping.
The app also works as a money-saving website that gives you rebates at over 300 online retailers. Unfortunately, it doesn't work at gas stations.
Ibotta requires $20 to cash out, but it gives you a $5 bonus when you open an account.
Read our Ibotta review to learn more.
GasBuddy
GasBuddy is another leading gas rebate app and a close competitor to Upside. You can earn up to $0.25 per gallon of gas, and earnings go to a linked debit or credit card.
The app also has a premium membership that can get you up to $0.40 per gallon back. However, it costs $9.99 a month.
Dosh
Dosh is an app that gives users cash back at participating restaurants, hotels, and stores. You must link a card to get rebates and claim offers.
While it has an impressive list of retailers it partners with, it has a steep redemption minimum of $25. Furthermore, it doesn't work at gas stations.
Upside App Review
Offer Availability

Ease of Use

Cost

Earning Potential

Redemption Process
Upside App Review
Upside is an app that gives you rebates of up to $0.25 per gallon nationwide. You can also use the app to get rebates at select grocery stores and restaurants.
Pros
✔️ No cost to use
✔️ Low minimum redemption
✔️ Numerous ways to earn
✔️ You can redeem for cash or gift cards
✔️ Works with over 50,000 retailers
Cons
❌ May not always get you the lowest prices in your area
❌ Receipt printers are often broken
❌ Combining with loyalty programs may reduce rebate
Is the Upside App Worth It?
Paying for gas is a necessary evil we all face. Short of driving less, there's no way around the expense.
The Upside app is a terrific choice to slightly reduce your pain at the pump. You won't shave a ton off your gas bill, but the rebates make it worth it if you want to stretch your budget.
It's free to use, so there's little harm in trying it to cut costs.
What are some other ways you try to save money on fuel costs?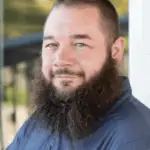 I'm John Schmoll, a former stockbroker, MBA-grad, published finance writer, and founder of Frugal Rules.
As a veteran of the financial services industry, I've worked as a mutual fund administrator, banker, and stockbroker and was Series 7 and 63-licensed, but I left all that behind in 2012 to help people learn how to manage their money.
My goal is to help you gain the knowledge you need to become financially independent with personally-tested financial tools and money-saving solutions.