You know the feeling. The grocery store clerk rings up your purchases, and you have a knot in the pit of your stomach when you hear the total.
I can relate. We are a family of five with three children who seem to have never-ending appetites. Fortunately, we're able to keep our costs in check.
This guide shares some of the strategies we use to save money at the grocery store.
Simple Ways to Save Money on Groceries
It is possible to cut your grocery bill without sacrificing the foods you enjoy. Here's how to do it.
1. Shop at a Different Grocery Store
Changing up where you shop is a terrific way to reduce your grocery spending. It's easy to get stuck in a rut and shop at the store by your house or work. In turn, this can cause you to overspend.
Do you have an Aldi or Lidl near you? Those are both excellent choices to lower your grocery bill and still purchase quality items.
If you like to add organic items to your daily diet, consider shopping at Trader Joe's instead of Whole Foods. Trader Joe's is usually lower-priced, allowing you to stretch your food budget.
Don't be afraid to shop multiple stores to take care of your food needs. You can shop at a cheap grocery store to get your staples, then supplement the rest of your shopping with other stores to maximize your spending.
In short, flexibility is foundational to saving money on your shopping needs.
2. Use a Rebate App
Saving money at the supermarket often involves clipping coupons to reduce costs. However, if you're like our family, you don't have time to look through and deal with coupons.
A grocery rebate app like Fetch Rewards is a perfect solution. You do your grocery shopping like normal and then take a picture of the receipt with the app.
After submission, it looks for active rebates on the items you bought.
Fetch works with over 300 retailers, including:
Read our Fetch Rewards review to learn more.
3. Choose Generic When it Makes Sense
Purchasing store brands is one of the best ways to save money on groceries. Like switching up stores, this will take some trial and error to find generic items you like.
You may not notice a difference between brand name products and generics. Some staples like salt and other seasonings may have no noticeable difference.
There may be other items you dislike or like more than their branded counterparts. Consumer Reports indicates that generic items usually offer 20 to 25 percent in savings.
That's an easy way to stay within your grocery budget with minimal sacrifice.
Don't overlook shopping at a discount store for staples you regularly use. Consult our guide on the top dollar stores, including online options, to cut costs.
4. Start Meal Planning
One of the best ways to reduce your grocery bill is to plan out your meals. It's also one of the easiest ways to save money at the store since it lets you manage what you purchase.
We've used a menu plan for years. Before we had children, we would do it for a month. Now we do it weekly.
This provides flexibility if you don't have time to make a particular meal one evening.
It also helps you save when you pair it around the grocery flyers for the week. We put our meal plan in a Google document along with the items we need to purchase for the week.
If you're new to planning meals, $5 Meal Plan is a fantastic resource to help you get started. The tool walks you through the process of planning meals and how to identify new, affordable meals you can try.
5. Use a Shopping List
Impulse purchases can be ruinous if you need to grocery shop on a budget. A single $5 or $10 unplanned purchase may seem inconsequential, but they add up easily.
We use a list every time we go to the store. It keeps our shopping in check, plus it helps us not to forget an item. If you follow meal planning, a list is a natural outflow of your plan.
You can write your list down or use any of the available money saving apps and do it all on your phone.
6. Buy Loss Leaders
Grocery stores actively promote their weekly specials with flyers. You may get them mailed to you or see them in-store. Several of the deals are loss leaders.
They're selling those items below cost in hopes you'll purchase additional items at full price. Loss leaders change weekly and vary by store. However, they can be an excellent way to save on groceries.
Common deals are on meat or produce. You might even see a significant discount on milk. When you pair loss leaders with menu planning, you can really rack up savings.
Think of it as shopping around the deals and using it to plan out your meal ideas for the week.
If you're not buying meat in the store, a service like Crowd Cow is a good alternative for quality meats without a hefty price tag.
Read our review of the Crowd Cow review service to learn more.
7. Use a Cash Back Credit Card
When used wisely, a cash back credit card can be a helpful tool when shopping. Some cards give higher percentages of cash back when you shop at the grocery store.
This could result in several hundred dollars of cash back into your budget annually just by using a rewards card.
Here are some of our top choices to consider when shopping at the store.
Just remember to pay your bill in full each month since the rewards aren't worth it if you incur debt.
8. Try Grocery Delivery
Online grocery delivery services like Instacart may seem like an odd way to save money on groceries. However, if you struggle with impulse purchases, the service can help you save money.
With a service like Instacart, you shop online and tell the shopper what items you need. They do the shopping and deliver the purchases to your home.
*Related: Do you like to use meal delivery services? Read our guide on the best meal delivery companies like HelloFresh to save money on meals delivered to your door.*
Doing this helps you avoid unnecessary purchases. Plus, it saves you time.
Instacart often allows you to link a loyalty card so you can take advantage of available deals or rewards. They also usually have grocery coupons you can use to apply towards purchases to increase savings.
9. Don't Always Buy Organic
Organic food is an increasingly desirable option for more individuals and families. Pesticides can be harmful to consume, especially if you don't know what has been used on the food you're eating.
However, organic food is typically more expensive than non-organic food. Organic items can easily cost double their non-organic counterparts.
That can quickly increase your grocery bill. But, it's not necessary for all foods you purchase to be organic. Often, if a fruit or vegetable has a peel, you may be fine purchasing the non-organic option.
According to the Environmental Working Group (EWG), you can purchase the non-organic versions of the following 15 items:
Avocados
Sweet corn
Pineapple
Onions
Papaya
Sweet peas (frozen)
Mangoes
Asparagus
Sweet potatoes
Cabbage
Kiwi
Watermelon
Mushrooms
Honeydew melon
Carrots
This is the EWG clean 15 for 2023, so it may change from year to year. If you like to purchase any of the above fruits and vegetables, you can opt for the non-organic version to save more money each month.
10. Avoid Pre-Packaged Foods
If your family is busy, pre-packaged foods are a helpful tool to quickly put dinner on the table. Unfortunately, those pre-cut or prepared foods come at a higher cost.
This can include items like pre-cut fruits and vegetables, pre-cut cheese, or bagged salad.
When you compare the cost of buying it already prepared vs. doing the work yourself, it's often two to three times more expensive.
Additionally, pre-packaged food often has a shorter lifespan. If you don't eat it soon enough, it will spoil.
Yes, pre-packaged foods can save you time, but that convenience comes at a cost.
11. Buy in Bulk, but Sparingly
Warehouse clubs like Costco and Sam's Club are a terrific option to do your shopping. We do a lot of our shopping at Costco because we have a larger family.
But, just because a purchase seems wise doesn't mean you should take advantage of all the money saving deals. You want to focus your bulk purchases on staples with longer shelf lives.
Examples include:
Canned vegetables
Dried beans
Dried pasta
Rolled oats
You can do the same thing with chicken or ground beef. They come in larger packages, but you'll want to break them up, repackage them, and freeze them.
Be wise with your bulk purchases. The savings can evaporate if you can't get through the item before it goes bad.
Read our Sam's Club vs. Costco review to see how the two stores compare.
12. Watch Unit Pricing
Grocery prices can be misleading. This is why knowing unit prices is essential if you want to save money on groceries.
Unit pricing sounds difficult, but it's simple to figure. Here's an example:
Six-count of dried beans for $7.99
Twelve-count of dried beans for $16.56
You might think the larger package is the better deal because bulk items are always cheaper. However, you are wrong.
In this case, the unit price for the 12 pack of cans is $1.38 per can, and the six-pack is $1.33 per can.
Ultimately, you get more value for your purchase if you opt for the six-pack. This isn't necessarily the situation on all items, but knowing how to figure out unit prices is important.
Some stores may list it on the price label. If not, use the calculator on your phone to divide the price by the weight or number of items you're receiving to determine the unit price.
13. Know Where to Look
Marketing is a big deal in grocery stores. Retailers like to put items with higher margins at eye level as they know it's more likely we'll purchase it. This strategy allows them to maximize profits.
To truly save money, you want to look all around you. Look at the top and bottom of the shelves to see all of your options.
This is where they may put generic items or less-popular ones that are still quality.
It may be the case that you do want the item they have put right in front of your eyes, but it pays to look at all of your options before making a purchase decision.
14. Shop Your Pantry
How often do you check your pantry before going to the grocery store? If you're like our family, it's easy for an item to get lost in your pantry only to be discovered three months after its expiration date.
Before we make up our meal plan for the week, we go through our pantry to see what we have. This not only gives us healthy meal ideas, but it also helps us reduce what we spend at the store.
Additionally, it helps us avoid wasting food. Food waste is a real issue in the United States, as we throw away 108 billion pounds of food each year.
That equates to $161 billion worth of food, according to FeedAmerica.org.
Shopping your pantry before going to the store is a simple way to reduce food waste and unnecessary spending when you already have an item.
15. Eat Before You Shop
Few things are worse than going to the grocery store on an empty stomach. Scientifically, when you go to the supermarket when you're hungry, you're more prone to buy items you may not otherwise purchase.
Temptation is real. If you're hungry, you will likely put items in your shopping cart that aren't on your shopping list. This will increase your bill and defeat your desire to save money.
Even if you need to have a small snack before going into the store, it will likely result in not overspending.
16. Eat Leftovers
Leftovers aren't the most fun for many families, but they're an easy way to reduce your grocery bill. Think of leftovers as similar to shopping your pantry before going to the store.
Eating leftovers helps you stretch your food so you don't have to buy as much. If you have an extra freezer, use that to freeze meals to extend their life.
This way you won't have to eat the same meal twice in one week.
17. Join Loyalty Programs
Most grocery stores offer loyalty or rewards programs to incentivize customers to shop at the store. These programs are usually free and are a great source for digital coupons.
You can even pair it with cash back apps like Fetch Rewards to double-dip on opportunities to save money.
If your local grocery store has a gas station, you may even be able to earn rewards for discounted gas. Our local Hy-Vee offers this. It is an easy way to earn savings of $0.25 or more per gallon of gas.
Don't be afraid to purchase discounted gift cards online to your favorite store as that will help you increase savings gained through a loyalty program.
18. Don't Avoid Clearance Racks
If you love a discount, the clearance rack can be an easy hack to save money on groceries. Not every store will have one. If they do, the items will vary.
For example, it may just be baked goods that are about to expire or cans with dents. Both are available at a discount.
Just ask a clerk in the store where the clearance items are. The rack may be hidden or not easily seen.
Our local store has theirs in the back next to a door to the warehouse. It isn't always guaranteed to have a lot to select from, but it can be a good source of savings when there is something available.
19. Shop By Yourself
If you have the ability, shopping without other family members is an easy way to save money on groceries. Children love to ask for items that may not be on your list.
Or, your partner may entice you to put something in the cart that's not on your list. Either situation adds unplanned costs to your bill.
You don't encounter that when shopping on your own. Better yet, you can get the shopping done faster, which saves you time as well.
How to Save Money at the Grocery Store FAQs
Saving money on groceries is an essential part of wise money management. Here are some common questions readers have about how to stretch their grocery budget.
How can I pay less for groceries?
It can be relatively simple to save money on groceries. When you're looking to reduce food costs, it's best to identify a more affordable supermarket to frequent.
This may save you 20 or 30 percent on your total grocery bill.
Additionally, don't overlook receipt scanning apps like Fetch Rewards to easily identify rebate opportunities to spend even less.
Does making a grocery list save money?
Yes, it is possible to save money with a list of groceries to purchase at the store. Making a grocery list gives you a plan to follow on what items you need for your home.
It's also helpful to create your list around your menu plan to identify only what you need. Plan your meals out weekly so you know what you must purchase.
Having a list doesn't guarantee you will save money. However, if you're able to avoid impulse purchases not found on your list, it will go a long way to reduce unnecessary spending.
This is especially true when you're on a fixed income. Read our guide on how to save money on a tight budget to identify other opportunities to cut costs.
How can I save money on groceries each month?
There are many ways to save at the supermarket each month. Here are some simple actions you can take to stretch your grocery budget:
Shop at a cheaper store
Use a grocery app to earn rebates on items you purchase
Don't fall for tricks like only buying items at eye level or on an end cap
Use a list to buy your groceries
If you follow the above tips, you'll quickly notice your grocery bill leveling out to a more acceptable level.
How much should I spend on groceries a week?
There is no set amount that you should spend on groceries a week. Factors that may dictate how much you will spend include:
Geographic location
Dietary needs
Age of children, if you have any
However, the U.S. Department of Agriculture (USDA) publishes monthly food plans you can use to manage your spending. As of August 2022, they recommend the following for a typical family:
$219.60 per week
$951.70 per month
The reference family is a male and female between 20 and 50 years old and two children, one aged six to eight years old and the other nine to 11 years old.
What is a reasonable grocery budget for one person?
Preparing meals for a single person is a challenge. Fortunately, it's possible to achieve a balance of buying groceries within your budget and minimizing waste.
Here is what the USDA recommends for an individual female or male, both aged 19-50, as of August 2022.
| Gender | Thrifty | Moderate | Liberal |
| --- | --- | --- | --- |
| Female | $52.00/wk. $225.30/mo. | $63.60/wk. $275.40/mo. | $81.30/wk. $352.10/mo. |
| Male | $59.90/wk. $259.50/mo. | $75.00/wk. $324.80/mo. | $91.90/wk. $398.00/mo. |
If you fall outside of that range, consult the USDA site to learn what they suggest.
Depending on your situation, if you start with $250 or $300 per month for a single person, you should be within a reasonable range.
What is the average grocery bill for two?
Various factors can impact how much a household of two people spends on groceries each week or month.
You have more opportunities to save vs. shopping as a single person, but it's still essential to monitor costs.
Here is what the USDA reflects as the average grocery costs for two people.
| Frequency | Thrifty | Moderate | Liberal |
| --- | --- | --- | --- |
| Weekly | $111.90 | $138.60 | $173.20 |
| Monthly | $484.80 | $600.20 | $750.10 |
They're assuming that it is one man and one woman, both aged 19-50 years old. If you fall outside that, consult the USDA Cost of Food Report to learn more.
Bottom Line
It is possible to spend less on groceries, but it does take a little work. If you can implement menu planning, wise shopping, and avoiding food waste, you will probably spend less at the store.
This doesn't mean you eat less or lower-quality food. Instead, you try to be purposeful with your shopping.
By using a handful of our tips, there's no reason why you can't shave ten to 20 percent off your monthly grocery bill.
What do you do to save money when buying groceries?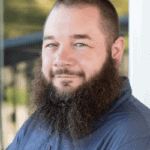 I'm John Schmoll, a former stockbroker, MBA-grad, published finance writer, and founder of Frugal Rules.
As a veteran of the financial services industry, I've worked as a mutual fund administrator, banker, and stockbroker and was Series 7 and 63-licensed, but I left all that behind in 2012 to help people learn how to manage their money.
My goal is to help you gain the knowledge you need to become financially independent with personally-tested financial tools and money-saving solutions.