You might use your phone for almost everything, so having an affordable plan is vital. Prepaid carriers like Mint Mobile are a terrific way to save money on your monthly cell phone service without sacrificing reliability.
But should you choose this budget-friendly phone service?
This Mint Mobile review covers the carrier's plan, price, and features.
What is Mint Mobile?
Like other discount cell carriers, Mint Mobile is a mobile virtual network operator (MVNO). These providers use the towers of larger, legacy carriers.
They offer prepaid plans at a fraction of the cost. Read our review of the top cheap cell phone plans to learn how they compare.
Mint Mobile uses the T-Mobile network. If the T-Mobile network has good service quality in your community, you'll be able to get a comparable level of voice and data reliability at a lower price.
All Mint Mobile plans include unlimited talk and text. They also provide an unlimited data plan for as low as $30 per month.
Like other MVNOs, the carrier is an online-only company, so you can't visit them at a physical location in your area. You can handle most matters via instant chat or by calling their customer service hotline.
How Much Does Mint Mobile Cost
Mint Mobile is contract free, but does not sell single-month plans.
Instead, you buy plans in three, six, or 12-month increments. There are no cancellation penalties, but you don't get a refund for the unused months.
Your monthly price depends on your plan length and monthly data allowance. Taxes aren't included so your total will likely be several dollars more.
Additionally, Mint Mobile doesn't have hidden fees unless you buy optional services like international calls.
Current monthly data plans include:
| Monthly Data | 3 Mo. (New Customer) | 3 Mo. | 6 Mo. | Annual |
| --- | --- | --- | --- | --- |
| 5GB | $15 | $25 | $20 | $15 |
| 15GB | $20 | $35 | $25 | $20 |
| 20GB | $25 | $45 | $35 | $25 |
| Unlimited | $30 | $40 | $35 | $30 |
*Data speeds for the Unlimited Plan begin slowing after 40GB of monthly usage.
*Now through October 31, 2023, all three month plans are just $15 a month.
You pay for the total amount of the plan upfront to start, and there is a seven-day free trial period.
The first plan you choose is a three-month trial period that costs the same as if you purchase a 12-month plan. It's best to use the first three months as a trial before committing to a longer term.
Twelve-month plans are the best value, and three-month plans can be the priciest. You can let your plan expire penalty-free if you choose not to renew.
This arrangement may cause some confusion in the beginning. However, cell phone plans start at a low $15 per month, and they also offer one of the cheapest unlimited data plans.
These are some of the most affordable data plans available and can be half of the cost of other prepaid cell phone plans.
If you need a family plan, that is an option as of May 3, 2022. You can get multi-line pricing with as little as two lines.
Each member gets to select their own personal plan. Called the Modern Family Plan, users can now get the lowest available price and still get to pay every three months.
Each Mint Mobile plan includes these standard features:
Unlimited talk and text
Free calls to Canada and Mexico
High speed data
Free mobile hotspot (5 GB mobile hotspot for Unlimited plans)
5G and 4G LTE data speeds for all plans
Complimentary 3-in-1 SIM Card
Free calls to Canada and Mexico can be nice. Rates for international calls to over 160 countries are reasonable as well. You can compare rates on their website.
One way to reduce your monthly bill is by referring friends and earning renewal rewards. Referring five friends lets you get one year of free service with a 10 GB data plan ($240 value).
There are typically no other Mint offers to lower your rate, but the referral perk is a nice bonus.
Why is Mint Mobile So Cheap?
Mint is one of the cheapest prepaid carriers because they buy excess capacity from the T-Mobile network. Other prepaid wireless networks also use T-Mobile as it can be cheaper than Verizon and AT&T.
If you want to use an affordable carrier on the Verizon network, consider Visible. Read our Visible Wireless review to learn more.
Mint Mobile doesn't maintain towers or local stores. This also keeps costs low.
This allows Mint to pass on savings to customers without sacrificing reliability.
If unlimited data is essential to you, Mint is the cheapest plan available versus any other MVNO. Tello offers a similar plan, but costs $29 a month.
Furthermore, if you need an affordable plan for your child, Mint Mobile is one of the best cell phone plans for kids available.
Activation Process
Activating with Mint Mobile is pretty simple. You receive a free activation kit by mail that includes a free SIM card and ejector tool.
It's not uncommon for other prepaid cell phone providers to charge a small fee for a SIM card when bringing your current unlocked GSM phone.
You have 45 days after ordering your activation kit to activate your account. Wait until the end of the month if you must cancel a contract with another provider.
You can keep your number and unlocked GSM phone if you switch to Mint Mobile. The carrier also sells phones and can assign you a new number.
*Related: Are you looking for an affordable cell phone plan that fits your needs? Read our Mint Mobile vs. Ting comparison to see which service is best for you.
Below is a step-by-step process to activate a Mint wireless plan:
Receive activation kit in the mail
Go to mintmobile.com/activate
Enter 11-digit SIM card code
Follow on-screen directions to finish activation
If you ever have additional questions, you have several choices to receive help. You can use instant chat to talk with a customer service representative. Customer service is also available by calling 800-683-7392.
Once you finish the process you're able to make and receive calls and texts as well as access the internet.
Wireless Coverage
All plans operate on the T-Mobile network with nationwide coverage.
You can enter your address into the Mint Mobile coverage map to see your potential data speeds. This map estimates the coverage quality in these settings:
Outdoors
In-vehicle
Indoor residential
Indoor commercial
You can also scroll the map to see coverage quality in nearby cities and your recurring travel destinations.
Here is the Mobile Mobile coverage map.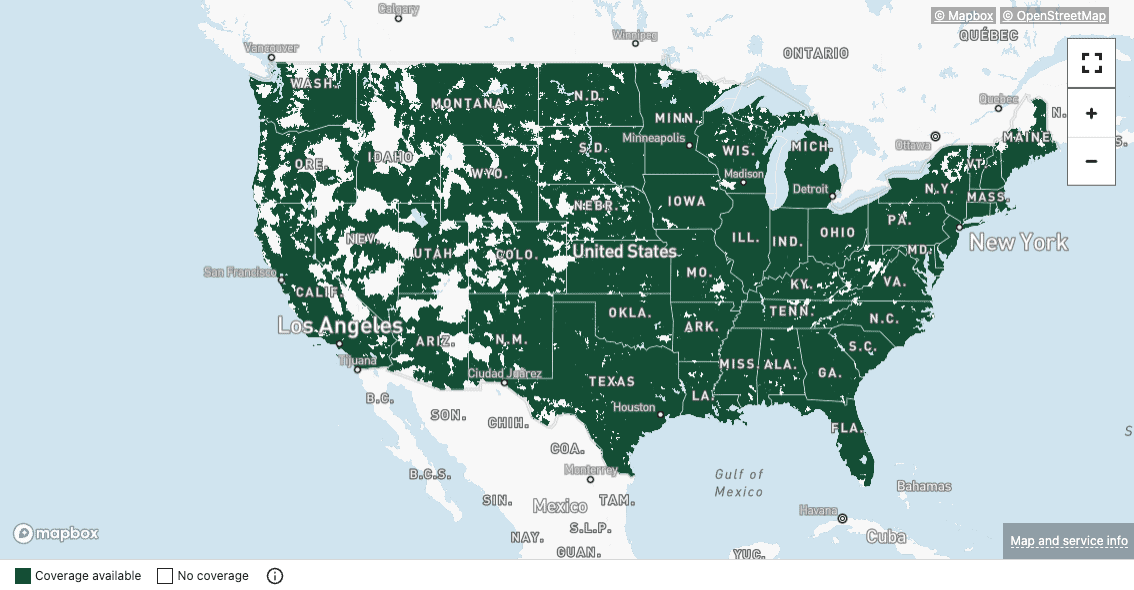 Unless you live in a heavily remote area, you can expect solid coverage.
Is Mint Mobile Coverage Reliable?
This carrier can be reliable if you live in an area where the T-Mobile network is strong. Cities tend to have good coverage, but service quality can be spotty in rural areas.
Special Promo

Special Offer: Mint Mobile now offers an UNLIMITED data cell phone plan for just $30/mo. Get unlimited talk, text, and data for less than any major carrier. If you're part of the gig economy, you need this plan!
>> Shop plans at Mint Mobile Now
Since the carrier uses excess capacity from T-Mobile, service quality can worsen during peak periods or network outages. T-Mobile is one of the best networks in the country.
While you may be deprioritized at times, reliability is excellent and you should not expect any hiccups in service.
Depriorization is a reality of using a MVNO, and not unique to Mint Mobile.
Does Mint Mobile Have 5G?
Yes, 5G is available in many cities across the United States. The coverage map shows the areas that currently have 5G.
5G data is automatic for all plans without hidden fees when you have a 5G-compatible phone.
Mint Mobile also has the largest 5G network, according to its site, and there is no charge for it.
Phone Selection
One of the key selling points of an MVNO is that you can bring your own unlocked phone or purchase one from the provider. Mint Mobile is no different as long as you already have a GSM phone.
You can enter the model information or your phone's IMEI number to see if it's compatible. If it's not, you can easily buy one from them.
Below are a few of the phones you can purchase from the carrier:
Google Pixel 5 5G
iPhone 12
Motorola RAZR 5G
Samsung Galaxy Z Flip 5G
Prices vary widely, up to over $1,000. Monthly payment plans are available, or you can buy used phones online to save money.
If cost is a concern to you, it's best to either buy a used phone or bring one with you before signing up for service.
After you sign up for service, the company mails you a Mint SIM card. You will receive it within three business days. Upon installing it, and following the prompts, you should have service.
Customer Service
The easiest way to contact customer service is by live chat on the Mobile Mobile app or website. You can also call the toll-free phone number at 800-683-7392 to reach a live person.
Pros and Cons
Is this cheap phone plan worth it? Here are some positives and negatives for Mint Mobile.
Pros:
Plans start at $15 per month
Unlimited data plan for $30 per month
Free international calling to Mexico and Canada
Free personal hotspot for all plans
5G coverage for all plans
Cons:
Can't change your plan until after your current one ends
No monthly pay-as-you-go plan options
Mint Mobile offers reliable service at an affordable price. Besides having to buy a minimum three-month plan, the provider offers a terrific way to save money on your cell phone bill each month.
How Mint Mobile Stacks Up Against the Competition
There is a lot of competition in the prepaid phone space. While Mint Mobile offers the cheapest unlimited plan available, it doesn't always come down to price.
For example, if international calling is important to you Tello is a better choice. The provider lets customers call over 60 countries for free.
If you want multiple networks, Ting is a better choice as they operate on both the T-Mobile and Verizon networks.
Most low-cost cell phone providers allow new users a money-back guarantee or free trial. You can take advantage of those to see which one works best for your needs before making a final decision.
Additionally, Mint Mobile's unlimited data plan slows speeds once you reach 40GB in a month. If that is a concern, Visible may be a better choice.
Read our Visible vs. Mint Mobile analysis to learn how the two carriers compare.
Mint Mobile Review
Price

Plans

Coverage

Customer Service

Network Speed
Mint Mobile Review
Nationwide coverage, unlimited data, the ability to bring your own device, and plans that start at $15 per month make Mint Mobile an affordable cell phone service option.
Pros
✔️ Affordable plans
✔️ Reliable service
✔️Unlimited data for $30/mo.
✔️ Nationwide coverage on the T-Mobile network
✔️ 7-day free trial
Cons
❌ No monthly plans
❌ No physical stores
Bottom Line
Overall, Mint Mobile is an excellent option for cell phone customers who want to spend less on their monthly phone service.
Not only do they have affordable data plans, but you can bring your own device. The free mobile hotspot and international calls to Canada and Mexico are nice as well.
How much do you pay for your phone bill?