This is a sponsored campaign written by me on behalf of Twigby. The opinions and text are all mine.
You probably use your phone for almost everything, so having an affordable plan is vital. Prepaid carriers like Twigby can help you save money on your monthly cell phone service without sacrificing reliability.
But should you choose this budget-friendly phone service? This Twigby review covers the carrier's plans, pricing, and features to help you decide if the service is right for you.
What Is Twigby?
Twigby is a mobile virtual network operator (MVNO). These are service providers that operate on legacy carriers' networks, including AT&T, T-Mobile/Sprint, and Verizon.
Like any other MVNO, they can offer cheaper cell phone plans because they lease space from a legacy network instead of maintaining their own tower network.
As a result, all monthly Twigby plans start at $10 after the introductory pricing.
This carrier operates on the Verizon network for both talk and text.
In addition to cheap cell phone service on a reliable network, each plan is prepaid. You don't have to sign a contract or pay cancellation fees if you want to pause your service.
How Much Does Twigby Cost?
Twigby is one of the most affordable prepaid phone plans in the space. After promotional pricing, which you receive for the first three months of service, plans are as low as $10 per month.
Here is the monthly rate for the first three months of service.
| Data | Pricing |
| --- | --- |
| No Data | $5 |
| 2GB | $5 |
| 5GB | $10 |
| 8GB | $16 |
| 20GB | $25 |
This is what you can expect for pricing after the promotional period ends.
| Data | Pricing |
| --- | --- |
| No Data | $10 |
| 2GB | $15 |
| 5GB | $20 |
| 8GB | $26 |
| 20GB | $35 |
Pricing was updated in July 2023 and is a bit easier to understand. Unfortunately, Twigby does not include taxes and fees in their stated price, so you'll pay several dollars more based on your location.
Luckily, Twigby does provide some flexibility if you're at risk of maxing out your data for a month. They allow you to move up a plan or purchase 1GB of data for $6.
All plans include no mobile hotspot or tethering fees, free unlimited talk to over 80 international countries, a free SIM card, and free six-way conference calling.
Network Coverage
Since Twigby is an MVNO, they rent tower space. Specifically, they operate on the Verizon network for 5G and 4G LTE coverage.
This lack of overhead cost allows Twigby and other cheap cell phone plans to offer savings to customers.
Is Twigby's Cell Service Reliable?
If you live in a location where Verizon is dependable, you should have no issues with Twigby. You can verify the availability in your area by consulting their website.
Simply enter your ZIP code in their coverage checker to see what kind of reception you can expect. Alternately, you can look at their coverage map to get a good idea of the coverage you will receive.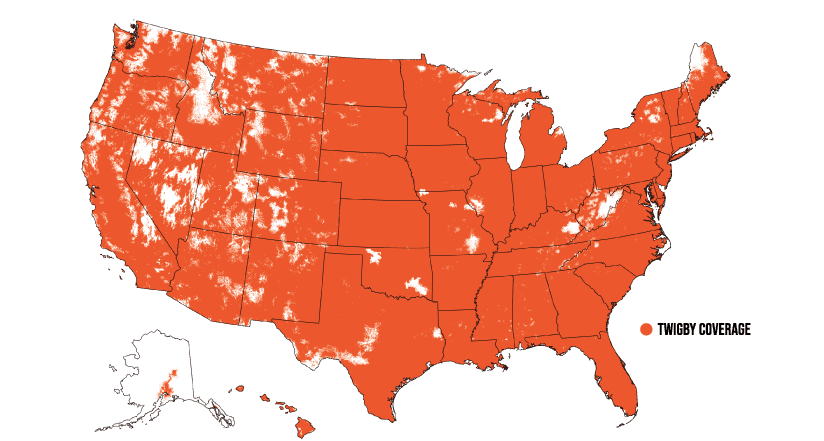 One thing to keep in mind is that you might face deprioritization during times of heavy use. Verizon may temporarily slow data. This is common amongst most prepaid cell phone plans.
Is Twigby Owned by Verizon?
Twigby is a no-contract phone plan and is not owned by Verizon. While Twigby does rent tower space from Verizon, they are independently owned.
Activation Process
It is fairly simple to activate service with Twigby. Like any cell phone plan, you visit the website and select the plan you want.
Here is a step-by-step look at what you need to activate service.
Choose your phone plan
Bring your own device or buy a compatible phone
Receive a SIM card activation kit in the mail
Activate your service
The carrier doesn't charge an activation fee. If you bring your own phone, they help you check its compatibility before purchasing a plan.
An IMEI number is necessary to check compatibility. You can receive this by dialing *#06# to get it for your phone.
Assuming your phone is compatible, you go on to create an account. Better yet, you can typically keep your phone number.
There is a 30-day satisfaction period to test Twigby's mobile service quality. Use this time to test the talk, text, and data speeds.
Data Speeds
You will likely have fast download speeds since Twigby operates on the Verizon 5G cellular network. To verify this, consult the coverage checker on their site to identify what kind of reliability you can expect.
Online reports indicate you can typically expect a download speed of at least 35 Mbps via device and mobile hotspot. This is sufficient enough to stream HD content on most cable alternatives like Netflix or Hulu.
However, it is important to note that data speeds will drop to 2G once you reach your allotted high-speed data limit.
Does Twigby Offer 5G?
Yes, 5G is available in many locations across the United States. The coverage map shows the areas that currently have 5G.
5G data is automatic for all plans without hidden fees when you have a 5G-compatible phone.
Since Twigby operates on the Verizon network, you receive the service this major carrier provides.
Mobile Hotspot
A mobile hotspot comes standard with all Twigby plans. Most people using Twigby say online that they typically get 35 to 40 Mbps download speeds.
If you're a heavy data user, you must keep that in mind when using hotspot data.
When unlimited high-speed data is important to you, a phone service provider like Visible might be a better choice since Twigby caps out at 20GB in its unlimited plan.
Customer Service
Twigby only operates online. There is no in-person customer support. However, Twigby customer service is responsive.
Live online chat support is available seven days a week:
Monday through Friday: 7 a.m. to 9 p.m. Central Standard Time
Saturday and Sunday: 10 a.m. to 6 p.m. Central Standard Time
You can also email or send snail mail for non-urgent matters. The service even has an online FAQ database for several common topics.
Unfortunately, phone-based customer service is unavailable. You can only get real-time help via live chat. This is fairly common with no-contract cell phone providers.
Phone Selection
Most Android and iPhones are compatible, and you can bring your own device. If you choose this option, the service provides you with a Twigby SIM card.
It's also possible to buy new and refurbished Android and Apple devices. These can cost less than $200 and include a free SIM card.
Whether you buy a new phone or keep your current one, you can port your phone number for free.
What Is the Catch With Twigby?
Twigby may sound too good to be true since you can get a mobile plan for as low as $10 a month with reliable coverage on Verizon.
Thankfully, there are no catches or hidden fees with Twigby. Providers like Twigby can offer affordable plans because they don't operate their own towers. This allows them to pass on savings to customers.
The main downside is that customers face deprioritization first, meaning they encounter slower speeds when there is a lot of usage on the main network.
Ultimately, your Twigby speeds won't always be as fast as Verizon Wireless customers. However, if you want to lower your monthly phone bill, it's a great choice.
Pros and Cons
No service is perfect, so it's important to know what any cell phone service offers before becoming a customer.
Here are the pros and cons of Twigby.
Pros
Low cost of as little as $10 per month for data, talk, and text
Coverage on the Verizon network
Customizable plans to meet your needs
Free international calling to over 80 countries
Free unlimited global texting
Can choose a no-data plan
No contracts or activation fees
Discounts for your first three months of service
Cons
Online-only with no retail locations
Need a data plan to receive group texts, photos, and videos
No phone-based customer support
Not good for heavy data users
Given their price, Twigby provides fantastic call quality and service. However, you might be better served with a service like Visible if you want an unlimited data plan.
They also offer a 30-day money-back guarantee. If you're unsatisfied with their service, you can get the cost of your plan, taxes, and phone (minus shipping) refunded.
How Does Twigby Compare to Other Carriers?
Twigby isn't the only cell phone service with prepaid plans. If you're interested in switching cell phone providers, here are the top competitors to Twigby.
Visible
Visible is a no-contract cell phone service owned by Verizon. It also owns and operates the infrastructure both companies operate on.
This means that Verizon and Visible Wireless have identical coverage. However, Verizon customers get priority over Visible customers, meaning Visible users experience deprioritization first.
On the plus side, Visible offers an unlimited plan for only $25 a month. This gives you unlimited talk, text messages, and data for one low price. If you need unlimited data, Visible could be a good choice.
Read our Visible review to learn more.
Tello
Tello is a leading MVNO with flexible phone plans starting at just $10 per month.
What's nice about Tello is that you can choose how much data and how many minutes you need each month.
Unlimited data plans cost at least $29 per month, which is comparable to Visible. Nevertheless, Tello has some of the cheapest phone plans available if you can skimp on data.
Read our Tello Mobile review to learn more.
Mint Mobile
If you like the option to customize your plan, Mint Mobile has some of the most affordable unlimited plans on the market.
For example, you can get unlimited talk and text as well as data for just $30 per month if you prepay for the year or use the new customer promo. A 5GB data plan costs as low as $15 per month.
However, the company's plan and pricing can be confusing since you purchase service in blocks of three months.
Read our Mint Mobile review to learn more.
Twigby Review
Price

Plans

Coverage

Customer Service

Flexibility
Twigby Review
Twigby is a low-cost cell phone provider that offers customizable plans, that start under $20 per month, with reliable coverage.
Pros
✔️ Affordable plans
✔️ Reliable service
✔️ Coverage on the Verizon network
✔️ Excellent customer service
✔️ Ability to change plans when you wish
Cons
❌ Data heavy users may find it expensive
❌ No retail locations
❌ Unlimited data is only 20GB
Is Twigby a Good Deal?
If you want to save money on your cell phone bill, switching to Twigby makes it easy to get cheap plans with reliable service.
You can select a plan that works best for you, whether that's maximum savings or extra data. Best of all, it's contract-free and allows you to leave at any time.
How much do you spend on cell service each month?