7 Cheap Cell Phone Plans We're Looking At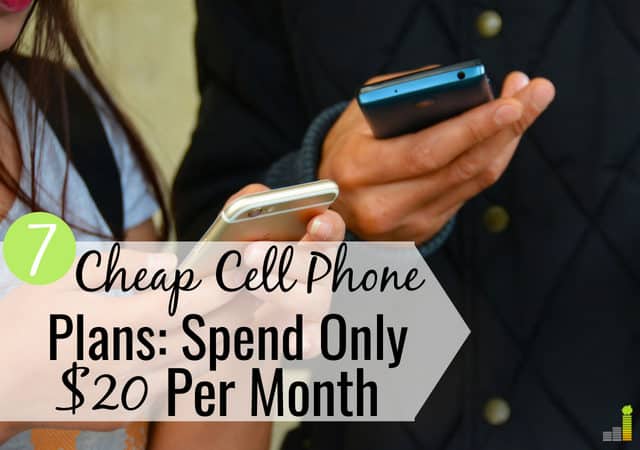 Cheap cell phone plans are one of the best ways to save money in a budget. While you get quality service through Verizon the monthly bill can make nearly anyone choke. Thankfully they do have no-contract options available now though a lot of that goes back to competition forcing them to go that way. That notwithstanding, reducing a monthly cell phone bill is one of the best ways to save money as a family.
I know that we're not the only family dealing with expensive phone plans as plans from the major carriers average over $150 per month. That's just crazy, though the good thing is there is significant competition making cheap family cell phone plans relatively easy to find.
After taking a look at some of the cheap cell phone plan options out there we decided to move to Cricket, which operates on the AT&T network for a total of $70 per month – or a savings of roughly $100 each month.
Having used Cricket for the past few years, we've not seen any noticeable drop-off in quality. There are some great options out there to consider if you're looking to lower your monthly cell phone bill.
What if you like your provider but would still like to save money on your monthly bill? Trim is a free to use app that will negotiate rates you pay providers, for free, including cell phone bills.
If you're looking to save money on your cell phone bill, here are the top cheap cell phone plans on the market.
Cheap Cell Phone Plans to Consider
When I got my first cell phone the only real options were the big carriers and outliers like TracFone. Thankfully that is no longer the case as most people can find plans that cost them no more than $50 as you'll see below.
Republic Wireless
Republic Wireless is one of the most popular carriers out there, and for good reason. They might even offer the cheapest cell phone option out there with monthly plans that start as low as $15.
The plans at Republic Wireless range from $15, which is all on Wi-Fi and has unlimited talk and text to $40 per month that includes up to 5 MB of data. If you just need basic coverage and are regularly on Wi-Fi then Republic Wireless is a great carrier to consider.
The one drawback to Republic Wireless is that you can't bring your own phone and you have to choose from one of their four phone options.
Republic Wireless does offer the Moto X Pure, which I use and love it. If you don't need to have an iPhone, Republic Wireless is a great option to consider.
Some other things in the Republic Wireless corner are:
They offer a 30-day money back guarantee
They pay you back each month for unused data
Republic Wireless is contract-free, so you can leave at anytime
It operates on the Sprint network
Check out the plans at Republic Wireless 
Straight Talk
Straight Talk is another popular option for those looking for cheap cell phone plans as theirs start at $30 per line though those plans are limited to 1,500 talk minutes. If you move up to the $45 per month plan with Straight Talk then you get unlimited talk, text and 3 GB of data.
If you're a heavy data user however you might find Straight Talk restrictive, though if you use Wi-Fi a lot you should be able to avoid that. Other highlights of Straight Talk include:
You can bring your own compatible phone
Several dozen phones to choose from
MVNO status allows coverage on any the 4 major carriers' towers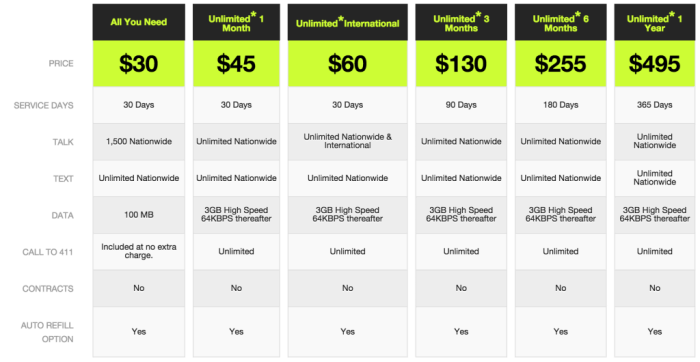 Check out the plans at Straight Talk 
GIV Mobile
Giv Mobile is another MVNO like Straight Talk but they bring a unique spin to pre-paid cell phone plans. Giv Mobile donates 8 percent of your monthly plan to select charities. That isn't a lot of money, but it is a nice feature assuming they have the ability to give to a charity that's important to you.
While plans with Giv Mobile start at $20, they're somewhat light with the data allowance. To meet what you can get from Verizon you have to sign up for what's called "The 45" which is $45 per month for unlimited talk and text and 2 GB of data. For an additional $20 per month you double that data allowance.
As with others, Giv Mobile allows you to bring your own phone, though they do offer about 24 different phones to buy directly from them. I will be honest though in that the phones are a bit on the outdated side. If a more modern phone matters to you then you might want to look elsewhere. However, if you need bare bones and don't use a whole lot of data then Giv Mobile is a decent cheap cell phone plan to consider.
T-Mobile
T-Mobile made news recently with its new Data Stash promotion. The promotion allows you to rollover your unused data for up to 12 months and starts you out with 10 GB of data for free. As with Straight Talk, you can bring your own phone to T-Mobile but will need a T-Mobile SIM card to do so.
The good you receive from the Data Stash promotion comes with a twist on the phone purchase though. Everything I've seen about T-Mobile states you pay for the phone in monthly increments (basically leasing the phone) as opposed to buying it outright.
The cheapest plan comes in at $50 per month for unlimited talk and text and 1 GB of data. At $60 per month you receive an additional 2 GB of data. However, you'll be adding roughly $20 per month if you buy a phone through them.
Check out the plans at T-Mobile
Boost Mobile
Boost Mobile operates on the Sprint network and has plans starting as low as $35 per month that allow for 1 GB of data and unlimited talk and text. At $10 and $20 extra per month you can add 4 or 9 GB of data respectively. Other highlights of Boost Mobile include:
You can't bring your phone
They offer several dozen phones under $150
Their platform only works with Android and iPhone devices
No tablets or mobile hotspots are offered
Virgin Mobile
Virgin Mobile is another in the lines of cheap no-contract cell phone plans that operates on the Sprint network. Virgin is also one of the cheaper cell phone plans out there. While their plans start as low as $20, that gets you only 300 minutes of talk time each month and unlimited texts.
Assuming you want data coverage then plans start at $35 for unlimited talk and text plus 250 MB of data or the same 300 minute talk limit and unlimited data up to 2.5 GB.
Virgin Mobile doesn't allow you to bring your own phone, though they do have several dozen to choose from including iPhones. The one thing I have noticed with Virgin Mobile though is that they seem to be lacking with regards to family and business plans.
This would be enough to cause me to look elsewhere when you add it to the light data allowances. However, if you're looking for bare bones they might be worth considering.
Net 10 Wireless
Net 10 Wireless is the last of the cheap cell phone plans we looked at. Net 10 comes from the TracFone family and allows you to bring a compatible phone if you have one. If not, you can choose from one of several dozen phones they offer which are admittedly, not the most up to date.
As it's a TracFone family member you can add minutes in a variety of ways, which is a nice convenience to have.
Net 10 has plans starting at $35 per month for unlimited talk and text. For an additional $5 per month you get 500 MB of data. Net 10 also offers relatively reasonable family plans starting at $75 for two lines with the same 500 MB data limit. If you're largely on Wi-Fi then Net 10 could be a decent option to look at.
Check out the plans at Net10 Wireless 
As I said in the beginning, there weren't many cheap cell phone plans to choose from even a decade ago. That has changed a lot over the past few years with the competition no-contract cell phone plans bring to the market.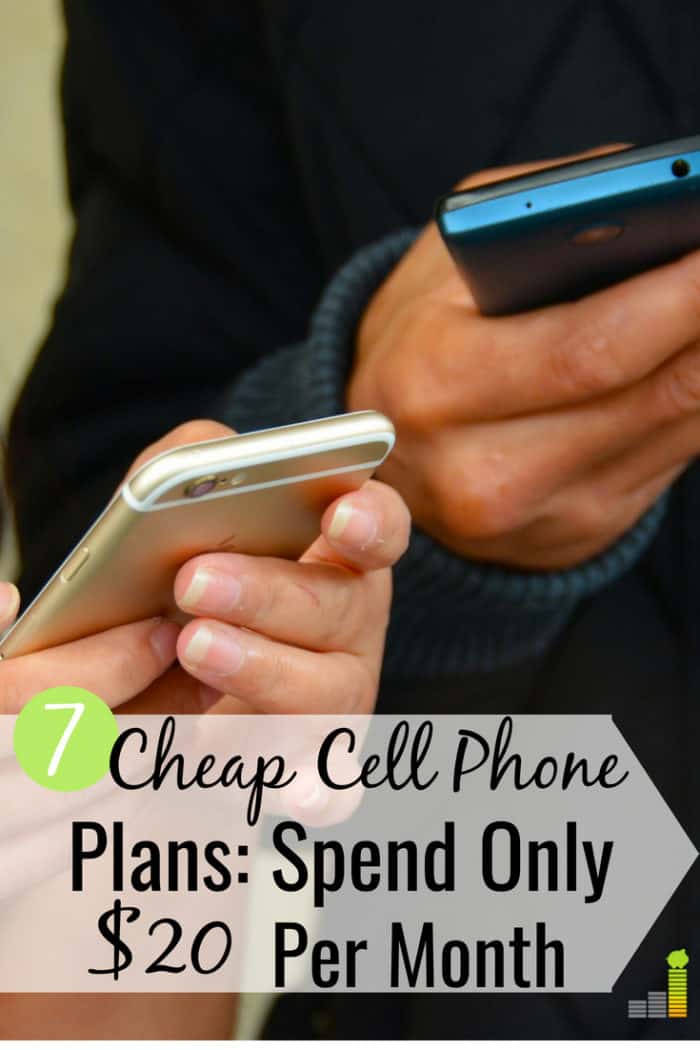 If you're looking to spend less on your monthly cell phone bill there are plenty of options to choose from. Since we've moved to Cricket we now have an extra $100 per month we can allocate elsewhere in our budget – which is a great problem to have.
I firmly believe reducing your cell phone bill is one of the easiest ways to save money every month – especially if you're not a heavy data user and don't care much about what kind of phone you use.
How much do you pay for your cell phone coverage each month? What do you look for when you're shopping cheap cell phone plans? What other carriers did I miss?
The following two tabs change content below.
John is the founder of Frugal Rules, a dad, husband and veteran of the financial services industry whose writing has been featured in Forbes, CNBC, Yahoo Finance and more.
Passionate about helping people learn from his mistakes, John shares financial tools and tips to help you enjoy the freedom that comes from living frugally. One of his favorite tools is Personal Capital , which he used to plan for retirement and keep track of his finances in less than 15 minutes each month.
Another one of John's passions is helping people save $80 per month by axing their expensive cable subscriptions and replacing them with more affordable ones, like Hulu with Live TV.
Latest posts by John Schmoll (see all)