Having a reliable phone plan doesn't need to cost a fortune. Using a mobile virtual network operator (MVNO) means that you can avoid spending $100+ per month to receive dependable service.
An MNVO lets you spend less money without compromising quality. This Ting review shows how you can pay $25 per month for plans that provide similar services as the major carriers.
What Is Ting?
Ting Mobile is an MVNO owned by Dish. An MVNO does not have its own cell towers. Rather, it rents tower space from one of the three major carriers, including AT&T, T-Mobile, and Verizon.
Since MVNOs do not own towers, they can operate at a significantly lower cost than legacy carriers. They pass these savings onto you as a customer, allowing you to enjoy a cheap cell phone plan.
Ting offers a no-contract cell phone plan, so you can leave when you wish.
When you combine that with the savings you can get and the service from the legacy carrier's network, a quality budget carrier becomes an easy decision to save money.
The provider operates on two networks, including T-Mobile and Verizon, for both talk and text.
While Ting has headquarters in Ontario, Canada, and Starkville, Mississippi, they offer customer service entirely online.
How Much Does Ting Cost?
Ting Wireless recently updated its pricing model, making it one of the most affordable options on the market.
All prepaid plans offer unlimited talk and text. Your monthly bill depends on which mobile data plan you pick.
Here is an overview of the carrier's plan prices and features:
| Plan | Monthly Cost | Data | High-Speed Data | Hotspot Data |
| --- | --- | --- | --- | --- |
| Set 5 | $25 | 5GB | 5GB | 5GB |
| Set 12 | $35 | 12GB | 12GB | 8GB |
| Unlimited | $45 | Unlimited | 22GB | 12GB |
| Unlimited Pro | $55 | Unlimited | 35GB | 18GB |
If you're on Wi-Fi networks a lot, the Set 5 plan should be sufficient for your needs.
If you need a lot of data, you can select the Unlimited Pro plan for $55 per month. This includes 35GB of data for heavy data users.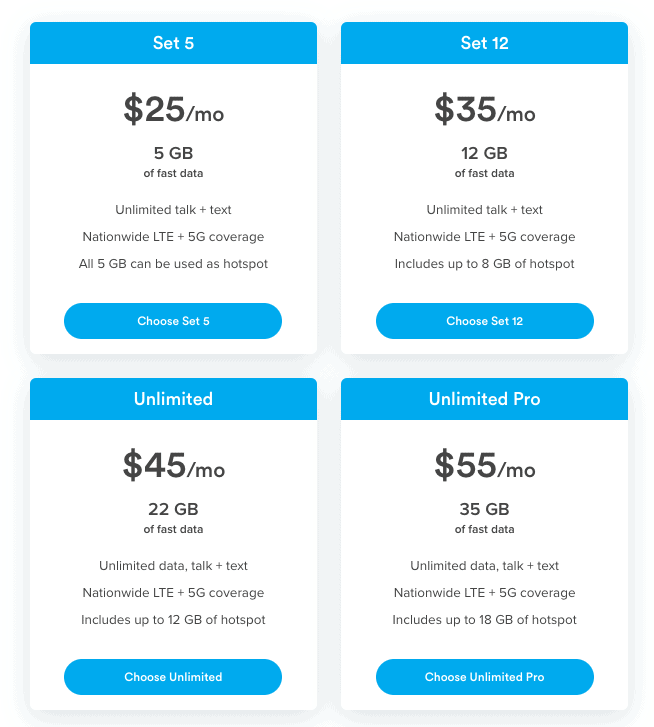 You can monitor data usage via text notifications and add additional data if you need it.
*Related: Are you looking for a cheap phone plan that fits your needs? Read our Tello vs. Ting Wireless comparison here to learn which provider is best for you.
The carrier lets you make calls to more than 60 countries at affordable rates. It's also possible to access international data when you travel outside the United States.
Rates for international calls and data are listed on the Ting website.
Why Is Ting Cheaper Than Verizon?
Ting is more affordable than Verizon because it leases excess capacity from the legacy carrier. In turn, this limits the costs of the MVNO.
Verizon customers pay higher prices since the carrier must maintain its tower network. With Ting, you can enjoy the best network for your area and get the best deals because they have fewer operating expenses.
If you want a more robust MVNO to use, that still uses Verizon, Visible is an excellent choice. Read our Visible review to learn more.
Your monthly phone bill can also be lower since there is more competition between discount carriers.
Activation Process
It's possible to bring your own phone and keep your phone number if you're going to switch carriers. The carrier website can check your phone compatibility as well.
Here is an overview of how to join Ting:
Sign up for a monthly plan
Bring an unlocked phone or buy a new phone
Receive your sim card by mail ($1 per card)
Activate your phone with no activation fee
Customers can sign up with Ting directly on their website. If it's easier, you can choose to use the "Log in with Amazon" feature on their site.
Connecting a Ting profile to an Amazon account means that you'll have one less login credential to remember. It also makes it easier to purchase a phone through Amazon.
After creating your profile, your user dashboard is where you can find your account history, account settings, usage alerts, and ways to customize your plan.
Wireless Coverage
Ting offers nationwide GSM coverage with the T-Mobile and Verizon networks. The only network the carrier is not on is AT&T.
Unfortunately, this carrier no longer supports CDMA devices.
Potential customers can enter their zip code into the coverage checker to see their estimated data speeds. That way, they can find out if they will receive reliable coverage in their area before signing up.
Many Ting coverage areas offer 4G LTE service, but you may also be eligible for 5G coverage.
Is Ting's Service Good?
Yes, Ting's service is excellent in most parts of the United States. The carrier's coverage map is extensive because they partner with Verizon Wireless and T-Mobile for talk, text, and data.
Additionally, since you have a GSM device, you're also more likely to get coverage in foreign countries.
Does Ting Throttle Data?
Like most other MVNOs, Ting does not throttle data. However, since it's an MVNO, the users on the legacy networks take priority over you.
This is commonplace with no-contract providers and is known as data deprioritization.
In times of heavy usage across the network, you will experience worse network performance than people who are actually Verizon or T-Mobile customers.
Does Ting Have 5G?
Yes, all Ting plans offer 5G coverage for compatible phones. You can check the coverage map to see if this data speed is available in your area.
If not, you will enjoy 4G LTE data.
Phone Selection
You can buy Apple and Android-based phones through the Ting Shop. The most popular brands are Apple, Samsung, and Motorola.
Various phone models are available to help you find an affordable price. Flip phones are also available if you don't need mobile data.
The upfront price can be as low as $100 for older models and near $1,000 for the latest releases. Monthly payment plans are available.
A 30-day warranty applies to devices you purchase.
Standard shipping fees are $8 to receive your new phone within five business days. Expedited shipping via FedEx Express costs extra.
Furthermore, you can bring your own phone. However, you'll want to check phone compatibility by verifying your IMEI or MEID number.
You only pay $1 for a SIM card plus $8 to ship.
If you don't know how to find the number on the back of your phone, you can call *#06#. Doing so will show all the information you need.
After entering those numbers, you'll know if you can bring your own device.
*Related: Are you looking for the best cheap cell phone plan for your needs? Read our Ting vs. Mint Mobile comparison to see which service is best for you.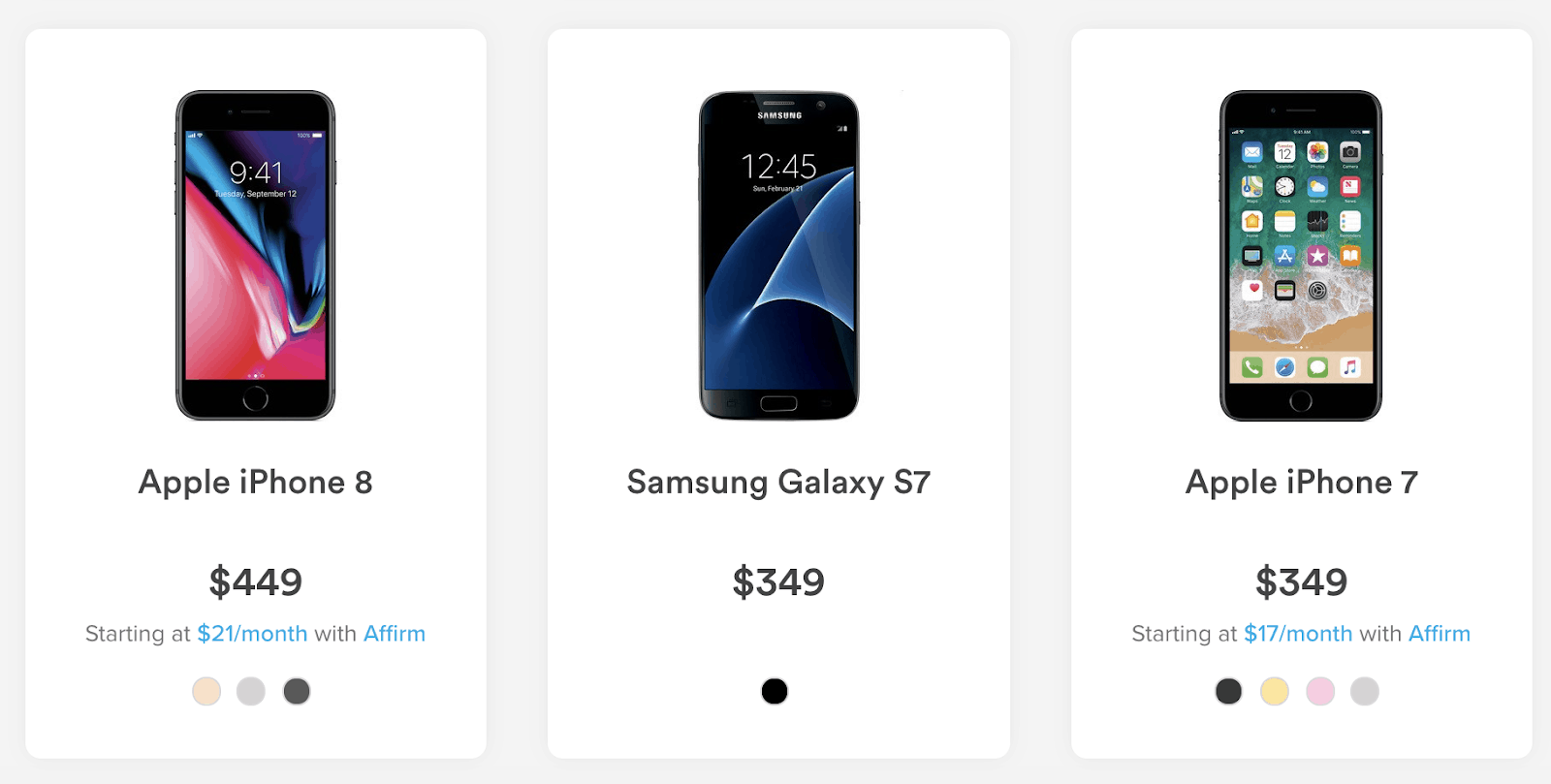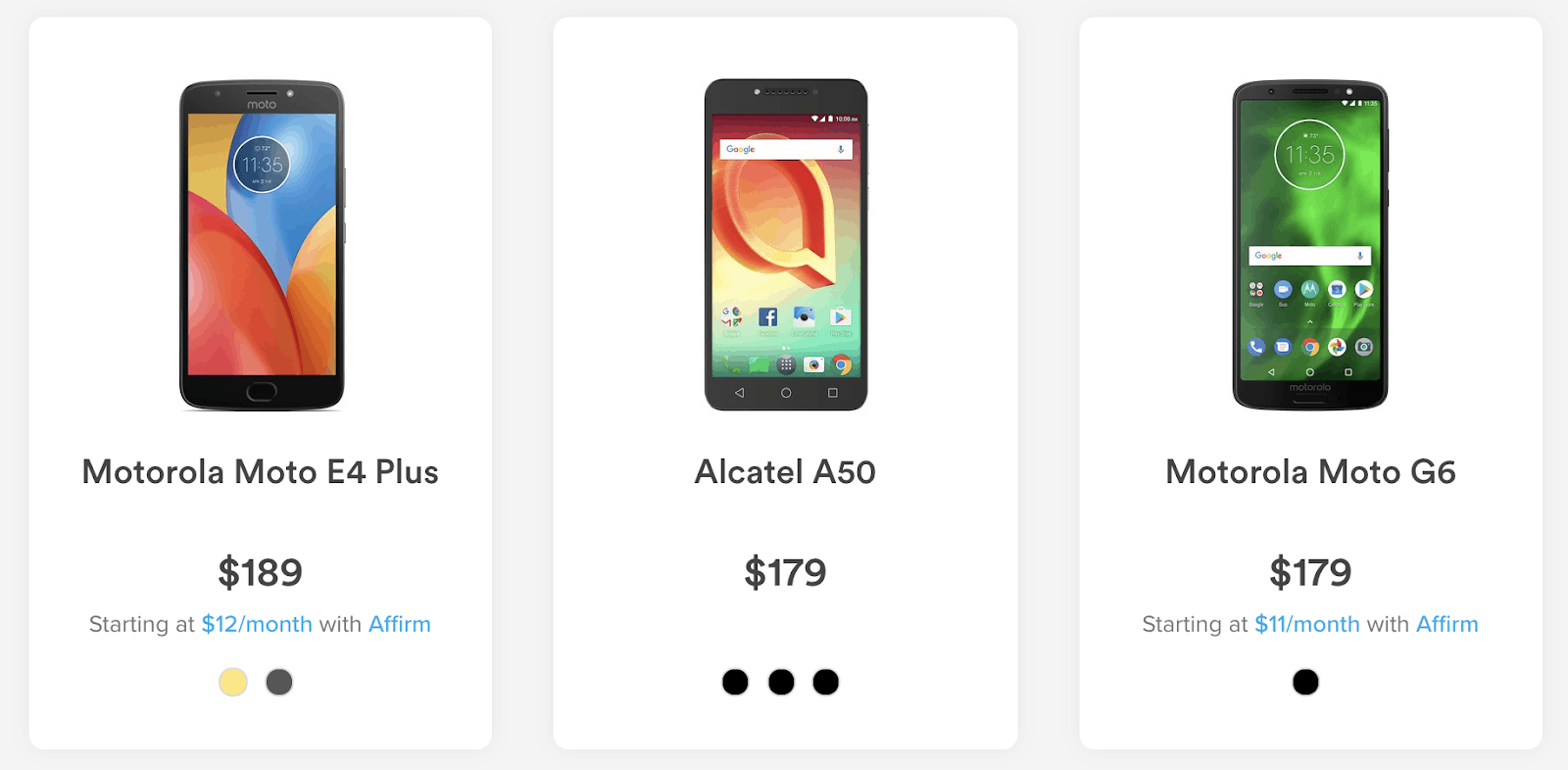 Customer Service
Phone support and online chat are available if you want to join the carrier or get customer support during most hours of the day. You can see if an agent is available by visiting the "Contact Us" page.
Email support and online forums are accessible 24/7 for non-essential issues.
Pros and Cons
No cell phone provider is perfect. However, choosing the right provider is important. Be sure to take a look at everything they offer before deciding on a carrier.
Here are the pros and cons of Ting.
Pros
No contracts or activation fees
Provides nationwide coverage on two networks
You can bring your own device
Affordable phone plans
Online, live chat, and phone support
30-day warranty on phones you buy
Cons
No in-person support
Data deprioritization
No free international data plans
Ultimately, the carrier offers dependable service at a low cost.
How Does Ting Compare to Other MVNOs?
There are a lot of no-contract carriers to choose from. Ting offers competitive pricing for its data plans.
| Carrier | Price | Data Allowance | Unlimited Talk/Text (Y/N)? | Best For | Try |
| --- | --- | --- | --- | --- | --- |
| Ting | $25+/mo. | 5GB+ | Y | Coverage options | Try |
| Tello | $10+/mo. | 1GB+ | Y | Affordability | Try |
| Mint Mobile | $15+/mo. | 4GB+ | Y | Flexible plans | Try |
| Visible | $25+/mo. | No limit | Y | Data usage | Try |
Getting unlimited talk and text along with access to two of the best data networks also make Ting an attractive service provider.
Tello
Tello is one of the most affordable phone plans on the market. You can get service for as little as $10 per month. This includes unlimited talk and text plus 1GB of data.
If you need an unlimited plan, that costs $39 a month.
Tello operates on a nationwide GSM network. The carrier also offers 5G coverage on compatible phones.
Read our Tello review to learn more.
Mint Mobile
Mint Mobile is one of the more unique MVNOs. Instead of getting coverage month-to-month, you buy it quarterly. You can also get plans in a six-month or annual increment.
Plans start at $15 a month, and they are paid each quarter. These plans include unlimited talk and text plus 4GB of data a month.
Coverage is on T-Mobile. Mint Mobile offers both 4G LTE and 5G service.
Read our review of Mint Mobile to learn more.
Visible
Visible is all about simplicity. The carrier offers one plan. It includes unlimited talk, text, and data for $30 per month.
If you want to upgrade, and receive ultra wideband 5G service, Visible+ is a good choice at $45 a month.
Then, you each pay your own bill. Visible operates on the Verizon network and offers 5G service.
Read our Visible review to learn more.
Ting Review
Price

Plans

Coverage

Customer Service

Network Speed
Ting Review
Nationwide coverage, unlimited data, the ability to bring your own device, and plans that start at $25 per month make Ting a terrific phone service option.
Pros
✔️ Coverage on T-Mobile and Verizon ✔️ No contracts or hidden fees ✔️ International calling to over 60 countries ✔️ Plans start at just $25 a month ✔️ Ability to bring your own device
Cons
❌ No family plans ❌ No physical stores ❌ Unlimited plan is more expensive than other carriers
Bottom Line
Ting is an excellent option to consider if you're looking to change phone companies. The compatibility checker makes it easy to find out if a device works in their network.
The carrier is family-friendly, and your individual service bill starts at only $25 per month for talk, text, and 5GB of data. Needless to say, this is an awesome deal.
Plus, if you need more data, the premium plans are relatively inexpensive.
How much do you pay for cell phone service each month?
Choncé is a Certified Financial Education Instructor (CFEI), personal finance freelance writer, and blogger who focuses on helping others manage their money better in order to live a life with more possibilities and fewer limitations. Her work has been featured on Business Insider, LendingTree, Credit Sesame, and Barclaycard.