I hear people complain all the time about the cost of their cell phone plan. With as much as we rely on our devices, having a reliable phone plan that doesn't cost a fortune is important. With Ting, you no longer need to spend $100+ per month to receive dependable service.
Thanks to competition, you can spend significantly less without compromising quality. Providers like Ting Mobile allow you to spend $25, or less, per month for similar service you receive from major carriers.
That represents significant savings you can apply towards other needs in your budget.
If you want to save money on your cell phone bill, Ting Wireless is worth considering.
What is Ting?
Ting is a Mobile Virtual Network Operator (MVNO). An MVNO does not own its own cell towers. Rather, they rent tower space from one of the four major carriers – AT&T, Sprint, T-Mobile, and Verizon.
Since MVNOs do not own towers they're able to operate at a significantly lower cost than legacy carriers. They pass these savings onto you as a customer, allowing you to pocket the savings.
The carrier, like other MVNOs, does not have contracts, so you can leave when you wish. Combine that with the savings and service on a legacy carrier's network, and a quality MVNO becomes an easy decision to save money.
Ting operates on two networks – T-Mobile, and Verizon for both talk and text. The provider has headquarters in Ontario, Canada, and Starkville, Mississippi, but provides customer service entirely online.
Ting Review
Do you want a cheap phone plan that offers quality service? Our Ting review shares why they're worth considering for your needs.
Getting Started
Customers can sign up with Ting directly from their website. If it's easier, you can choose to use the Log in with Amazon feature on their site.
Connecting a Ting profile to an Amazon account would leave one less login credential to remember. It also makes it easier to purchase a phone through Amazon.
Once you create a new profile, you have the option to buy a new phone or bring your own device.
The dashboard is where to go to find account history, account settings, usage alerts, and welcome video.
Ting Mobile Plans
Ting Wireless recently updated their pricing model, making it one of the most affordable options available.
All customers receive unlimited talk and text for just $10 per month. You only pay for the data you use, which is $5 per GB.
If you're a heavy data user, you can select the Unlimited Pro plan for $55 per month. That includes 35GB of data for heavy data users.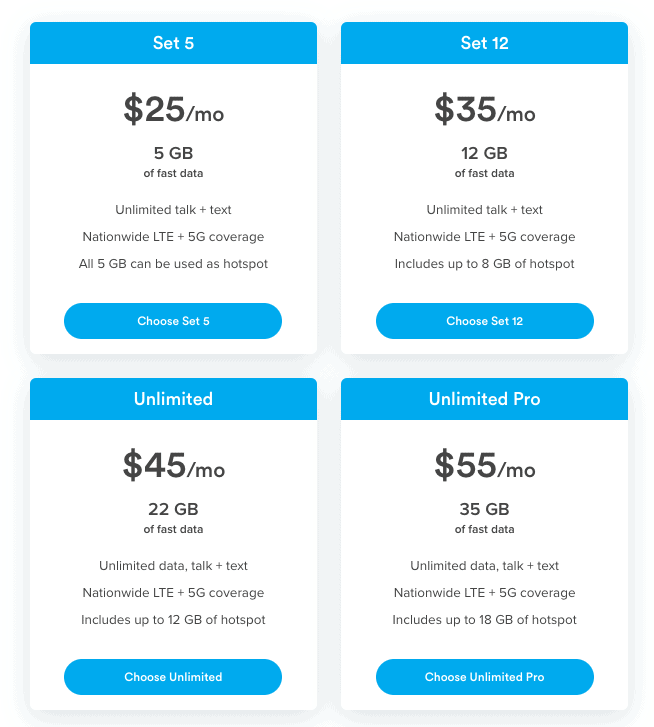 You can monitor data usage via text notifications and add additional data if you need it.
*Related: Are you looking for a cheap phone plan that fits your needs? Read our Tello vs. Ting Wireless comparison here to learn which provider is best for you.
Ting is one of the better MVNOs for international calling. You can make calls to the below countries with no additional charge, solely using your minutes.
Canada
China
Germany
India
Israel
Mexico
United Kingdom
You to make calls to more than 60 countries, and you can find those rates on the Ting website.
Coverage
Ting has coverage on two nationwide LTE networks T-Mobile and Verizon. The only network the carrier is not on is AT&T. T-Mobile Devices are typically GSM network and Sprint devices are normally CDMA.
Ting has a convenient feature that allows potential customers to look at the coverage map of both GSM and CDMA devices. That way, you can know how good the coverage will be in your area before signing up.
Many areas now offer 4G LTE service but that all depends on where you live. Regardless if you're using Ting on a GSM or CDMA network, there will not be an extra charge for domestic roaming.
International roaming works on both networks. Customers must have an LTE device if they want to internationally roam on the CDMA network.
Bring Your Own Phone
One of the main benefits an MVNO is the ability to bring your own phone. Ting allows you to bring both Android and iOS-based phones. Ting customers have many options when it comes to compatible phones to use with your service.
The first step is to verify that your current phone works on the platform. Ting has a compatibility feature online for customers to check if their device will work on the platform. All they need is the IMEI or MEID number.
If you don't know how to find that besides looking on the back of their phone they can call *#06# and it will pop up all the needed information. After entering those numbers you'll know if you can bring your own device.
*Related: Are you looking for the best cheap cell phone plan for your needs? Read our Ting vs. Mint Mobile comparison to see which service is best for you.
Big-name phone manufacturers like Samsung, Apple, and Motorola make several phones that work on the Ting platform. As long as those phones aren't tied to another company, it should work with Ting.
You can screen any other phone bought through a third party through the compatibility checker to see if it will work with the Ting network. When you bring your own phone, you need to purchase a SIM card from Ting for $9 to start service.
If you don't have your own phone already, Ting has over 25 different models to choose from on their website.
On the website, you can find popular phones like the Apple iPhone Xs Max, Samsung Galaxy S10e, and the Motorola Moto Z3 Play are just a few of the many options available.
Prices range from $1,099 to just $49 for the Alcatel Go Flip. Most devices have the SIM card included with the phone and customers don't have to purchase them separately.
A few of their phones can be bought refurbished, but a majority of them are only available brand-new. Phones on their website are available for purchase in full or via financing.
Most of the phones Ting offers come with 32GB of storage, though they do carry some options with more or less space to fit your needs.
Ting Promo Code
Ting does not tend to offer special promo codes, but Frugal Rules readers receive a $50 credit when signing up for service.
You don't need a special code for this discount. It's available to all Frugal Rules readers when signing up for service through our site. This makes Ting one of the most affordable cell phone plans in the market.
Pros and Cons of Ting
No cell phone provider is perfect. Choosing a provider is important, so take a look at everything they offer before deciding. Below are the pros and cons of Ting.
Pros
No contracts
Provides coverage on two networks
You can bring your own phone
$50 promo for Frugal Rules readers
You only pay for what you use
No hidden fees
Online, In-app, and phone support
Free international calls to seven countries, with service to 60+ additional countries
One-year warranty on new devices
30-day warranty on refurbished devices
Cons
No in-person support, though that's common for MVNOs
The carrier offers dependable service at a low cost.
Ting Review
Price

Plans

Coverage

Customer Service
Summary
Nationwide coverage, unlimited data, the ability to bring your own device, and plans that start at $15 per month make Ting a terrific phone service option.
Pros
✔️ Coverage on T-Mobile and Verizon
✔️ $50 promo when you begin service
✔️ International calling to over 60 countries
✔️ Plans start at just $15 a month
✔️ You only pay for the data you use
Cons
❌ No family plans
❌ No physical stores
❌ Unlimited plan is more expensive than other carriers
Summary
Ting is a great option to consider if you're looking to change phone companies. The compatibility checker makes it simple to find out if a device works in their network.
Ting is family-friendly, and your individual service bill starts at only $10 per month for talk and text and $5 per GB, which is an awesome deal. Paying only for the talk, text, and data that you use is a great benefit to have instead of committing to a plan that charges high rates and fees each month.
How much do you pay for cell phone service each month? What do you look for in a cell phone provider? How much data do you use each month?