No-contract cell phone plans are a terrific way to save money. They provide reliability and freedom to cancel anytime. Tello has plans as low as $5 per month.
In this Tello review, we'll share how you can receive quality cell service for an affordable price. If you want to reduce your cell phone bill without sacrificing your smartphone, Tello is an option worth considering. In this review, we'll go over their plans, prices, and what you can expect when using their services.
What is Tello?
Cell service for $20, or less, per month may sound too good to be true. It's not, thanks to a Mobile Virtual Network Operator (MVNO) like Tello. Like other MVNOs, Tello does not own cell towers.
Instead, it piggybacks on the towers of one of the four major carriers – AT&T, Sprint, T-Mobile, and Verizon. MVNOs rent space, allowing them to greatly reduce cost and pass those savings to consumers.
Tello operates on the T-Mobile network for both talk and text. As a Tello customer, you receive the same quality and coverage options, without a nasty monthly bill.
The carrier also offers free 5G service, if you live in a city that offers it.
Tello at a Glance
Info
Data
Cost

✓

Plans start at $10
Contract

✓

No
Fees

✓

No
Features

✓ Free International calls to 60+ countries

✓

Free tethering

✓

Free hotspot use

✓

Flexible, affordable plans

✓

Bring your own phone

Sign Up Now
How to Open an Account With Tello
The first step to becoming a Tello customer is creating a free account and selecting a plan. You also need to decide if you want to buy a phone or bring a compatible device.
You can download the Tello app in both the App Store and Google Play.
How Much Does Tello Cost?
If you have a legacy carrier, you're used to only one option – an inflexible contract that may or may not meet your needs. That is not the case with Tello as they offer flexibility to get service to meet your needs.
You can customize your own plan, or select a premade plan. Below are the plans you can customize. As you can see, the most popular one is $14 per month for unlimited talk and text, plus 2GB of data.
This makes Tello one of the cheapest cell phone plans in the market. Read our guide on other cheap cell phone plans to identify top choices with similar pricing.
If you need a phone option for your child, Tello is one of the best kids phone plans available.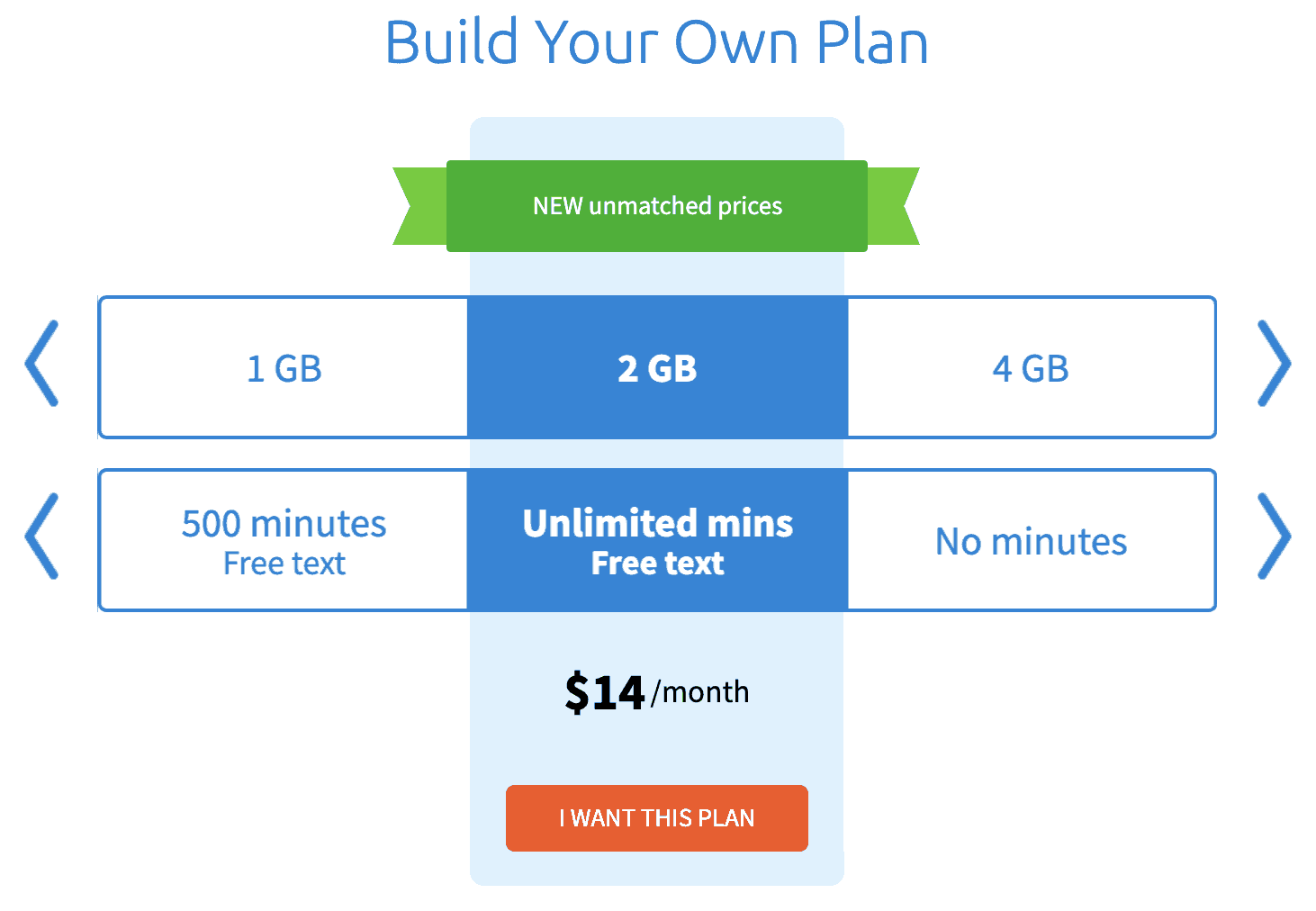 If you don't need to customize a plan, you can choose one of Tello's four pre-made plans. Prices range from $10 to $29 per month, all of which are reasonable and provide unlimited talk and text.
Do you need unlimited data? The carrier offers that in its $29 monthly package. That's about the same as the $30 unlimited everything plan from Mint Mobile.
If you decide a plan costs too much or you want to increase data, you can change it whenever you wish. This is a perk many MVNOs offer to provide increased freedom to customers.
You can also make calls to Canada, China, and Mexico. And, the carrier recently upgraded international calling to allow free calls to over 60 countries. It's possible to call over 100 countries with Tello.
Consult their site to learn which countries you can call for free.
Tello vs. Other Prepaid Phone Plans
| Service | Cost | Data | Mins. | Text | Network | Go to Site |
| --- | --- | --- | --- | --- | --- | --- |
| Tello | $14 | 2GB | No limit | No limit | GSM | See Plans |
| Visible | $25 | Unlimited | No limit | No limit | Verizon | See Plans |
| Twigby | $15 | 1GB | No limit | No limit | Verizon | See Plans |
| Mint Mobile | $15 | 5GB | No limit | No limit | T-Mobile | See Plans |
| Xfinity Mobile | $15 | 1GB | No limit | No limit | Verizon | See Plans |
Data Packages
You may think it's impossible to limit yourself to a small amount of data per month. Legacy carriers depend on this to convince you that you need a contract with lots of data.
The best prepaid phone plans let you get what you need by utilizing Wi-Fi.
By using Wi-Fi, you can significantly reduce your need for data and save money. Tello also routes voice calls over Wi-Fi to help further reduce costs. This makes it one of the best phone plans for college students looking to save money.
Customers can also turn their smartphones into a hotspot with free tethering. The data used while tethering counts against your data or pay-as-you-go balance.
*Related: Are you looking for a no-contract cell phone plan that fits your needs? Read our Tello vs. Ting Mobile analysis to learn which provider is best for you.
Using all of your plan's data or allowing your pay-as-you-go balance to drop below $0.50 disables tethering and throttles your connection speed.
This prevents your device from being a Wi-Fi hotspot for any other device until you either upgrade your plan or buy more pay-as-you-go minutes.
Read our guide on other top mobile Wi-Fi hotspot plans to learn how Tello compares.
Bring Your Own Phone
One beauty of MVNOs is that you can often bring an unlocked phone and receive service. This is typically not the case with traditional carriers.
With Tello, you can bring any unlocked Android or Apple phone to use on their platform. You will need a Tello GSM SIM card. If you do not have one, you can buy one from Tello for $9.99.
The SIM is free of charge for lines moving from CDMA to GSM, or if you buy a device from Tello. After doing this, Tello allows you to port your phone number free of charge.
To determine if your phone will work with Tello, go to their site, and click on "Shop/Bring Your Own Phone." If you need a new phone, you can buy one from Tello.
They offer a fair range of phones, from flip phones to smartphones.
Does Tello Have Promo Codes?
Tello often run specials for new customers such as 50 percent off the first month of service, with no special discount code required. A promo code isn't the only way to receive lower prices.
They also have a referral program in place that benefits both the referrer and the referred. If a new member joins, both parties receive a $10.00 credit.
These "Tello Dollars" can be applied to your entire balance or the purchase of a new phone. However, the balance must be enough to pay the entire invoice because Tello doesn't currently allow partial payments.
The referrer must be an active member or had a Tello account sometime in the previous six months to be eligible to earn the credits. If their account makes no calls or purchases in six months the credit will expire.
Benefits
Logo
Tello - no contract phone service
Cost: $10 to $29 per month

Coverage on a 4G LTE/5G nationwide network.



Pros and Cons
No service is perfect. Choosing a cell phone provider is important, so you must take everything into consideration.
Below are the pros and cons of Tello Mobile.
Pros
Low-cost plans, starting at $5 – IF you don't need data
Coverage on a 4G LTE/5G nationwide network
You can bring your own phone
Customizable plans to meet your needs
24/7 customer support
Make changes with no additional fees
No activation, hidden, or early termination fees
Free calling to over 60 countries
Free tethering
5G service
Phone number transfer
Referral Program
Cons
No retail locations, online-only – but that's the case with most MVNOs
No roaming, but Wi-Fi makes this unnecessary
Only offers discounts on refurbished phones – though common with most MVNOs
Tello offers reliable service at a low price. They offer a 30-day money-back guarantee if you're unhappy with their service or receive a defective phone.
Tello Review
Price

Plans

Coverage

Customer Service
Tello Review
Nationwide coverage, flexible plans, the ability to bring your own device, and plans that start at $5 per month make Tello an affordable cell phone service option.
Pros
✔️ Plans start as low as $5 a month
✔️ 5G service
✔️ Nationwide coverage
✔️ No hidden or activation fees
✔️ Free tethering
Cons
❌ Unlimited data is cheaper with other carriers
❌ No family plans
Bottom Line
Overall, Tello is an excellent way to save money on cell service. Tello wireless plans stand out as some of the cheapest prices available.
Bringing your own phone can be a lot cheaper than buying a phone through the provider because they're not subsidized. It's a great carrier for international calling which is perfect for people who need to contact friends and family outside of the United States.
If you want to save money on cell service, switching to a carrier like Tello puts at least $50 in your pocket you can use for other needs.
How much do you pay for cell phone service each month? What do you look for in a cell phone provider? How much data do you use per month?
Choncé is a Certified Financial Education Instructor (CFEI), personal finance freelance writer, and blogger who focuses on helping others manage their money better in order to live a life with more possibilities and fewer limitations. Her work has been featured on Business Insider, LendingTree, Credit Sesame, and Barclaycard.