5 Best Cell Phone Plans For Kids and Teens
Posted on November 13, 2019 by Chonce in
Reviews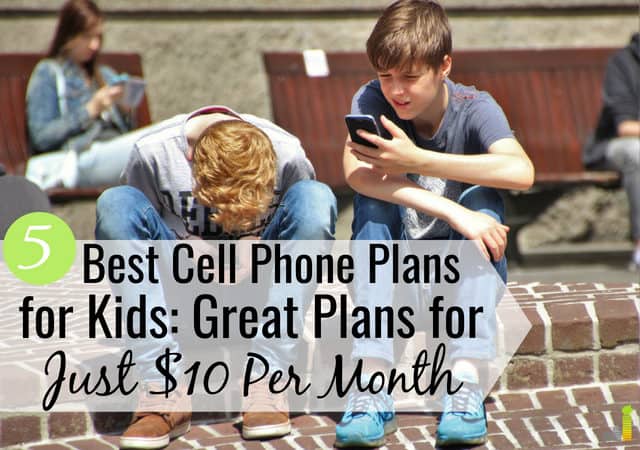 I got my first cell phone in seventh grade. It was colorless and I jazzed it up with rhinestones and charms. Phones are considerably nicer now, and are valuable tools we take with us everywhere. It's no wonder kids want their own cell phones, too. You might be looking for the best cell phone plans for kids that provide a sense of freedom without costing too much money.
It's not always easy to find the best prepaid phone plans for kids and teens. There are countless companies to choose from and some plans are far too expensive. Additionally, some plans have far more than a child needs, especially for their first cell phone.
Thankfully, there are enough carriers who provide cheap phone plans for kids so you can buy your kid a phone without breaking the budget.
Best cell phone plans for kids and teens
You likely don't want to spend a ton of money on your kid's cell phone plan and I don't blame you. It's difficult to find a good phone plan for your child but it's not impossible. Here are five of the best cell phone plans for kids and teens.
1. Tello
Tello is a prepaid cell phone service provider with flexible plans and low rates – perfect for kids! There are no contracts, no activation fees, no early termination fees and customers get nationwide 4G LTE coverage provided by Sprint's network.
Plans start as low as $5 per month and you can customize your plan based on how much data or talking minutes your child needs. This allows you to choose exactly what you want without having to pay for something your family does not need.
There are several plans that have unlimited talk and text. However, if you know your child isn't going to be making too many phone calls, you can create a plan that has 200 minutes to talk, free texting, and 500 MB of data for just $10 per month.
You can upgrade to unlimited talk and text, plus 1 GB of data for just $4 more – at $14 per month. Now through May 29, Tello doubles all minutes and data in your plan at no extra cost. This is for both new and existing customers!
You can bring your own phone when you sign up for Tello or buy one of their LG, Motorola, or iPhones. Their phones range in price but can accommodate any budget.
Read our Tello review to learn more about the provider.
2. Ting
Ting is another excellent choice for those looking for the best cell phone plans for kids. With Ting you don't have a set plan, but you customize a plan based on your specific needs. The provider has no contracts and you can leave whenever you wish.
If you need unlimited talk, text, and data they may not be for your child, but the ability to customize a plan is hard to overlook. The average monthly bill with Ting is $23, which is a big savings versus a traditional contract plan.
Frugal Rules readers receive a $50 credit when signing up, effectively offering your first two months of service for free! None of the other prepaid cell phone plans on our list offer a similar deal.
Ting, like Twigby, operates on three networks – Sprint, T-Mobile, and Verizon so you have more reliable coverage with the provider. You can add as many lines as you like with Ting, each running $6 per line. This is great for a larger family looking to keep costs down and share data, talk, and text.
The average talk minutes is $9 per month for 100 – 500 minutes. The average text amount is $5 for 101 – 1,000 texts per month. Data is last, and the average amount is $10 per month for 101 – 500 MB of data.
If you find the data restrictive, remember that if your child uses Wi-Fi a lot they should be able to avoid that. You only pay for what you use, so you're not overpaying for something you don't need.
You can also bring your own phone to Ting, or buy one from the provider.
What to Like About Ting:
Provides coverage on three carriers
You can bring your own phone
Provides fully customizable plans
You only pay for what you use
No additional cost for calls to 60+ international countries
What Not to Like About Ting:
Check out plans at Ting and see how much you can save. Read our Ting Mobile review to learn more about the provider.
3. Twigby
Twigby is a pay-as-you-go phone service provider that offers a 25 percent discount for the first six months of service. With Twigby, you can change your plan whenever you want. Twigby operates on both the Verizon and Sprint networks, giving them better coverage than other providers.
If you upgrade your plan, you're only charged the difference in the next plan's price. For example, if you start your child out with 300 minutes per month and 600 MB of data, you'll pay $11.25 plus tax per month for the first six months.
If your child needs more minutes or data, you can upgrade at any time and pay the difference. Unlimited global texting is free and you can upgrade to unlimited talk for just $15 per month. Twigby also offers international calling to Canada, China, and Mexico.
Twigby also has free overage protection and family plan options for everyone in the household.
Read our Twigby review to learn more about the provider.
4. Mint Mobile
Mint Mobile also has cheap cell phone plans for kids and teens starting at $15 per month. Like other Mobile Virtual Network Operator (MVNOs), Mint Mobile piggybacks on a major carrier to provide service.
In their case, they operate on the T-Mobile network.
Mint Mobile offers a robust plan for customers, including:
4G LTE high-speed data
Unlimited talk and text
A free SIM card
Nationwide coverage
A mobile hotspot
However, Mint Mobile is unique when it comes to their pricing.
Saving Money is Easy With Trim
Do you feel like you pay too much for your cable bill or gym membership? Let Trim save you money on the memberships and subscriptions you don't use.
The average Trim user saves $30 per bill with this handy little app!
Trim can negotiate lower prices for you with Comcast, Time Warner and more. Try Trim today!   
They sell plans in bulk or in three, six, or twelve month increments. The pricing is good to start, but when you renew, it's a bit more confusing as the pricing increases quite a bit.
For example, if you choose another three month plan your rate will increase by at least $24 if you choose their 3GB plan. The best way to lock in the lowest price is to sign-up for a 12 month commitment upfront.
The confusing renewal pricing aside, the free trial and lower pricing makes Mint Mobile worthy of consideration vs. other cheap phone plans.
You can bring your own phone and try the service out for free for seven days to see how you like it.
Read our Mint Mobile review to learn more about the service.
Lastly, until April 14 Mint Mobile is offering free unlimited high-speed data add-ons. This is available to both current and new customers.
5. Republic Wireless
Republic Wireless is my personal favorite prepaid cell phone company. I've been using it for over three years, and it's also great for kids because the plans are flexible and cheap.
You can customize your plan and cancel at any time. Their plans start at $15 per month for unlimited talk and text, which is a terrific feature.
You can also add data for $5 per month per GB of data. Republic Wireless relies heavily on Wi-Fi to keep costs down for both talking and data. When not using Wi-Fi, Republic Wireless uses the Sprint or T-Mobile network.
The provider is also one of the best cell phone plans for college students looking to save money.
You can bring your own phone to Republic Wireless, or you can purchase one from them. If your looking for a simple phone plan for your child so you can simply keep tabs on them, Republic Wireless is a great option.
Read our Republic Wireless review to learn more about the provider.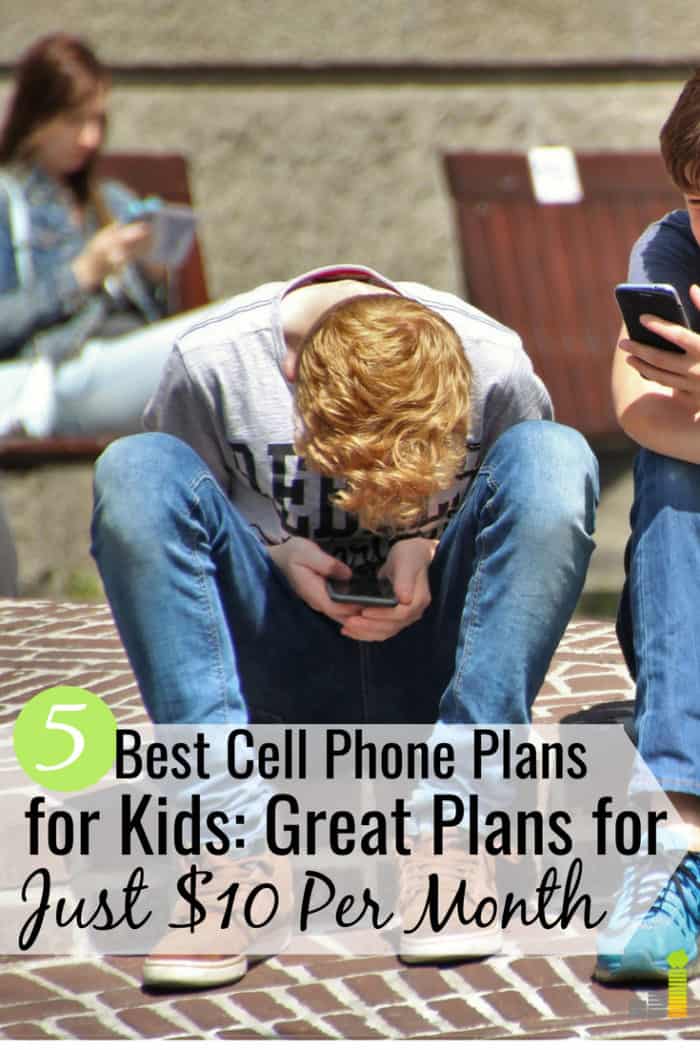 Best Cell Phones for Kids and Teens
Unless you have an older phone to provide your child, you will need to buy a new phone for your child. Choosing the right kids cell phone can be just as important as choosing a good cell phone plan.
Many of the above carriers, in addition to other cheap cell phone plans offered by other providers, allow you to bring your own phone. Not each carrier is equal in the selection of phones they offer.
Your child might want a $1,000 iPhone but that is a waste of money. All you need is an unlocked phone that works with your chosen carrier.
You can find unlocked cell phones on Amazon as well as eBay and other online retailers.
Best No-Contract Phone Plans for Kids: Bottom Line
Buying your child a cell phone is beneficial in many ways. If you feel they're responsible enough to have one, it's an excellent way to communicate when you're not around, particularly if they stay after school for activities or ride the bus. But you don't want to create another huge bill simply so your child can have a cell phone.
Fortunately, there are many options when it comes to choosing the best prepaid cell phone plans for kids. In fact, several of the best cell phone plans for families let you add your child without a significant added cost.
Since kids like data and apps, I love how all these phone plans have quality and reliable data options along with flexible talk and text features.
Starting with a prepaid phone service is ideal because you can customize your plan based on what your child needs and you don't have worry about getting locked into a contract.
What are some other cheap mobile phone plans for kids you've tried? How old was your child when you bought them their first cell phone? Do you allow your child to have data access on their phone?
The following two tabs change content below.
Chonce is a freelance writer who's obsessed with frugality and passionate about helping others increase their savings rate, eliminate debt, and work toward financial stability. She chronicles her journey with balancing motherhood, work, and finances on her blog, MyDebt Epiphany.com