13 Best Ways to Earn Free Google Play Credits
Posted on February 8, 2019 by Chonce in
Reviews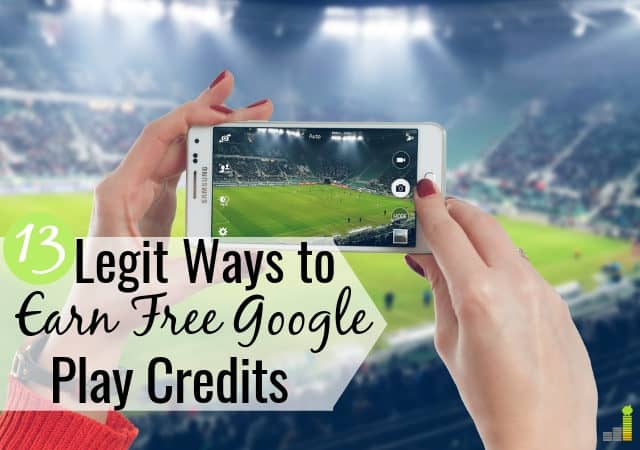 Are you team Android? If so, you should be taking advantage of free Google Play credits to get apps. The Google Play store has tons of apps to choose from and while many are free, you might need to pay for premium features or other functions.
This can be an inconvenience if you really want to use a particular app but don't want to spend money on it.
What are google play credits?
Google Play credits are as straightforward as they sound. They are credits you can use do purchase any of the following in the Google App Store:
Apps
Books
Games
Movies
Music
Think of the Google App Store as the Google version of iTunes
Google Play credits work like cash or gift card and don't expire, offer a workaround to spending money. You can buy credits, but that obviously costs money. You can earn free Google Play credits to help you avoid having to pay for apps you want. 
How to Earn Free Google Play Credits
Although the Google Play store has a robust library of apps, games, books, movies, music and more, those items are rarely free.
Here's how to get free Google Play credits and keep more money in your pocket.
1. Swagbucks
Swagbucks is a rewards site that pays you to do a variety of tasks. You can earn money on Swagbucks in some of the following ways:
Using their search engine
Completing surveys
Using their shopping portal
Watching sponsored videos
After completing the tasks, you earn points. The more offers and tasks you try, the more points you earn. This enables you to earn points quickly and, as an added bonus, you get $5 simply for opening a new account.
You can redeem your points for gift cards to popular retailers or free Google Play gift cards. It takes about 1,000 Swagbucks points to redeem a $10 gift card, 2,500 to redeem a $25 gift card, and 5,000 to redeem a $50 gift card. However, sometimes the gift cards go on sale so make sure to look out for those.
Check out our Swagbucks review to learn more about how the service works.
2. Survey Junkie
Survey Junkie is one of our favorite survey sites. Many survey sites make you jump through hoops to earn money. That's not the case with Survey Junkie. The platform is simple to use and has been around since 2005 – with over three million members.
Once you fill out a quick profile, you can starting earning money. You can start redeeming points at the 1,000 mark, which equals $10. You can use Survey Junkie either on your phone or desktop.
They even offer focus groups to earn additional points.
Survey Junkie lets you redeem cash via PayPal, or you can redeem for e-gift cards – including Google Play gift cards. Check out our Survey Junkie review to get a better idea of how the platform works.
3. PrizeRebel
PrizeRebel is one of the top online survey sites in the space. The platform has been operating since 2007, having paid out over $15 million in that time.
You can make money with PrizeRebel in a variety of ways, such as:
Taking surveys
Watching sponsored videos
Liking their social media accounts
Signing up for free trials
PrizeRebel has a low minimum redemption of $5, which is equal to 500 points. They pay either via PayPal, or you can redeem for e-gift cards, including Google Play gift cards.
4. Jobs2Shop
Do you like the idea of having someone else pay you to shop? With Jobs2Shop you make money through mystery shopping.
Mystery shopping is a legit way to make extra money in your spare time, and is simple to do. Retailers want feedback on their service, products, and other things related to their company. This can be anything from getting an oil change, to buying lunch at a local restaurant.
You provide the required feedback and you can make up to $85 per shop. In many cases, you are even reimbursed for your expense. Jobs2Shop most commonly pays in cash via PayPal, once you hit $25.
You can use those funds to buy Google Play credits. This does create an extra step, but is a good way to earn free Google Play credits.
5. InstaGC
InstaGC stands for Instant Gift Cards, which is a rewards site that allows you to earn points for completing surveys, watching videos, shopping online, and using search engines.
Every 100 points you earn is worth $1 that can go toward a gift card. Another feature of InstaGC is they frequently offer ways to earn bonus points by letting you test products or listen to music, giving you plenty of options to earn points.  
You can use your points to redeem a Google Play gift card for $10, $15, or $25, which means you'll need around 1,000 – 2,500 points.
6. Gift Card Granny
Gift Card Granny is a site you can use to sell or buy discounted gift cards. If you have a gift card you're not planning on using, and want to sell it to get free Google Play credits, this site is a great option.
You can also use the Gift Card Granny rewards program to earn more free Google Play gift cards by referring your friends, purchasing other gift cards on the site, and sharing current promotions.
7. FeaturePoints
FeaturePoints is a program that rewards you for trying out different apps. The platform is also a great way to get paid to play games online. You only need to try an app for a few minutes and you'll earn points.
FeaturePoints regularly adds new games and apps, so there's plenty of opportunities to earn points.
You can redeem your rewards in a variety of ways, from free Google Play credits to paid apps and gift cards. One thing to keep in mind is that FeaturePoints typically requires you to redeem points in increments of $10 or $15.
If you refer friends, you increase your earning ability since they give you 50 percent of each point your friend earns. 
Enter our referral code, E9WGEF, when you sign up and you will receive $2 in points (2,000 Fetch Points) after completing your first survey.
8. Bing Rewards
Bing Rewards is a rewards program through Microsoft that allows you to earn points for using the Bing search engine. You can redeem your points for Amazon gift cards, which can be used to purchase Google Play gift cards.
Make Extra Money by Taking Short Surveys
Taking short surveys in your free time can be an awesome way to earn extra money fast! The instant you finish a survey,
Survey Junkie pays you in cash via PayPal
. 6 Million users and an 8.9/10 Trust Pilot rating prove you can trust them.
The nice thing about this is that you can often get discounted Google Play credits, allowing you to stretch your points further.
Most of us already spend quite a bit of time searching online, so this is an effortless way to earn free Google Play gift cards. You must be at least 13 years old to use Bing Rewards.
9. Register Your Samsung Device
This is probably the easiest way to earn free Google Play credits. If you own a Samsung device, the company periodically offers Google Play credits for simply registering your device online.
Make Extra Money by Taking Short Surveys
Taking short surveys in your free time can be an awesome way to earn extra money fast! The instant you finish a survey,
Survey Junkie pays you in cash via PayPal
. 6 Million users and an 8.9/10 Trust Pilot rating prove you can trust them.
Creating a Samsung account and registering your device gives you exclusive access to certain apps, features, and services. For some Samsung devices, you may even qualify for a $25 Google Play gift card.
Registering is free and simple, and you'll never know what you qualify for until you give it a try.
10. Google Opinion Rewards
Google Opinion Rewards is a free app that you can use to take quick surveys for Google Play or PayPal credits. Online paid surveys are great to work during your spare time, while you're watching TV, or even commuting.
The survey topics range from opinion polls and hotel reviews to merchant satisfaction and consumer feedback surveys. The surveys from Google tend to be a little different than other surveys from brands wanting your opinion on an item or politician. 
Since these surveys don't pay too well, I wouldn't spend too much time on them. But if you do fill out the surveys, it's possible to make $10 – $20 per month in your spare time.
That's probably enough money to try out 1-3 new games or apps in the Play store each month.
11. Register Your Chromecast Device
Chromecast is a device that is used to stream shows and movies from your phone, laptop, or tablet to your TV. I bought one a few years ago when we got cable and didn't have a smart TV. I still use one for the television in my room.
We use ours to stream Netflix, YouTube, and Hulu from our phones or computer to our TV.
If you already have a Chromecast, or are thinking about buying one, download and install Google Home on your device, then register it to earn free Google Play credits. You can earn points for every device you register.
The offer changes all the time, but you can earn up to $25 in Google Play credits when the timing is right.
12. GiftBox
GiftBox is a fun app you can use to earn prizes including free Google Play gift cards, and it's one of the highest rated apps in the Google Play Store. You can earn points in a variety of ways on GiftBox, such as:
Downloading apps
Referring friends
Watching sponsored videos
Playing online games
Simply visit the app each day, play games, or try some of the above options to earn coins which can be redeemed for gift cards.
You need a minimum of 1,500 coins to start redeeming gift cards, and 500 coins is equivalent to $1.
13. AppNana
You're probably using apps regularly and trying new ones all the time. With AppNana, you can earn rewards for doing this. In fact, AppNana works for both iPhone and Android users.
AppNana is great for anyone who's interested in playing games online, although it's useful even if you don't and just want to check out new apps. You earn points by downloading new apps the service recommends. Each download earns you "nanas" you can use to redeem for credits. 
Once you try the games and apps that AppNana recommends, you earn credits. These credits can be redeemed for Amazon, iTunes, Google Play, and XBox gift cards. Make sure to log into your AppNana account each day since they give you 400 points just for doing that!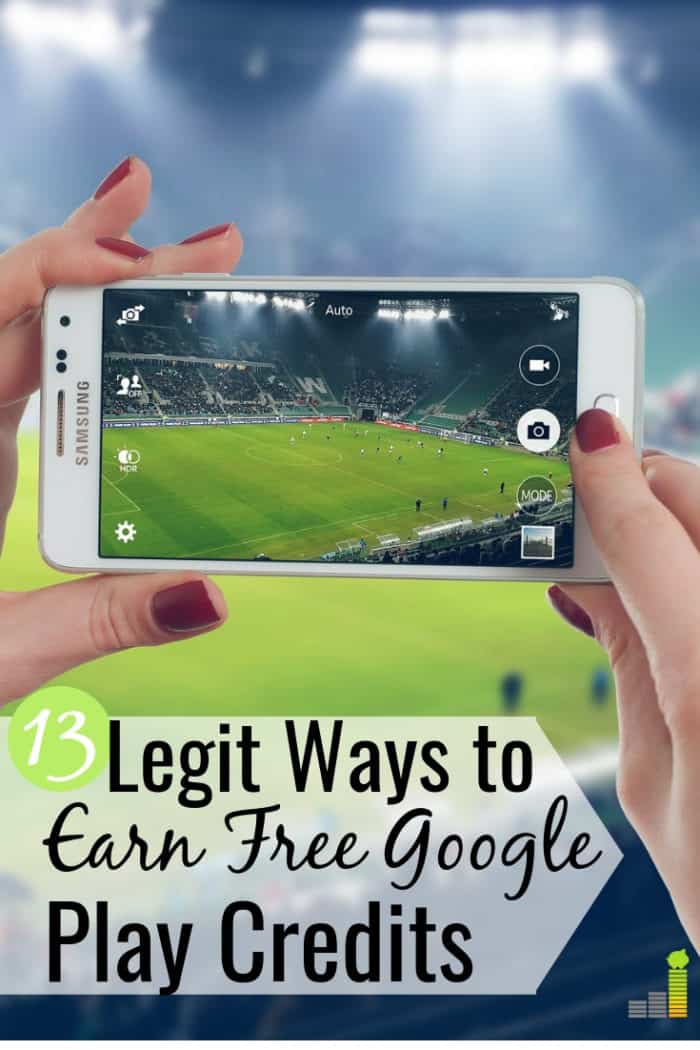 How to Redeem free Google Play Codes
Once you have your Google Play gift cards or promo codes for free credit, you need to know how to redeem them. Fortunately, the process is fairly easy.
First, sign into your Google play account or create one here. Then you do the following:
Find the app or game you want and click on the link
Click the "buy" button on the next page
Select "Google Play credit" or enter your gift card balance to complete the purchase
Your updated Google Play credit balance should be updated with your purchase.
Most of the apps mentioned above will apply right to your Google Play account, although some may require additional information to redeem gift cards.
How to Avoid Google Play Credit Scams
Unfortunately, scams are inevitable when getting something for free, and that's no different with Google Play credits. Use your best judgment to avoid Google Play credit scams.
The most common Google Play gift card code scam comes from credit generators promising free credits simply by giving them your email address.
This often results in an email being sent to you that may include an attachment. Don't download it since these attachments are often used to install malware on your device.
Can Apple users get Google Play credits?
While Android users are able to earn free Google Play credits easily, that's not the case for iOS users since they're unable to download the Google Play store.
Thankfully, that does not mean Apple users can't earn Google Play credits. Although Apple users can't download the Google Play store to their devices, they can download Google Play Books, Google Play Music, and Google Play Movies.
Downloading these apps onto an iOS device affords Apple users the ability earn free Google Play credits just like Android users.
Bottom Line
There are many ways to get Google Play credits for free. While you may find different hacks online to earn Google Play gift card codes, they're often a scam. The only way to get real Google Play credits is to use one of the above options.
With a little effort, you can earn free Google Play credits so you can save money on mobile purchases you want to make.
What other methods have you used to earn free Google Play gift cards? How much money do you spend on apps, and other mobile related items each month? What's your favorite hack to save money?
The following two tabs change content below.
Chonce is a freelance writer who's obsessed with frugality and passionate about helping others increase their savings rate, eliminate debt, and work toward financial stability. She chronicles her journey with balancing motherhood, work, and finances on her blog, MyDebt Epiphany.com