10 Best Survey Sites for Making Extra Money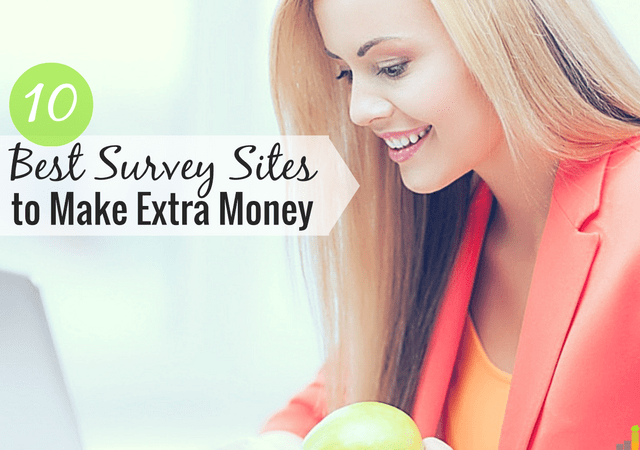 Taking surveys is an easy way to earn extra money in your spare time, especially when you focus your efforts on the best survey sites. Unlike other side hustles, you don't really need any special skills or expertise in order to make money from taking surveys online.
All you need is a computer, Internet connection and your personal opinion. Of course, if you've had certain experiences, it may aid you when taking surveys that have participant requirements, but there are enough survey opportunities to go around for everyone.
Here are the top 10 survey sites you should try out if you'd like to earn some extra money in your free time.
1. Swagbucks
Swagbucks is one of my favorite online rewards platforms. It allows you to earn points commonly referred to as 'Swagbucks' that you can redeem for gift cards at popular retailers or cash back via PayPal.
Swagbucks users can earn points by shopping online, signing up for offers, watching videos, searching the web and taking surveys. Taking surveys is an easy way to earn Swagbucks without spending any money.
Users can access surveys from the main dashboard after logging in. Each available survey has an estimated amount of time it takes to complete all the questions along with a Swagbucks reward amount. Users can redeem their points with as little as 500 Swagbucks for a $5 gift card – you get that amount just for signing up. Having 2,500 Swagbucks will get you a $25 gift card and sometimes there are sales where you can get a higher valued gift card for redeeming a lower amount of points.
2. Earning Station
Earning Station is a survey panel website that lets users earn StationDollars that can be redeemed for gift cards. Just like Swagbucks, there is a variety of ways to earn money from using the site and the surveys all have different lengths and different compensation amounts.
Once you earn at least 1,000 StationDollars, you can request payment and select a gift card of your choice. Earning Station offers a variety of gift card options and they take about 4-6 weeks to arrive after you redeem your reward points and submit your reward request.
Sign up for Earning Station here.
3. VIP Voice
VIP Voice allows you to take surveys online once you join the site and they also send email invites to take surveys you may be interested in regularly. VIP Voice receives a large bulk of their survey opportunities from research partners who are eager to know what consumers think.
Users may have to answer a series of questions before being selected for a survey opportunity and if approved, they earn VIP Points for each completed survey.
Each point is worth one entry into a SweepLand sweepstakes or one bid into a BidLand auction. SweepLand offers the chance to win prizes like cash, electronics and vacations while BidLand enables members to bid on recent auctions for products and services. According to VIP Voice, thousands of rewards are given away each month.
4. One Opinion
One Opinion is another site that conducts surveys on behalf of major market research companies. Invitations to take surveys are emailed directly to users or you can log in and view different survey offers on your own time.
Users receive points for taking surveys and they can be redeemed for Visa gift cards that you can use just like cash. For example, when you hit the minimum requirement of 25,000 points in your account, you can redeem those points for a $25 Visa card.
When you redeem your points for a Visa debit card, it will usually arrive in the mail within 7-10 business days. You can also redeem your points online and receive a digital gift card as well.
5. Nielsen Digital Voice
Nielsen Digital Voice allows you to earn points for taking surveys that you can use to enter a $10,000 monthly sweepstakes. Users also need to download the Nielsen Digital Voice app and surf the web from time to time.
6. Opinion Outpost
With Opinion Outpost, you can also earn points for taking surveys and you can redeem those points for gift cards with a few major retailers or a PayPal credit.
In addition to racking up points for gift cards, Opinion Outpost users can also enter to win a $10,000 quarterly sweepstakes.
The number of points you need to redeem a reward varies depending on what you'd like to receive. If you're looking to receive a PayPal credit, you need at least 100 points which will translate to $10. If you want an Amazon gift card, you need at least 50 points which will earn you a $5 gift card.
Sign up for Opinion Outpost here.
7. Harris Poll
Harris Poll provides users with surveys about topics and products related to lifestyle, business, healthcare, banking, the automotive industry and more.
Users earn reward points when they take surveys that can be redeemed for digital gift cards which can be redeemed instantly, or they can be applied directly to purchases for different products like electronics, DVDs, books and more.
To earn a $5 gift card, you generally need at least 625 points and you'll need about 1,250 points to earn a $10 gift card. Users can earn an easy 50 points by simply taking Harris Poll's welcome survey when they sign up.
8. ShopTracker
If you do a lot of shopping on Amazon, you might like this option. ShopTracker is a research-based rewards app created by the Harris Poll Online Panel. Users can sign up for ShopTracker online, then download the app on your smart phone or Windows computer and sync at least one Amazon account so ShopTracker can gain information about your recent purchases.
ShopTracker is designed to help businesses in the online marketplace better understand consumers' purchasing decisions along with how to improve their products and the online purchasing process. With that being said, ShopTracker will not share or even collect personal date like your name, address and credit card information.
When you first sign up and share your purchase information, you can receive a $3 digital gift card code that will be emailed to you with 48 hours. The longer you participate by sharing your Amazon purchase information, the more points you will earn. ShopTracker also offers survey opportunities to participants. Users can redeem their points for Amazon gift cards or gift cards from other retailers.
9. Pinecone Research
When you sign up for Pinecone Research, you can start taking surveys to earn points that you can redeem for cash or prizes. Users get to learn about new products before they hit the market and influence which products make it to stores by taking surveys.
For new users, the first 300 points they earn will be redeemed as a check and sent to their home in order to establish/verify their account. Then, the opportunity to earn points and redeem them for other awards becomes available.
Users can redeem their points for cash amounts as small as $3, $5 or $15. There is also a sweepstakes users can enter to earn even more rewards.
Sign up for Pinecone Research here.
10. Pro Opinion
Pro Opinion works similar to some of the other survey sites mentioned. Users take surveys online and earn points which can be redeemed for Amazon gift cards, iTunes gift cards or they can be redeemed for cash via PayPal. Points can also be redeemed and donated to the American Red Cross.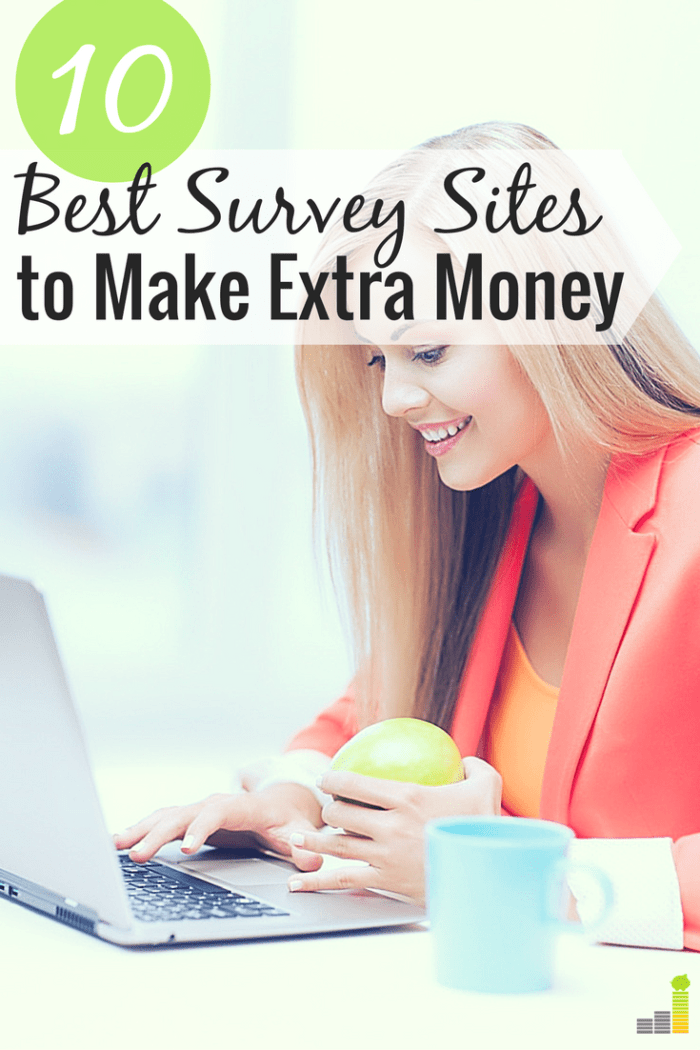 a final word about The best survey sites
All of these legitimate survey sites are free to join and provide an easy user-friendly process to help you get started so you can earn money and rewards quickly.
It's important to keep in mind that not all survey sites are the same. Read through the details for each option you are considering carefully so you can understand how survey respondents are selected, how rewards are earned and what your options are for redemption.
By comparing the best survey sites above, it's easy to see that while one survey site may allow users to receive actual cash as a reward option, others only allow gift cards and some only allow entry to their monthly sweepstakes.
It's also important to realize that you won't be able to earn a full-time income from taking surveys so don't plan on quitting your day job anytime soon if you sign up with one of these companies – but it is a simple way to make a little extra cash in your spare time.
Taking surveys can be a fun and flexible way to earn extra income, which can come in handy around the holidays, birthdays or even if you'd like to use the money to pay a small bill each month. Even if you don't receive cold hard cash from taking surveys, you can use the gift cards to purchase necessities you need for your home on sites like Amazon and save yourself some cash in the process.
Have you ever tried taking surveys before to earn extra money and gift cards? Which one of these options would you be most willing to try out? What are some of your favorite ways to make extra money in your spare time?
Save
The following two tabs change content below.
Chonce is a freelance writer who's obsessed with frugality and passionate about helping others increase their savings rate, eliminate debt, and work toward financial stability. She chronicles her journey with balancing motherhood, work, and finances on her blog, MyDebt Epiphany.com