How often are you short on cash? We all experience the cash crunch on occasion, and short task sites help bridge a money shortage without requiring you to start a part-time job. The best micro task sites let you make money online from the comfort of your home.
The top online micro jobs reveal the popularity of the on-demand gig industry. These jobs allow us to earn cash doing things we already do, or by completing small tasks that require minimal skills.
Most micro job opportunities are entirely online, though you may find some jobs available locally.
If you're looking for online jobs to do from home to pad your budget, our guide shares some of the best choices to get paid to do tasks online.
Best Micro Task Sites to Earn Money Online
You may not know how to find the best micro jobs sites to earn money. The easiest way is to look online. You will find opportunities ranging from completing a short survey to freelance writing.
You will find pay rates ranging from a few cents to $100 per task. Expect that shorter activities will pay you less, and higher paying jobs will require more of your time.
Most of the best side gig apps specialize in a particular area or two, and you can use multiple short task apps to increase income potential. The best course of action is to try several sites to find the ones that work best for you.
Rinse and repeat until you have a suitable mix that offers sufficient opportunities.
Keep in mind that some platforms only pay out via gift card. In some cases, they may offer Visa cash cards that operate just like cash.
Here are the 11 best micro task sites to make money online.
1. Swagbucks
Swagbucks is one of the short task sites out right now. The platform pays you for tasks you usually do online. One of the best ways to earn money with Swagbucks is to use their shopping portal when you shop online.

Swagbucks pays in SB points that you can convert to gift cards or PayPal cash.
In addition to using their shopping portal, here are a few ways to earn rewards on Swagbucks:
Taking surveys
Using their search engine
Playing online games
Watching sponsored videos
Referring friends and family members
And that's just some of the ways you can earn points, or "Swagbucks". Once you've reached 500 points (or $5), you can start cashing out for cards like Visa gift cards, and other gift cards.
*Related: Are you looking for product tester jobs to make money on the side? Read our guide here to learn about the top platforms to start earning.
You can start using Swagbucks as young as 13, so it's a terrific way for nearly anyone to earn extra cash. Swagbucks even pays users $5 when they open a new account.
Read our Swagbucks review to learn more about the platform and see why it's one of the best-paying micro jobs sites to use.
2. InboxDollars
InboxDollars is one of the more popular short task sites and is like Swagbucks. Its primary focus is online surveys, but you can also earn money by:
Using coupons from their site
Playing games online
Reading sponsored emails
Watching videos
You can even get paid to watch ads on InboxDollars. The site works similar to Swagbucks, and you earn money on your schedule. So, if you have only five minutes to spare, you could read a few of their emails.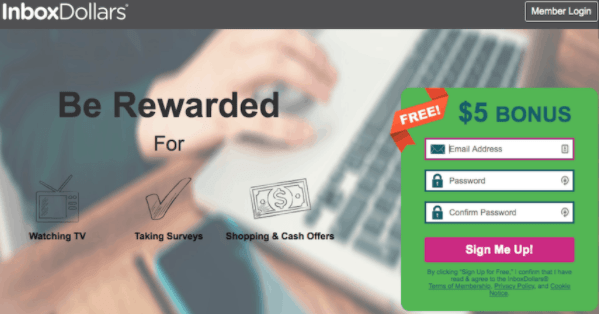 But if you have an hour, you could read emails, take surveys, and watch a few videos. No matter what, the time you spent will earn you more money.
If you're not the biggest fan of taking surveys for gift cards and prefer cold hard cash, InboxDollars is an excellent choice. While their minimum payout is $30, it will come to you via check or the InboxDollars debit card.
You'll also get a $5 signup bonus when you first join.
Read our InboxDollars review to learn how to maximize earnings.
3. Fiverr
Sometimes, it's best to use your skillset to earn extra money. That's why Fiverr is one of the best micro task sites to use.
Do you have graphic design experience, drawing skills, or a great voice? For almost anything you can think of, there is a person out there on Fiverr who is getting paid to do it.
And the best part? You can do it on your terms. For example, if you proofread and edit articles, you can choose to proofread only 500-word articles or less.
That way, you know you aren't spending a lot of time on the gigs, but still getting paid for them.
Don't let the name of the website fool you. Initial tasks may only cost $5, but you can offer add-on services and charge as much as you wish. This feature makes Fiverr one of the best paying micro jobs sites available.
To start with Fiverr, you need to sign up, fill out all of your information (like your name, address, etc.) and create your profile and first gig (aka the service you're offering).
Once your account is approved, you can market your services or wait for someone to send you an order. It's that simple.
4. TaskRabbit
Are you handy? If so, completing tasks and gigs with TaskRabbit is a terrific way to earn cash in your spare time.
While it's not fully digital, this is a great side hustle for you if you like getting out of the house and spending your time more productively. There are many tasks you can complete with TaskRabbit, including:
Putting furniture together
Mowing, pool cleaning, gardening, etc.
Errand running
Small repairs (like fixing a sink)
Cleaning
Grocery or item delivery
Those are just a few examples of what you can offer. As an independent contractor with TaskRabbit, you'll complete a job, invoice for that job, and then get paid. You can also qualify for and earn tips.
Read our guide on alternatives to TaskRabbit to find odd jobs near you to make money.
5. Amazon Mechanical Turk
Amazon Mechanical Turk is one of the ultimate short task sites to make money online. You can earn money just by performing micro-tasks like filling out surveys, checking out a website front page, and other small tasks that take less than 20 minutes.
Make Extra Money by Taking Short Surveys
Taking short surveys in your free time can be an awesome way to earn extra money fast! The instant you finish a survey,
Survey Junkie pays you in cash via PayPal
. 6 Million users and an 8.9/10 Trust Pilot rating prove you can trust them.
It's important to remember that Amazon Mechanical Turk won't pay much; it's usually pennies. Most tasks pay under $1 each. However, these tasks are quick and easy, and there isn't a minimum commitment of time that you have to put into it.
This opportunity is a true work-from-home side hustle. You sign up, sign in when you feel like it, and complete tasks on your terms.
Amazon Mechanical Turk offers payment directly to your account or via Amazon gift card after completing a job, which lets you work online and get paid instantly.
New workers must wait ten days to claim earnings, but after that waiting period, you'll receive payment after each task. Workers report earnings of up to $6 per hour.
You won't become rich, but it can be a simple way to earn cash if you need money now.
6. Clickworker
Clickworker is similar to Amazon Mechanical Turk. You make money by completing micro tasks and jobs, with your earnings defined by the nature of each task and how long it took you to complete.
You can make money in a variety of ways on Clickworker, including:
Copyediting
Categorizing data
Completing surveys
Testing apps
Clickworker pays on a per-project basis, so the faster you work, the more money you can make in your spare time. However, because of this, there is no guarantee of how much you could earn.
But many workers have reported earnings of around $9 an hour. You can withdraw earnings via PayPal weekly with this opportunity.
7. Shopkick
Do you go out quite a bit when you go shopping (even window shopping)? If so, you need Shopkick. Shopkick is an app that pays you to go into stores, scan barcodes, or purchase products.
When you do these tasks, you earn "kicks," which translate to points and money.
The great thing about the Shopkick app is you don't have to buy anything to earn money. Merely walking into a store and opening the app will automatically give you kicks.
The app first began as a way to scan receipts for money. You can also make money through using their online shopping portal or watching sponsored videos.
Like other online micro jobs, these are all activities you already do or can perform in your free time.
When you cash out, you'll have access to gift cards that you can buy with your kicks. To redeem a $5 gift card, you'll need 1,250 kicks. You can use code FRUGALRULES to get a $5 bonus when you sign up.
8. Appen
Just like Clickworker and Amazon Mechanical Turk, Appen is a micro task app that works with independent contractors to complete tasks for companies and businesses that need help.
Appen has some great gigs too, including:
Social media evaluations
Transcription
Marking important objects with boxes (yes you read that right)
Again, you won't become rich through this site. The pay is per gig, and each one pays up to a few dollars. But, if you're fast and accurate, you can qualify for higher-paying gigs.
Like other short task sites, you receive earnings each week via PayPal.
9. OneSpace
OneSpace is a cloud-based platform that works with freelancers and large e-commerce companies (like eBay). As a freelancer, you work with large companies and earn money based on the tasks you complete.
Some of those tasks include:
Writing product descriptions
Taking surveys
Keyword research
Finding image(s)
When you first start with OneSpace, you'll start at the beginner level. The more tasks you complete, with accuracy, the bigger chance you have to move to intermediate and expert.
When you reach these levels, you qualify for more tasks and better pay.
The site doesn't publicly comment on pay, but it's one of the better choices to get paid to do tasks online as they pay via PayPal once a task is complete.
10. The Smart Crowd
Want to work with sites like Microsoft, Dell, and even the U.S. Department of Justice? The Smart Crowd can make that happen.
Just like with the other micro tasks sites, the jobs you complete will be simple, easy, and for the most part, quick. These activities include data entry jobs, data research, and testing products.
The Smart Crowd will offer you gigs, and you can either accept or deny them. If you accept them, there is a quick turnaround when you need to have the task done (typically less than 24 hours).
Once you've completed the task, you'll earn your money. The biggest con of working with The Smart Crowd is that they only pay out once a month, unlike other micro task sites that pay out once a week (or even daily).
11. GigWalk
GigWalk is another task site that isn't completely online. However, you do everything from your phone while you're out and about. Gigs include:
Noting the price of milk at a specific store
Taking a picture of a particular display
Mystery shopping
These gigs take anywhere from just a few seconds to a few hours (if choosing gigs like mystery shopping). Once you complete the gig, you earn money. It's that easy.
To start, you need to sign up, get approved, and connect your PayPal account as that is how GigWalk pays out. Once you do that, you can accept or deny gigs that you want to do.
There are no thresholds or a minimum amount of money that you have to make before you cash out. After each gig, GigWalk transfers the money right to your PayPal account, allowing you to work online and get paid instantly.
Bottom Line
You don't have to side hustle for hours every week to earn some extra cash. The best micro task sites prove it.
You can earn money on your terms and schedule. And, you can even do small and simple tasks that you may come to love doing. You won't become rich. Still, many of the above platforms offer an excellent way to bridge a cash shortage with minimal effort.
What are your favorite ways to make money on the side? How often do you encounter a cash shortage? What is your favorite short task site to earn cash?