13 Easy Ways to Make Money in College
Being a broke college student isn't inevitable. There are many legit, easy ways to make money in college to help make ends meet. When I was in school, money was scarce and I never had much luck with finding decent part-time jobs. Therefore, hustling on the side became one of my best options while juggling classes, writing papers, and studying for exams.
Thankfully, there are many ways to make money as a college student. In fact, many of the ways to make money on the side can be done from the comfort of your dorm room or apartment. This post will show you how to make while in college to help pad your budget so you don't have to rely as much on student loan money.
Best ways to make money in college
Many think they can't make extra money, or that they don't have the time to make money on the side, especially while in college. Don't give into those excuses.
With a little creativity and willingness to work, there are many ways to make money on the side. Here are the best ways to make money in college to help pad your wallet.
1. Tutoring
Tutoring is a great part-time job and one of the best ways to make money in college. If you excel in a particular subject, you may find it easier to help others with their homework and studying for exams.
Whether you're a math or science whiz, a talented writer or speak another language, odds are, you can find someone on campus who needs your help and is willing to compensate you for your time.
Some colleges have peer tutoring programs where they actually hire students to help with certain subjects. You can also advertise your services online or put flyers up around campus. Tutoring online is also an option.
Qkids is one company that accepts college students in their final year of school as teachers. With this online company, you'll be teaching English to small groups of up to four Chinese students at a time. Compensation ranges between $16 – $20 per hour with Qkids.
If you already have a degree and have a year of teaching experience, you can teach international students with SayABC and make $20+ per hour. Not having a degree may hold some back, but if you're majoring in Education you can work for SayABC without a degree.
Check out our guide on how to teach English online from home to find other possibilities and additional requirements.
2. Deliver meals
Do you have a car, bike, motorcycle, or scooter at college? If you do you can make money delivering meals during your spare time.
DoorDash and Uber Eats both provide opportunities to make money as a college student. In addition to having a valid driver's license and passing a background check, you must meet some of the following requirements to deliver meals for either service:
Must be at least 18 (19 with Uber Eats)
Have access to some form of transportation
You must own an iPhone or Android-based phone
You must be able to pass a DMV check if driving a car or motorcycle
You can check out other requirements to deliver meals for either service in our guide on how to get paid for driving your car. Both services pay you per delivery and you get to keep 100 percent of tips, so this can be a great way to make money in college.
3. Babysitting
Babysitting is one of the more easy ways to make money in college if you like kids. Whether you attend a community college or university, there are bound to be some parents who are students and need affordable child care.
If there is a childcare center on campus, you can apply to work there or you can set up a profile on Sitter.com to find jobs. It also lets prospective clients view your profile so they can see your references.
As a college parent myself, I had to take some mandatory night classes for journalism and since I didn't live in the same town as my family, I really depended on babysitters and friends to help. This is another flexible opportunity to start making money in college where you can work around your class schedule.
4. become a rideshare driver
If you're wondering how to make money while in college, one of the best options is to become a rideshare driver. This is similar to delivering meals to individuals, but there are typically more requirements since you're driving people around town.
If you have a car and are 21 or older, you can drive for Lyft and set your own schedule. Lyft offers a $250 sign on bonus for new drivers to help get you started at earning money. Besides being at least 21, you must meet the additional requirements to drive for Lyft:
Your registration must be current
You must have auto insurance
Your car must have four working doors that operate internally and externally
The air conditioning and heat must be fully functional
The vehicle must have at least five seat belts and they all need to be functional
Your car must pass the requirements of your given city as it does vary from city to city
Check out our guide on how much money can you make driving for Lyft to see a further breakdown on requirements and how to increase earnings. If you don't mind working evenings or weekends, driving for a rideshare service can be one of the best ways to make money in college.
5. Taking Surveys
Taking surveys is an easy way to make extra money in college and is open to anyone over 18 years of age. All you need is a computer, Internet connection, and an opinion.
Below are some of the best survey sites to make money:
Survey Junkie – Survey Junkie is our favorite survey site as they pay you cash straight to PayPal, or let you redeem rewards for Amazon gift cards
Pinecone Research: They pay $3 per survey and they pay cash directly to your PayPal account, or you can choose Amazon or restaurant gift cards. They also pay to do product testing
Opinion Outpost: One of the top survey sites in the space and they have quarterly $10,000 prize drawings
Inbox Dollars: Earn money for taking surveys, watching TV, or making purchases online. Get $5 just for signing up
You can even take surveys on your phone and sign up for multiple sites to increase your earnings. While taking surveys online is an easy way to earn extra money, you likely won't make more than several hundred dollars per month. You certainly won't become rich, but surveys can be a good way to make money in your free time.
It's also important that you make sure the survey companies you sign up with will pay you in cash or gift cards that you can use to supplement some of your expenses. In fact, you can use many to earn free Amazon gift cards to save money on Amazon.
6. sell old Video Games
If you're a video game enthusiast, you can make  good money reselling video games locally or online. Video games can be quite expensive, and if you own any that you are not playing anymore, consider selling them to SecondSpin to make some quick cash.
Gazelle is another good option if you have other tech items, such as phones you no longer use and want to sell for cash.
You can also buy games that are still in good condition and resell them by bumping up the price. You may find profitable games at flea markets, on discounts sites, or even on sale for the holidays.
Also, don't underestimate the value of classic games and gaming consoles. A few years ago, my husband bought an original Nintendo 64 system and a few games for $60.
When selling your games, be sure to shop around for the best offer. Some stores will agree to buy games from you, but they may not offer much or may even only offer store credit. In that case, it may be better to sell your game privately to an actual buyer.
7. Sell your old textbooks
How much do you spend on textbooks for your classes? The average college student spends $1,200 per year on textbooks, according to CBS News. This adds a significant stress to many students looking to keep spending in check.
If you keep good care of your textbooks, you can try to sell them to help cut down on the cost for future semesters. Depending on your needs, you may also be able to sell them to pocket the cash. Again, use resources like Craigslist, or your school newspaper to sell them items.
You can also use the Amazon Trade-In page as a good resource to determine pricing on your old textbooks to ensure you're selling at market price.
8. Become a personal grocery shopper
Do you have a car on campus? If you do, you can offer your services to do grocery shopping for people. Advertise your services on Facebook Marketplace, Craigslist, or your local newspaper to get clients.
Not only can you charge them a fee to do the shopping, but you can also use the Ibotta app to get rebates on the items you buy. Ibotta works on both name brand and generic items. All you need to do is scan your receipt once done with your shop to get available rebates.
Ibotta gives you $10 to sign up and you can start redeeming once you hit the $20 threshold. Ibotta even works with 350+ retailers, both online and physical stores, allowing you to save money on many purchases.
9. Sell Your Notes
Do you take very detailed notes? In college, I actually loved taking good notes and writing everything down because it helped me when studying and retaining the information I learned.
I didn't just rely on the PowerPoint slides the instructor used in class and I believe that actually helped me maintain good grades. Back then, I wish I would have known that you can actually sell your notes online to help other students study.
Stuvia is a site that allows you to do this and which you can use as a way to make money in college. With Stuvia, you still retain ownership of your notes and you can set your own price for your study notes. Stuvia does all the marketing so all you have to do is upload your notes, set a fair price, and get paid when someone buys them.
10. donate Plasma
Donating plasma may not be pretty, but you can easily make several hundred dollars per month doing this. Each plasma center has their own requirements and payment amounts, but if you're in a pinch this can be a good way to make extra money on the side.
11. Walk Dogs
For people who aren't really fans of kids and babysitting, I always recommend that they try their hand at walking dogs if they enjoy animals. Walking dogs is a great way to get some exercise in and one of the easy ways to make money in college.
You can walk dogs in between classes or in the mornings or evenings. You can advertise your services on Facebook Marketplace, Craigslist, or use Care.com as resources to find clients.
12. do Odd Jobs around town
Do you have the time to make money on the side, but don't want to tie yourself down to a part-time job? You can do odd jobs around town to make money in college.
TaskRabbit is a great resource to find odd jobs. You can find any of the following jobs on Taskrabbit:
Assembling furniture
Doing home improvement jobs
Landscaping more
Running errands
These are just a few of the jobs you can find on Taskrabbit. Once you complete a job with Taskrabbit, you invoice them directly and they pay weekly. You also get to keep any tips a client gives gives you.
13. Get a part-time job
If you're asking yourself how to make money as a college student, a part-time job is one of the most common answers. You can a job on campus working in the dining hall, or working at the front desk. You can also get a job off campus to help make extra money.
I've always preferred other ways to make money that allow for more flexibility, but a part-time job can be a great way to make extra money if you prefer predictable hours and paycheck.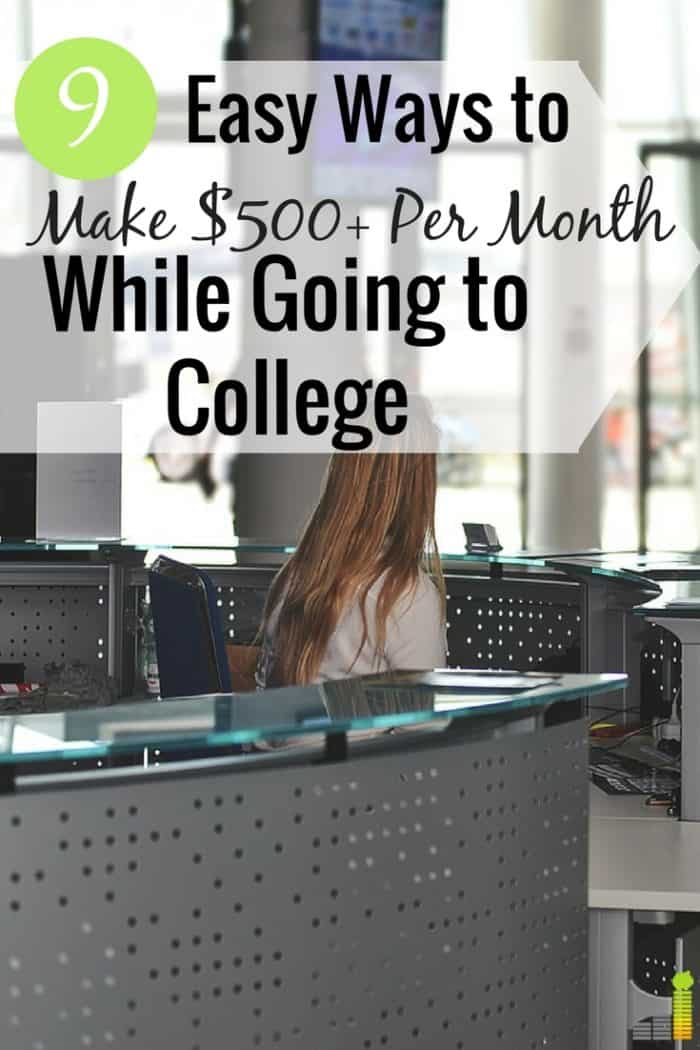 Final Thoughts
It's important to think outside the box when it comes to finding ways to make money in college. For some reason, I never got hired for too many part-time retail and restaurant jobs as a college student, even after sending out dozens of applications.
I didn't let that discourage me and still found a way to put more money into my pocket by finding time for side hustles. Consider what your skills and interests are, and don't be afraid to combine several of these ideas to boost your income so you can stretch your budget while in college.
What are some ways you made money while in college? Do you think it's good to work while in college, or should you avoid doing so if possible? What's the oddest thing you've done to make extra money?
The following two tabs change content below.
Chonce is a freelance writer who's obsessed with frugality and passionate about helping others increase their savings rate, eliminate debt, and work toward financial stability. She chronicles her journey with balancing motherhood, work, and finances on her blog, MyDebt Epiphany.com