Have you wondered how to start a blog and start earning sweet cash? Yes, blogging is still a profitable venture regardless of the reported 600 million personal websites that currently exist.
I started this website nearly a decade ago and it has more than replaced the income I earned from my former day job. The site gets hundreds of thousands of visitors monthly and supports my family.
If you're ready to start blogging, and don't know where to begin, this guide will help. As a preview, here are the steps I'll cover to help you create a blog:
Choose your niche
Get a domain name and blogging platform
Install WordPress
Choose your site's theme
Install basic WordPress plugins
Create killer content
Promote
It seems like a lot, but there are tools to simplify the process and help you earn money on the internet.
Steps to Creating A Successful Blog
Do you want to become a blogger? Here are the steps necessary to launch a website.
1. Choose Your Niche
Part of the appeal of blogging is that you can have a website on virtually any topic. From mommy blogs to hiking to video games, there are dozens of niches you can choose for your new website.
Here's the rub: if you want to start a blog and make money, you need to care about the niche you choose.
For example, I love helping people with their money. I love seeing others make positive changes that help them save money, avoid debt, increase their income, and pursue financial independence.
A personal finance blog was an easy choice for me. It helps ease the burden of creating content, and drives me to continue growing the site.
Your choice will be different. But, it should be something you care about, are skilled at, and can speak knowledgeably about. The point where those meet will direct you to the best niche as you start a new blog.
Also, remember one thing as you try to make money blogging – your unique personality. Your personality and experience drives your brand and will help you stand out from the crowd.
Pair your unique skillset and experience with a natural niche.
While you can make money online in any niche, the below tend to be the most profitable:
Money
Relationships
Wellness
If you can find something in one of those areas, you will be off to an excellent start. When you're ready to launch your blog, Bluehost is a terrific resource. Sign up here for just $2.95 a month (67 percent off their standard price).
Disclaimer: This page includes affiliate links that may provide a commission to us at no cost to you, if you make a purchase. For more information, you can read our disclaimers to learn more about how we make money.
2. Get A Domain Name and Blogging Platform
After deciding on a niche for your site, you need a domain name for your blog. You can select any available name for your site, but there are several things to keep in mind.
Here's what you need to know when choosing a domain name:
The name should be memorable
Don't make it too difficult; it should be easy to spell and say
Avoid using numbers or hyphens
Make it broad enough to branch out within the niche
Choose .com, .org, or .net (in that order) for the domain name, if they're available
After choosing a name, go to Bluehost and click "Get Started"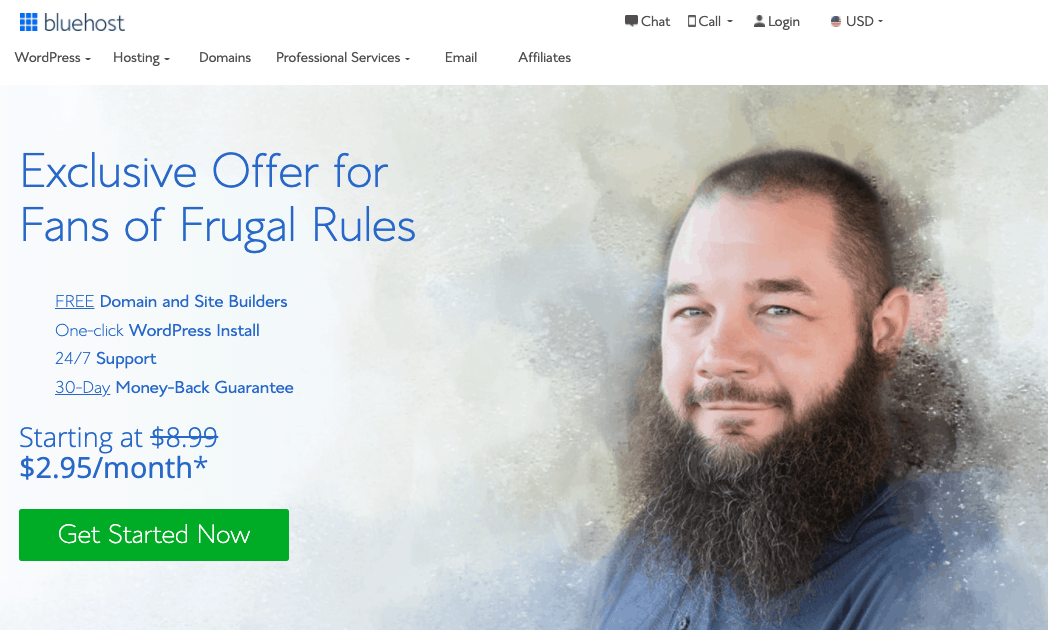 Choose the basic plan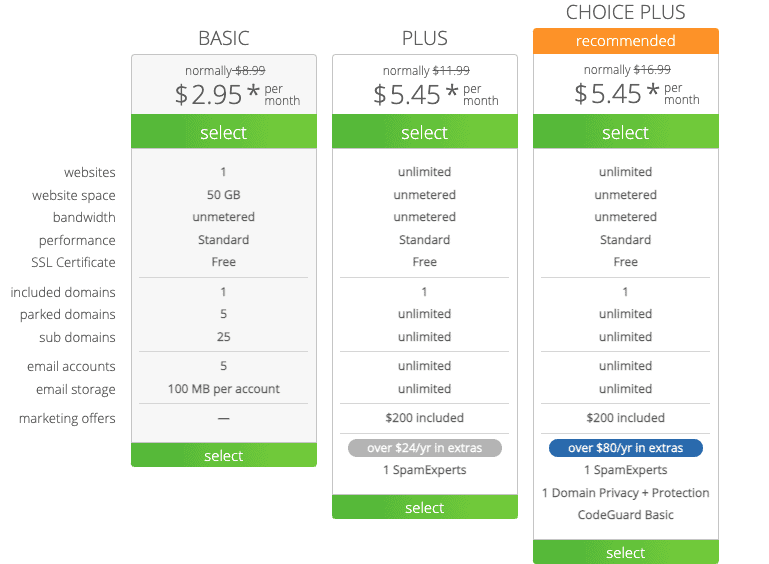 Claim your free domain name
Enter your contact and billing information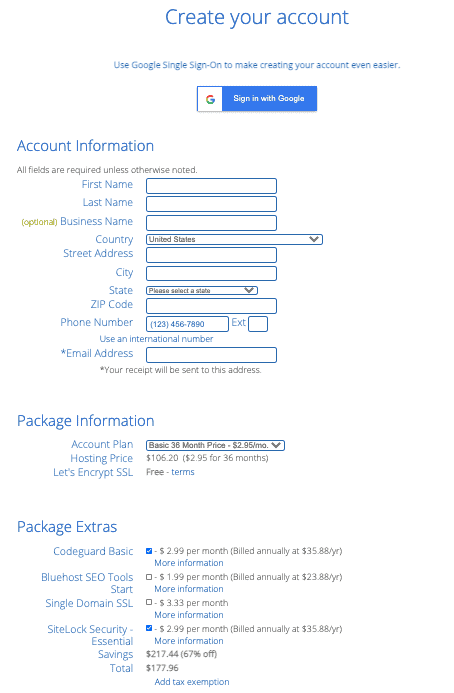 After you go through those steps, you create a login and password and you're done. The perk of choosing Bluehost is they provide your domain name free for the first year.
GoDaddy is another good resource for domain names, but why pay for it when Bluehost throws it in for free for the first year?
Benefits
Logo
Bluehost - Free Domain for a Year
Cost: $2.95/month using our link!

Perfect for beginners. Launch your website in a few clicks and get 24/7 support.


3. Install WordPress
Now that you have your site's name and have selected hosting through Bluehost, you must install WordPress on your blog. This sounds highly technical, and if you do it manually, it can be.
I'm not a technical expert at all, but thankfully Bluehost can install WordPress for you with one click. It's really that simple. If you choose Bluehost for your web hosting services, they offer the free domain name, one-click install, and a 30-day money-back guarantee for the $2.95 cost.
There are free blogging platforms you can use other than WordPress. Two popular alternatives are:
You can also choose WordPress.com as another alternative. In either case, your blog's web address (URL), would show as follows:
yourblog.wordpress.com
yourblog.blogspot.com
yourblog.tumblr.com
This differs from yourblog.com that you will have if you choose self-hosting.
While the above alternatives let you start a blog for free, they pose several problems:
You won't be able to get your own domain name
There are significant limits to free blogs
You don't own the website, and thus earnings are greatly restricted
Self-hosting on WordPress is the best blog platform for new bloggers, and there are no restrictions on earning money.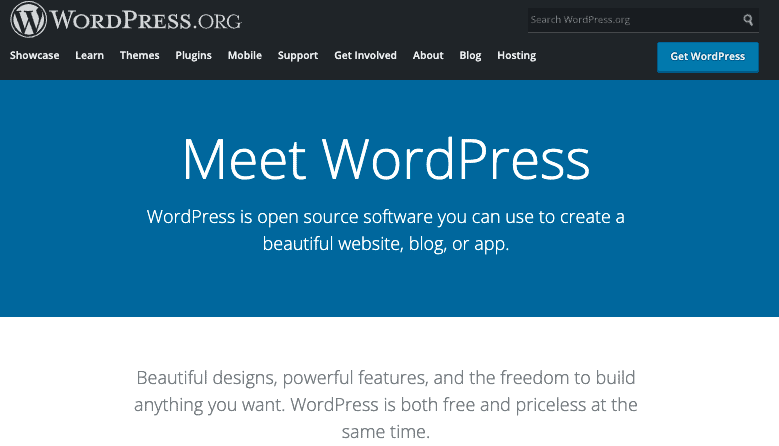 If you want to start a blog on WordPress, remember that services like Bluehost will install it for you with one click for free. There's no need to struggle through it on your own manually.
4. Choose Your Blog's Theme
Your website needs a design and in the blogging world that's called a theme. Think of a theme as templates, files, and sheets that form the design on your blog.
There are countless free WordPress themes you can choose to start. However, most are very basic and have limited design elements. Below is one common example of a free theme.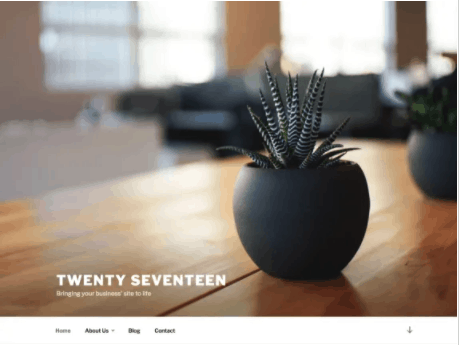 This is a default WordPress theme. This may be fine for what you want, but there are thousands of inexpensive paid themes you can choose from as you create a website.
Theme Forest is our favorite resource for blog themes. The site has over 50,000 WordPress themes, starting at just $2. A paid theme will usually have significantly more design options to truly personalize your blog.
After choosing a theme you need to log into your WordPress account to install it.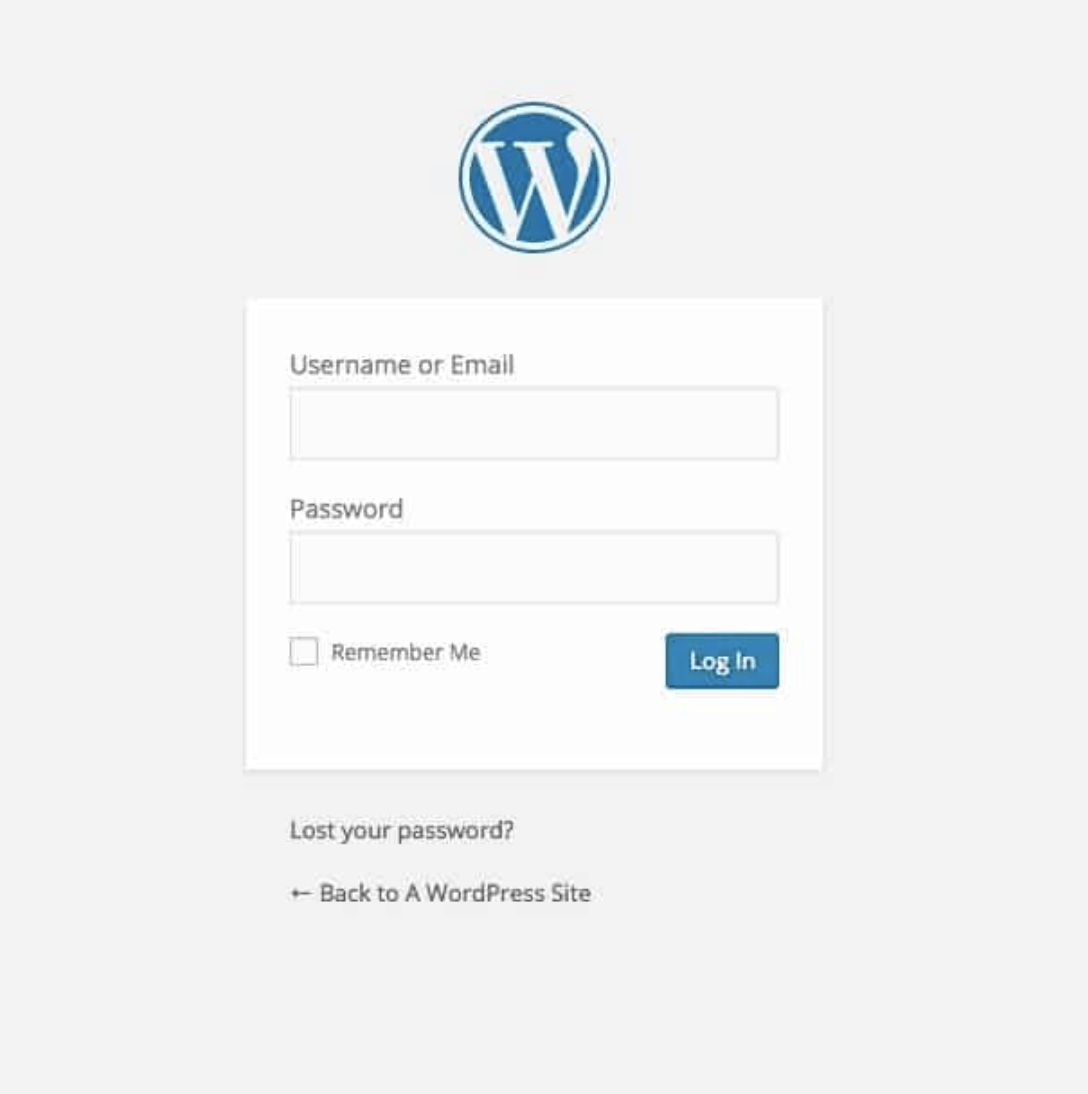 The best way to access your login page is to go to: yourdomainname.com/wp-admin. This lets you access the dashboard of your site and start customizing your blog.
Simply click "Appearance", then "Themes", then "Add New" to either select a free theme or install the one you purchased from Theme Forest. Bluehost provides 24/7 support to help you through this if you need it.
5. Install Basic WordPress Plugins
Think of a theme as what creates the look and feel of your personal blog. Plugins are what customize your site and one of the reasons why you should start a WordPress blog vs a non-self-hosted option.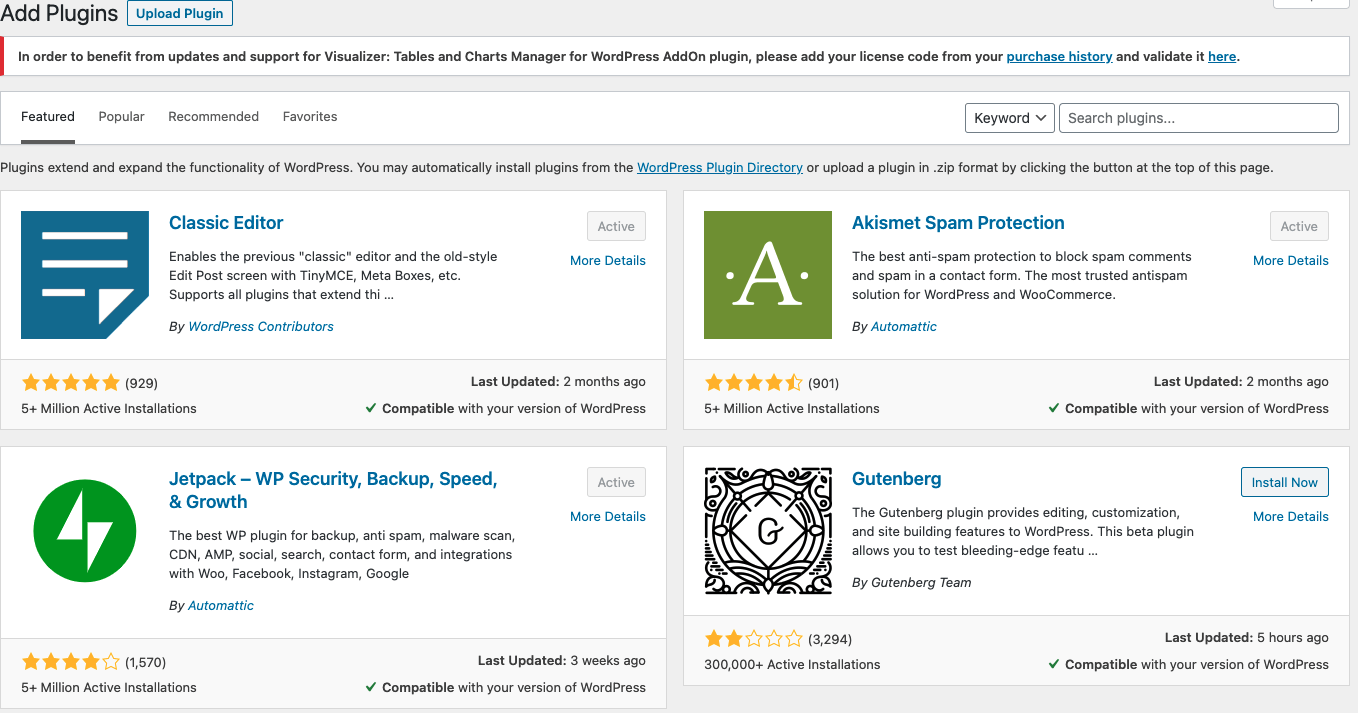 You can access the plugins by clicking the "Plugins" option from your site when you're logged into the dashboard.
A few popular plugins we use on this site include:
Yoast SEO: We use Yoast to manage the sitemap, robots.txt, titles, and meta descriptions.
Akismet Anti-Spam: Spam comments are inevitable on blogs. This plugin helps keep spam at bay and allows you the ability to moderate them before posting.
ShortPixel Image Optimizer: Images take up a lot of space, which can slow down your blog. ShortPixel compresses images into they're smaller files, creating less impact on site speed.
WP Rocket: WP Rocket is a Swiss Army knife of plugins, that has one simple mission: optimizing site speed. It works in the background to ensure your site is humming along as fast as possible.
Again, Bluehost is a terrific resource as they offer round-the-clock support if you ever have questions on a plugin. This makes them one of the top web hosts for beginners, especially if you're a technical novice.
Benefits
Logo
Bluehost - Free Domain for a Year
Cost: $2.95/month using our link!

Perfect for beginners. Launch your website in a few clicks and get 24/7 support.


6. Create Killer Content
Technically, your blog is ready to go. That's the easy part. Next comes content creation. The opportunities are endless on what you can write, but remember to tie it closely back to the niche you chose when you decided to start blogging.
As you think over what to write, here are several areas to consider:
Personal experiences
Your passions
Successes and failures
New things you've learned
Use the above to guide content creation and come up with several keywords to begin. As you start to write your first blog posts, here's what you need to include:
Put the keyword in the URL of the post
Put the keyword in the title of the post
Include keywords in headings and content throughout the post
Write in short paragraphs, and not walls of text
Most importantly, you want to write naturally as if you were writing it for a person to read and not a robot. Natural writing has several benefits:
It provides a better user experience
You come across as a person and not a bot
It performs better in position rankings in search engines
You provide more value to your readers
It's ok to let your personality shine through as you write. Remember, that's what makes you you. Your readers will thank you and it will help your blog grow faster.
7. Promote
No guide to starting a blog is complete without promotion. Unless you're only writing for your mom, promotion is essential to make money blogging.
Promotion comes in different forms, but includes the following:
Share your blog posts on multiple social media platforms to ensure it gets in front of potential visitors
Make it easy for readers to share your posts socially
Develop relationships with other bloggers in your niche
Check your contact info, and test your contact form, to ensure it's correct and works
Interlink relevant posts on your site to improve search engine optimization (SEO)
Give visitors more than one way to connect with you and subscribe to your blog
Digital marketing is part science and part art. You want to be in as many places as possible, but you also need to find your audience.
Remember, personality and your unique perspective are helpful to others. After you create blog content, get out there and make it easy for visitors to find you.
How to Start A Money Making Blog: FAQs
A blogging for beginners guide can span volumes. Here are a few questions creators have before starting a blog that wasn't covered above.
Why should you start a blog?
There are many reasons to create a blog. One of the biggest reasons why I started this website was to help people with their money. I spent 15 years in the financial services industry before launching this site and saw how many people struggle with their finances.
This site aims to help visitors take control of their finances. There are many other websites that have a similar mission across dozens of niches.
Blogging is a terrific way to influence others, develop yourself, improve your writing, and develop relationships. Blogging is also a terrific way to make money and generate passive income.
What is WordPress?
WordPress is a content management system (CMS) that lets you launch a website. The blogging software powers a significant percentage of websites online, with reports indicating nearly half are powered by WordPress.
Technically, WordPress is an open-sourced CMS that lets users modify it free of charge. Ultimately, it allows people to start a blog with minimal technical effort.
How much does it cost to start a blog on WordPress?
There are minimal costs associated with creating a blog on WordPress. If you choose a free theme, and use Bluehost to launch your site, you can get started for roughly $50.
Relative to the income and development opportunities, it's incredibly cheap. And, Bluehost offers a 30-day money-back guarantee if you decide it's not for you.
How can I make money blogging?
There are countless ways to make extra money from a blog. Here's a sampling of the various income opportunities:
Affiliate marketing
Display ads
Sponsored campaigns
Email marketing
Selling products
The above are just a few of the ways to make money from a website. You can use your blog to garner freelance writing work, consulting gigs, or any number of side hustles. The key is to offer value on your site. If you do that, you'll find more success.
How much do WordPress bloggers make?
Bloggers can make a lot of money. It's easy to think with the number of personal websites that it's difficult to make money online with a blog. It's not. It depends partially on effort, and partially on your value proposition and traffic.
There are lots of bloggers who earn six figures, or more a year, or month, through their website. If you only view it as a hobby, you will have minimal success.
However, if you put in the work and offer value, you can replace your income over time.
When some affiliate programs offer hundreds of dollars for signups and sponsored campaigns net $10,000+, it's easy to see how lucrative blogging can be, but it takes time to grow.
But, if you work with your partner you can combine your skills and potentially grow the site quicker. Read our guide on other side hustle ideas for couples that let you earn more.
How do bloggers get paid?
Bloggers are paid in several ways. They include:
Display
Affiliate commissions
Sales of courses or products
These are commonly referred to as earnings per click (EPC), and the more traffic you drive to your site the better the chance you have to increase earnings.
Beyond the above opportunities, you can sell products on your site. For a personal finance site, that could be a course on how to create a budget. On a food blog, that could be your top healthy heart recipes.
The price of the product or course really doesn't matter. If you offer value and it meets the needs of your readers, it can produce decent income.
Do people read blogs anymore?
Yes, people still read blogs. With over 600 million sites, it may seem that there's little opportunity to start a blog fast and earn money.
However, reports indicate that the vast majority of internet users regularly read blog posts. However, to run a successful website you need to do the following to attract visitors and provide value:
Make content easy to read and scannable
Have a clear and distinct value proposition
Make the answer to their question easy to find
People read blogs for a variety of reasons, but it's largely to answer a question, learn a new skill, or to connect with like-minded individuals. Despite the preponderance of competition, blogging is still alive and offers loads of opportunity.
Summary
Starting a blog may seem difficult, but by following the above steps you can get it up and running in under 30 minutes. Blogging is fun, and has brought many opportunities into my life. You can have the same experience if you are willing to put in the effort.
Running a website is work. It's not the get rich quick scheme some think it is, and it takes a lot of effort to grow a successful blog. Like so much in life, it's what you put into it that matters.
However, with some effort you can make good money and maybe even replace the income you currently earn from your day job.