14 Best Passive Income Ideas That Let You Make Money While You Sleep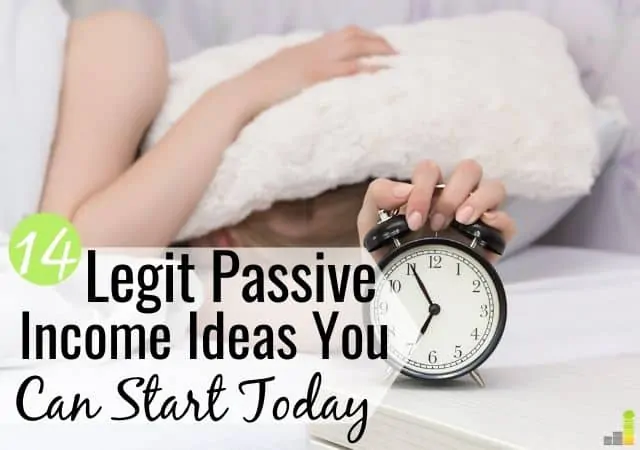 How many streams of income do you have? Many believe they only need one source of income. I used to believe the same, but soon after working for myself I saw the power of multiple streams of income. That was when I began to look for the best passive income ideas to grow my wealth.
You may think it's difficult to grow passive income. Yes, it does take time and effort, but it's not as difficult as you might think. This guide shares some of the best ways to develop residual income to help you reach different goals.
What is Passive Income?
In simple terms, passive income is the ability to make money without working. Passive income, otherwise known as residual income, can occur when you're sleeping, watching Netflix with your family, or on vacation.
Of course, this is desirable by many. What many overlook is that most legit passive income ideas do take work to establish. However, with some effort it is possible to create streams of passive income to help supplement your income.
Traditional passive income ideas include investing in the stock market or real estate. This does require a cash investment, but can be quite lucrative.
Semi-passive income can include earning money for something you're doing – like getting cash back on purchases or renting your car. Finally, you can pursue passive income business ideas, like making money from a blog.
The top passive income ideas can help you reach any number of goals, such as:
Save for a large expense
Earn income for another business idea
Pay off debt
Quit your day job
You may have no other goal than to create another stream of income and grow your wealth. Residual income is a great way to reach that goal.
List of Best Passive Income Ideas
There are plenty of ways to grow multiple streams of income, or mailbox money. To be most effective, you want to find an opportunity that matches with your skills, or one that doesn't require too much of an investment of time or resources to grow.
There are many legit passive income ideas to pursue, but it must work for you.
Here's our list of the 14 best passive income ideas you can pursue to grow your wealth.
1. Investing in Dividend Paying Stocks
When you invest in dividend paying stocks, you become a stakeholder and receive a share of the profits. This is a popular way to earn passive income because many dividend paying stocks pay on a quarterly basis.
This can be a great strategy to earn passive income during your retirement years. You don't have to wait until retirement though if you have enough funds to build a dividend-based portfolio.
You will need to use an online broker to create a stream of dividend income.
Betterment is a great option, and our top choice for new investors. Betterment is a robo-advisor, so they manage your investments for you and have no minimum balance requirement. You can even use passive income apps to invest your spare change!
When was the last time you checked in on your 401(k)? Building your 401(k) plan is another great way to create a passive income stream for the future but many ignore them or are paying high fees.
Blooom is a great resource to check up on the investments in your 401(k) to make sure it's in top shape. Blooom analyzes the investments in your 401(k) and looks for lower cost alternatives so you're not wasting money that otherwise could be working for you.
Blooom offers a free 30-day trial, then is $10 per month after that.
*Related: Here are other investment options to consider:
2. Peer-to-Peer Lending
Peer-to-peer(P2P) lending sites like LendingClub allow you to loan money to others. As the borrower repays the loan you get the principal back plus interest. Many P2P lenders allow you to earn 6-10 percent return on your investment.
This awesome passive income idea works by letting you take on the role of a bank through a secure peer lending platform. Instead of just putting the money in a savings account, you can earn more by loaning it to others.
3. Crowdfunded Real Estate
When you hear the word 'crowdfunding,' you may think of your friend's Kickstarter campaign, but it can also help you generate passive income through real estate investing.
Real estate crowdfunding allows you to invest in real estate by pooling your money with other investors. To do this, you can make equity investments in commercial or residential properties.
Investors receive an equity stake in the property and returns are provided in the form of shares of the rental income that is generated.
Fundrise offers a great way to take advantage of this passive income idea. You can start investing for as little as $500 with Fundrise and you can invest in residential or commercial properties.
Fundrise also allows you to invest money in either a retirement or non-retirement account so you can match investments to your goals and needs. Check out our Fundrise review to learn more about the platform.
RealtyMogul is another good option to invest in real estate. You need to have $1,000 to start, but has lower fees than Fundrise.
Streitwise is another good real estate platform to consider for investment opportunities. The platform allows non-accredited investors and has a minimum balance requirement of at least $1,000. The platform focuses on retail and commercial real estate investment opportunities.
You can learn more about the above sites in our guide on the best real estate crowdfunding platforms.
If you want something more diverse than real estate, you can invest in farmland through FarmTogether or wine, yes wine, through Vinovest.
The platforms have a $10,000 and $1,000 minimum investment, respectively, but both offer a legitimate way to add further diversification to your investments.
4. Buy Gold Bullion
If you're looking for more passive income ideas, you should consider alternative investments such as buying gold bullion.
Precious metals generally hold their value during economic hard times and are one of the more suitable recession-proof investments to consider.
One way to invest in gold is by setting up automated buying through Vaulted. Using their automated buying option lets you earn passive income while spending your precious time doing other important things.
5. Rent Out A Room In Your Home
This great passive income idea is something I've been considering. Thanks to sites like Airbnb, you can rent out their home or a spare bedroom to travelers in order to make extra money.
All you need to do is fix up the space and list it on Airbnb. You may need to do some light cleaning and maintenance after each guest departs, but you can also hire a cleaner to take care of that for you.
*Related: Looking for other real estate investment options? Read our guide on the best ways to start investing in real estate with $1,000 or less for the best available choices.*
The average Airbnb host makes nearly $1,000 per month, making this a great opportunity if you have a spare room or property.
Just make sure your homeowners association or landlord allows for renting before taking the leap. If you're considering listing your property on Airbnb, check out our Airbnb host checklist to earn more money.
6. Affiliate Marketing
Affiliate marketing is a great way to earn passive income if you have a blog or online influence. If there's a product or service you like, you can refer your audience to try it with your own custom trackable affiliate link. If someone clicks on your link and signs up, you can earn a commission.
There are many different types of affiliate programs and they all have different rules and payment structures. Once you find a few affiliate programs that you like, you can set up systems to promote them so you can start earning passive income.
The key to making this great passive income idea work for you is having a blog.
You can start a blog with Bluehost for $2.95 per month and they install your site in one-click, letting you start your passive income strategy right away.
7. Paying off Credit Card Debt
One of the most unexpected passive income ideas is to pay off your debt faster. Yes, you spend money to do this but you also save money as well. Thanks to paying less interest each month you have more money to grow your wealth
For example, I made my last student loan payment last month. Technically, I'm supposed to be paying on my student loans for another seven years if I were to stick with minimum payments but I started increasing my payments to get rid of the debt quickly.
Now that I no longer have that debt, I've saved myself thousands of dollars over the next seven years. That's money that can go back into my pocket or be used for other things.
You can accomplish the same thing by lowering your interest rate so more of your payment pays down your debt balance.
Fiona by Even Financial is an excellent option for this as you can often lower your rates by half or more. Fiona lets you compare 17 lenders in under two minutes.
After completing a brief application, they provide you with quotes for the best matching lenders.
8. Refinance Your Mortgage
This may sound odd for a passive income idea, but this option can free up money each month. Over the life of your mortgage this can result in tens of thousands of dollars you can use for another investment.
Interest rates are still at historical lows. If you've not looked at your mortgage recently this may be a great time to lower your rate. Even a .50 or .75 percent reduction can result in thousands of dollars over the life of the mortgage.
We like LendingTree as an option as they let you compare rates against other lenders. This lets you find the best lender for your situation.
Compare rates at LendingTree to see how much money you can save each month to put towards other income producing goals.
9. Put Money in A High Yield Savings Account
Okay, a savings account doesn't sound like one of the best passive income ideas but it does work. The cash in your savings account earns interest, building your savings while you sleep.
You start with as little as you want. The trick is to find a bank that pays a decent interest rate on the money in your savings account.
CIT Bank pays .45 percent in their Savings Builder account. It's a standard, FDIC insured savings account. You must open an account with as least $100, and deposit at least $100 per month.
You can also create CD ladders, or put your money in a money market account with CIT Bank. Check out our CIT Bank review to see what they have to offer.
10. Run an E-Commerce Store
Are there any products you can sell online? One of the best passive income business ideas is to sell those items online.
Shopify is our favorite platform to sell items as they help you create an online storefront you can use to sell products.
Make Extra Money by Taking Short Surveys
Taking short surveys in your free time can be an awesome way to earn extra money fast! The instant you finish a survey,
Survey Junkie pays you in cash via PayPal
. 6 Million users and an 8.9/10 Trust Pilot rating prove you can trust them.
When you run an e-commerce site through Shopify they manage all the inventory for you so you don't have to deal with inventory. They also help you manage many other administrative features of running an online store so you can focus on growing your business.
You can also try creating something. If you make printables, try selling them on Etsy or sell T-shirts on TeeSpring or Amazon. Another option is to sell your products through a storefront on Sellfy.
Once you get the general concept down and create a few items, you can sell them consistently with little effort on your end. Check out our guide on how to make money with Shopify to learn how the platform works.
11. Get Cash Back on Your Shopping
Remember me mentioning semi-passive income? Semi-passive income comes from something you may already be doing. We all have to buy groceries, and most buy items online.
You can easily get cash back on that shopping. If you're going to buy something, you might as well get cash back for it.
Ibotta is our favorite platform to get cash back. You simply download the app and it finds offers for you while at the store. The app also lets you scan receipts to find other cash back opportunities.
You can also use Ibotta when shopping online on 350+ retailers, such as:
Amazon
Costco
Dollar General
Sam's Club
Target
Walmart
You won't get rich with this option, but it's a great way to get extra money for another goal. Ibotta pays in cash, not points you need to convert. They also give you $10 when you download and use the app for the first time.
Check out our Ibotta review to see how the app works.
12. Spend Less on Electricity
This one is closer to passive saving than a passive investment. However, it all helps grow your wealth. Thanks to the Truebill app you have the chance to save up to 30 percent on your electric bill.
If you live in an area with deregulated energy Truebill looks for the lowest price per kW of electricity to help lower your energy bill. In many cases this results in a savings of 30 percent.
Truebill also saves you money in the following ways:
Negotiating lower priced bills
Cancel subscriptions or memberships you don't use
Monitoring internet outages for refunds
Check out our Trubill review to see how the service works and how much they can save for you.
13. Sell Designs
Are you a graphic artist? Do you like to design items in your spare time? Like #12 above, design isn't entirely passive. You do need to spend time creating designs. Again, once created those designs can sell at any point and require little work from you.
Designs can be put on many things, from coffee mugs, to T-shirts, to phone cases and more. You can sell your designs and products in a number of ways but most of those require active work on your part.
CafePress is a great solution to this problem. CafePress will market and sell your designs or products so you don't have to bother with any of that work, making it a legit passive income idea if you have the talent.
14. Sell A Course
Our final passive income business idea is to create and sell online courses. Are you highly knowledgeable in a certain area, such as computer programming or photography?
You can create courses and sell them on Udemy. Udemy is an online portal that sells thousands of different courses to people who want to grow in a particular skill.
What you include in the course is up to you. It can include videos, tutorials, or e-books. Udemy has resources to help you through that so you can offer a course that provides value to students. This is one of the more active passive income ideas, but once you create the course Udemy does everything else for you – with no work on your part.
Bottom Line
There are many ways to grow multiple streams of income and grow your wealth. Regardless if you just want another stream of income or eventually want to quit your job many of these passive income ideas can help you reach your goal.
What are your favorite passive income ideas? Are there any good ones we missed? Have you ever tried any of these things in order to earn money in your sleep?
The following two tabs change content below.
Choncé is a freelance writer who's obsessed with frugality and passionate about helping others increase their savings rate, eliminate debt, and work toward financial stability. She chronicles her journey with balancing motherhood, work, and finances on her blog, MyDebt Epiphany.com