If you are looking for creative ways to make long-term passive income, mailbox money is a great option to generate multiple cash flow streams.
Being able to make money in your sleep requires some upfront effort. Fortunately, it's not impossible to earn residual income with minimal ongoing work.
These ideas can diversify your income streams and increase your net worth.
What is Mailbox Money?
Mailbox money consists of multiple streams of residual income you create to assist with building wealth. The idea came from rapper Nipsey Hussle's 2014 mixtape, Mailbox Money.
Nipsey got the idea for this project after reading about how to make passive income. The album launched as a free album with several money-related tracks. Limited first editions sold for $1,000.
Part of what he liked about the concept was that you don't need lots of money to start creating additional revenue streams.
For example, some ideas only require a minimum investment of $10 to get started.
While saving for retirement is one obvious reason to earn passive income, long-term financial security is the ultimate goal of this method of wealth creation.
*Deal of the day: Earn 4.65 percent (11x the current national average) on your cash with CIT Bank's Savings Connect account. Start with $100, and electronically deposit at least $200 a month to earn this rate! All deposits are FDIC insured up to the $250,000 per depositor maximum.
Top Ways to Make Mailbox Money
Creating residual income is possible for many people, and there are numerous ways to get started.
Here are the best ideas to create a mailbox money plan and build multiple streams of income.
1. Build a CD Ladder
Putting your day job money into a bank account and earning interest sounds boring, but it's a painless way to earn compound interest.
Savings accounts and bank CDs can be a low-risk cornerstone for any mailbox money system. Even your emergency fund can earn interest and multiply your money.
First, consider a CD ladder that holds different term lengths, such as one year, two years, and three years. Longer-term CDs tend to earn a higher interest rate than short-term CDs and high-yield savings accounts.
As a CD matures, you can invest that cash in another term to secure today's best rate. However, redeeming a CD early can result in a penalty of three months of interest.
Read our guide on are CDs FDIC insured to learn more about how they might fit into your overall portfolio.
If you prefer instant access to your cash, a high-yield savings account can be the better option.
CIT Bank has high-yield savings accounts and CDs with competitive interest rates and no monthly service fees. The minimum deposit is $100 for savings accounts and $1,000 for CDs.
However, if you want to tie your funds up in a CD, you can earn 5.05 percent through CIT Bank's Platinum Savings account choice. You must have a daily account balance of at least $5,000 to earn this rate. If you have beneath that, the rate lowers to 0.25 percent.
Your accounts have up to $250,000 in FDIC insurance for extra peace of mind.
Bank deposits often earn less than two percent, which can be lower than inflation. Nevertheless, these accounts can be a good place to put some of your cash until you find more lucrative mailbox money ideas.
If you're waiting to take advantage of short-term investments, look for a competitive rate to earn some money on your cash.
Read our CIT Bank review to learn more.
2. Invest in Real Estate
Real estate investing is a classic way to become wealthy because you can collect monthly rent checks. This investment strategy is also one of the easiest ways to build wealth outside the stock market.
People always need a place to live and work, so there is a steady supply of potential tenants in most cities. You can also earn recurring income from commercial real estate as businesses rent office and retail space.
If you don't have the cash or desire to own rental property, you can consider real estate crowdfunding. With this approach, it's possible to get started with as little as $10.
This provides exposure to various residential and commercial real estate projects across the country.
Crowdfunding platforms let you invest through non-traded real estate investment trusts (REITs) that hold a basket of properties.
You don't have to maintain the property or screen potential tenants. Additionally, the annual returns can be competitive with self-managed properties.
Most crowdfund REITs have historical annual returns between six and ten percent.
Fundrise
Fundrise is the leading platform in the crowdfunding real estate space. The site lets you invest in multifamily apartments and commercial real estate with as little as $10.
Your mailbox income comes from quarterly dividend payments and appreciating property values.
The minimum investment period is five years if you don't want to incur an early withdrawal penalty. As a result, this platform is best for long-term investors.
Benefits
Logo
Fundrise - start investing in real estate
$10 to start

This popular crowdfunding real estate platform makes it possible to invest in real estate with as little as $10!

Groundfloor
Short-term investors may prefer Groundfloor. With Groundfloor, you lend money to real estate investors to improve fixer uppers to sell for a profit.
You can invest as little as $10 into projects for six to 12 months. These short-term projects are available in large cities across the United States.
The average actual return is 10.5 percent, according to the platform.
While you must reinvest your cash more frequently than with a REIT, you can earn a monthly cash flow from borrower interest payments.
Fundrise and Groundfloor are just two choices to invest in real estate. Here are how they stack up against other platforms.
3. Invest in the Stock Market
Investing in stocks requires a smaller time investment and less money than most residual income ideas. Some investing apps let you start investing with only $5.
The stock market also has plenty of investment options. Stock and bond index funds are the most popular as they offer instant diversification and have minimal fees.
You can earn recurring stock and bond dividends. Rising share prices can also help you receive long-term gains once you sell.
Using your 401(k) or retirement accounts to invest in stocks can help maximize your earnings.
Instead of having your investment income subject to taxes each year, you only pay taxes once at the time of withdrawal (traditional IRA) or contribution (Roth IRA).
The following micro-investing apps buy fractional shares of stocks and ETFs so that you can easily invest small amounts of money.
Both platforms offer taxable brokerage and tax-advantaged retirement accounts.
Betterment
Betterment is a leading robo-advisor that automatically invests your cash and rebalances your portfolio. This app could be your best option if you don't want to self-manage your investments.
With Betterment, you will invest in stock and bond index ETFs. The platform uses your age, risk tolerance, and investing goals when recommending an asset allocation.
You can invest as little as $10 with each contribution. The annual management fee is a competitive 0.25 percent.
The service also offers on-demand financial advisor access to answer your financial planning questions. An additional fee applies for these advice packages.
Additionally, Betterment has a cash reserve account you can use to save money towards specific goals.
Read our Betterment review to learn more.
Benefits
Logo
Betterment - No Minimum Balance Requirement
Cost: 0.25 percent of account balance, annually

From beginners to pros, Betterment offers lots of helpful tools and a powerful investing platform.


Acorns
The Acorns app has several unique features to help you find spare cash to invest. One option is rounding up your credit and debit card purchases.
It's also possible to shop at participating retailers and earn cash back that the platform invests on your behalf.
After joining, you can choose a pre-made portfolio of stock and bond index funds that fit your risk tolerance. The investing app automatically rebalances your portfolio.
In addition to individual investment accounts, you can even access custodial accounts to help your child earn mailbox money. The service also offers online checking accounts.
Users can choose between two monthly plans. Personal plans cost $3 per month, and the Family plan costs $5 each month.
Read our Acorns review to learn more.
4. Invest in Businesses
Peer-to-peer lending is a popular way to make cash by lending your money directly to borrowers. You can receive monthly interest payments from the borrower.
Among alternative investment ideas, this particular option stands out because it involves lending to small businesses that need capital in order to grow.
Many businesses need to borrow money to continue growing as they may not be able to access funding through a bank. Lending money directly to small businesses is a unique passive income idea.
For example, Mainvest lets you invest in a small business with only $100. Possible investments include:
Bakeries
Bars
Breweries
Community centers
Food trucks
Health or wellness stores
Movie theaters
Restaurants
The social lending company claims returns of ten to 25 percent, depending on the investment.
It can take approximately five years for your investment note to mature so that you can get your original investment back.
Read our review to see if the platform is a good choice to diversify your portfolio by investing in brick-and-mortar businesses near you.
5. Rent Out Your Car
Typically, a car reduces your net worth as its market value depreciates. Plus, you spend money on maintenance and insurance.
However, you can make money from your car through HyreCar.
With this platform, you earn money by renting your car to other drivers on the days you don't need it.
According to the website, you can earn approximately $1,000 per month if you have an in-demand vehicle.
It's free to list your car on this platform. However, you should first verify whether your car insurance provider allows this.
Your vehicle is eligible for up to $1 million in excess liability protection during rentals. You can also enroll in protection plans to receive reimbursements for refueling and cleaning.
6. Rent Out Your House or Room
Another real estate investing idea is renting out a second property or a room in your primary home. You can offer short-term or long-term rentals depending on your schedule and how much flexibility you need.
Better yet, renting a room can have a low initial investment if you don't have much extra cash.
Short-term rentals can be more lucrative than owning long-term rentals in your city. You're also not dealing with long-term tenants, which can be stressful if they stop paying rent or don't maintain the property.
One of the best places to list your home is on VRBO. The site has an online calculator to help you quickly estimate the average monthly income for your area.
You can hire a cleaning service to prepare your place for the next guest if you don't have time to self-manage.
It can also be worth listing your property on Airbnb to reach more travelers. Both services manage the entire rental process, so all you need to do is ensure the property is ready for guests.
Read our host checklist to prepare your home for guests.
7. Start a Website
Not all alternative investments require holding physical assets. You might consider starting a blog to share your expert knowledge about a hobby you enjoy or to sell a product you make.
There are several ways to make money with a website, including:
Affiliate income: Earn a small commission when visitors buy a product or service you recommend with special referral links.
Ads: Display ads on your website and earn more as your site traffic increases.
Create products or a course: Sell ebooks or online courses. Apps like Gumroad automatically email a product link to the buyer. Digital products have minimal production and delivery costs.
Connect with clients: Having a "Hire Me" page lets you earn side hustle income.
Making a website requires an upfront time investment, and it can take a few months to start earning income.
Fortunately, websites don't require lots of cash to start. This makes them an easy hobby to monetize.
You will need a hosting company to ensure your site runs smoothly. Bluehost is a popular service that helps you create your site, get a free domain name, and receive 24/7 support.
Benefits
Logo
Bluehost - Free Domain for a Year
Cost: $2.95/month using our link!

Perfect for beginners. Launch your website in a few clicks and get 24/7 support.


Bottom Line
Mailbox money is a terrific way to earn residual income with minimal ongoing effort. Pursuing multiple income streams can make wealth-building easier in any market cycle.
If you have long-term money goals, start any of these passive income ideas today to give your investments more time to grow.
What are you doing to create multiple streams of income?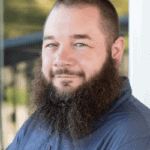 I'm John Schmoll, a former stockbroker, MBA-grad, published finance writer, and founder of Frugal Rules.
As a veteran of the financial services industry, I've worked as a mutual fund administrator, banker, and stockbroker and was Series 7 and 63-licensed, but I left all that behind in 2012 to help people learn how to manage their money.
My goal is to help you gain the knowledge you need to become financially independent with personally-tested financial tools and money-saving solutions.