Betterment Review: Get Up to 12 Months Commission Free!
Betterment is a robo-advisor that simplifies investing for you by providing professional management of your portfolio for minimal cost. This Betterment review for 2018 will go over how they can help you reach your investment goals.
Betterment began in 2008 and is the most well-established players in the robo-advisor space, having over $15 billion in assets under management and 400,000+ clients. Through a relatively low price and solid approach, Betterment lowers the barrier to entry for those who want a financial advisor without the added cost.
What makes Betterment so unique from other brokerages is that you do not trade individual stocks or mutual funds, but you invest in a bucket of Exchange Traded Funds (ETFs) that are personalized to your specific goals.
The other thing I really appreciate is they have no account minimums. If you have little money to invest or are new to investing you have little to worry about. With that bit of background out of the way, let's get on with the review of Betterment.
BETTERMENT FEATURES
You Don't Actively Trade: You do not trade individual stocks with Betterment. That is simply not their approach. Their approach is very similar to a buy and hold type of investment strategy where they focus on your long-term goals and not actively trading stocks.
Buckets to Choose From: If you do not trade stocks with Betterment, then what investment options do they offer? It's quite simple, they select buckets of ETFs based off of the information you provide them. You can also choose to partake in their Socially Responsible Investing (SRI) portfolio if you wish. They have two main buckets they select from and they personalize the amount each ETF will make up of your portfolio. The first one is their stock market bucket which provides balanced exposure in the US as well as internationally. It is made up of:
VTI – Vanguard Total Stock Market ETF
VTV – Vanguard US Large-Cap Value Index ETF
VOE – Vanguard US Mid-Cap Value Index ETF
VBR – Vanguard US Small-Cap Value Index ETF
VEA – Vanguard Europe Pacific (EAFE) ETF
VWO – Vanguard Emerging Markets ETF
The second basic bucket they provide is their bond bucket. Below are the options to select from:
SHV – iShares Short-Term Treasury Bond Index ETF
VTIP – Vanguard Short-term Inflation-Protected Treasury Bond Index ETF
BND – Vanguard US Total Bond Market Index ETF
MUB – iShares National AMT-Free Muni Bond Index ETF
LQD – iShares Corporate Bond Index ETF
BNDX – Vanguard Total International Bond Index ETF
VWOB – Vanguard Emerging Markets Government Bond Index ETF
New portfolio options: Betterment recently added new portfolio options for both new and existing clients. Those are: Blackrock Target Income Portfolio, Goldman Sachs Smart Beta Portfolio and Betterment Socially Responsible Investing (SRI) portfolio. The Target Income Portfolio consists of 100 percent bonds and is meant for those in retirement wanting a more conservative approach to investing. The Goldman Sachs Portfolio uses a rules-based approach with the goal of outperforming the traditional market index. The SRI Portfolio is fairly self-explanatory, here's our guide to the SRI approach.
They Personalize Your Service: The nice thing about Betterment is they don't just stick you in a random selection of funds, but offer something that is personalized. When you open an account with Betterment they ask you a small handful of questions to understand your goals. They take your responses and use them make your portfolio. The questions are straightforward and you should be able to answer them within 10-15 minutes.
Retirement Income: This is a new feature added by Betterment that allows you set up a system for sustainable cash flow for those that are in retirement. Decumulation during retirement can be tricky to balance and Betterment provides investors in retirement a way to better balance that.
RetireGuide™: This feature was first added several years ago and really helps differentiate them from other robo-advisors in the space. The purpose behind RetireGuide™ is to provide you personalized retirement planning advice at the goal level. RetireGuide™ looks at things like income when you retire (based on your current investments), help you make plans based on if social security will be available to you or not, and how much you should be saving each year.
A recent update to RetireGuide™ also allows you to look at your entire retirement picture, including all external accounts – both taxable and non-taxable. This includes linking your 401(k) plan to your accounts, in addition to the ability to link other external accounts.
With these changes, RetireGuide™ lets you to get a holistic view of your retirement planning regardless of where your investments and external cash reside. By thinking of your retirement needs at a goal level, rather than by specific accounts, you can make more informed decisions to optimize your investment potential. Ultimately, this updated feature lets you get advice on what you need to save and where to invest it across your entire portfolio.
Tax-Coordinated Portfolio: This is the newest featured added by Betterment. This new feature allows you to allocate your assets to maximize your tax efficiency across all your account at Betterment, retirement accounts included.
Charitable Giving: This is a brand new service to Betterment that launched in late 2017. With charitable giving you can give to a number of charities directly from your Betterment account. Betterment will show you how much you have eligible for donation, the potential tax savings and operate strictly from your long-term gains.
SmartDeposit: Do you like to invest money throughout the month? That is the premise behind SmartDeposit. SmartDeposit allows you to invest money once you reach a certain balance in your bank account. It is important to point out this feature is something you must select in your account. If you do, it allows you to put any overages in a bank account directly into your Betterment account.
Live support: Betterment just added a new feature where any investor can message a rep directly from their mobile app. You can use this to ask any questions you may have, or help with setting goals. Additionally, if you have a Plus or Premium plan you get unlimited phone call access to CFP professionals.
Investment Review: This is a new feature offered by Betterment I really like. With this feature, Betterment analyzes your outside investments based on four particular areas: investment accounts, tax savings, fees and risk exposure. This is a great way to ensure your investments are in shape, and that you're not missing any opportunities – the best part is that it's free of charge.
Straight Forward Pricing: By not trading stocks, you avoid any commission fees. That's not to say it's free – of course. Betterment has just recently changed their pricing structure, making it much simpler to understand.
This is a win for most as they now charge just a flat annual fee of .25 percent based on your account balance instead of a tiered structure that penalized those with smaller balances. Betterment also recently added Betterment Plus and Betterment Premium packages.
These are for clients with more than $100,000 and gets them access to a team of CFP professionals to provide advice on your portfolio. The charge for this is a flat .40 percent. *9/18/18 update: New clients with balances over $2 million will now receive a .10 percent marginal discount on balances over $2 million. So, for example, if you're a part of Betterment Premium, and currently pay .40 percent, the first $2 million will be charged .40 percent and the remaining balance will be charged .30 percent.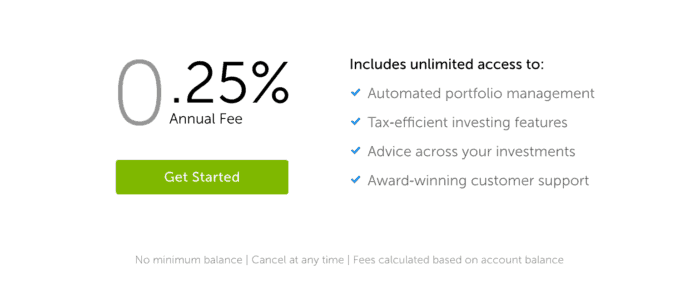 ADVANTAGES OF BETTERMENT
Great for beginners: What I love about Betterment is they're great for beginners. Having spoken with many beginner investors in my past, I know investing can be confusing. If you're a new investor and want to get started Betterment simplifies that process. They take your goals to make up a portfolio. You have little to figure out on your own. It doesn't get simpler than that in my opinion.
They do the heavy lifting: The other thing I like about Betterment is they do a lot of the heavy lifting for you. They rebalance your account for you as well as reinvest any dividends for you. For the beginning investor this really makes Betterment unique among some of the alternatives. This is where someone like Motif Investing differs from Betterment. Betterment offers dividend reinvesting whereas Motif Investing does not. That might not be big to some, but it is something to keep in mind. Betterment also recently added a new feature that allows them to sync all of your brokerage accounts to see if there are fee saving or investment possibilities available – something that most other brokerages don't offer.
Their portfolios stay on top of the market: Their buckets are not a 'set it and forget it' approach. They're not changing them on the fly either. They recently changed their bond bucket in light of what is going on in the bond world to put clients in a better position. The powers that be at Betterment do this in order to stay abreast of what's going on in the market while also positioning investors to succeed. I also love that many of the funds chosen are low in fees so more of your money is working for you. I use the free service available at Personal Capital to stay on top of this myself.
There is no minimum account balance to open: Many online brokerages have an account minimum. Betterment does not. This is great for those with little to invest, or those simply wanting a secondary investing option to what they're doing elsewhere.
Tax Loss Harvesting: In simplistic terms, Tax Loss Harvesting (TLH) allows you to boost the return of your portfolio by selling losing holdings which in turn lowers taxable liability on gains and income. You don't need to do anything to take advantage of this feature and is available to all Betterment clients. When you include their new Tax-Coordinated Portfolio feature, this really puts Betterment ahead of the game when it comes to taxes and your portfolio.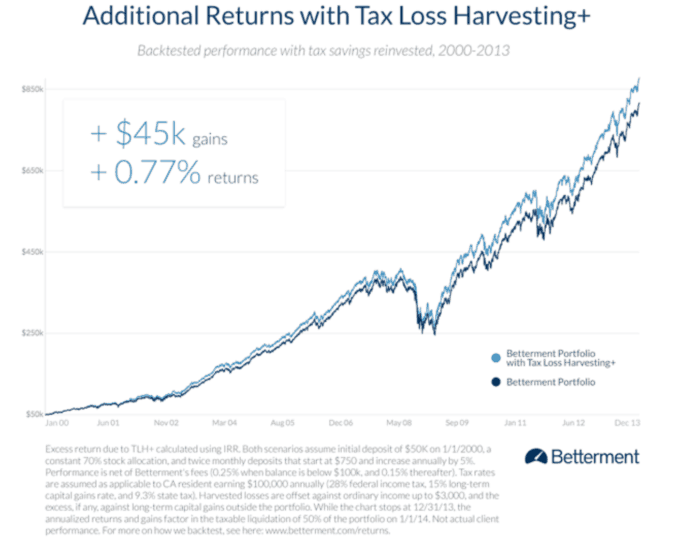 DISADVANTAGES OF BETTERMENT
Pricing Structure: The main disadvantage with Betterment is still their pricing structure. I like the new lower flat fee across the board, and it is simpler to follow though is a bit of an increase. That being said, you pay nothing to trade with Betterment and there are no other fees on top of their pricing structure. That's also not to mention that Betterment offers things like TLH and rebalancing free of charge. If you were to start off with a balance of $5,000, for example, you'd pay roughly $17.50 per year for your investing – that's relatively cheap when compared to other options.
The other thing I will mention is that when you look at Betterment vs Wealthfront it depends on your given situation as to which you should pick. Wealthfront allows to get to $10,000 managed for free and charges .25 percent after that – regardless of account size. Either broker is a good choice, it just depends on your particular situation and preference.
BETTERMENT review – my take
If you are new to investing and don't want to deal with the stress of picking out investments then Betterment is a great option to consider. Betterment really does take a lot of the work out of investing for you and allows you to go with a balanced buy and hold strategy. In addition to that, they allow you to personalize an investment approach that is applicable to you personally as opposed to an advisor who may put you in something without knowing much about you or what you really want.
That's not to say that advisors are "bad" in any sense, just that you can have more control by managing it yourself. Essentially, a robo-advisor like Betterment gives you the benefit of a financial advisor without having too many fees or minimums to meet.
If you're new to investing and looking for a service to help you get your feet wet and take some of the leg work out of investing for you then Betterment is a solid option to consider. That's also not to say Betterment is only for newer investors as their core approach is one I'd recommend for most that are investing in the stock market. With that being said, depending on your circumstance, Betterment could be a great option to consider for your investing needs.
If you open a new account with Betterment they do offer a new account promotion. The breakdown of the Betterment promotion is as follows:
Start with $15,000 – $99,000 = 1 month free of charge
Start with $100,000 – $249,999 = 6 months free of charge
Start with $250,000+ = 12 months free of charge
Remember, you can open an account with Betterment with no minimum balance! Additionally, each deposit you make within the first 45 days counts towards the promotion – so, if you end up depositing a total of $1000,000 in the first 45 days, for example, you receive six months of free management.
Open an account with Betterment today and get up to 12 months commission free!
The following two tabs change content below.
John is the founder of Frugal Rules, a dad, husband and veteran of the financial services industry whose writing has been featured in Forbes, CNBC, Yahoo Finance and more.
Passionate about helping people learn from his mistakes, John shares financial tools and tips to help you enjoy the freedom that comes from living frugally. One of his favorite tools is Personal Capital , which he used to plan for retirement and keep track of his finances in less than 15 minutes each month.
Another one of John's passions is helping people save $80 per month by axing their expensive cable subscriptions and replacing them with more affordable ones, like Hulu with Live TV.
Latest posts by John Schmoll (see all)
Summary
Reviewer
John Schmoll
Review Date
Reviewed Item
Betterment
Author Rating