Investing is an essential part of building wealth. However, many people believe investing in the stock market is difficult.
Fortunately, the best free investing apps let you grow your wealth without paying commissions or account fees. Some even have automated portfolios.
Here are the top trading platforms that are beginner-friendly and can help you pursue almost any investment strategy.
What Are the Best Investing Apps for Beginners?
Many online brokerages let you invest with little money, don't charge fees, and offer various features. They also offer fractional share investing so that you can buy partial shares of your favorite stocks and funds.
These are some of the best investment apps to help you invest in stocks and ETFs. Compare the platform features and minimums to choose the best one for your goals.
1. SoFi Invest
SoFi Invest is arguably the best investing app for beginning investors and experienced investors alike. You can invest with no minimums and no fees.
With SoFi, there are two investing options you can utilize. These include SoFi Automated Investing and SoFi Active Investing.
SoFi Automated Investing is a robo-advisor that offers some advantages for investors, such as:
No minimum investment
Automatic deposits
No fees required
Goal planning
Help managing your investments
The automated platform ensures your investments align with your financial goals. Plus, you can invest for different goals with varying asset allocations and risk tolerance levels based on your anticipated withdrawal date.
SoFi Active Investing lets you choose how you want to invest. If you want to pick your own investments, there are plenty of reasons to choose SoFi Active Investing, including:
A low minimum investment of $5 per trade
No fees required
Fractional share investing
User-friendly options trading
Connecting with other SoFi members to learn more about investing
Discounts on other SoFi products
With SoFi Active Investing, you can learn about investing as you go and invest in brands you support. It's possible to invest in stocks and ETFs.
*Right now, Frugal Rules readers who sign up for an Active Invest brokerage account for the first time are eligible to play "The Claw" interactive game. Play, and you could win a random dollar amount of stock ranging from $5 to $1,000!
The investment minimum is $1 for SoFi Automated Investing and $5 for SoFi Active Investing.
One potential downside is the platform's basic charting tools. You can see a simple historical price chart, dividend yield, and recent company-specific news headlines. However, there's no in-depth fundamental or technical data.
Best for: Investors wanting a free robo-advisor and $1 investment minimums.
2. M1 Finance
M1 Finance is one of our favorite micro-investing apps since it offers many investment options. It's possible to buy your favorite stocks and ETFs while getting access to premade portfolios with no account service fees.
This platform is also a great option because it's free and lets you:
Start investing with as little as $100
Invest in fractional shares
Automate deposits
Access help managing your investments
Get a free consultation to walk through the app and how to use it
M1 Finance is a quasi-robo-advisor. They help manage your investments for you (like Betterment), but they give you the power to customize your investment plan by adding individual stocks and funds.
When you open an account, this free investing app helps you determine your goal. Once you have your goal established, you create a "pie."
A pie holds each of your stock or ETF investments. It can include as few or as many investments as you want. You can also have multiple pies within your account.
The broker then automatically rebalances your portfolio when you make new investments to maintain your target asset allocation. Subsequent minimum investments are $25 for taxable and retirement accounts.
Unlike a full-service robo-advisor, this investing app doesn't offer tax-loss harvesting that automatically sells positions.
Instead, you can request a manual rebalance to sell overweight allocations. However, this can be a tax-reportable event for non-retirement brokerage accounts.
If you don't want to create your own pie, M1 Finance has over 100 "expert pies" you can use. There are no charges or fees to do this. The only cost you may incur is if you choose an ETF.
Most ETFs have very minimal management fees. All brokerages pass these fees onto investors as the fund manager charges them.
The minimum balance required to open a taxable brokerage account is $100, while retirement accounts require $500. There are no ongoing balance requirements to avoid fees.
Read our M1 Finance app review to learn more about the broker.
Best for: Automatic portfolio rebalancing.
3. Acorns
Investing in the stock market with limited money can be a challenge for most people. Acorns eliminates that problem by allowing you to invest with as little as $5 using premade portfolios.
This is an excellent investing app for beginners who struggle to save or have minimal funds to start investing because you can invest your spare change.
For example, if you spend $4.02 on a gallon of milk, it invests the remaining $0.98 for you.
Additionally, you can make purchases with participating online and local merchants to earn bonus investment contributions. The app invests your shopping rewards once you reach a $5 minimum balance.
Similar to a robo-advisor, Acorns allows you to invest in a selection of six different low-cost index ETF portfolios consistent with traditional index funds or ESG-focused funds. You can add a Bitcoin-linked ETF, too.
However, it's not possible to invest in individual stocks or ETFs.
The beginner-friendly app provides access to a variety of educational resources. These learning tools and the premade ETF portfolios can make it easy for new investors to build a diversified portfolio.
Taxable and retirement accounts are available for adult and child investment accounts.
In addition to an investment portfolio, each account offers an FDIC-insured online banking account with over 55,000 surcharge-free ATMs and no overdraft fees.
Acorns has three different monthly plan options. Each plan costs either $3, $5, or $9, but you enjoy commission-free investing and can make unlimited trades.
It's worth noting that if you're 24 or under and attend college, you can invest for free with Acorns. This makes the app a terrific option if you want to start investing in your 20s.
The multiple investing and banking features can provide more value than a traditional online brokerage.
Unfortunately, this is one of the few services to charge a monthly fee. The fee can be expensive if you have a small portfolio balance or don't take advantage of the personal finance tools.
Read our Acorns investment app review to learn more.
One of the best for: Investing purchase roundups.
4. Robinhood
Robinhood is one of the first apps to offer free stock trading. You can place market trades and limit or stop trades at no cost with a 24/5 trading window.
Keep in mind that there is less liquidity outside regular trading hours as shares trade for less advantageous prices.
It's possible to buy and sell stocks and ETFs for free. Fractional share investing is available for as little as $1, which is lower than the $5 minimum most competing apps require.
However, if you like to trade actively, you may want to look at other stock investment apps.
Robinhood is light when it comes to research tools. If you choose to use the platform to trade, you may want to pair it with other free investing tools to get the kind of research you want.
Despite that drawback, the platform allows instant trading of up to $1,000 when you deposit funds from a linked bank account. It also offers the ability not to wait on trades to settle to get access to your cash.
A paid service, known as Robinhood Gold, is also available. This gives you access to things like:
Earning a competitive interest rate on your uninvested funds in a cash management account
Margin capability
Morningstar research reports
This service costs $5 monthly after a 30-day free trial.
Read our Robinhood review to learn more.
Best for: Fractional investing as low as $1.
5. Public
Public is one of the few beginner investing apps offering easy access to alternative investments, such as high-yield U.S. Treasury bonds, art, and royalties.
Investors can open a taxable brokerage portfolio with no account minimum, and IRAs will be available in the future.
Your potential investment options include:
Stocks
ETFs
Crypto
Collectibles
Fine art
Royalties
Treasuries
The minimum investment is $5 for stocks, funds, and crypto. Alternative investments can require at least $25 per trade. There is a $0 commission for any trade during normal market hours.
Public doesn't accept payment for order flow (PFOF) like most free investing apps. Instead, it makes money from optional tips, premium memberships, and add-on services.
A premium membership costs $8 per month and has several benefits for short-term traders. Featured perks include:
Fee-free extended hours trading
Morningstar research reports
Custom investment plans
Exclusive research insights
This stock trading app has unique research tools. Specifically, the Alpha feature is powered by ChatGPT AI and can provide current or historical information about potential investments.
To be clear, it doesn't provide personalized advice and is for research purposes only.
The app also has a built-in social media platform that lets you see what other users are buying and selling. There is even a chat feature that lets users share opinions about a stock and ask investing questions.
Best for: Alternative investments and social media interaction.
6. Ark7
Investing in real estate is pricey, but Ark7 lets you buy shares of residential rental properties starting at $20 with a minimum one-year holding period. Investment properties are in over nine real estate markets across the U.S.
This investment platform looks for single-family and multi-family rental properties in cities with a promising job market and growth potential.
Each open investment includes a description that highlights the following:
The property
Anticipated investment income
Geographic area
It's free to use this real estate investing app, but a one-time three percent sourcing fee applies to new investments. Plus, you may incur a monthly asset management fee between eight and 15 percent of the rental income.
This shouldn't be a huge deterrent, though, as other apps charge similar one-time and recurring fees because you are directly investing in a property.
Despite these fees, crowdfunded real estate can be a productive way to diversify your portfolio and earn passive income that can be more competitive than bonds.
Best for: Crowdfunded real estate investing.
7. Stash
Stash is a stock-buying app that lets you invest with as little as $5 in self-directed or automated investing accounts. It's one of the best beginner investing apps for its investment tools and educational resources.
It's possible to buy fractional shares of individual stocks, ETFs, and crypto with taxable and retirement accounts. Custodial accounts are available for minors, too.
If you'd rather let Stash do the investing for you, they offer Smart Portfolio in their Growth and Stash+ investing plans.
With Smart Portfolio, you can still invest fractionally. Then, the app will monitor your investments to ensure your portfolio stays on track.
Stash offers a "Stock-Back Card" that earns up to one percent back in stock rewards on purchases. Depending on the merchant, you earn stock shares of publicly traded companies like McDonald's or Walmart.
Purchases at private companies earn S&P 500 index ETF shares instead.
The reward debit card can help you earn mailbox money. It's important to note that this checking account and automated portfolio are the best ways to offset the monthly membership fee.
There are also a handful of resources to help you understand the basics of investing. With the exception of some legacy online brokers, many free investing apps don't offer educational tools for new investors.
Be aware that Stash is only free for the first month. A monthly plan costs $3 or $9 after the free trial. The more expensive plan includes additional features like:
Child investment accounts
Research reports
Stock-Back purchase rewards
You can read our review of Stash to learn more about how the platform operates.
Best for: New investors and earning stock rewards when shopping.
8. Fidelity
Fidelity is a legacy online broker that offers a great investment app for beginners. They have many excellent tools and resources.
Like most other brokers on our list, online stock and ETF trades are free. In fact, Fidelity is one of the best places to open a Roth IRA if you want to start putting money away for the future.
The platform has extensive retirement planning tools that make it easier to estimate how much you need to invest and your monthly retirement income.
There is no minimum account balance to open a taxable or retirement account. Also, the Fidelity Go robo-advisor platform has no minimum balance requirements.
Furthermore, there is no advisory fee with an account balance below $10,000.
Several other reasons to consider Fidelity include:
Fidelity Zero index funds have no expense ratio
Fractional investing for over 7,000 stocks and ETFs starts at $1
Fidelity Go robo-advisor
In-depth research reports
To trade fractional shares, investors need to use the Fidelity mobile app. This nifty investing feature isn't available using the Fidelity web browser platform.
The brokerage also offers the Fidelity ZERO family of index mutual funds that don't have annual management fees, trading fees, or a minimum investment. They track domestic and international stocks.
Best for: Fee-free index funds.
9. Vanguard
Vanguard is a popular option for buy-and-hold investors who prefer to hold their investment shares for several years or decades. This brokerage is ideal for investing in index funds and active investing funds.
There are no trading fees for stocks and ETFs, but this is the only free investing app on this list that requires buying whole shares of stocks and funds. A notable exception is investing as little as $1 for Vanguard ETFs.
The minimum starts at $1,000 for Vanguard-managed mutual funds. A higher investment minimum can be necessary to buy Admirals Shares that have a lower expense ratio.
*Related: Starting with little money? Read our guide of free passive income apps that let you start investing with little money.*
For self-directed investors, the investment research tools are above average. However, the trading platform isn't the most user-friendly for trading individual stocks.
Instead, it's easier to buy funds and set up recurring investments for a dollar-cost average investment strategy.
For hands-off investors, the Digital Advisor robo-advisor platform has a $3,000 initial account minimum. The asset allocation options are all-index, an active/index mixture, and an ESG portfolio.
There are no advisory fees for the first 90 days, and the maximum ongoing fee is 0.25 percent of the portfolio value.
You won't encounter any account minimums to open a taxable or retirement account, but you must enroll in paperless account statements to avoid a $25 annual account service fee.
Best for: Long-term index fund investments.
Our Methodology
When comparing free investing apps, we consider these factors:
Minimum initial deposit
Trading fees
Account fees
Investment options (i.e., stocks, exchange-traded funds (ETFs), index funds)
Fractional share investing
Automated portfolios
Platform security
Research and educational tools
In a nutshell, we choose services that are secure, don't charge expensive fees, have multiple tools and investment options, and are easy to use.
Bottom Line
Investing in the stock market and other investment options is relatively simple. You don't need much money and can succeed with a little education.
Fractional investing and no trading fees make it easier to get started today than in the past when investing was expensive. Take advantage of one of the free investing apps above and start growing your money.
When choosing a stock investing app, what characteristics are important to you?
SoFi Invest refers to the three investment and trading platforms operated by Social Finance, Inc. and its affiliates (described below). Individual customer accounts may be subject to the terms applicable to one or more of the platforms below.
1) Automated Investing and advisory services are provided by SoFi Wealth LLC, an SEC-registered investment adviser ("Sofi Wealth"). Brokerage services are provided to SoFi Wealth LLC by SoFi Securities LLC.
2) Active Investing and brokerage services are provided by SoFi Securities LLC, Member FINRA/SIPC, ("Sofi Securities"). Clearing and custody of all securities are provided by APEX Clearing Corporation.
3) SoFi Crypto is offered by SoFi Digital Assets, LLC, a FinCEN registered Money Service Business.
For additional disclosures related to the SoFi Invest platforms described above, including state licensure of SoFi Digital Assets, LLC, please visit SoFi.com/legal.
Neither the Investment Advisor Representatives of SoFi Wealth, nor the Registered Representatives of SoFi Securities are compensated for the sale of any product or service sold through any SoFi Invest platform. Information related to lending products contained herein should not be construed as an offer or pre-qualification for any loan product offered by SoFi Bank, N.A.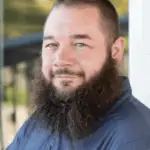 I'm John Schmoll, a former stockbroker, MBA-grad, published finance writer, and founder of Frugal Rules.
As a veteran of the financial services industry, I've worked as a mutual fund administrator, banker, and stockbroker and was Series 7 and 63-licensed, but I left all that behind in 2012 to help people learn how to manage their money.
My goal is to help you gain the knowledge you need to become financially independent with personally-tested financial tools and money-saving solutions.