Investing with little money can be confusing. You might think it is impossible to start investing with a small amount of cash, or you might not know what to invest in.
Luckily, micro-investing apps have democratized investing, allowing more people to start investing with minimal amounts of money.
This Robinhood review will help you decide if the stock trading app is a suitable tool to build your wealth.
What is Robinhood?
Robinhood is an investing app that focuses primarily on younger investors. It has minimal fees and offers commission-free trades.
The app also has no minimum balance requirements to open an account.
While it follows the namesake story of taking from the rich and giving to the poor, it doesn't necessarily live up to the name. However, it does make investing in the stock market accessible to more individuals.
The app doesn't just offer stock trading. You can also trade options. Recent additions to the platform include a cash management feature and the ability to trade cryptocurrencies.
How Does the Stock Trading App Work?
Opening an account with the Robinhood app is fairly simple. You don't have to deposit money to open an account, and it only takes a few minutes to get started.
Signing up is easy. Input your name, email address, and password to move forward.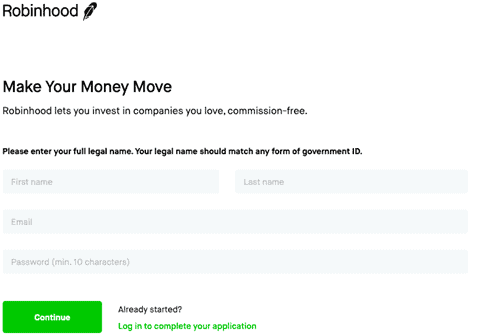 This information is necessary to fulfill federal requirements when opening up a new financial account.
Upon providing this information, you will be prompted to provide your mailing address and phone number.

Then you will need to provide your Social Security number, date of birth, and citizenship status. The federal government requires this to open all new financial accounts.

After providing your personal information, Robinhood will ask for your investment experience.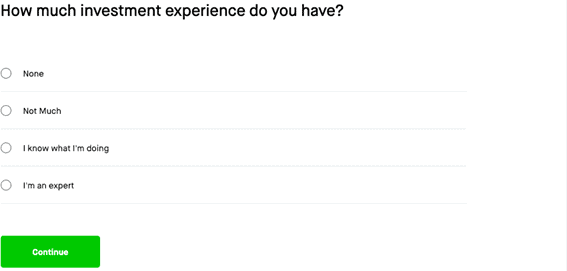 The next few steps ask for your employment status. Once you provide that information, you can submit your application for approval.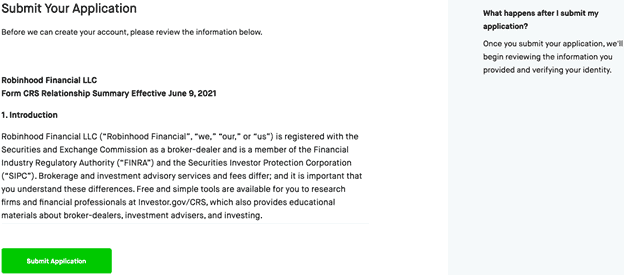 It typically takes a couple of minutes to receive approval, and then you can fund your account.
In the initial setup, Robinhood has 17 different national and regional banks you can link to for funding.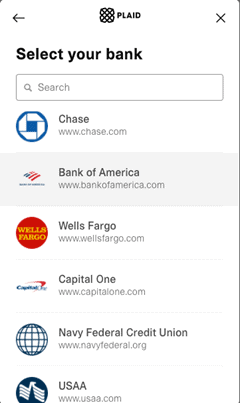 If you're unable to locate your bank or use a smaller bank, Robinhood provides steps to manually establish a link.
After your account is approved and you link a bank account, you can deposit and instantly trade up to $1,000 in deposits.
Robinhood customer service is available via email if you encounter any issues.
The app also offers a referral program that lets you and a friend receive a free stock worth up to $500.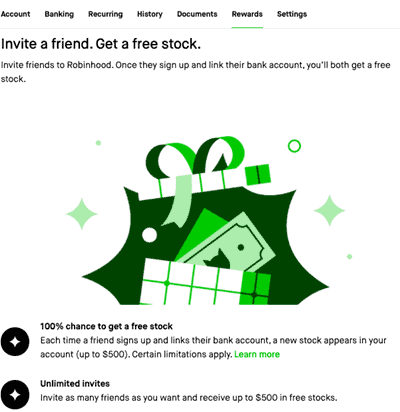 How Much Does the Robinhood App Cost?
Robinhood is a commission-free trading platform. This means you don't pay anything to place a trade on the mobile app.
However, there are some fees you can't avoid with any discount stock broker. These are fees established by the SEC and FINRA.
They are not specific to the Robinhood trading app.
These fees include:
SEC fees of $22.10 per $1,000,000 of principal on sales transactions
FINRA trading fee of $0.0001119 per share of stock equity sales and $0.002 per contract of each sale of an option
You will face a maximum charge of $5.95 per equity trade. If you're an active trader and choose to utilize Robinhood Gold, the cost is $5 per month.
This opens up margin trading capability, and they charge two and a half percent in annual interest on borrowed amounts over $1,000.
Features
Fee-free stock trades are a significant perk for investors, but that's not all Robinhood offers. Here are a few of the top features offered by the app-based investing platform.
Commission-Free Trading
Not all brokerages offer fee-free trades, so this is a huge benefit of using Robinhood.
Besides the SEC and FINRA fees, which you will encounter at any brokerage, you can start investing with no fees once you fund your account.
Simple-to-Use Interface
The app is a mobile-first brokerage. You can access a desktop version, but you can also do everything from your phone.
The app is easy to use, allowing you to place trades within a few clicks. You can do the same to find your investment performance.
This is an excellent perk regardless if you're new to investing or a day trader.
Robinhood Gold
One of the ways Robinhood makes money is through their subscription-based service, Robinhood Gold.
The Gold option is ideal for day trading and provides numerous features, including:
Access to Morningstar research and analysis of over 1,700 individual stocks
Pre-market and after-hours trading
Larger instant deposits availability of up to $50,000
Level II Market Data from Nasdaq
Margin trading (requires a $2,000 minimum balance)
If you sign up for Gold, you also receive 4.9 percent interest on your cash sweep balance. This is eight times the current national average.
Robinhood Gold costs $5 per month. You can try it for free for the first 30 days.
Trading Tools
Access to various trading tools is essential to be a successful investor. Here are a few of the tools available with the Robinhood stock app:
Trading alerts and notifications
Watchlist creation
News
Educational library for young traders
Regardless of if you're new to investing or a seasoned trader, take advantage of these tools to enhance your portfolio performance.
Margin Trading
Robinhood does allow you to trade on margin.
You may want to take advantage of Gold if you plan on actively trading. They charge a competitive two and a half percent in annual interest on balances over $1,000.
Cash Management
Not only does Robinhood offer the ability to invest, but they now also offer cash management, known as the brokerage cash sweep program.
The platform is not a bank. Instead, it cooperates with banks to house your uninvested cash.
You earn up to 1.50 percent on this cash, which is 11x more than the national average, and it's available for use for purchases through an attached debit card.
Interest compounds daily and paid out monthly. You can also track how much you earn within the app.
You can automate transfers into the cash account and access over 75,000 ATMs to manage your cash needs.
Robinhood Retirement
In December of 2022 Robinhood opened its waitlist for a new product known as Robinhood Retirement. The idea behind the feature is simple – offering a match on IRA contributions.
The match isn't robust, it's a one percent match. However, it's not something currently found at other micro-investing platforms.
Furthermore, you don't need an employer to participate. The new feature is ultimately best for people who don't have access to retirement accounts or matching through an employer.
To qualify, the contributions must come from a linked external bank account. Funds transferred internally from a Robinhood account don't qualify.
You can invest contributions into either a traditional or Roth IRA.
Additionally, you must keep funds that earn a match with Robinhood for five years. If you withdraw the funds before that they charge a clawback fee.
What Investments are Available with Robinhood?
The app is a good choice if you want to start investing in stocks, but that's not your only option. Here is what you can invest in at Robinhood.
Stocks and ETFs
Like any brokerage, you can invest in stocks and exchange-traded funds (ETFs) with the app. One key feature is that you can take advantage of fractional share investing on Robinhood.
For example, Tesla is trading at over $650 per share at the time of publication. If you only have $100 to invest but want to invest in Tesla, you can purchase a fractional share.
The app supports market, limit, stop-limit, and stop orders. You can also trade $1,000 in instant funds.
Options
Like stocks and ETFs, options trading is available at no fee through Robinhood. In addition to commission-free trades, they also don't charge contract, exercise, or assignment fees.
That's an attractive benefit if you like to trade options.
Crypto
Cryptocurrency is not for the faint-hearted, but is an investment choice at Robinhood. You can invest in the following currencies:
Bitcoin
Bitcoin Cash
Dogecoin
Ethereum
Ethereum Classic
Litecoin
It's also possible to track various other currencies within your account. The feature isn't currently available to all users as it's roughly available in half of the United States.
Who Should Use Robinhood?
Before choosing an online broker, it's important to know if it could be a good fit for you. Here's who might benefit from using this commission-free investing platform.
New Investors
Investing in the stock market can be overwhelming to new investors. Robinhood simplifies the process for young investors.
The interface is easy to use, and there are no minimums to open an account. You don't even need to fund an account to start using many of its features.
Day Traders
Trading on margin is a feature that active traders like to use to take advantage of market movements. If you qualify, Robinhood makes margin trading simple to manage.
The app provides $5,000 to $50,000 available for margin. Your account balance determines the amount you have available.
The interest is two and a half percent annually on any amount you use over $1,000.
Cryptocurrency Traders
Not all app-based trading platforms offer crypto trading. If this is something you're looking for, Robinhood is a good choice to trade cryptocurrencies.
Who Should Not Use Robinhood?
Low-cost investing is awesome, but this stock trading app isn't for everyone. Here's who might want to steer clear.
Long-Term Investors
Robinhood isn't really for people saving for retirement or long-term investors. Outside of the new Robinhood Retirement, the app currently doesn't offer retirement accounts.
It's great for new investors or people wanting to supplement their main portfolio, but not retirement savings. There are better options if you want to save for retirement.
Read our guide on the best places to open a Roth IRA if you need to identify suitable alternatives.
Additionally, the app doesn't offer mutual funds or bonds for investors.
People Wanting a Full Brokerage Experience
Robinhood is light on features for someone who wants a full-service brokerage. It does have some helpful tools to manage your investing, but it lacks the features you will find at brokers like Fidelity or Schwab.
It's also missing investment vehicles such as mutual funds, bonds, forex, and more. Some investors may find this leaves them lacking a complete way to manage their portfolio.
Pros and Cons
No service is perfect. Here's what to keep in mind when considering Robinhood for your investing needs.
Pros:
Commission-free trades
No minimum deposit requirements
Ability to manage investments from your phone
Easy to use interface
Fractional-share investing
Cons:
Limited investment options
Only one account type
Limited functionality
Robinhood isn't usually a fit for long-term investors. However, if you're a new investor, want to trade cryptocurrencies, or want a play account, the trading app is a good choice.
Is Robinhood Safe to Use?
Investing is full of risk, regardless of your investment vehicle. As a result, you may wonder if Robinhood is safe in terms of security. The simple answer is yes.
The app is a legitimate trading platform and reportedly has nearly 20 million account holders. It protects customers using encryption, Transport Layer Security protocols, and more.
Robinhood also provides the same SIPC protection you will find at any other major brokerage. This provides $500,000 in account protection per account.
The Competition
Are you new to investing or simply looking for an alternative to Robinhood? Here are some suitable choices.
| App | Cost Per Month | Min. to Open | Investment Choices | Open an Account |
| --- | --- | --- | --- | --- |
| Robinhood | Free | $0 | Stocks, ETFs, Options, Crypto, IPOs | Open |
| Acorns | $1, $3, or $5 | $5 | Stocks, ETFs, Bonds | Open |
| Stash | $1, $3, or $9 | $1 | Stocks and ETFs | Open |
| SoFi Invest | Free | $5 | Stocks, ETFs, Crypto, IPOs | Open |
Acorns
Acorns, like Robinhood, is a micro-investing app that lets investors purchase fractional shares of stocks. You only need $5 to open an account.
Acorns also offers both retirement and non-retirement accounts. The app targets people who want to invest in small amounts, particularly through round-ups.
For example, if you spend $30.03 in filling up your car with gas, it invests the remaining $0.97.
Acorns has two account options, costing $3 or $5 a month.
Read our review of Acorns to learn more.
Stash
Stash is another trading app focusing on new investors. It has retirement and non-retirement accounts.
You can invest in stocks and ETFs on the app. A cool feature it offers is connecting your debit card to your account.
When you shop, you earn rewards you can use to purchase shares of stock. Stash charges $1, $3, or $9, per month on accounts after a 30-day free trial.
Read our review of Stash to learn more.
SoFi Invest
SoFi Invest is a brokerage to consider if you want a more full-service approach. The platform offers a wide variety of investment choices, including stocks, ETFs, crypto, and options.
SoFi Invest has no fees required, and there is a $1 minimum balance requirement. It also offers fractional-share investing and user-friendly options trading.
The brokerage has both retirement and non-retirement accounts.
Robinhood Review
Commissions and Fees

Tools

Customer Service

Ease of Use

Investment Choices
Robinhood Review
Robinhood is a stock trading app that lets users invest in stocks, options, cryptocurrency, and more for free.
Pros
✔️ No minimum to open an account
✔️ Commission-free trades
✔️ You can purchase fractional shares
✔️ Everything can be done via the app
✔️ Margin trading ability
Cons
❌ Has experienced down times during heavy trading
❌ Missing common account types
❌ Limited choices beyond stocks, options, and crypto
Bottom Line
Robinhood is a legitimate stock trading app you can use to start building wealth and learn more about investing.
Zero trading fees and no minimum balance requirements make it tough to say no to an investing platform. If you want more of your money to work for you, start as soon as possible and mitigate your fees.
What do you look for in an investing platform?
SoFi Invest refers to the three investment and trading platforms operated by Social Finance, Inc. and its affiliates (described below). Individual customer accounts may be subject to the terms applicable to one or more of the platforms below.
1) Automated Investing and advisory services are provided by SoFi Wealth LLC, an SEC-registered investment adviser ("Sofi Wealth"). Brokerage services are provided to SoFi Wealth LLC by SoFi Securities LLC.
2) Active Investing and brokerage services are provided by SoFi Securities LLC, Member FINRA/SIPC, ("Sofi Securities"). Clearing and custody of all securities are provided by APEX Clearing Corporation.
3) SoFi Crypto is offered by SoFi Digital Assets, LLC, a FinCEN registered Money Service Business.
For additional disclosures related to the SoFi Invest platforms described above, including state licensure of SoFi Digital Assets, LLC, please visit SoFi.com/legal.
Neither the Investment Advisor Representatives of SoFi Wealth, nor the Registered Representatives of SoFi Securities are compensated for the sale of any product or service sold through any SoFi Invest platform. Information related to lending products contained herein should not be construed as an offer or pre-qualification for any loan product offered by SoFi Bank, N.A.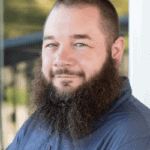 I'm John Schmoll, a former stockbroker, MBA-grad, published finance writer, and founder of Frugal Rules.
As a veteran of the financial services industry, I've worked as a mutual fund administrator, banker, and stockbroker and was Series 7 and 63-licensed, but I left all that behind in 2012 to help people learn how to manage their money.
My goal is to help you gain the knowledge you need to become financially independent with personally-tested financial tools and money-saving solutions.