Investing is expensive, difficult, and time-consuming, right? Stash aims to break these perceptions so you can invest with small amounts of money.
Investing is one of the best ways to earn passive income. Micro-investing apps make it possible to invest with $5 or less. These apps make it easy to start investing if you can't afford to buy full shares of stocks and exchange-traded funds (ETFs) from another broker.
Although only investing a few dollars at a time may seem insignificant, consistent investing can help you build a small nest egg.
Stash Review
Stash is one of the more popular investing apps for beginners. One reason why is that you can buy partial (fractional) shares of individual stocks and ETFs with as little as:
$0.01 for investments priced up to $1,000 per share
$0.05 for investments priced over $1,000 per share
New investors may like the Stash Learn educational library to learn basic investing concepts. Many people never invest because they don't learn how.
Besides teaching investing basics, the app also provides investment recommendations that can fit your investment goals.
Other features that make Stash different than other brokerages include:
Online debit account
Purchase stock of brands you shop at with a rewards debit card
Retirement accounts
Custodial investment accounts for your children to invest
Those features make the app one of the better Robinhood alternatives for investors frustrated by that perform.
Stash offers unlimited trades, but you pay a monthly plan fee of either $1, $3, or $9.
What is Stash?
Stash is a micro-investing app. Traditional online brokers require you to buy full shares of individual stocks and ETFs.
For instance, if one share costs $350, you need $350 per share. However, Stash will buy a fractional share if you can't invest $350 right now.
Instead of having your money sitting idle, micro-investing lets you earn investment income. However, if you have more to start with, the app is a fantastic option to invest with $500 or less.
With the Stash investing app, you can invest from your phone or tablet. Whether you're at school, at work, or running errands, you can invest at your convenience.
Fees and Pricing
Stash currently has three different plans with differing benefits and monthly costs.
The only fee Stash charges is a fixed monthly plan fee.
Below are the current plans you can join:
Beginner ($1/month). Includes a taxable investment account, online debit account with a plastic rewards debit card, and access to Stash Learn knowledge base.
Growth ($3/month). Taxable and retirement accounts, access to Smart Portfolio, plus Beginner plan features.
Stash+ ($9/month). Individual taxable and retirement accounts, custodial investment accounts, and a metal debit card that can earn double the debit card rewards, plus Growth plan features.
To start, you might choose the Beginner plan. You pay $1 per month and receive unlimited trades.
This option is an affordable way to learn how to invest and start earning passive income. Read our guide on the top passive income apps to learn about other websites you can use with minimal resources.
How Does the App Work?
If you're new to micro-investing apps, you might wonder how they work.
It only takes a few minutes to join on an Android or Apple device. You can also join online using a laptop.
Joining Stash
You need at least $0.01 to open a Stash account. Stash also requires you to be at least 18 years old and have a Social Security number.
You will need to link a United States-based bank account. This external bank account funds your account and pays your monthly plan fee.
After funding your account, you're ready to start investing. You can also opt-in to the online debit account with a rewards debit card.
How to Invest on Stash
During the onboarding process, Stash asks you questions to determine your investing goals and risk tolerance. Based on your responses, the platform will recommend certain stocks and funds.
New investors may appreciate the personalized recommendations to help build a risk-appropriate and diversified portfolio.
Stash doesn't offer every stock or ETF that trades on the stock market. However, you will find over 100 of the highest-traded stocks and approximately 75 ETFs.
Here's a brief glimpse at the types of stocks and ETFs you can invest in:
Individual stocks. Shares of a single company like Nike or Amazon.
Index ETFs. Funds that track a certain US or world market like the S&P 500.
Sector ETFs. Focus on specific industries, such as real estate or technology.
Bond ETFs. Invest in corporate or government bonds.
There is a $0.01 minimum for each stock or fund you want to buy that's priced at $1,000 or less per share. For investments that are over $1,000 per share, the minimum is $0.05. If you want to buy two different ETFs, you will need a $0.02 cash balance, for example.
There is a morning and afternoon trading window each day the market is open. You can't buy or sell at a particular share price, but most orders fill in the same business day.
Benefits
Logo
CIT Bank - start your emergency fund
$100 minimum deposit requirement

Open a high yield savings account or money market with $100!

These trading windows minimize the temptation to "time the market" like a day trader.
Instead, Stash encourages you to buy and hold to focus on potential long-term gains.
Research Tools
Stash provides basic research tools similar to most free investing apps. You can see the historical share price chart and recent news headlines.
The curated suggestions and the Learn resources can make it easier to make sound investments that match your goals.
Serious investors will need to use a regular online broker to access more robust research tools to identify recession-proof stocks and more.
If you're only investing in index ETFs, advanced tools and reports are not necessary.
Auto-Stash
The optional Auto-Stash feature makes it possible to automate how often you invest.
For a more hands-off experience, you may appreciate these Auto-Stash tools:
Set schedule: Invest the same amount of money on the same day each month
Round-ups: Round up your purchases to the nearest dollar and invest the difference
Smart-Stash: Invest varying amounts based on your money habits and extra cash
If you want to invest regularly, but often forget to, this is a terrific feature to set it and forget it.
Smart Portfolio
You can take advantage of the Smart Portfolio plan feature with the Growth and Stash+ plans. This investing option can provide stress free, automated investing.
When you add money to your Smart Portfolio, Stash will invest it for you based on trusted financial research and your risk level. They also rebalance quarterly if your portfolio strays 5% or more from your investment goals.
Stash Retire
With the Growth and Stash+ plans, you can open an IRA with the Stash Retire feature. These IRAs can supplement any 401(k) contributions you might make.
You can open a Roth IRA or traditional IRA, or both account types. Each IRA requires a minimum $5 deposit to open an account.
Not all micro-investing apps offer IRAs. If you want your taxable and retirement investments in one app, Stash can be a convenient option.
Custodial Accounts
The top-tier Stash+ plan lets you open custodial accounts allowing your children to invest. Typically, only full-service brokers like Fidelity or Vanguard offer these accounts.
The app offers two different custodial account types:
Uniform Gift to Minors Act (UGMA)
Uniform Transfer to Minors Act (UTMA)
You can use these accounts to start saving for college. In time, these funds can cover college expenses similar to a 529 plan.
Your child can also take control of the account when they become an adult and continue investing.
Stash Banking
All plans come with an online Stash Banking account, which is an optional service. It can be an excellent option to deposit your paycheck or use it to earn shopping rewards.
One way to fund this account is by direct deposit from your employer or a side hustle.
Key Stash Banking features include:
$0 minimum balance requirement
No overdraft fees
Over 19,000 fee-free in-network ATMs
Access your direct deposits up to two days early
As this is a debit account, you can withdraw funds fee-free without monthly transaction limits.
Perhaps the most compelling reason to use Stash Banking is for their Stock-Back rewards program. With each debit card purchase, you can earn cash rewards.
Most purchases earn 0.125 percent back. Select merchants earn five percent in Stock-Back rewards.
Stash will buy fractional shares of the merchant. For example, shopping at Walmart means your Stock-Back rewards buy Walmart stock.
If their shares don't trade on Stash, your rewards go into a diversified ETF like an S&P 500 index fund.
Stock-Back is an interesting way to buy stock and diversify your portfolio. However, you may hold positions that are too risky or don't align with your investment goals.
How to Withdraw Money from Stash
It's free to withdraw money from your accounts.
With the debit account, you get fee-free access to over 19,000 ATMs. A second option is scheduling an electronic transfer from Stash to your linked bank account.
When withdrawing investments, you must first sell your shares. It can take two business days before you can access your sold investments.
Then, you can transfer the available cash to your linked bank account.
Selling investments in your taxable account means you may need to pay taxes on any investment income. You will receive a tax form 1099 to file your taxes.
Stash Learn
One tool that new or inexperienced investors can benefit from is Stash Learn.
You can read articles to understand different investing terms and concepts. Other sections may help you use various features.
Stash also has podcasts and quizzes if you prefer interactive media.
Stash Promotion
You receive a $5 bonus when you open your first Stash account with a minimum $5 deposit.
This promotion means you have $10 for your first investment.
Pros and Cons
Pros
Low investment minimums. You only need $0.01 per trade to invest in stocks or ETFs. It's easy to invest your spare change or buy fractional shares of expensive assets.
Invest in stocks and ETFs. Stash lets you invest in a wide range of individual stocks and ETFs. This makes it easy to keep all your investments in one account and diversify.
Stock-Back rewards. Purchases made with the Stash Banking debit card can earn cash rewards. The app uses these rewards to buy shares of the stores where you shop.
Retirement and custodial accounts available. IRAs and custodial accounts can be a better fit for your investment goals than a taxable account.
Cons
Monthly fee. Although Stash doesn't charge trade fees, you pay a monthly plan fee. This fee can be a considerable expense if you only invest a few dollars each month.
No premade portfolios. Stash offers curated investment recommendations. But you must still decide what to invest in. Some investors may not feel comfortable investing by themselves.
Stash can be a good fit for new investors wanting to gain experience by starting with a few dollars. Experienced investors might use Stash for buying fractional shares of stocks they cannot afford with a regular broker.
Top Alternatives
Stash simplifies investing. However, another micro-investing app can be a better fit with smaller fees or offering robo-advisor investing.
Betterment
Betterment is a robo-advisor that automatically invests your cash into stock and bond index ETFs. You can open both taxable and tax-advantaged IRA accounts with different investment goals.
This platform can be your best option if you don't want to manage your portfolio and want to invest for the long run.
Your annual account fee is 0.25 percent of your portfolio balance.
Read our Betterment review to learn more about the platform.
Acorns
Perhaps the most similar alternative to Stash, Acorns offers investment and banking products. Acorns only lets you invest in premade ETF portfolios.
You can't buy individual stocks, but the most expensive plan only costs $5 per month.
It's possible to invest or your spare change or earn investable shopping rewards. Read our Acorns investing app review to learn more.
Robinhood
Robinhood doesn't charge any account fees or trade commissions. However, you must buy full shares of stocks and ETFs (as of January 27, 2020).
Fractional investing will be available to all investors in 2020, but Robinhood doesn't have an official rollout date.
This investing app is the best option for experienced investors wanting to avoid standard broker fees. Robinhood only offers taxable investment accounts.
Read our Robinhood review to learn more.
Stash Invest Review
Ease of Use

Commissions and Fees

Customer Service

Tools and Resources

Availability
Stash App Review
Stash Invest is a helpful app that lets investors start investing in stocks with as little as $5.
Pros
✔️ You can invest with as little as $5 ✔️ Plenty of resources for new investors ✔️ Offers both retirement and non-retirement accounts ✔️ Round-ups help grow cash to invest ✔️
Cons
❌ Limited investments ❌ Monthly fees can reduce investible cash ❌ No premade portfolios
Summary
Stash is one of the best stock investing apps when you only have a little cash. Being able to buy fractional shares of stocks and ETFs with only $0.01 is the best reason to consider the app.
However, you must be comfortable paying a monthly plan fee to invest.
Open your Stash account with a $5 deposit and get a $5 cash bonus.
When did you start investing in the stock market? Do you feel comfortable managing your investments, or do you prefer assistance? What resources do you use to aid with your investing?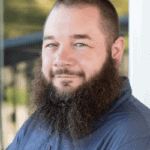 I'm John Schmoll, a former stockbroker, MBA-grad, published finance writer, and founder of Frugal Rules.
As a veteran of the financial services industry, I've worked as a mutual fund administrator, banker, and stockbroker and was Series 7 and 63-licensed, but I left all that behind in 2012 to help people learn how to manage their money.
My goal is to help you gain the knowledge you need to become financially independent with personally-tested financial tools and money-saving solutions.