As a former stockbroker, I regularly spoke with people who thought they didn't have enough money to invest. While several hundred dollars isn't a lot of money, it's easy to forget that time is critical to wealth creation.
There are numerous ways you can invest with little money. You just need to know where to start. This guide shows how to invest $500 or less so that you can bolster your financial future.
What Are the Best Ways to Invest $500 or Less?
You don't need significant sums of cash to invest in the stock market or other opportunities to build wealth. All you need is a willingness to start investing.
Here are seven legitimate ways to begin investing with $500 or less.
1. Open a Brokerage Account
The stock market is one of the best ways to start investing for your financial future. If you're comfortable managing your holdings, an investment account with an online broker is the top way to get started.
Having an account gives you access to a broad range of investments, from individual stocks to bonds. Best of all, you don't need much money to work with most brokerages.
However, starting with $500 will make investing in individual stocks more difficult. For example, let's say you want to invest in Netflix.
At the time of publication, Netflix is trading around $300 per share. If you have $500, you can only buy one share. This makes it challenging to build a diversified portfolio.
In this scenario, you may want to consider an index fund that invests in a broad range of holdings. One example is an exchange-traded fund (ETF) of the S&P 500. This invests in every company in the Standard and Poor's index.
Using this strategy instantly gives you some diversity by allowing you not to have to buy individual stocks or bonds. You may also see these ETFs in your company-sponsored 401(k).
Many online brokers have low balance requirements and often don't charge you to trade ETFs or stocks. SoFi Invest is our top-rated option.
This platform has a $5 minimum initial investment requirement and zero trading commissions. You have access to individual accounts, retirement accounts, and other choices.
SoFi even has a wealth of other tools and investment options to enhance your investing journey.
Benefits
Logo
Sofi Wealth - start investing today
$5 minimum balance requirement

No management fees required make it easy to transfer over old 401(k) and IRA plans.

2. Invest in Real Estate
Investing in real estate is a terrific alternative to the stock market. You also don't need a lot of money to start.
Thanks to real estate crowdfunding, you can invest with small amounts of money. Crowdfunding lets you pool money with other investors to purchase commercial or residential real estate.
Most platforms distribute quarterly or annual dividends. You can also earn a return when a property appreciates and is sold for a profit.
While some platforms require significant sums of money to start, others let you begin with as little as $10. Most have low fees and free tools to help you learn where to start.
Additionally, some platforms even have IRAs if you want to make real estate a part of your strategy to start saving for retirement.
Here are several of our top-rated choices to start investing in real estate:
Read our guide on the top Fundrise alternatives to learn more about the options to invest in real estate with little money.
3. Use a Robo-Advisor
It can be a challenge for many novice investors to get into stocks. They may not want to manage their holdings or know where to start.
This confusion can cause them to put off investing and hinder wealth creation. A robo-advisor can be a terrific solution to that problem.
Robo-advisors are fully automated investment management platforms that act like financial advisors without the hefty fees. Many allow you to invest with little money.
When you open your account, they ask you several questions to learn your risk tolerance, investing goals, and timeline. They take your responses and create a diverse portfolio of ETFs or mutual funds.
Furthermore, they manage your portfolio, rebalancing and monitoring it to ensure it's on track to reach your goals.
Here are our top-rated robo-advisors:
Read our guide on the best places to open a Roth IRA to identify other suitable options.
4. Grow Your Savings Account
A savings account can be boring, but it's an essential part of wealth management. This is especially true if you don't have a fully stocked emergency fund.
Utilizing a high-yield savings account is your best choice since most local banks will not pay enough in interest. Online banks have various account options and pay a competitive interest rate.
If you don't have savings amassed yet, it's best to hold off investing until you can grow emergency savings. Then, you can begin to save money to invest.
CIT Bank is our top-rated online bank. It has money market accounts, CDs, and savings accounts. Its Savings Connect option currently pays 4.50 percent if you start with $100 and can commit to electronically depositing $200 monthly.
Read our guide on are CDs FDIC safe to learn more about how they might fit into your overall portfolio.
If you can't do that, they have other bank account choices with competitive rates.
While there are other investment options that give a better return on your money, having healthy savings is vital to growing your net worth.
Read our CIT Bank review to learn more.
Benefits
Logo
CIT Bank - start your emergency fund
$100 minimum deposit requirement

Open a high yield savings account or money market with $100!

5. Invest in a Local Business
Angel investing can be a terrific way to grow your net worth. Thankfully, you don't need as much money as you might think to invest in a small business.
Like real estate, crowdfunding has opened the doors for people with small amounts of money to invest in this opportunity.
Like other investments, there is a risk. However, there's also the opportunity to outpace the stock market if you select the right investment.
Plus, you get the satisfaction of knowing you're helping an entrepreneur launch or grow their business. If you're trying to determine how to multiply your money, investing in a business could be a good option.
Mainvest is our favorite platform to invest in brick-and-mortar businesses. You need a minimum of $100 to open an account and choose an investment opportunity.
Investments can range from a bakery or brewery to a movie theater. The business owner makes quarterly payments plus interest as they repay the loan.
The investment timeframe is typically three to five years, and there are no fees charged to investors. Additionally, the platform has tools to help you analyze your choices.
Mainvest vets all opportunities, so you know they've done due diligence. Still, it's best to do your homework to ensure the business fits your risk tolerance.
Read our review of Mainvest to learn more.
6. Invest Your Spare Change
If you have limited disposable income, it can be challenging to start investing. It's essential to begin saving and investing. Fortunately, even if you lack money, you can get started.
Micro-investing apps allow you to invest even if you're short on cash. These apps take on two forms, and either can be an excellent way to build a small portfolio.
The first is investing your spare change. For example, if you spend $5.03 at Starbucks, the app rounds up to $6 and puts the remaining $0.97 in different types of investments of your choosing.
The second form allows you to buy fractional shares of stock with as little as $1. Regardless of which you choose, there are no trading fees.
*Related: Do you have limited resources? Read our guide of free passive income apps that let you start investing with little money.*
Here are our top-rated micro-investing apps:
If you want to invest for the future, stock apps can be a fantastic place to begin if you're low on cash. Most also have tools and resources to help you learn strategies to start investing.
Read our guide on stock trading apps to learn more about suitable platforms.
7. Consider an Alternative Investment
The stock market or real estate can be among the best investments to grow your wealth. Both have legitimate track records and a minimal barrier to entry.
However, what if neither interests you? Or, what if you want an extra layer of diversity in your portfolio?
There are still $500 investments available that let you increase your net worth.
Here are some other opportunities to invest with limited resources:
Like any traditional investment, it's essential to do your due diligence before pursuing alternative investments. You also want to ensure your choice fits your appetite for risk.
Read our guide on ways to build wealth outside of the stock market to learn more.
What to Avoid When Investing $500
When you're new to investing, it can be easy to fall prey to get-rich-quick schemes or popular trends. It's also easy to listen to talking heads on TV and believe you should do what they say.
These can all be exciting, but they likely don't fit within your investing goals. Your goal probably is a long-term one, and due diligence is vital to align your investments with your desired outcome.
Use your goals to create your plan of attack. Having $500 to invest does open up more opportunities if you have $100 to invest, so keep that in mind.
Additionally, it's best to avoid credit card debt when investing $500 or less. This high-interest debt will erode your available cash to invest.
You don't necessarily need to wait to invest until you eliminate your debt, but having a plan to eliminate it will help you immensely.
Read our guide on ways to pay off debt quickly to identify how to attack it effectively if that's a concern for you.
Marrying the two philosophies of your investment plan and avoiding debt can go a long way to help you achieve your goals.
What Does $500 Do When You Invest It?
It is easy to believe that limited resources will be ineffective in helping you grow wealth. That overlooks compound interest, which is a crucial tenet of wealth creation.
Compound interest is your money making more money. It's the most powerful force in increasing your net worth.
Furthermore, even if you can only invest $500, that is more than enough to start.
Let's look at an example of investing $500 by putting it in a holding with an eight percent annual return, which is the stock market's average return.
After ten years, you will have $1,079 if you put nothing else towards the investment. If you can put an additional $500 annually towards the investment, you will have $8,323.
The more your money grows directly impacts what you can earn, thanks to compound interest. If you pursue low-risk ways to invest $500, that can also affect growth.
Ultimately, you want to start investing as soon as you can. Time is the best gift you can give your money, even if you're beginning with limited resources.
Read our guide on the top Betterment alternatives to use if you don't know where to start when investing your money.
Bottom Line
You don't need a lot of money if you want to invest. There are more opportunities than ever to invest with $500 or less.
You can pursue something traditional, like stocks, or assist a small business. Becoming wealthy overnight isn't possible, but starting early will greatly impact your long-term growth.
What is holding you back from investing?
SoFi Invest refers to the three investment and trading platforms operated by Social Finance, Inc. and its affiliates (described below). Individual customer accounts may be subject to the terms applicable to one or more of the platforms below.
1) Automated Investing and advisory services are provided by SoFi Wealth LLC, an SEC-registered investment adviser ("Sofi Wealth"). Brokerage services are provided to SoFi Wealth LLC by SoFi Securities LLC.
2) Active Investing and brokerage services are provided by SoFi Securities LLC, Member FINRA/SIPC, ("Sofi Securities"). Clearing and custody of all securities are provided by APEX Clearing Corporation.
3) SoFi Crypto is offered by SoFi Digital Assets, LLC, a FinCEN registered Money Service Business.
For additional disclosures related to the SoFi Invest platforms described above, including state licensure of SoFi Digital Assets, LLC, please visit SoFi.com/legal.
Neither the Investment Advisor Representatives of SoFi Wealth, nor the Registered Representatives of SoFi Securities are compensated for the sale of any product or service sold through any SoFi Invest platform. Information related to lending products contained herein should not be construed as an offer or pre-qualification for any loan product offered by SoFi Bank, N.A.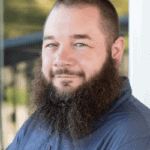 I'm John Schmoll, a former stockbroker, MBA-grad, published finance writer, and founder of Frugal Rules.
As a veteran of the financial services industry, I've worked as a mutual fund administrator, banker, and stockbroker and was Series 7 and 63-licensed, but I left all that behind in 2012 to help people learn how to manage their money.
My goal is to help you gain the knowledge you need to become financially independent with personally-tested financial tools and money-saving solutions.