How to Start Investing With $500 or Less
Posted on January 7, 2019 by John Schmoll in
Investing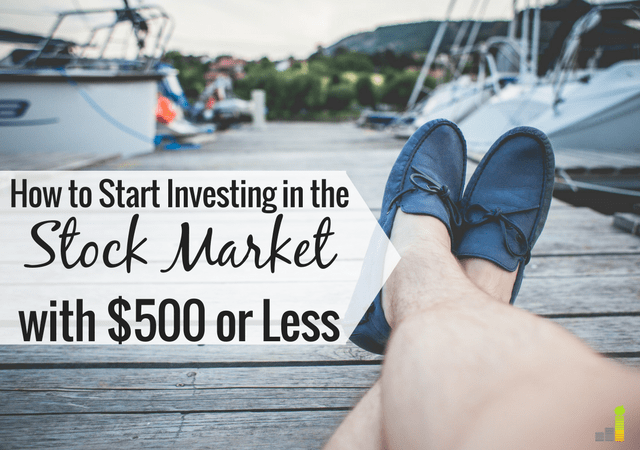 "How do you start investing with $500 or less?" This is a question I receive almost daily as well as in my former day job as a stockbroker. Many believe you can't start investing with 500 or less and allow that to hold them back from growing their wealth.
Yes, investing with little money can be a challenge though it is most certainly possible. You just need to know where to start and what options you have to start investing.
I firmly believe that if investing with 500 dollars is the most you can start with that time will do awesome things to it – but…you have to start!
You Can Start Investing With $500 at Numerous Brokerages
If you need to start investing with $500 or less the first big challenge is going to be finding the right broker for you. In many cases I'd recommend someone like Vanguard, Schwab, or Fidelity.
The problem is you won't have enough funds to start with any of those three in most cases. Take a look at their minimum opening balance requirements:
Vanguard – you're subject to the fund minimums, which can go as low as $1,000 for some of their mutual funds. You can get into their standard brokerage accounts with no minimums for stock trading, though their tiered pricing leaves a bit to be desired for someone just starting out.
Schwab – you need at least $1,000 to open most accounts, though is waived if you set up a $100 monthly electronic transfer.
Fidelity – you need to have $2,500 to open an account with Fidelity.
With these options off the table you want to look at other brokerages that allow you to open an account with $500 or less.
Those are:
Acorns – Acorns has no minimum deposit requirement. The app rounds up purchases you make and invests it in a portfolio of index funds of your choice. Acorns costs just $1 per month and is free for college students.
Ally Invest – Ally Invest has no minimum deposit requirement. They offers an industry-low $4.95 commission, and offers lots of tools to help manage your investments.
Ally Invest also offers over 8,000 mutual funds if you do not plan to actively trade. Check out our Ally Invest review for a full breakdown of the platform.
Betterment – Betterment is a robo-advisor, which means they manage your investments for you in a personally constructed portfolio of index funds. They also have no minimum deposit requirement.
Betterment charges a .25 percent annual fee to manage your investments. Check out our Betterment review for a full breakdown of the platform.
E*Trade – E*Trade has no minimum deposit on IRAs, but you must have $500 to open a non-retirement account.
Thanks to their time in the industry, E*Trade has some of the best investing tools in the space. E*Trade charges $6.95 per trade.
SoFi Investing – SoFi Investing actually gives you two options to invest with no minimums and no fees. SoFi Automated Investing is a robo-advisor and a great option if you're a beginning investor or want hands-off investing. With SoFi Active Investing you can choose to invest in what you love.
Stash Invest – Stash Invest has a $5 minimum deposit requirement. Stash gives you $5 to start, so it really has no minimum requirement. The app invests in partial shares of selected stocks and index funds for you.
Stash Invest is free for the first month, and $1 per month thereafter.
Stockpile – Stockpile has no minimum deposit requirement, and they give you $5 worth of stock to start. Stockpile lets you buy fractional shares of stock for just $.99 per trade.
You can also buy gift cards towards stocks for others for just $2.99 per order. Stockpile has no annual fees.
I recommend each of the above online brokerages on a regular basis, especially for those investing with less than $500. Your specific need will dictate which broker you should choose.
When you're investing with $500 or less you want to throw out any brokerage that charges too much in fees. Fees are an important part of investing and eat away at your growth.
I wouldn't choose one broker over another for a negligible difference though – as you wan to make sure you pick the best overall fit for your needs.
Buy Funds for Free
A common option for those investing with 500 dollars are mutual funds. It makes sense, as they give you the possibility of being diversified for not much money.
The problem with this approach is you'll be running into the risk of higher than desired fees that will eat up too much of your funds.
The best low-cost option are index funds. If you can find them for free, even better. Index funds are similar to mutual funds and give you access to a basket of stocks, but the fees are generally much lower. Thus, more of your money is working for you.
What you really want to find though is an online brokerage that will allow you to trade Exchange-Traded Funds (ETFs) for free and thankfully there are a number of options to consider. Those are:
E*Trade – E*Trade has roughly 90 ETFs you can trade for free, though they tend to have higher expense ratios.
TD Ameritrade – TD Ameritrade has roughly 100 ETFs you can trade for free.
Bigger brokerages like Vanguard, Fidelity, and Schwab all offer commission-free ETFs but you run into the minimum account issue discussed earlier.
If you're new to investing and rather not manage the investing on your own then automated retirement programs like Betterment will do much of the same with minimal cost.
the easiest place to start investing with less than $500
While you can invest at many online brokers with less than $500, don't overlook the best place to start investing with little money – your 401(k) plan. In most instances you need nothing to start investing in your 401(k) plan at work.
*Related: Starting with little money? Check out our guide of free passive income apps that let you start investing with little money.*
You also often receive a match (which is free money) on part of your contributions.
Many find starting their first 401(k) intimidating. I know I did, but thankfully it can be done quite simply. Here's our guide on how to set up your first 401(k) if you've never had one before.
If you don't know what investments to select, or think you could do better with what you've selected, Blooom is a great resource to help better manage your 401(k) investments. They analyze your plan to see if you're overlooking lower cost or better performing funds within the plan.
Blooom will give you a free analysis of the investments in your plan to lower fees so more of your money will work for you. Blooom does charge $10 per month, but offers a 30-day free trial to help get your 401(k) plan in shape.
invest in real estate
Investing in the stock market isn't the only way to invest. You can also invest in real estate with $500. Many hear real estate investing and believe you need thousands of dollars. However, with crowdfunding you can invest in real estate with $500.
Real estate crowdfunding allows you to invest in real estate by putting your money into a pool with other investors. To do this, you can make equity investments in a commercial properties.
Investors receive an equity stake in the property and returns are provided in the form of shares of the rental income that is generated.
You can start investing in real estate with Fundrise for as little as $500. You can invest in either a retirement or non-retirement account with Fundrise and can choose to invest in funds that provide income or growth potential.
Is Fundrise a good investment? Check out our review of the platform to learn how it works.
Real estate investing is a great option for those looking to create passive income, and with crowdfunded investing you don't have to deal with the hassle of property management or needing to be a accredited.
Get Direct Ownership
The final way to start investing with $500 or less is buying directly from the company. This is often not worth the hassle, and risks having shares of stock in various places but it is still an option to consider especially if you're a buy and hold type investor.
You can buy directly from the company in one way – through a Transfer Agent. This Transfer Agent is usually a company known as ComputerShare. If you call their investor relations department for your chosen company they should be able to tell you who you can buy directly from.
*Related: Do you want to invest in real estate but have limited funds? Check out our guide of the best real estate crowdfunding platforms that let you invest with little money.*
Most will have minimums of either $100 or $500 and some might charge a small fee, but this can be an option.
It Can Be Done, Just Set A Goal
Investing with $500 or less can be a challenge, however don't give into the belief you won't accomplish anything. You will actually be harming yourself more in the long run if you don't start investing. That's for one simple reason – compound interest.
While it can be a difficult topic for some to understand, it is your most powerful ally in building wealth. You can educate yourself about compound interest and other investing topics by picking up one of my favorite investing books for beginners.
If you don't have the funds to start, then set a goal – it's as simple as that! Make a commitment to set aside $25 or $50, or more, a month and if you can automate it, even better.
Before you know it, you'll have the funds you need to get started in the stock market but you must first set a goal to do it and then act on it. It might not be easy, but it's most definitely simple!
What are your recommendations for people wanting to start investing with $500 or less? Why do you think we make excuses to not start when we have little means to do so?
The following two tabs change content below.
John is the founder of Frugal Rules, a dad, husband and veteran of the financial services industry whose writing has been featured in Forbes, CNBC, Yahoo Finance and more.
Passionate about helping people learn from his mistakes, John shares financial tools and tips to help you enjoy the freedom that comes from living frugally. One of his favorite tools is Personal Capital , which he used to plan for retirement and keep track of his finances in less than 15 minutes each month.
Another one of John's passions is helping people save $80 per month by axing their expensive cable subscriptions and replacing them with more affordable ones, like Hulu with Live TV.
Latest posts by John Schmoll (see all)