13 Best Ways to Invest $100 or Less
Posted on March 12, 2018 by John Schmoll in
Investing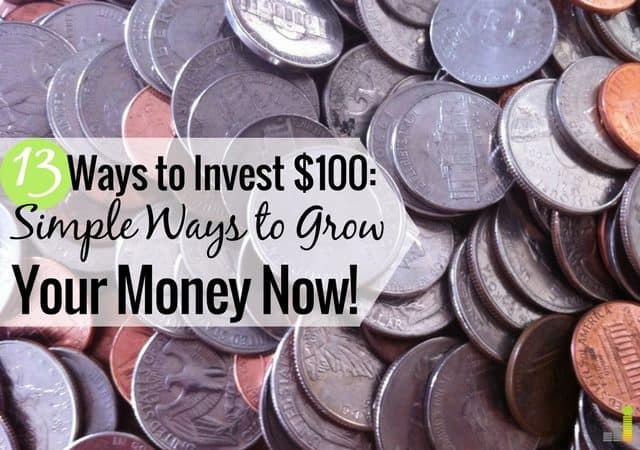 Do you think it's possible to invest one hundred dollars or less? It doesn't matter if you just found a crisp one hundred-dollar bill, or you're just starting out and have $100, but there are many ways to invest that money and make it work for you.
I know what you're thinking; that it's not worth the effort to invest such an amount or that it can't do anything for you long-term. That misses the point on two levels – investing should be a regular habit, so if you have the funds you want to invest them regularly. Secondly, we all have to start somewhere, and the point is to simply start. We're all in different situations so what may be little to you will be a lot to someone else.
I commonly hear the same question – 'how do I start investing with little money?' Many think there aren't options to invest with little money, or that it's impossible to invest with $100 or less. Having more is better, of course, but you can still invest with 100 dollars, you just need to know what options are available to you.
I'll also add that many of those options have nothing to do with investing in the stock market. Investing in the stock market is a great way to increase your net worth, but it's not the only way.
Things like paying off debt, investing in yourself and more all can have the same desired affect. With that in mind, here are some of the best ways to invest $100 or less.
1. Open a Savings Account
When was the last time you thought of opening a savings account as investing your money? Yeah, likely not recently. I mean, interest rates are terrible, and the money just sits there doing nothing. Doesn't it just make more sense to invest that money in the stock market and make more money?
Depending on your situation, opening a savings account might be the best way to invest $100. Maybe you don't have an emergency fund. Maybe you're saving for a vacation. Maybe you want to start saving for a big want or need and simply need to start saving money. Or, maybe, you just want to keep that money liquid.
It doesn't matter what the reason is you just know you need to park your money and make something on the spare cash. If that describes you, a new savings account may be the best way to start with that extra money.
The best option available is CIT Bank. CIT Bank pays 1.85 percent in their money market (22x the national average), with a minimum balance of $100. They also offer FDIC coverage of $250,000 and allow you to stay liquid.
Depending on your particular situation you can grow those funds and find a more profitable opportunity or use the funds to tackle some other need.
2. Use A Robo-Advisor
Many people think they can't invest in the stock market if they only have $100. Yes, most brokerages have minimum balance requirements that will hold you back at the $100 level.
Make Extra Money by Taking Short Surveys
Taking short surveys in your free time can be an awesome way to earn extra money fast! The instant you finish a survey,
Survey Junkie pays you in cash via PayPal
. 6 Million users and an 8.9/10 Trust Pilot rating prove you can trust them.
However, there are still some great options to keep in mind if you're starting out with $100. But, what do you do if you don't know the first thing about investing in the stock market? That's not a problem either as these options, known as robo-advisors, will manage your investments to make sure they're on track to reach your goals.
Betterment allows you to start investing with nothing. After answering a few questions, they set you up with a customized portfolio and manage it just as if you had a financial advisor. The best part is that Betterment is incredibly cheap. So, if you know you need to start saving for retirement and only have $100 to start, you have no excuse.
What if you're more of a DIY investor – can you start investing with $100 or less? Yes, you can and for very cheap. You can invest with Ally Invest as they have no minimum balance requirement and charge an industry low $4.95 per trade.
Those aren't the only options to invest with $100 with a broker. Here are some other options:
There are many options to invest with as little as $100. Find what fits your needs and run with it.
3. Invest Through Your 401(k)
There is no easier way to invest your money and save for retirement than through your 401(k). Here's how it works, your employer takes money (pre-tax so you get a tax benefit) out of each paycheck and puts it into an account for you – it's as lazy as you can get and lazy is good in this case. In some cases, they may even match some of that money for you – so it's free money!
You may think you're too strapped for cash so you can't afford to have money come out of every paycheck. I believe you can't afford not to have the money come out of each paycheck. Let's take a look at what it may cost you.
Let's say you make $40,000 per year and you get paid bi-weekly. You have 6% taken out of every paycheck for your 401(k) contribution. That equates to just over $90 per paycheck. That may seem like a lot but it really isn't, not to mention the match is an instant return on your money.
If you're already investing in your 401(k) but think you can be doing better check out Blooom. Blooom analyzes your plan for free, and helps you find lower cost investments and helps align your investments with your goals.
4. Invest Your Spare Change
What if you don't have any money, can you still start investing? The answer is a definitive yes. How is that even possible? Thanks to new apps like Stash or Acorns, you can invest your spare change. You won't get rich quick doing this, and that's not the point. The point is to start a habit that will grow as you make more money.
Here's how it works. With Acorns, they round up any purchase to the nearest dollar amount and invest the difference. So, for example, let's say you buy a gallon of milk for $3.49. Acorns rounds it up to $4 and takes the $.51 and invests it for you. If you're a college student, Acorns even allows you to invest for free for four years.
Stash works in a similar fashion; they just don't round. With Stash, you open an account with $5 to start investing. With Stash, you get presented with a grouping of ETFs and some individual stocks, based on what would be suitable in light of your risk profile.
Again, you won't get rich with either method, but it's a great way to start investing in the stock market and grow it to something more substantial.
5. Pay off Your Credit Card
Since when does paying off debt have anything to do with investing? It has a lot to do with it in fact. Think of it this way; if you have high-interest credit card debt, you're paying someone interest on that debt. Every little extra you throw at that debt the less interest you'll have to pay in the long-run and the quicker you'll become debt-free.
If you currently have credit card debt and are paying 15 percent or more in interest, you want to lower that rate as soon as possible.
Here's a list of balance transfer cards that can slash that rate in half, or more, and help you pay off the debt as soon as possible.
Don't want another credit card? You can consolidate your debt with Avant and slash your rates to pay off your debt faster.
Debt is restrictive. It keeps you from living the kind of life you want and enslaves you to someone/something else. If you pay an extra $100 towards that debt, you begin to reclaim your life so you can live it on your own terms.
There are many other ways to pay off debt, but throwing extra money at it is the best way to become debt-free.
6. Start A Blog
Starting a blog has changed my life. It has helped us grow our business and provide opportunities we wouldn't have otherwise had. I'm not the only one as the Internet is full of people who've started blogs, grown them and used them as platforms to start their own business.
I'll be the first to admit that starting a blog and then making it a profitable endeavor does take a lot of work. It takes time and effort. However, it can be done – even if you have little technical experience.
The great thing is starting a blog can be done for relatively cheap. You can start a blog with Bluehost, for example, for as little as $2.95 per month. They get everything set up for you; you get a domain; and they install everything for you so you can start sharing your thoughts with the world.
7. Invest in Yourself
More than anything, investing in yourself may provide the greatest return. The financial benefits alone are enough, and that's not to mention how you can develop lucrative talents and skills by investing in yourself.
How can you invest in yourself with only $100? There are many ways you can do so with an online course being one of the best options. Sites like Udemy provide access to tens of thousands of courses you can take at your own pace and often cost as little as $10.
If there's something you've always wanted to learn, an online course is a great place to start. You never know where learning a new skill will take you – and you never will if you don't start.
8. Buy A Good Book
Speaking of learning and investing in yourself, another great way to invest $100 is buying (or checking out from the library) a good book or two. You can buy a book to help you better manage your finances; help you learn something new; or simply enjoy in your free time. Any of these book types will bring tangible and non-tangible returns that will improve your quality of life.
There are so many books out there, so where do you start? Amazon, for example, has over 80,000 books on personal finance alone. Just narrow down what you want to learn more about, and you'll find many compelling options.
If you want to learn how to start investing, check out my list of the best investing books for beginners, for example, to gain confidence with investing. In fact, you can buy one book for $10 or $20 and invest the difference to get more bang for your $100 bucks.
9. Lend it to Someone Else
Are you investing in the stock market? Do you feel that you're doing well with your retirement savings? Do you have a fully stocked emergency fund? If you answered yes to those questions, Peer-to-Peer Lending might be a good way to invest $100.
Like the flipping items mentioned earlier, I would only recommend this to someone comfortable with a moderate to higher level of risk. That being said, P2P Lending can be a great way to diversify your investments and make some extra money while also helping someone else accomplish their own goal.
There are numerous sites that let you do P2P Lending with Lending Club being the most well-known.
10. Start A Side Hustle
We talk a lot about side hustles on the site and for good reason. Starting a side hustle can change your life. The Internet is full of personal stories of people starting side hustles that lead to great things like paying off debt, achieving personal financial goals and more.
If you have $100 to invest, starting a side hustle is a great way to utilize that money. It can mean anything from buying a piece of equipment or tool that helps you make money on the side.
It could mean learning a new skill to differentiate yourself by offering more services. The sky is the limit so don't hold yourself back.
11. Flip Items
I would only suggest this to people who know what they're doing, but flipping items can be a great way to invest $100. Like the side business above, the Internet is full of people who make a living simply by buying items and flipping them on sites like Ebay or Craigslist – check out The Selling Family who shares resources on how to build a business flipping items on Amazon.
If you have the time, you can even check out local garage or yard sales to find items to flip online. Like many of the other ways to invest 100 dollars, you won't get rich quick flipping items, but it can be a nice way to supplement your income if you know what you're doing.
12. Invest it in Your Business
Noticing a trend here? 😉 If you have a business and have an extra $100, investing that back into the business is a great option to consider. Has there been something you've been waiting to upgrade? Is there a platform you want to start using but couldn't afford?
This can be a great way to invest $100. You may not want to spend it, but think back to the adage that to make money you need to spend money. If you think the investment will help you grow your business, then it's likely worth considering.
13. Grow Your Emergency Fund
The final best way to invest $100 is by growing your emergency fund. How do emergency funds have anything to do with investing? It's quite simple. Unless you have an emergency fund, you have nothing to fall back on when you experience a surprise expense.
Most experts recommend you have an emergency fund of 3-6 months of your living expenses. That kind of money can be overwhelming if you have nothing saved for emergencies. If you're in that situation it's easy to think 'what's the point?' and not even start building an emergency fund.
If you want to invest $100 and have no emergency fund, I think it's a no-brainer where you should throw that money. Use that $100 as seed money to grow the fund to $500, then to $1,000 and so forth. By doing so, you help your future self avoid the 'swipe and pray' game when an emergency happens.
Investment Options to Avoid
You have a clean, crisp $100 and want to grow it. Now that I've given you all sorts of reasons why and how to invest $100, I want to make sure you know that not all investment opportunities are really good opportunities. Here are some things to avoid if you want to invest $100.
1. A Pyramid Scheme
Pyramid schemes, Multi-Level Marketing, whatever you call them are not investment opportunities. They are a sham, plain and simple because you're working to make someone else money. You may be told that it allows you to own your own business or to help people. Tell me what you think about it when you have cases of some useless crap product in your garage because you had to buy it to sell it.
2. Penny Stocks
Penny stocks sound great. You can buy thousands of shares for $100 or less and watch it grow until you're the next Warren Buffett. What you don't realize is that many penny stocks are scams. They're shell companies, and in many cases it's difficult, if not impossible, to sell your shares. Do yourself a favor and use that $100 to buy another share of an index fund and you'll be much happier and wealthier.
3. Giving it to a Family Member
How many times has a friend or family member asked you to loan them money and offered to pay you interest for it? That can be a tough situation, not to mention that family and money don't really mix. If you have a spare $100 and have a loved one with a true need, just consider giving it to them instead – you'll save yourself the heartache and help them with a genuine need.
4. Something You Don't Understand
Warren Buffett famously quips to buy what you know. That makes sense on multiple levels. If you have an extra $100 to invest burning a hole in your pocket, the last thing you should do is invest it in something you don't know or understand. That can be anything depending on your skill set or level of understanding. If you can't explain the investment to someone else, then you should probably look elsewhere.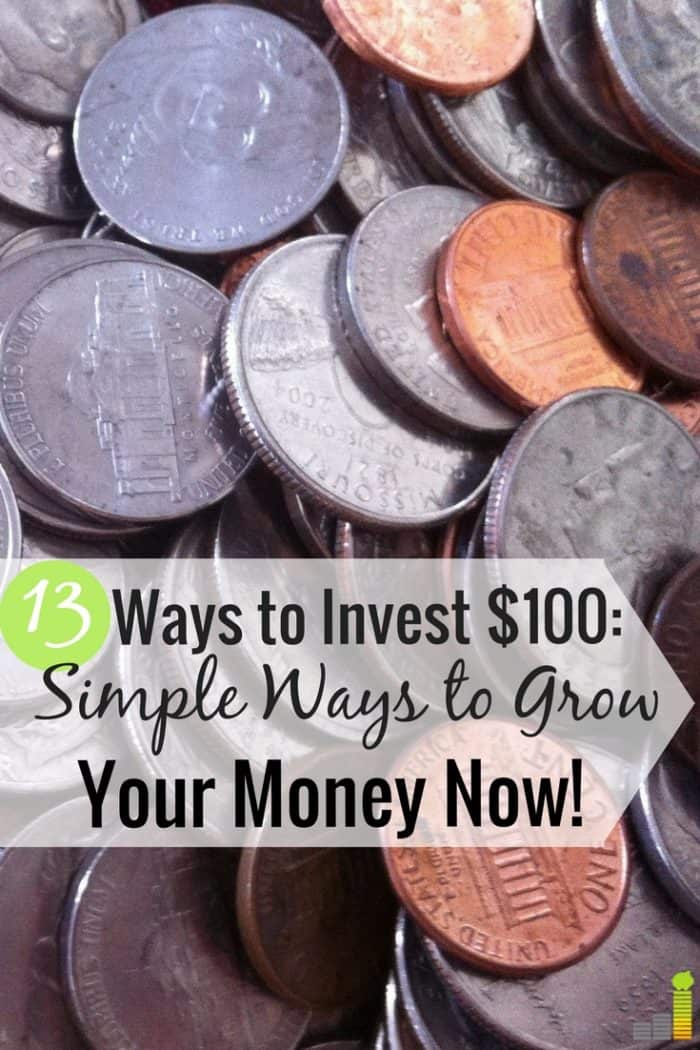 5. Gambling
I'll make this one short and sweet. Scratch off tickets or the Powerball are not an investment. They're a waste of money and paper. Move on and throw that money at one of the 13 options above, and you'll do much better for yourself.
Many think it's not possible to invest $100 or less. I would argue it shows the limits of their thinking. There are many ways to invest $100 – you just need to find what works best for you and grow that money.
What are some other options to invest $100 or less? What was your first investment? What's the craziest thing you've done with extra money?
The following two tabs change content below.
John is the founder of Frugal Rules, a dad, husband and veteran of the financial services industry whose writing has been featured in Forbes, CNBC, Yahoo Finance and more.
Passionate about helping people learn from his mistakes, John shares financial tools and tips to help you enjoy the freedom that comes from living frugally. One of his favorite tools is Personal Capital , which he used to plan for retirement and keep track of his finances in less than 15 minutes each month.
Another one of John's passions is helping people save $80 per month by axing their expensive cable subscriptions and replacing them with more affordable ones, like Hulu with Live TV.
Latest posts by John Schmoll (see all)