Investing in the stock market is one of the most well-known ways to grow your wealth, but it isn't the only investment opportunity available.
Real estate investing is another wealth-building opportunity that is increasing in popularity. However, many people shy away from it because they think it requires a lot of money to get started.
Fortunately, that's not the case. You can start investing in real estate with $1,000 or less.
5 Ways to Invest in Real Estate with $1,000 or Less
It is possible to get into real estate with limited funds. If you want to diversify your investment portfolio, here are some excellent ways to build wealth outside the stock market.
1. Invest in eREITs
It once took a sizable amount of money to start investing in real estate. Crowdfunded real estate alleviates that problem for many investors.
With crowdfunding, you pool money with other people to invest in individual properties. This means you can invest in real estate with minimal funds.
Oftentimes, this takes the form of a Real Estate Investment Trust (REIT). REITs are specially designed companies that invest in real estate properties.
An eREIT is a type of trust that holds real estate assets for people to privately invest in with minimal fees.
Crowdfunding platforms, like Fundrise, pick individual investment properties then let you select the ones that pique your interest.
One awesome benefit of eREITs is that they allow people to add real estate to their investment portfolio with little money. For example, Fundrise allows investors to start with as little as $10.
Other crowdfunding platforms, like DiversyFund and Streitwise, operate similarly.
Here are some property types you can expect to invest in through these types of platforms:
Shopping centers
Mixed-use properties (includes both residential and commercial properties)
Multi-family apartments or houses
If you solely want to invest in commercial real estate, RealtyMogul is a terrific alternative.
Annual returns usually average at least eight or nine percent with most online investment services.
Postmates
DoorDash
Instacart

Fees

1% management fee
other fees may apply

Fees

$0 management fee
other fees may apply

Fees

2% management fee
other fees may apply

Minimum investment

$10

Minimum investment

$500


Minimum investment

$1,000

Best for

Mixed-use properties

Best for

Low fees

Best for

Commercial properties
The one significant downside is that investments are illiquid and typically take several years for investors to redeem without any fees.
This makes eREITs a long-term way to diversify your investments.
2. Invest in REITs with SoFi Invest
Getting into real estate through crowdfunding is a fantastic way to grow your wealth. However, investments are often illiquid and aren't publicly traded.
If that is a detractor for you, you can still utilize REITs to invest in real estate online through a brokerage like SoFi Invest.
Publicly-traded REITs trade like stocks, so investors can buy and sell real estate company stocks like any other investment.
You can invest in a variety of real estate deals with REITs, such as:
Office buildings
Hotels
Healthcare
Data centers
Apartment buildings
Storage units
REITs must invest at least 75 percent of their assets in real estate. They also need to pay at least 90 percent of their taxable income to shareholders.
This lets you take advantage of investing in real estate while avoiding dealing with liquidity issues.
Keep in mind that it is possible to see swings, and some brokerages may charge fees for trading.
If they are suitable for your needs, REITs offer a significant opportunity to grow your portfolio. You only need $1 to open an account and start investing in real estate with SoFi.
*Right now Frugal Rules readers who sign up for an Active Invest brokerage account for the first time are eligible to play "The Claw" interactive game. Play, and you could win a random dollar amount of stock ranging from $5 to $1,000!
Benefits
Logo
Sofi Wealth - start investing today
$5 minimum balance requirement

No management fees required make it easy to transfer over old 401(k) and IRA plans.

3. List a Spare Room on Airbnb
If you want to invest in real estate with little money but don't have the desire to tie up your funds, renting out a spare room is an excellent alternative.
Listing a room or spare house may sound like a side hustle. In some instances, it is. You list the property, ensure it's clean, and deal with guests.
Fortunately, this doesn't take as much time as you'd expect.
A platform like Airbnb manages the entire rental process for you. The site lets you communicate with guests and manages payments. You can even outsource cleaning to minimize your involvement.
Running a simple search on Airbnb shows that I could make up to $904 a month listing a room in our home in Omaha.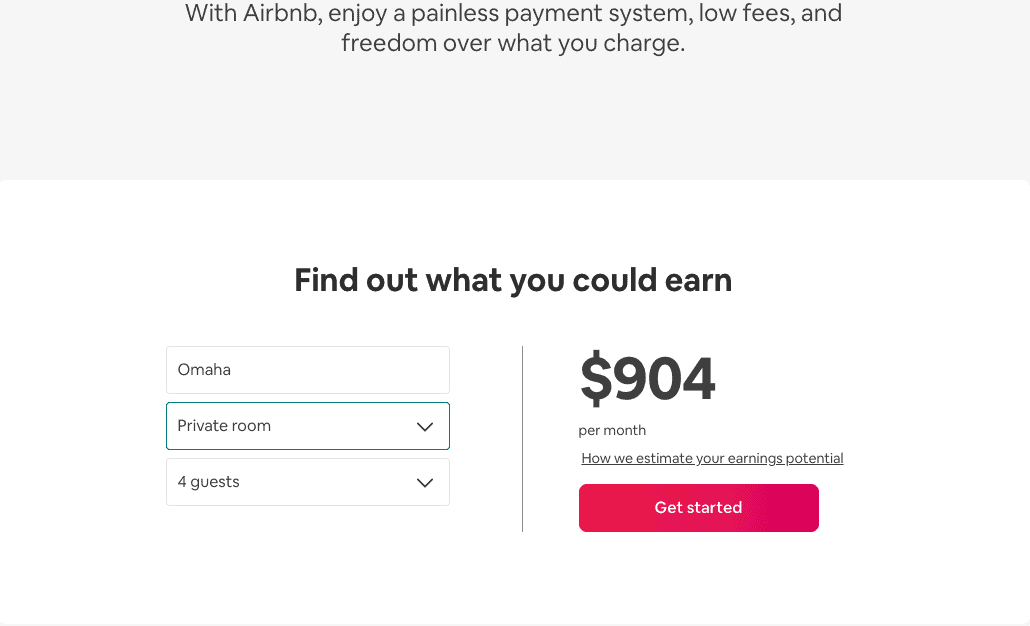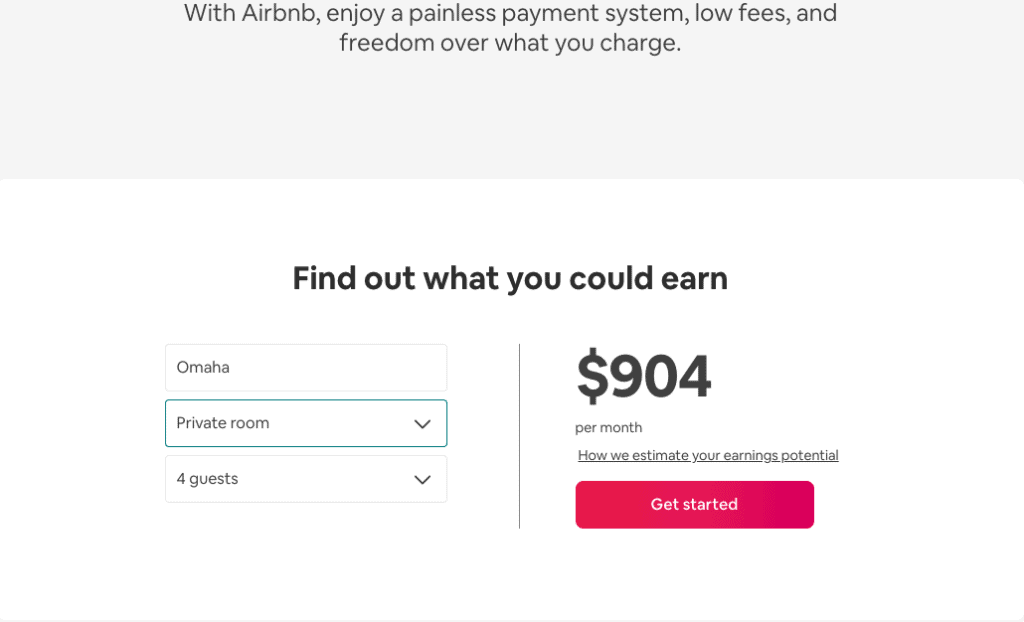 If we were to list an entire house, we could earn up to $2,249 per month.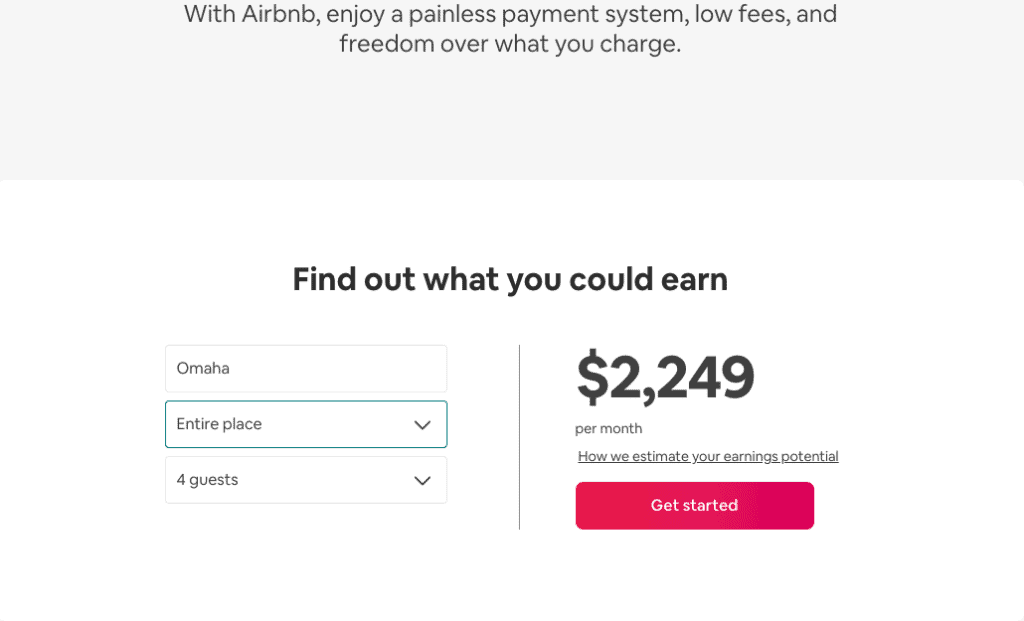 The Airbnb site states the above rates assume a full property for 15 nights per month. Depending on where you live, you could earn more.
Listing your property is free, and the company takes just three percent of what you earn per rental.
We have family members who list their homes regularly when they travel and use the funds they earn as extra payments towards their mortgage.
Read our host checklist to learn how to maximize earnings with this opportunity.
4. Invest in Loans
Fixing and flipping properties is typically cost-prohibitive for many people who want to start investing in real estate. It requires significant skills and resources.
Peer-to-peer (P2P) lending is a solution that lets people extend loans to borrowers. Borrowers then use the funds to repair and flip properties.
This allows people to invest in residential real estate, but on the debt side.
Groundfloor is a P2P crowdfunding site and one of the best Fundrise alternatives if you don't mind extending loans.
You don't provide all of the funds on your own. Instead, your money gets pooled with other real estate investors.
Returns have averaged roughly ten percent since the company launched. Investors can get started with just $10.
There are minimal fees, and loans range between six and 12 months.
Lending is not for novices. You act on the information available to you, and income payments only pay out at the end of the term.
If you're comfortable with the risk, this can be a legit way to diversify your real estate investing portfolio.
Alternatively, you can also invest in local brick-and-mortar business through Mainvest. They allow people to invest in local businesses with as little as $100.
The company claims returns of ten to 25 percent. If you're looking for other diversification opportunities, Mainvest could be a good solution.
Read our review of Mainvest to learn more.
5. Tax Liens
Most homeowners will tell you how expensive it is to pay property taxes. Here in Nebraska, we have a sky-high tax rate.
We would love to not pay the bill, but that would result in a tax lien. If you have a tax lien and don't pay it off in time, the government can foreclose and seize your property.
These properties are then sold at auction to real estate investors. As the investor, you must typically pay off the lien within a specific timeframe.
There is a lot of opportunity with investing in tax liens. However, it's not for novices and requires significant due diligence before purchasing.
Additionally, there is a lot of competition for property liens. This makes it more difficult to find profitable opportunities.
Commonly Asked Questions
If you want to invest in real estate, you may have questions before you get started. Here are some common questions we receive from readers.
How much money do you need to start investing in real estate?
There is no longer a high barrier to entry if you want to invest in real estate.
Crowdfunding platforms make it possible to start with as little as $500.
These websites do much of the due diligence on properties for you, so you only need to choose a platform that fits your needs.
You can find options to invest in commercial real estate, residential properties, or both to diversify your investments.
Is owning rental property worth it?
Yes, owning rental properties can be worth the investment. If you have the funds for a down payment and the necessary skills to manage it, it can be an excellent way to grow your wealth.
A platform like Roofstock is a great alternative if you have funds but don't want to manage a property.
The site finds turnkey properties for you to invest in and handles all the upkeep for you.
Are returns taxable?
Yes. If you receive dividends on your real estate investments, they are taxable. A great way to avoid this is to invest in real estate through a self-directed IRA.
This shelters income from taxes. It's best to consult a tax professional to learn how it will impact your tax situation.
Is real estate a good investment?
Yes, real estate is a terrific investment choice for many people. It's an excellent way to diversify your stock investments and can provide a good return.
Like any investment opportunity, it's essential to do your research to ensure real estate investing is a fit for your situation.
Bottom Line
Real estate is an often overlooked way to grow your wealth since many people believe you need a lot of money to get started. Thankfully, that is not the case.
There are several ways to start investing in real estate with $1,000 or less. With a little homework, you can find an option that works for your needs.
What is holding you back from investing in real estate? How are you working to increase your net worth?
SoFi Invest refers to the three investment and trading platforms operated by Social Finance, Inc. and its affiliates (described below). Individual customer accounts may be subject to the terms applicable to one or more of the platforms below.
1) Automated Investing and advisory services are provided by SoFi Wealth LLC, an SEC-registered investment adviser ("Sofi Wealth"). Brokerage services are provided to SoFi Wealth LLC by SoFi Securities LLC.
2) Active Investing and brokerage services are provided by SoFi Securities LLC, Member FINRA/SIPC, ("Sofi Securities"). Clearing and custody of all securities are provided by APEX Clearing Corporation.
3) SoFi Crypto is offered by SoFi Digital Assets, LLC, a FinCEN registered Money Service Business.
For additional disclosures related to the SoFi Invest platforms described above, including state licensure of SoFi Digital Assets, LLC, please visit SoFi.com/legal.
Neither the Investment Advisor Representatives of SoFi Wealth, nor the Registered Representatives of SoFi Securities are compensated for the sale of any product or service sold through any SoFi Invest platform. Information related to lending products contained herein should not be construed as an offer or pre-qualification for any loan product offered by SoFi Bank, N.A.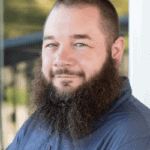 I'm John Schmoll, a former stockbroker, MBA-grad, published finance writer, and founder of Frugal Rules.
As a veteran of the financial services industry, I've worked as a mutual fund administrator, banker, and stockbroker and was Series 7 and 63-licensed, but I left all that behind in 2012 to help people learn how to manage their money.
My goal is to help you gain the knowledge you need to become financially independent with personally-tested financial tools and money-saving solutions.