Wealthfront Review: Manage Your Investments for Dirt Cheap!
Wealthfront is a key player in the robo-advisor industry that has grown significantly over the past few years. This Wealthfront review for 2017 will discuss what makes them different and if you should consider them for your investing needs.
The appeal of a robo-advisor is understandable. People are busy, and most know we need to invest in the stock market but lack either the time or knowledge to do it. A robo-advisor like Wealthfront takes care of much of the work for you by automating the entire investing and financial planning process.
Wealthfront is based around the idea of the Modern Portfolio Theory, or MPT for short. What that essentially means for people like you and I is they don't terribly care about the specific stocks you buy; they focus on having the right mix of asset classes based on your appetite for risk and particular situation.
I'll touch on this later, but how Wealthfront works is the platform walks you through a number of questions to better understand your risk tolerance, your investing timeframe and your goals. It takes the responses to those questions to make a custom portfolio for you.
The benefit for you in this as a client of Wealthfront is that it gives you access to a virtual financial advisor without needing to have a lot of money and is considerably lower in fees. Given their goals-based approach to investing, this gives peace of mind that what you're investing in will help move you towards your goals.
In addition to that, what's really intriguing is that Wealthfront is geared towards those wanting to follow solid investing philosophies that stick to low-cost index funds.
Wealthfront started about five years ago, in 2011 and manages over $5.5 billion in client assets. That being said, let's move on to the Wealthfront review.
How Does Wealthfront Work?
As I touched on earlier, there is nothing terribly special about the process Wealthfront takes you through to open your account. You answer a series of seven questions and your portfolio is customized from there. This series of questions should only take a few minutes, but make sure to take your time with them.
It is also important to point out that Wealthfront does not hold your actual portfolio, rather they manage it for you. Your holdings are held in street name, much like you'd see at any other major online broker.
The real difference with Wealthfront are the holdings they offer you to be in and who the ones are deciding on them. I'll touch on the holdings first. Wealthfront chooses from a selection of different ETFs across several different sectors to take advantage of Tax-Loss Harvesting opportunities. With that in mind, below are the asset classes Wealthfront uses to construct your portfolio:
Taxable portfolios:
US Stocks
Foreign Stocks
Emerging Markets
Dividend Stocks
Natural Resrouces
Municipal Bonds
Retirement portfolios:
US Stocks
Foreign Stocks
Emerging Markets
Dividend Stocks
Real Estate
Corporate Bonds
Emerging Market Bonds
Taking a look at Wealthfront vs Betterment, they offer similar index funds though Wealthfront adds a bit more by offering both the real estate and natural resources funds which gives them a slight edge.
The other thing that really stands out about Wealthfront is their advisory investment committee. The committee is headed up by Burton Malkiel who many know as the author of one of the most authoritative investing books for beginners – A Random Walk Down Wall Street. Wealthfront also has numerous PhDs on their leadership committee as well as a former head of the CFA Institute.
Wealthfront allows you to hold a variety of different accounts from the standard brokerage account and associated retirement accounts to Trusts and corporate accounts. They're also the only robo-advisor in the space to offer a 529 account option.
In addition to the account options, Wealthfront recently added external account support and portfolio review features. This allows you to view all of your brokerage accounts in one spot. Wealthfront uses this to offer insight on savings opportunities and how to best maximize excess cash you have sitting in accounts.
Wealthfront Fees
Fees are where Wealthfront really stands out in my opinion. The first $10,000 you invest with Wealthfront are free. There is no charge to manage them, aside from the expense ratio charged by the specific index funds – which range anywhere from .05 – .40 percent. The average expense ratio comes out to .12 percent, which is phenomenal.
Once you pass the $10,000 threshold Wealthfront charges a flat management fee of .25 percent. If you invest $100,000 with Wealthfront this will break out to a charge of $212.50 per year to manage your investments – I realize the math here is a little off, but you'll see why later. 🙂
Beyond the management fee, there are no trading fees, commissions or account maintenance fees charged by Wealthfront. Regardless of your account size you'll pay the same .25 percent after the first $10,000. I love this aspect of Wealthfront as it helps democratize investing for many.
If you're deciding between Wealthfront vs. Betterment in terms of fees they're fairly close in price. I will say that Betterment has recently changed their pricing structure and, while still very good, doesn't provide a value vs. what you'll find at Wealthfront. That's also not to mention the fact that you still get the first $15,000 managed for free with Wealthfront, giving them a slight edge overall.
That covers everything with regards to fees at Wealthfront. I should point out that they have a minimum account balance requirement of $500, which is pretty difficult to beat when it comes to receiving investment management for little cost.
Wealthfront & Taxes
Robo-advisors offer an increased focus on Tax Loss Harvesting (TLH) and Wealthfront is no different. Through TLH Wealthfront claims to return roughly an additional two percent to taxable portfolios which is not bad at all.
There are several other main components to the tax philosophy at Wealthfront, such as:
Offering only index funds. Index funds have significantly lower turnover than a standard mutual fund. This results in a lower taxes in the form of capital gains.
Tailored transfers. When you move between two brokerages, you typically sell all your holdings and move in cash. Wealthfront handles this differently to best manage your tax situation so you can avoid a likely tax bill you'd find when selling holdings.
Wise reinvestment of dividends. Wealthfront takes dividends you receive and automatically reinvests them in specific asset classes that are underperforming. This allows you to stay much closer to your selected asset allocation.
Daily Tax Loss Harvesting. Wealthfront offers fee-free daily TLH to clients in all taxable, non-retirement accounts – regardless of account size. Speaking generally, what this allows you to do is sell holdings that are underperforming and replace them with another highly similar fund. These losses are then able to be used as a way to lower your taxable income and thus impact your tax responsibilities.
Direct Indexing. This is a TLH feature that is available to clients who invest $100,000 or more with Wealthfront and is referred to as the Wealthfront 100. This is a really cool feature that takes Tax Loss Harvesting to another level. In this situation, instead of using something like the Vanguard Total Stock Market fund, Wealthfront can purchase directly 500 or 1,000 individual stocks from the S&P 500 or S&P 1500 and thus maximize the benefits already received from TLH. Wealthfront also recently added Advanced Indexing. Advanced Indexing is a multi-factor investment strategy that combines with direct indexing to bring a tax efficiency not found in Smart Beta ETFs. This new feature is available to clients with balances over $500,000.
I've been asked on a somewhat regular basis if TLH is something we can do on our own in our given brokerage accounts. The simple answer is yes, but that is going to be very tricky to accomplish and that's not to mention how difficult it can be. I'd much rather leave it to a specialized algorithm to do it for me.
It is important to point out that with the opportunity to get TLH regardless of account balance Wealthfront is a slightly better option to consider versus Betterment. This is especially the case when you consider the fact that Wealthfront offers the direct TLH feature. If you'd like further explanation on TLH, check out the video from Wealthfront below:
Wealthfront and Financial Planning
Many brokers don't provide a financial planning component. Think of financial planning as taking your investing to the next level by looking at your entire financial picture (bank accounts, other investing accounts, etc.) to make sure you're on the path to reach specific goals, given a variety of variable.
With that in mind, Wealthfront now offers full financial planning services through their Path offering. Fully customizable, Path allows you to see the impact of different variables on your life goals. For example, it allows you to ask questions like:
Can I live my current lifestyle in retirement?
How much will I be worth then?
How much should I be saving today?
Wealthfront also uses Path for college planning needs. With the new tool, Wealthfront customizes a plan based on the specific, real-time costs of any college your student may want to attend. They calculate the amount of financial aid you need and customize a plan so you can see how far your funds will go towards covering outstanding needs.
Path is unique to the robo-advisor space, and is exciting to see.
Wealthfront recently launched an additional feature that may fall under the financial planning umbrella – Portfolio Line of Credit. Portfolio Line of Credit works as it sounds. If you need access to funds for whatever reason, Wealthfront allows you to access of up to 30 percent of the value of your portfolio.
There's no application to fill out and it's available to any clients with an Individual or Joint account valued at $100,000 or more. Current interest rates are between 3.25 – 4.5%, depending on the size of your account. You can receive funds in as little as one business day and pay only the interest with no additional fees.
Drawbacks to Wealthfront
Aside from all of the positives I see with Wealthfront they do have a couple of drawbacks that might hold back some. Some of those are:
There is no customization. Every investor is offered the same ETFs. I personally don't have a problem with that and like the simplicity of it but some might be left wanting more. As a Wealthfront investor, you have no input but, then again, this can provide for ease of use as well as what you'd find at most other robo-advisors. This also points to the importance of answering the initial questions honestly so you end up with a portfolio that's right for you.
Wealthfront is not for someone who likes to manage their own investments. This is somewhat of a given with the above drawback. In fact, if you're a DIY kind of investor then you likely wouldn't be looking at a robo-advisor in the first place.
Like other robo-advisors, Wealthfront does not have a pure cash option like a money market. Wealthfront only purchases whole shares and leaves enough cash to cover your management fees. If you're risk averse and want to be in cash then this will not be an option for you.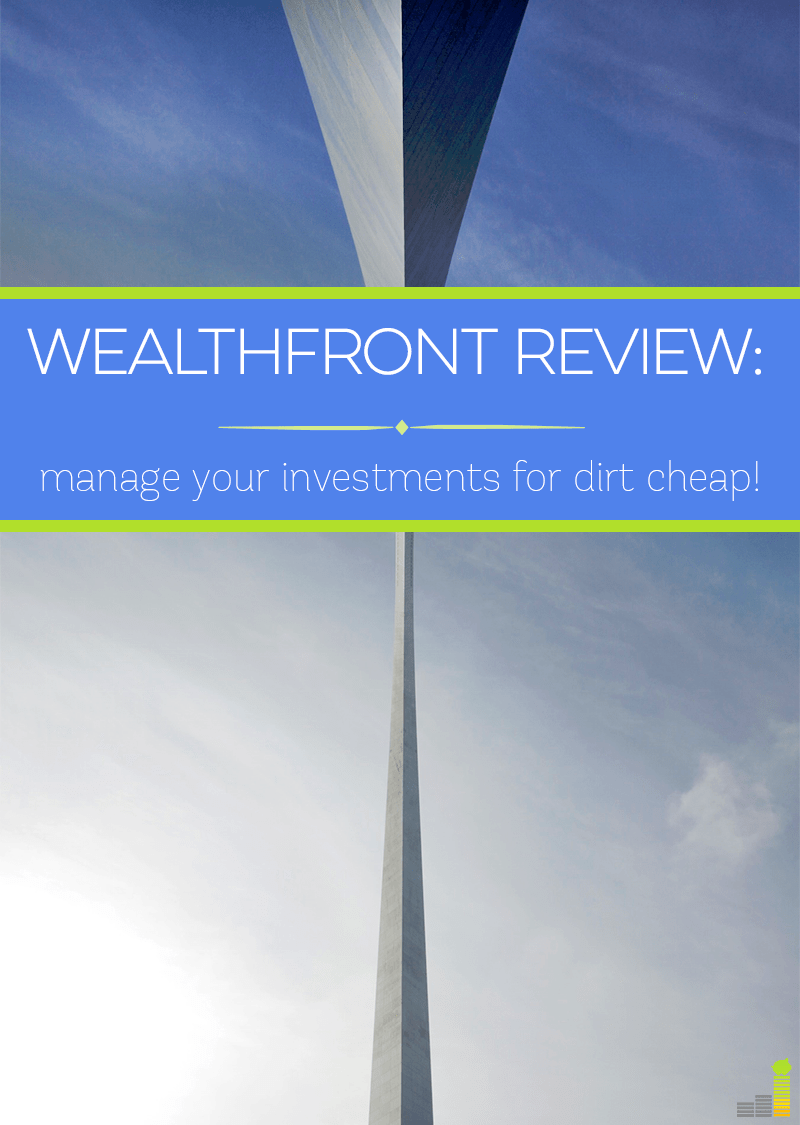 Wealthfront Review – My Take
I think for the right individual Wealthfront is a great option to consider. This could either be for the novice investor who wants to start investing with a smaller balance and wants something simple to help them get started at building wealth – or it could be for someone with a larger taxable portfolio who wants to benefit from having an advisor without the associated fees as well as the TLH aspect.
The other aspect I really appreciate about Wealthfront is they're incredibly low in fees. Their management fee structure is flat and across the board regardless of the account size. That can give you peace of mind that your investments won't be eaten away by needless fees. That in addition to their sound investment philosophy of choosing solid, low-cost index funds makes Wealthfront an attractive choice for those wanting automation and optimization of their investments – regardless of what they're working with.
I touched on earlier that each investor gets the first $10,000 managed for free. I've been able to secure an additional $5,000 in free management if you sign up through Frugal Rules taking the total to the first $15,000 managed for free! In addition to that, Wealthfront also offers you an additional $5,000 in free management if you refer a friend and they open an account. Your friend also gets an additional $5,000 in free management so it's a win-win for both parties.
Open your Wealthfront account today through Frugal Rules and get $15,000 managed for free!
Would you ever consider using a robo-advisor to manage your investments? Do you like to manage your own investments, or do you see the value in hiring someone to manage them for you?
Summary
Reviewer
John Schmoll
Review Date
Reviewed Item
Wealthfront
Author Rating
The following two tabs change content below.
I'm the founder of Frugal Rules, a Dad, husband and veteran of the financial services industry. I'm passionate about helping people learn from my mistakes so that they can enjoy the freedom that comes from living frugally. I'm also a
freelance writer
, and regularly contribute to GoBankingRates, Investopedia, Lending Tree and more.
Latest posts by John Schmoll (see all)