Building wealth is essential to pursuing financial independence. Wealth creates opportunity, yet it evades a lot of people. This is because many people simply look for ways to get rich quickly.
The reality is that wealth creation takes time, effort, and a touch of luck. Unless you were born into means, becoming affluent doesn't happen overnight. If you want to become rich, here's how to increase your net worth effectively.
How to Get Rich
A solid financial plan is essential to become wealthy. You also need to be committed to pushing yourself to grow in various ways.
*Deal of the day: CIT Bank pays 4.65 percent on their Savings Connect accounts. If you can open an account with $100 and electronically deposit $200 each month you will qualify for the rate. All deposits are FDIC insured up to the $250,000 per depositor maximum.
Here are nine realistic steps to follow to increase your wealth that you can implement today.
1. Set a Clear Goal
Unless you plan on stumbling into wealth, you won't become rich overnight. Consequently, having clear goals is vital before pursuing any challenging endeavor.
Look at your situation and ascertain what you ultimately want to achieve.
For example, if you want to build a net worth of $1,000,000, set a specific date to reach that goal. Since becoming wealthy is such a momentous goal, you want to break it into chunks to help ensure success.
This can keep you accountable and give you something to measure your progress. I did this when I began to pay off $50,000 in debt. Then, my wife and I did something similar when we started to grow our wealth.
You want to do the same and personalize it to your specific goals. How much do you need to be rich? This is not always an easy question to answer, but it's important to look at your individual situation to determine your goal.
2. Create a Plan
You're less likely to achieve financial goals without a plan. A plan puts meat on the bones of your goal. While there is some luck involved in becoming rich, it largely results from hard work and planning.
You may want to do things like create a budget and identify investment opportunities to make your money work for you. Regardless of what you include in your plan, you should revisit it regularly.
Keep in mind that apathy isn't your friend. A detailed plan will challenge you to put in the effort necessary to grow your wealth. Again, personalization is key to ensure success.
An app like You Need A Budget (YNAB) is an excellent resource to use if you're new to money management. However, you may find the app doesn't fit what you need.
In that case, you can try one of the YNAB competitors to create a plan.
3. Pay Yourself First
Paying yourself first sounds difficult, but it's simple. It's also a significant player in your financial stability. Here's how to pay yourself first:
Sign up to have your paycheck deposited electronically
Transfer a set amount of the check to a savings account, such as one with CIT Bank
Transfer money into a retirement account or some other investment vehicle
Contribute money to an HSA if you have a high-deductible health plan
If your employer offers a 401(k) plan, you also want to contribute enough to at least receive the company match. These funds are taken out of your paycheck before you even receive them.
Most banks and other financial institutions allow you to automate transfers so you won't have to do it manually. Paying yourself first is essential to creating your wealth.
Think of it as giving every dollar you have a purpose. Instead of just sitting in your checking account, it goes to work for you and puts your plans into motion.
Read our CIT Bank review to identify how they can help with your needs.
4. Start Investing ASAP
Investing in the stock market is integral to becoming rich. In fact, you want to start investing when you're young to put yourself in the best position possible. It's also an excellent way to double your money.
The average return is roughly nine percent over the past few decades, making it a great opportunity to grow your net worth. Here's how long it will take to double your money with different returns.
| Average Annual Return | Years Needed |
| --- | --- |
| 7% | 10 |
| 8% | 9 |
| 9% | 8 |
| 10% | 7 |
It's a common myth that there's no way to invest with little money. However, that's not the case anymore. Many brokerages let customers start investing with $100 or less, so there's plenty of opportunity.
It's best to start investing sooner rather than later since it gives your money more time to grow. The sooner you start investing, the less money you must use thanks to compound interest.
If you're a new investor or don't know where to start, M1 Finance is a fantastic option. The broker has a low minimum balance requirement, a variety of tools to help you manage your investments, and next to no fees.
Read our guide on a penny doubled for 30 days to learn the importance of starting early and the power of compound interest.
5. Avoid Debt Like the Plague
High-interest debt is the enemy of wealth. It erodes your cash and restricts you from having more money to invest. In essence, you're making a creditor richer by paying their astronomic interest rates.
That was the situation I faced. Making minimum payments kept me from pursuing wealth. It wasn't until I refinanced my credit card debt to a lower rate that I was able to kill my debt.
If you're facing a similar situation, you may want to try this strategy. SoFi is an excellent resource to find a lower rate and start attacking your debt. Remember, you are improving your net worth as you pay off debt.
That's essential to getting rich.
6. Reduce Your Expenses
Saving money is overlooked by many people who want to improve their finances. But, if you want to get rich, you can't afford to overlook money-saving opportunities.
You can cut only so much, but any savings you achieve can instantly help you work towards wealth creation. These funds can pad your savings account and fund other investment opportunities.
In short, less stuff equals more money to use to your advantage. If there are things you can't envision cutting, look for low-cost alternatives so you don't have to sacrifice too much.
This will help you achieve your goal faster and still enjoy life. For instance, saving $500 a month can be achieved without giving up much.
Once you claw back savings, put your money to work in a savings account with CIT Bank to earn a competitive interest rate. This is helpful to do when you're waiting to take advantage of an investment opportunity.
If you're unsure of what bills to cut, Rocket Money is a helpful app to use. It identifies bills they can negotiate on your behalf, allowing you to cut costs.
7. Increase Your Income
Reducing your expenses plays a key role in becoming rich, but this strategy is limited. Additional income is unlimited. You want to combine the two to enhance your efforts.
Making more money can take on many forms. Some ways to increase your income include:
Starting a side hustle
Finding a higher-paying job
Taking on additional responsibilities at work
Starting a business
If you're stuck on where to look to make more money, delivering for DoorDash is a great opportunity. You can work on your own schedule and DoorDash driver pay varies on numerous factors.
Use those earnings to fund wealth creation ideas or attack debt, and you'll be surprised how effective the additional funds will be at intensifying your efforts.
Read our DoorDash driver review to learn more.
8. Create Passive Income
If you want to become a millionaire, having multiple streams of income highly improves your chances. Studies show that self-made millionaires have at least three streams of income, if not more.
Your paycheck is only one form of income, so it's risky to depend on that alone to build wealth. That's why pursuing passive income ideas is so helpful.
Passive income protects you when one stream is struggling, and it helps maximize your efforts to become rich. Here are the seven common income streams:
Paychecks
Stock dividends
Rent from real estate investments
Sales of products you own or create
Capital gains from selling appreciated stocks or investments
Business profits
Interest from savings, CDs, or bonds
Some of the above may be more challenging to begin. Others, like investing in real estate, are more attainable thanks to crowdfunding. Real estate is also a fantastic way to grow wealth outside the stock market and create diversification.
Read our guide on are CDs FDIC insured to learn more about how they might fit into your overall portfolio.
For example, RealtyMogul is an awesome platform you can use to invest in commercial real estate. You only need $1,000 to get started. With each source of income you add, the better your chances are of becoming wealthy.
HyreCar is another unique opportunity that lets you rent out a car you own to other people. The site claims you can earn over $700 a month, depending on the make and model of the vehicle.
9. Grow Yourself
If you want to know how to become rich, you have to remember that you are your best tool to become wealthy. This is why it's so important to invest in yourself.
Educating yourself can help your efforts in countless ways. This can include anything from learning more about your field of work to learning more about investing.
Either of these (and everything in between) directly impacts what you can earn or improve returns. Many self-made millionaires are that way because they're always looking for ways to learn.
Each learning opportunity may not always bring positive returns, but it puts you on better footing to take advantage of events that may transpire.
Get Rich Schemes to Avoid
If you do any internet searching for how to get rich fast, you will find some "opportunities" that are either scams or not worth the effort.
Others may work but often involves significant risk. Here are get rich quick schemes that you want to overlook.
MLM Schemes
MLM, or multi-level marketing, is popular with many people. Multi-level marketing goes by various names, including:
Relationship marketing
Network marketing
Referral marketing
Direct marketing
In most instances, these are pyramid schemes and will only result in stress and debt. Less than one percent of people who get in MLM earn a profit, according to the FTC.
You're largely only making money for someone else, and you earn pennies on the dollar. A representative may pitch it to you as a way to start a business. In most cases, it's not.
It often requires you to buy tons of products to sell to your friends. Then, if you're not successful, you're stuck with products and no profit.
Playing the Lottery
Dreaming about winning the lottery is fun. Who doesn't love the idea of buying a ticket, winning, and being able to sip tropical drinks on a secluded beach?
Unfortunately, this idea is just not feasible. You're far more likely to get hit by lightning than you are to win the lottery. Instead of spending your cash on the lottery, use those funds to pursue an honest wealth-building opportunity.
You'll be better off in the long run.
Day Trading
I spoke with a lot of day traders when I was a stockbroker. The allure is understandable, and it is possible to make money as a day trader. However, studies show that less than ten percent of day traders are profitable.
The others lose money or end up in debt because they're trading on margin, otherwise known as borrowed funds. If you want to pursue this avenue, doing your due diligence is necessary.
You can start with a small amount of money if you wish, but know that there's significant risk involved.
Bottom Line
Becoming affluent is attainable, but it does require time and work. It's not something you will achieve by being apathetic or not stretching yourself professionally and personally.
It's highly unlikely that you will get rich overnight, but it is possible to become wealthy over the course of a decade or two. If you pair your efforts with wise decision-making and ingenuity, you'll find success.
What's your favorite way to grow wealth? How often do you monitor your net worth?
*Earning more on certain types of orders (ex. alcohol): Earn more per order as compared to restaurant orders. Actual earnings may differ and depend on factors like number of deliveries you accept and complete, time of day, location, and any costs. Hourly pay is calculated using average Dasher payouts while on a delivery (from the time you accept an order until the time you drop it off) over a 90 day period and includes compensation from tips, peak pay, and other incentives.
*Get paid instantly (DasherDirect): Subject to approval
*Cash out daily (Fast Pay): Fees apply
*Start Dashing today: Subject to background check and availability
*Dash anytime: Subject to availability
*Personal Loan Disclaimer: Fixed rates from 8.99% APR to 25.81% APR reflect the 0.25% autopay interest rate discount and a 0.25% direct deposit interest rate discount. SoFi rate ranges are current as of 05/19/23 and are subject to change without notice. Not all applicants qualify for the lowest rate. See Personal Loan eligibility details. Lowest rates reserved for the most creditworthy borrowers. Your actual rate will be within the range of rates listed and will depend on the term you select, evaluation of your creditworthiness, income, and a variety of other factors. See APR examples and terms.
Loan amounts range from $5,000– $100,000. The APR is the cost of credit as a yearly rate and reflects both your interest rate and an origination fee of 0%-6%, which will be deducted from any loan proceeds you receive.
Autopay: The SoFi 0.25% autopay interest rate reduction requires you to agree to make monthly principal and interest payments by an automatic monthly deduction from a savings or checking account. The benefit will discontinue and be lost for periods in which you do not pay by automatic deduction from a savings or checking account. Autopay is not required to receive a loan from SoFi.
Direct Deposit Discount: To be eligible to potentially receive an additional (0.25%) interest rate reduction for setting up direct deposit with a SoFi Checking and Savings account offered by SoFi Bank, N.A. or eligible cash management account offered by SoFi Securities, LLC ("Direct Deposit Account"), you must have an open Direct Deposit Account within 30 days of the funding of your Loan. Once eligible, you will receive this discount during periods in which you have enabled payroll direct deposits of at least $1,000/month to a Direct Deposit Account in accordance with SoFi's reasonable procedures and requirements to be determined at SoFi's sole discretion. This discount will be lost during periods in which SoFi determines you have turned off direct deposits to your Direct Deposit Account. You are not required to enroll in direct deposits to receive a loan.
The following payment example depicts the APR, monthly payment and total payments made during the life of a personal loan with a single disbursement. All loan rates below are shown with the autopay discount (0.25%) and direct deposit discount (0.25%). The monthly payment for a $30,000 loan with a 60-month term and a fixed annual percentage rate (APR) between 12.95% – 25.03% would be $681.82 – $881.07 in monthly payments, with total payments between $40,909.47 – $52,864.05. Your actual interest rate may be different than the loan interest rates in these examples and will be based on term of loan, your financial history, and other factors, including your cosigner's (if any) financial history. Lowest rates reserved for the most creditworthy borrowers. See SoFi.com/eligibility for details.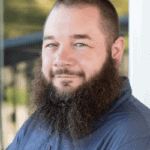 I'm John Schmoll, a former stockbroker, MBA-grad, published finance writer, and founder of Frugal Rules.
As a veteran of the financial services industry, I've worked as a mutual fund administrator, banker, and stockbroker and was Series 7 and 63-licensed, but I left all that behind in 2012 to help people learn how to manage their money.
My goal is to help you gain the knowledge you need to become financially independent with personally-tested financial tools and money-saving solutions.